Center for Evaluation & Research for STEM Equity
CERSE
The Center for Evaluation & Research for STEM Equity (CERSE) is housed at the University of Washington Department of Sociology.  Our center focuses on conducting high quality program evaluation and research to improve equity and broaden representation in STEM fields, with a focus on higher education.   We help meet the challenges of the emerging workforce: recruitment, retention, and advancement of women and underrepresented minorities.
In 2016, we changed our name from the Center for Workforce Development to better reflect the type of work that we do and why we do it.
Why We Do What We Do
We believe that STEM fields should be equitable and accessible to all people, not just people from STEM's dominant identity groups (who are often white, cis-gendered, heterosexual, able-bodied, and/or male identified).
Significant changes must be made in order for STEM fields to be accessible, welcoming, and desirable to individuals belonging to excluded identity groups.
Our program evaluation and research offer evidence-based insights toward reforming systems and improving policies and practices.
What We Do & How We Do It
| | | | |
| --- | --- | --- | --- |
| | | | |
| Integration of Research, Evaluation, & Consulting | Multiple Methodologies | Relationships | Critical Lens |
| We see research and evaluation as complementary. | We choose the right methods to fit each individual question, context, and population | We establish and foster relationships with the people we work with because we respect the work that they do. | We operate with a critical orientation. This means that issues of social justice inform our thinking and acting. |
Current Highlights
UW CERSE Director and former CERSE employee recognized for outstanding scholarly research in engineering education
The Journal of Engineering Education (JEE) article entitled "Community Culture Wealth: An Assets-Based Approach to Persistence of Engineering Students of Color," co-authored by Cate Samuelson and Elizabeth Litzler, received an Honorable Mention for the William Elgin Wickenden Award of the American Society for Engineering Education.  This article was published in the January 2016 issue of JEE.  JEE describes the annual Wickenden Award as recognizing "an article that represents the highest standards of scholarly research in engineering education among the articles published in the Journal each volume year."
RED Participatory Action Research (REDPAR)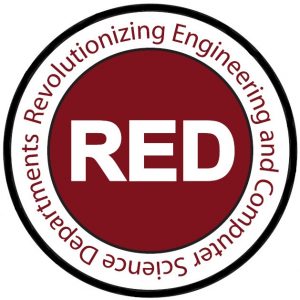 Through the NSF-funded RED Participatory Action Research (REDPAR) project, CERSE is collaborating with Rose-Hulman Institute of Technology to conduct participatory action research with change agents who are engaged in making change on their campuses through the NSF Revolutionizing Engineering Departments (RED) Program. In addition to providing RED recipients with a customized change curriculum and ongoing support for their projects, we are longitudinally tracking their processes and outcomes to better understand how change occurs within academic departments.
Suzanne G. Brainard Diversity STEM Scholarship
We support the Suzanne G. Brainard Diversity STEM Scholarship which recognizes the remarkable work of Dr. Brainard by awarding an annual scholarship to an exceptional student who impacts STEM diversity. As founder of UW WiSE (Women in Science and Engineering) and co-founder of WEPAN (Women in Engineering Program Advocates Network), Dr. Suzanne Brainard has influenced countless female scientists and engineers. She has been a trusted mentor and a passionate advocate for diversity at the UW. Please visit here for more information or to make a gift to the scholarship.
Icons made by Taras Shypka, Freepik, Gregor Cresnar from www.flaticon.com are licensed by CC 3.0 BY