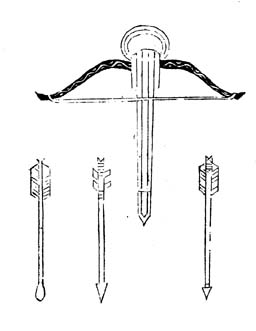 Crossbows were in use in China by the fifth century BCE and quickly became an important element in the warfare of the Warring States period. Where other bows rely on the strength of the archer, the crossbow has a mechanical trigger, so that many releases could be made without tiring the crossbowman. The Chinese development of the crossbow depended on bronze technology advanced enough to allow manufacture of accurately machined trigger-mechanisms. Early crossbows were portable and mostly operated by one archer. They became popular for the defense of royal entourages and for hunting; the later multiple-firing crossbows were intended for military campaigns.
Crossbows were also used in the West. They were known to the ancient Greeks and Romans, and by medieval times in Europe, the crossbow had evolved into a powerful weapon capable of penetrating armor. Chinese crossbows could pierce several layers of iron armor, but in China, where the defense and attack of walled cities was the primary focus of military campaigns, the crossbow was valued for its ability to deliver volleys of bolts even more than for its power to penetrate.
Crossbows remained one of the major weapons in Song times. In the eleventh century, Shen Gua argued that the crossbow is to the Chinese what the horse was to the Khitan -- the asset that gave them their advantage. In field battles against foreign cavalry, the Chinese infantry would have a row of pikemen with shields, rows of archers, and a row of crossbowmen. When the cavalry approached, the crossbowmen would shoot first above the crouching pikemen and bowmen. The pikemen and archers would shield the slower-firing crossbowmen, who, however, could inflict more damage.
Below is a schematic drawing of the bronze trigger mechanism, including both an assembled one and the component parts.