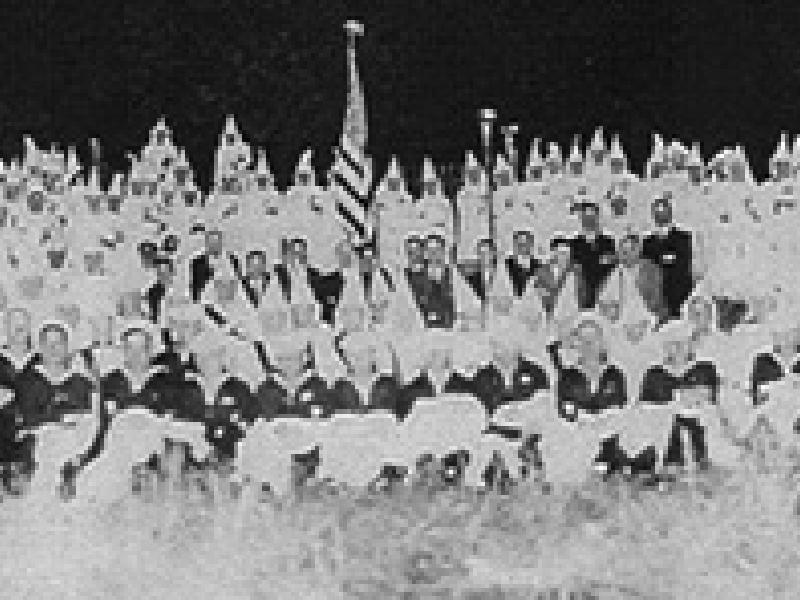 Dozens of sailors sitting in uniform at a Klan rally holding their Klan robes. Photo courtesy of the Whatcom County Historical Society.
---
King Kleage Luther Powell worked hard to make connections with the U.S. military and with police departments, hoping to gain members and bolster the reputation of the Ku Klux Klan in Washington State.
Powell used the title "Major" although it is not clear whether he had a significant military service record. As part of his claim that the Klan's secret society of vigilantes were upholding the law rather than going beyond it, Powell asked Washington's Governor to make him a State Deputy Sheriff, and later asked that the Governor use the National Guard to protect the Klan from supposedly biased local police officers. The Governor's office rejected both requests.1
The Klan's best publicized effort to court military personnel focused on the Navy. During the Summer of 1923, Powell visited the U.S.S. Tennessee while it was stationed in the Puget Sound, and during that visit formed a provisional Klan chapter, U.S. Navy Klan No. 1.2 He subsequently sent a letter on July 20, 1923 to Admiral S.S. Robinson on the U.S.S. California requesting that the Admiral grant all regional Navy Klansmen leave to attend a Seattle Klan meeting on July 25.3 Members of U.S. Navy Klan No. 1 from the U.S.S. Tennessee were made "honored guests" at a Klan membership meeting "near Bellingham" in mid-August of that same year.4 The above photo, of men in Navy uniform holding their Klan robes while attending a Klan meeting may, may have been from this event.5 The photo was discovered in the early 1990s in the former home of J. Frank Adams (who in 1929 was leader of Mount Baker Klan No. 8 near Bellingham) and now belongs to the Whatcom Museum of History and Culture.6
Whether this outreach ultimately proved successful, or even went beyond a single Navy vessel, is unclear. But it did provide grist for the local Klan's propaganda mill. The Watcher on the Tower featured reports about Klan sailors and in a article titled "Thank God for the Navy," applauded sailors who beat men on Seattle's streets for being insufficiently patriotic or for selling drugs.7 This organizing also seemed to have inspired Powell to think that Hawaii would be ripe for Klan organizing because of all the Navy personnel stationed there.8 Few records exist to document whether he followed through on this idea.
Next: Ch 9, Non-Citizen Klan: Royal Riders of the Red Robe
"The Washington State Klan in the 1920s" by Trevor Griffey includes the following chapters.
Copyright (©) Trevor Griffey 2007
---
1 Luther Powell letter to Governor Louis Hart. 2/13/23. Governor Office letter to Luther Powell. 2/14/23. Luther Powell telegram to Governor Louis Hart. 7/12/23. Governor Office telegram to Powell. 7/12/23. Louis Hart Papers. Washington State Archives. Box 2J-1-34. Folder Ku Klux Klan.
2 "The Story of the Klan on the Tennessee." Watcher on the Tower, July 28, 1923, p. 5
3 "King Kleagle Extends Invitations to Navy Klansmen." Watcher on the Tower, July 28, 1923, p3
4 "Navy Fleet Receives Hearty Welcome at Bellingham, Wash." Watcher on the Tower, Aug. 11, 1923, p.5
5 For more information about the Whatcom Museum of History and Art Photo Archives, visit //www.whatcommuseum.org/
6 J. Frank Adams is described as the head of Mount Baker Klan No. 8 in "Parade is Saturday." Bellingham Herald. July 24, 1929, p.2
7 "Thank God for the Navy!" Watcher on the Tower, Aug. 18, 1923, p. 3; "Thank God for the Navy—Again!" Watcher on the Tower, Sept. 1, 1923, p.3.
8 "Powell and Davis May Return to Hawaii—Good Season Ahead for Propagandists." Watcher on the Tower, Oct. 20, 1923, p. 13