CIC Student Guide Online
[Peer Review with Canvas]
What Is Canvas Peer Review?
Canvas allows you to electronically peer review your classmates' assignments or discussions. Your instructor might assign your peer group manually, have you select a peer yourself, or use Canvas to automatically create review groups. Whenever you submit an assignment or post to a discussion area that requires peer review, you will see a list of your assigned reviews. Clicking a name on that list will bring you directly to a review pane with your peer's draft or discussion posting. Your instructor will be able to access a peer review overview screen that indicates which students have completed their assigned reviews.

The Peer Review Process
1. Once you have been assigned to your peer(s), you will see a list of your assigned review(s):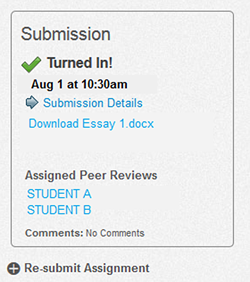 2. Next, you can click on your peers' names to access their drafts.
3. From there, a document review screen will open. Click on the preview icon to see a peer's text and open Canvas' in-text comment options.

4. You are now able to comment in multiple ways. The "Add a Comment" function allows you to compose a brief note.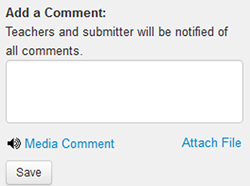 5. You are also able to make comments directly on your peer's draft by using the "Comment" options, pictured below.

6. Once you are finished, you may want to attach a file (if appropriate), and remember to click "Save."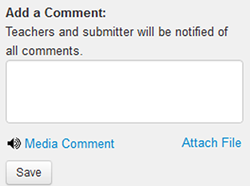 7. After you have saved your comments, Canvas will display a confirmation message above your peer's text. Note that he or she may have to refresh the page in order to see the message.


Informal Peer Interaction with "Discussions"
Your Instructor may also want you to respond informally to your peers using Canvas' "Discussion" function. This could be particularly appropriate for focusing on an individual skill (i.e. claims, stakes), a brainstorming/ prewriting type of peer review, or a "wildcard" peer review wherein you can choose an assignment on which you'd like feedback. Some discussions enable you to see the feedback of all of your peers, so that you can take a look at diverse commenting strategies and develop a style that you find effective.
1. In order to participate in a Discussion started by an instructor or peer, select "Discussions" from the left-hand menu on Canvas.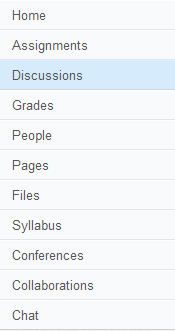 2. Next, select the Discussion topic that you're looking for.

3. Compose your message in the "Reply" box. If your instructor has enabled attachments, you will also be able to attach files if appropriate. You may also respond to the posts of your peers using this function.

4. After you are finished, select "Post Reply."
5. If you would like to be notified when your classmates respond to the Discussion, select "Subscribe" in the top right hand corner of the Reply box.

6. Your instructor may give you a point grade for the review, or s/he may choose to grade it simply as Complete/ Incomplete.

Additional Resources
Guide to Canvas Peer Review for faculty: http://depts.washington.edu/engl/cic/sgonline/peer_review.php