In Memoriam
Joanna Russ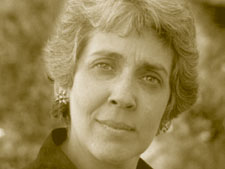 Joanna Russ, feminist author and scholar, was born in the Bronx on February 22, 1937; she died on April 29, 2011, in Tucson, AZ. Russ earned her bachelor's degree in English from Cornell University in 1957, where she studied with Vladimir Nobokov; she received a master's degree in playwriting and dramatic literature from the Yale School of Drama in 1960.
After a decade of teaching at Cornell University, SUNY-Binghamton, and the University of Colorado, Russ was hired as an associate professor of English at the University of Washington in 1977 and promoted to full professor in 1984. She retired from the Department in 1991.
A prolific writer, Russ won a Hugo Award in 1983 for Souls, an historical fantasy novella about a twelfth-century abbess who defended her community against invading, sexually brutalizing Norsemen; and a Nebula Award in 1972 for the story "When it Changed," a precursor of The Female Man. The Hugo Award, presented by members of the World Science Fiction Convention, and the Nebula, presented by the Science Fiction and Fantasy Writers of America, are considered the most prestigious prizes of the science fiction genre.
Joanna Russ was a central force in establishing feminist science fiction. She was particularly well suited to comment on the necessity for social change. Her academic career spanned a challenging period: It was not easy to write and earn a living as a woman, a lesbian, and a writer of genre fiction during a period when the latter was marginalized within the academy. In her most famous work, The Female Man, Russ wrote with tangible anger about social injustice, but was also able to infuse her work with wit and humor. As a literary scholar, she was known for her studies of Willa Cather in which, among other things, she addressed Cather's sexual identity, broaching a subject that had long been off limits.
Russ's work is widely taught, and she has been the subject of several scholarly studies. Editor Farah Mendlesohn's collection of essays, On Joanna Russ, Jeanne Cortiel's study, Demand My Writing: Joanna Russ, Feminism, Science Fiction, and Sarah LeFanu's In Chinks in the World Machine: Feminism and Science Fiction are all investigations of Russ's central role and legacy in the world of science fiction and feminism.