The GSAH, Graduate Students of Art History, is a registered organization at the University of Washington. As graduate students in the Division of Art History and future educators, researchers, and museum professionals, we believe that we must be attuned to questions of diversity and its implications on our field. The art historical canon encourages prioritization and hierarchies within scholarship and museum displays. We aim to create an inclusive and actively anti-racist art history by seeking out, researching, and teaching the work of artists and scholars that are often left on the margins.
Art history is fruitful ground for rethinking how art is shaped by and can shape our world and how we relate to one another within it. Therefore, our reading group, Dismantling the Canon, engages with this crucial topic and considers questions including how do we develop an inclusive art history while also meeting curricular expectations and "standard knowledge" in the discipline? What does it mean to go beyond the canon, which primarily promotes white, male, cis, able-bodied artists from Europe and North America? What are the risks of projecting our contemporary notions of race and diversity onto societies that are many centuries removed? Our goal is to rethink our approach to research and language and create a space for such conversations in a centuries-old discipline.
The GSAH website offers information about past and future events organized by the group and suggested teaching materials. The website will be updated regularly.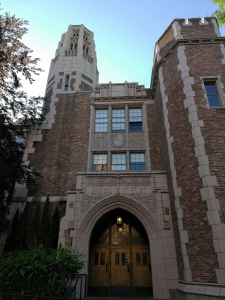 Dismantling the Canon is supported by the Art History faculty within the School of Art + Art History + Design and is affiliated with the Graduate Students of Art History organization. In addition, our activity is generously supported by the UW Campus Sustainability Fund (CSF), the Graduate and Professional Student Senate (GPSS), and the Simpson Center for the Humanities.