VOLUME 9, ISSUE 6 | June 2022

Bark Beetle Books by Suze Woolf
In the Miller Library June 2-29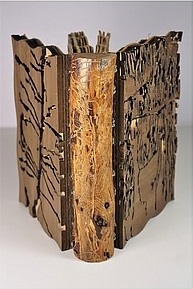 Please join us in welcoming Suze Woolf to the Miller Library this month. She brings a selection of her
Bark Beetle
Books
. These sculptural artist books are part of an ongoing series (forty volumes so far), some of which were shown at Bainbridge Island Museum of Art this spring.
A
video
produced for her 2018/19 exhibit at the Museum of Northwest Art is available in the gallery section of her website, and explains the genesis of the project.
Library users are invited to meet the artist at the exhibit opening on Thursday, June 2, from 5 to 7 pm in the Elisabeth C. Miller Library.
Ask the Plant Answer Line: What was that desert wildflower?
Researched by Rebecca Alexander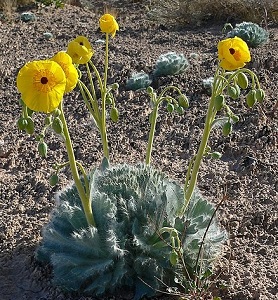 Q: Many years ago when I was in training on a military base in Nevada, our commander ordered us to spray herbicide over a large area that was covered in beautiful wildflowers. They had bluish leaves and yellow poppy-like blooms. I wish I'd had the wherewithal to refuse the order, but disobeying would have been problematic. I'm curious what the name of the plant is, and what its current status might be.

A: The plant you are describing is the Las Vegas bearpoppy, Arctomecon californica. Despite the species name, it is not native to California, but instead to the southern Nevada and the eastern Mojave Desert, where it has largely disappeared. The common name, bearpoppy, describes its fuzzy bear-paw shaped leaves.


Its current status is 'critically endangered.' In 2019, the Center for Biological Diversity
petitioned
for Endangered Species Act protection for the wildflower. By 2020, the Center
reported
that "Las Vegas bearpoppy, in southern Nevada, is experiencing a dramatic, ongoing loss of habitat due to urban sprawl and mining."
You can learn more about the flower (including its relationship with pollinators, especially the Mojave poppy bee) in the
full text
of the petition to list it as endangered.
Silent Earth by Dave Goulson

Reviewed by Brian Thompson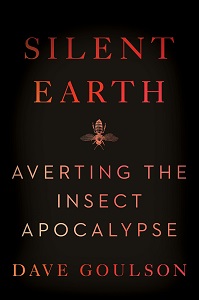 Dave Goulson is an advocate for insects. "Silent Earth: Averting the Insect Apocalypse" is his new book addressing the alarming decline in the populations of these animals who are critical to all other life on Earth.


After a brief history of how insects evolved, he joyfully gives examples of the almost infinite variety of these creatures and how they live, feed, reproduce, and protect themselves. The wonder of metamorphosis is just one example, an amazing life cycle process used by approximately 65% of insect species.


In later chapters, he describes the devastation that is impacting most insects and helps the reader to a different perspective. "On our own planet we are the bad guys, thoughtlessly annihilating life of all kinds for our own convenience." He blames his own profession as part of the problem: "Ecologists and entomologists should be deeply concerned that we have done such a poor job of explaining the vital importance of insects to the general public."


Goulson does offer hope and practical solutions. He recommends teaching young children the importance of insects, because most are naturally interested in "bugs" and this may lead to a lifetime of conservation minded decisions. He regrets that teenage and university students are more difficult to reach. He has found that many, even those who choose to study ecology, have little knowledge of the natural world.


He ends the books with specific and doable actions that can be taken by local governments, national governments, farmers, gardeners — and everyone. He encourages all ages to spend more time outside, learning about the variety of life forms, starting with the easiest such as common birds or trees. If people can even name a few animals and plants in nature, they are more likely to be interested in learning about less well-known creatures, and act in ways to protect and promote their well-being.
gardening answers

Search for garden wisdom with us. You'll find researched
answers
,
gardening tips, book reviews, and recommended websites.
© 2022 University of Washington Botanic Gardens