Jaisri Lingappa's Lab
Former Postdoctoral Fellows
Brook C. Barajas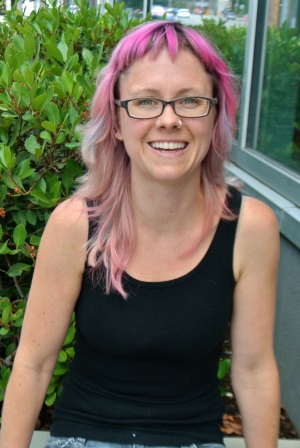 Brook Barajas was born and raised in Seattle, WA. She majored in Microbiology at the University of California at Santa Barbara (UCSB), where she graduated with Highest Honors in 2007 and was the Student Commencement Speaker. As an undergraduate, she was frequently on the Dean's list and received numerous honors for her academic scholarship, including an award for "Outstanding Critical Thinking and Analysis in the Laboratory". As a research scientist in the Lingappa laboratory from 2007 – 2009, Brook worked closely with Beth Thielen, who was an MD PhD student at the time. In 2009, she left Seattle to join the Cancer Biology Ph.D. program at Stanford University, where she was awarded a Stanford Graduate Fellowship in 2009 and an NSF Graduate Research Fellowship in 2011. Brook's Ph.D. studies were in the laboratory of Dr. Paul Khavari, in the Dept. of Dermatology at Stanford University. As a Ph.D. student, she led a project involving the dynamic profiling of chromatin marks and chromosome conformation in differentiating primary epidermal keratinocytes, and became proficient in the generation and bioinformatics analysis of CHIP-seq and other large-scale datasets.  Brook returned to the Lingappa laboraotory for postdoctoral research  from 2016 – 2018, and then joined Juno Therapeutics.
Research:
As a postdoctoral researcher, Brook introduced the proximity ligation assay (PLA) to the Lingappa lab.  Brook utilized this imaging technique to demonstrate that assembling HIV-1 Gag colocalizes with the host enzymes ABCE1 and DDX6 in HIV-expressing cells.  These imaging studies are an excellent validation of our many biochemical studies showing that Gag assembles in association with host ribonucleoprotein complexes, termed RNA granules, that contain ABCE1 and DDX6, two host proteins that facilitate HIV-1 Gag assembly.  In a paper published in PLoS Pathogens in 2018,  Brook and other Lingappa Lab members demonstrated that much of the HIV-1 genomic RNA in the cytoplasm is in small RNA granules containing ABCE1 and DDX6.  Because HIV-1 Gag must encapsidate the viral genome as it assembles into immature capsids, the finding that these RNA granules contain substantial HIV-1 genomic RNA offers yet another rationale for why HIV-1 Gag has evolved to target to these RNA granules during assembly.
Publications:
Motoko Tanaka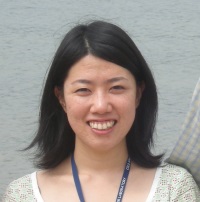 Motoko Tanaka grew up in Awaji Island in Japan, which is famous for having the world's longest suspension bridge, the fourth fastest currents in the world (in the Naruto whirlpools), and a 500-year-old form of traditional puppet theatre.  She did her undergraduate studies at the University of Tokushima, where she majored in Biological science and Technology and worked in the laboratory of Professor Hitoshi Hori.   In 2007, she entered the Kobe University PhD program, where she studied host genetic factors related to the susceptibility to Mycobacterium infection in the infection control laboratory of Dr. Masato Kawabata.  In 2008, she moved to the laboratory of Dr. Yoshihiro Kawaoka, in the Division of Zoonosis, Department of Microbiology and Infectious Diseases, Graduate School of Medicine at Kobe University, where she studied the host adaptation mechanism of influenza virus.  In April 2010, she joined the Lingappa laboratory as a short term visiting graduate student, through the University of Washington School of Medicine and Kobe University Graduate School of Medicine exchange program and the Kobe University Global COE Program Kobe University Global COE Program funded by the Ministry of Education, Culture, Sports, Science, and Technology of Japan.  In September 2011, she obtained her Ph.D. from Kobe University, and returned to the Lingappa lab as a postdoctoral fellow.  Motoko was a postdoctoral fellow in the Lingappa lab from 2012-2017 and joined Keith Jerome's laboratory at the Fred Hutchinson Research Center in 2018.
Research:
In her project as a visiting student in the Lingappa lab, Motoko worked with Kevin Klein and Jon Reed to study the role of the nucleocapsid domain in HIV capsid assembly using Gag-leucine zipper chimeras. During this time, she demonstrated that well-studied mutations in the highly conserved major homology region of Gag arrest the HIV-1 capsid assembly pathway, resulting in accumulation of assembly intermediates containing Gag as well as host proteins such as ABCE1 and the RNA granule protein DDX6.  Motoko also made major contributions to our 2018 publication in PLoS Pathogens showing that in the cytoplasm, the HIV-1 genome is primarily in host ribonucleoprotein complexes termed RNA granules, and that the capsid protein HIV-1 Gag is directed to these complexes thereby allowing Gag to encapsidate HIV-1 genomic RNA during assembly.  Motoko's as yet unpublished studies identified ABCE1 binding sites within Gag and other proteins, offering exciting answers to the question of how assembling Gag traffics to RNA granules containing ABCE1.
Publications:
Bridget Robinson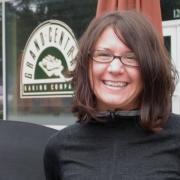 Bridget Robinson attended South Dakota State University, where she received her B.S. in Microbiology.  She subsequently received her M.S. within the department of Molecular Microbiology, Immunology, and Pathology under the direction of Dr. Joseph Smith at Colorado Statue University.  Her work characterized the binding properties of a variant family of cytoadhesive proteins encoded within Plasmodium falciparum.  She was also employed at the University of Colorado Health Sciences Center as a research associate in the laboratories of Dr. Ken Tyler and Dr. Roberta DeBiasi, where she studied apoptotic signaling in a Reovirus model of viral myocarditis.  Bridget received her PhD from Oregon Health & Science University in 2011, within the laboratory of Dr. Scott Wong.  She characterized immune evasion properties of the viral interferon regulatory factors encoded within Rhesus Rhadinovirus, a non-human primate model used to study Kaposi's Sarcoma-associated Herpesvirus pathogenesis.  Bridget was in the Lingappa Lab from 2012-2015, after which she returned to Portland, OR where she joined Tim Nice's laboratory in 2016.
Research:
During her time as a postdoctoral fellow in the Lingappa lab , Bridget had three projects.  She published a first-author manuscript on her first project while in her second year in the Lingappa lab – a very impressive time from start to completion.  In this project, Bridget used biochemical and imaging approaches to generate a detailed temporospatial map of the assembly pathway that correlated steps in the HIV-1 capsid assembly with structural features of the completed immature capsid.  In her second project, Bridget showed that HIV-1 packaging is initiated in RNA granules which go on to become assembly intermediates once they are co-opted by HIV-1 Gag.  These studies set the stage for our 2018 PLOS Pathogens paper.  Bridget also contributed to a project that addresses whether some HIV variants selected during infection in vivo progress through the assembly pathway more rapidly, possibly leading to higher viral loads.
Publications:
Jonathan C. Reed
Brenna Kelley-Clarke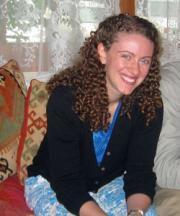 Prior to her postdoctoral work in the Lingappa lab, Brenna earned her PhD from Harvard University in the laboratory of Dr. Kenneth Kaye, where her work focused on the latency-associated nuclear antigen (LANA) of Kaposi's sarcoma-associated herpesvirus (KSHV). In the Lingappa lab, Brenna identified an early intermediate in the assembly pathway for Venezuelan equine encephalitis virus (VEEV) and studied novel drugs that inhibit this pathway. While a postdoc, Brenna was funded by an NIH F32 postdoctoral fellowship.  She also played cello in the Puget Sound Symphony Orchestra.
Brenna left the Lingappa lab and joined Immune Design Corporation, a Seattle biotech, in 2010.  She is currently Director of Applied Virology at Celgene in Seattle.
Publications: