Can caffeine be deployed as a countermeasure to acute mountain sickness and the effects of high altitude illness?
Rich Wehling, a former Army medic and current physician assistant student, traveled to Mount Everest to research this question during the summer months between his didactic and clinical years at MEDEX Northwest.
Rich originally began his MEDEX PA training with Class 7 in Anchorage, but was forced to take a medical leave of absence. He resumed his studies a year later with members of Class 8, with whom he completed his classroom winter quarter obligations before taking off to Nepal for the caffeine study.
His colleague in this study was Christopher Jung, PhD, head of the University of Alaska Anchorage Biology Department overseeing the anatomy and physiology courses. "He's a neuroscientist with a specialty in both sports and sleep physiology," explains Rich of Dr. Jung. "But he likes doing these things at high altitudes, so all of our research tends to be in the mountains."
Rich explains the thinking behind the Everest study.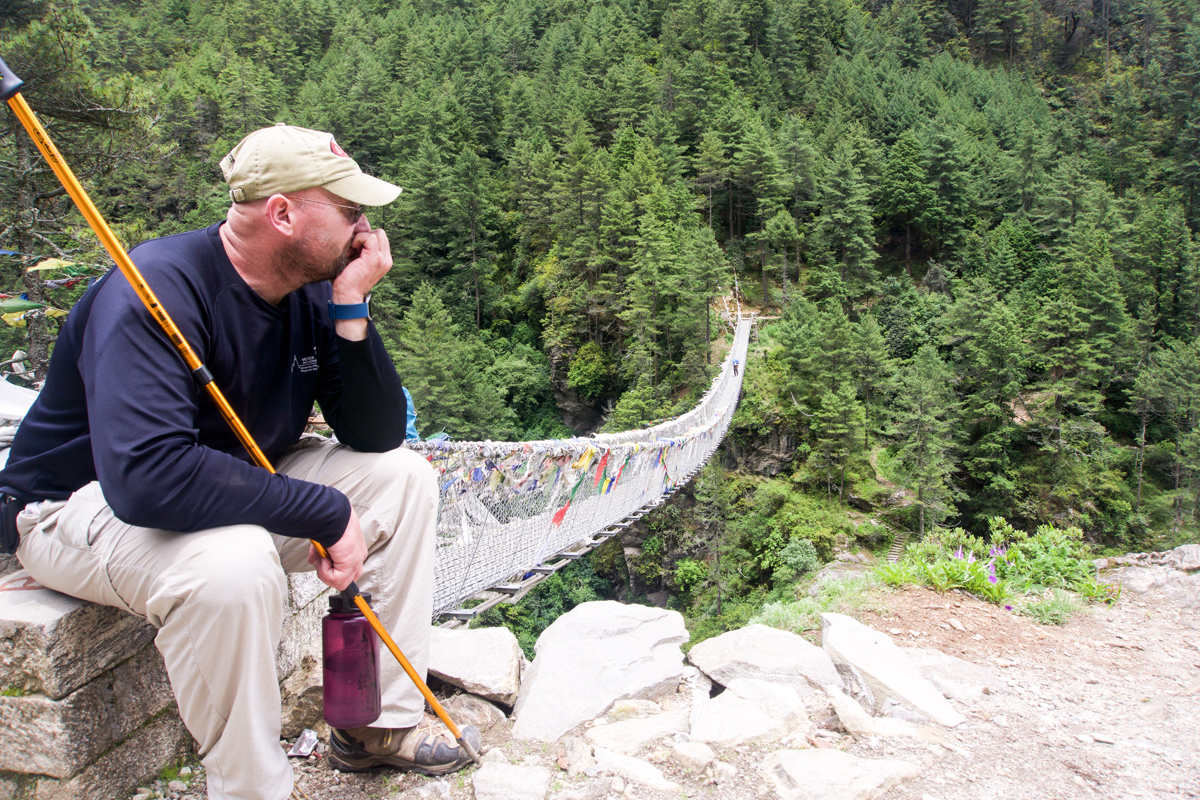 MEDEX PA student Rich Wehling in quiet contemplation along the Phungi Thenga suspension crossing in Nepal.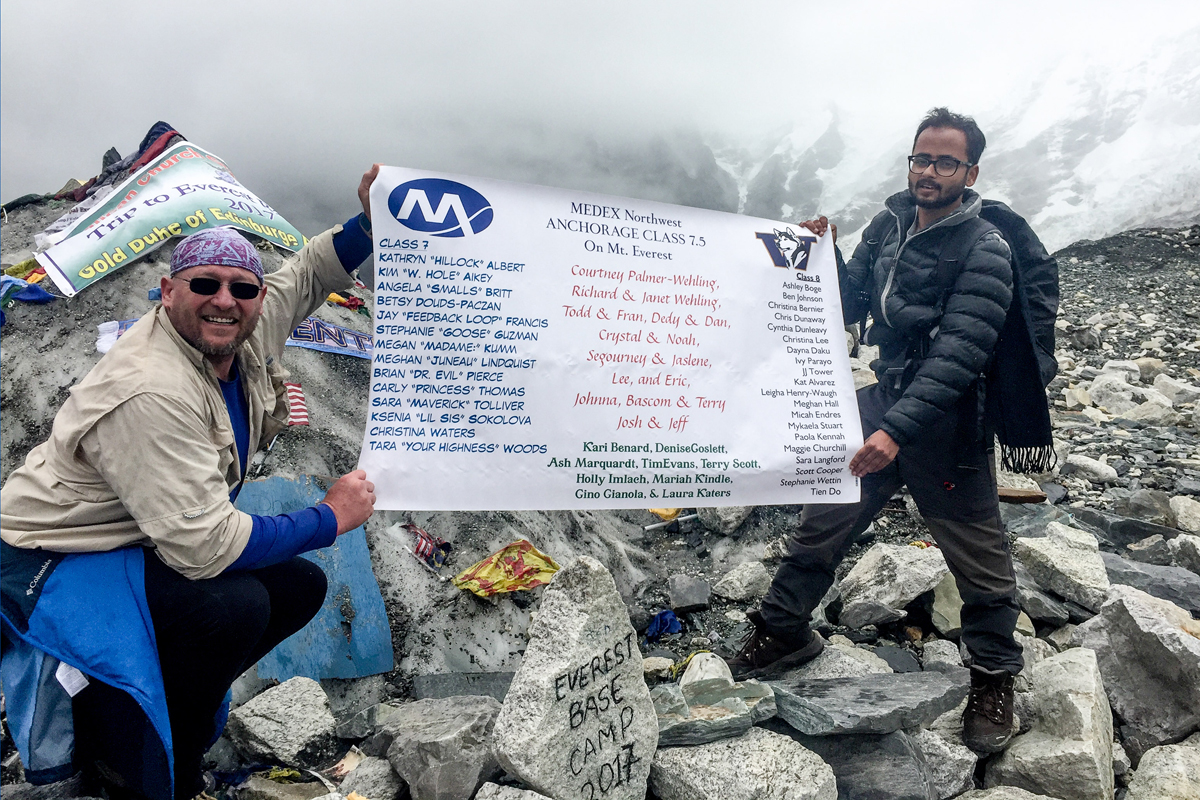 Rich Wehling and Dr. Suman at Everest Base Camp displaying the MEDEX Anchorage PA banner.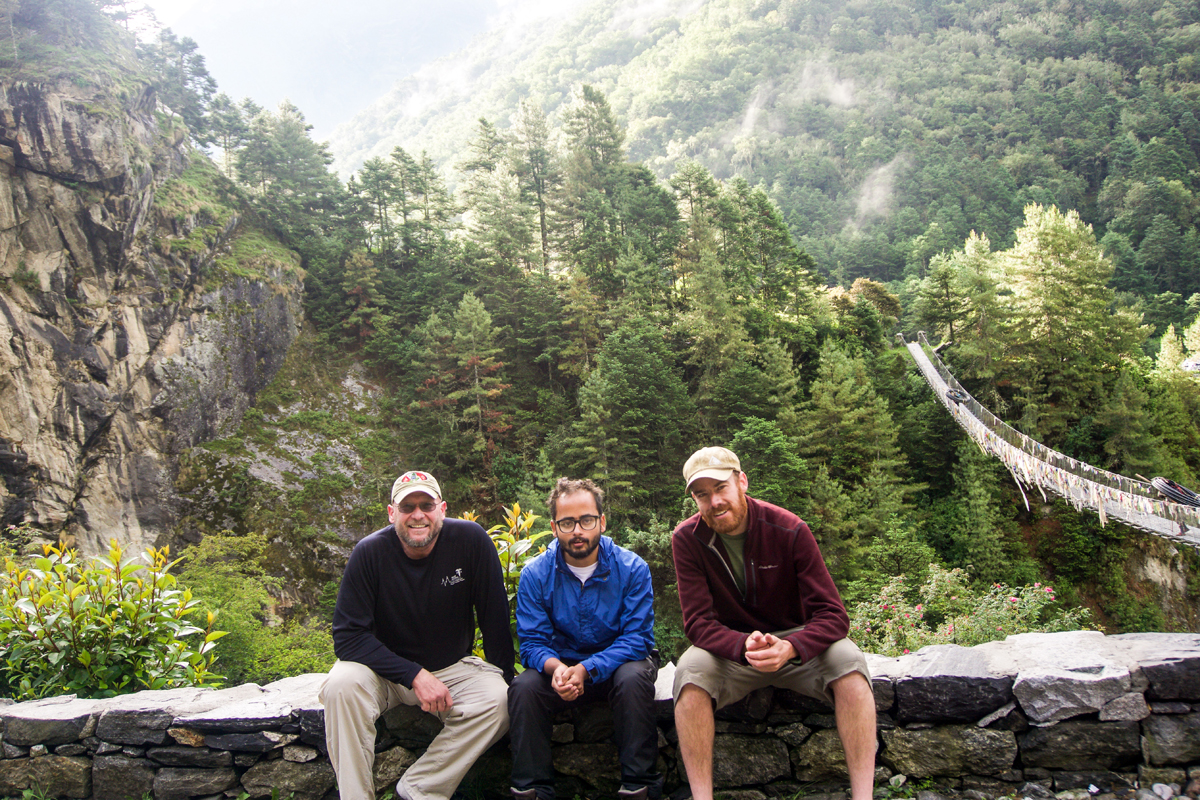 L to R: Rich Wehling, Suman Acharya, MD and Chris Jung, PhD at Phungi Thenga crossing.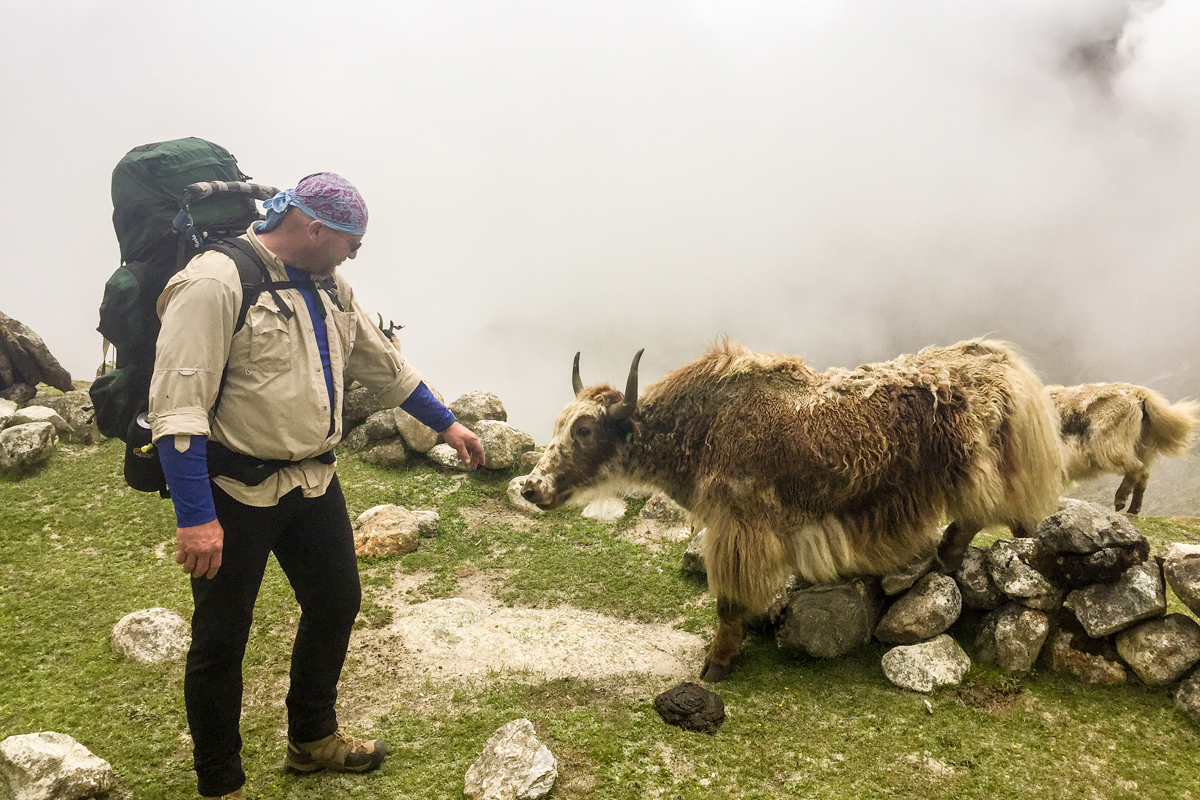 Yaks along the 16,000 ft. mountains between Dingboche and Thukla.  Rich was able to pet them, but on three separate occasions he was chased by the bulls.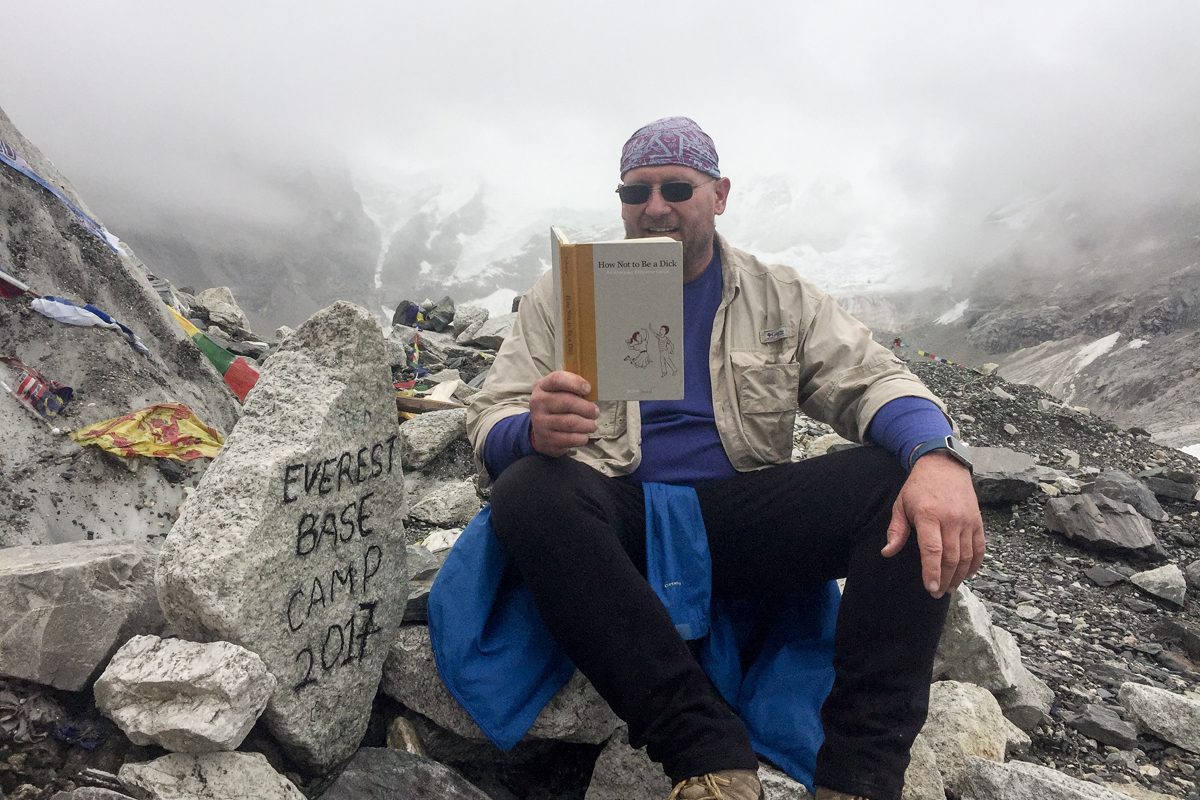 Rich reads his favorite book, "How Not to Be a Dick", at Everest Base Camp. It was a gift from Megan Hall of MEDEX Anchorage Class 8.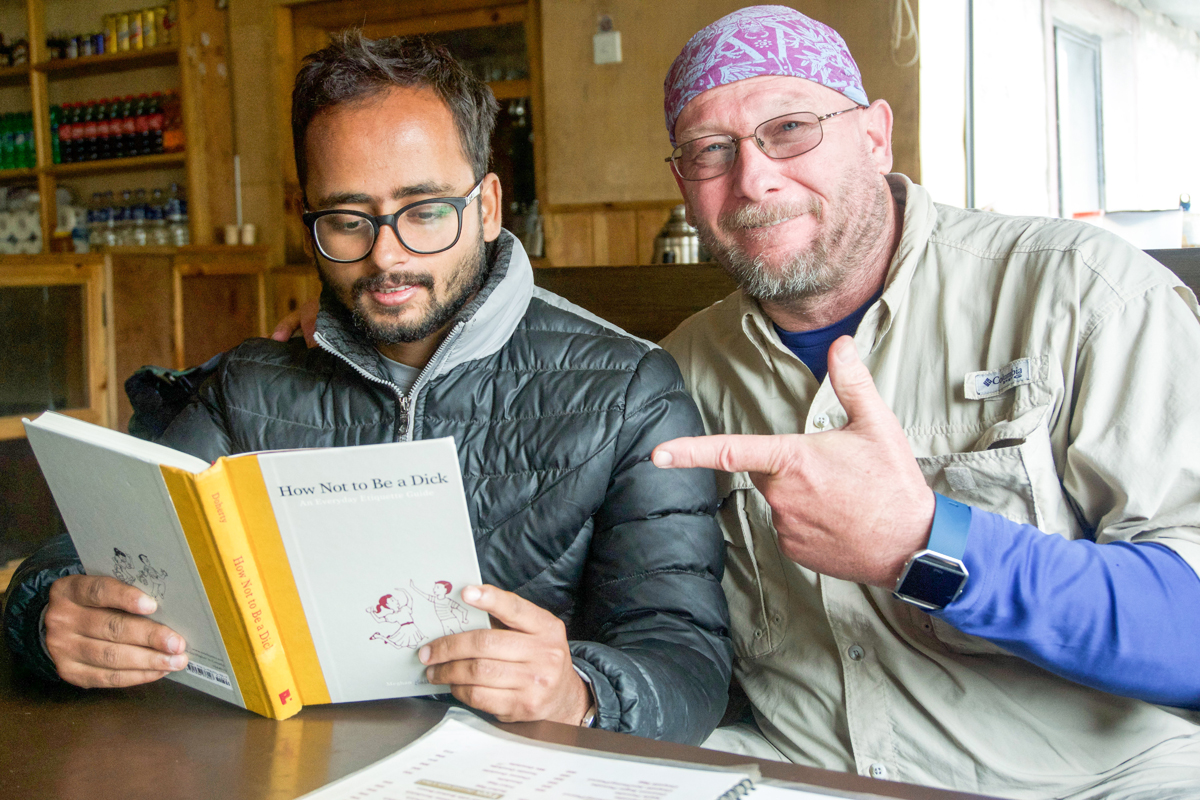 Dr. Suman quizzing Rich Wehling on how not to be a dick.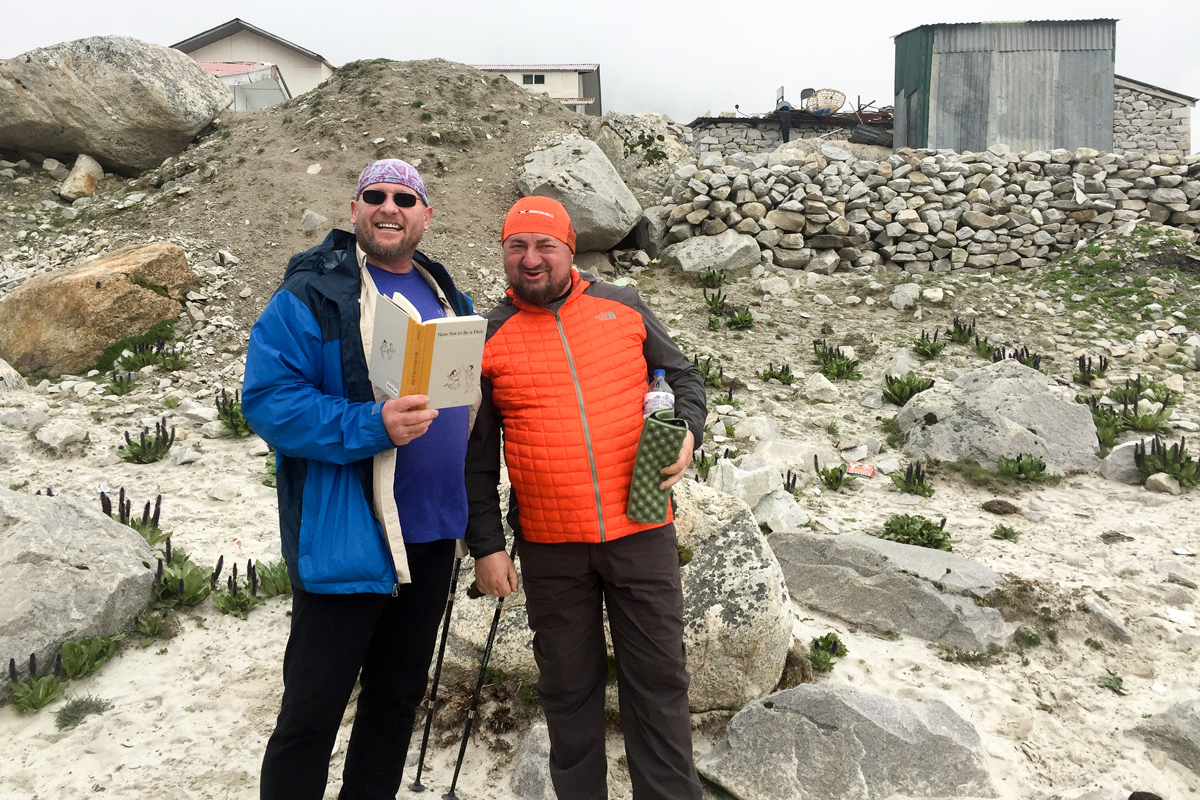 Rich shows select passages from his favorite book to the Governor of the Ukraine in Gorak Shep, the last stop before Everest Base Camp.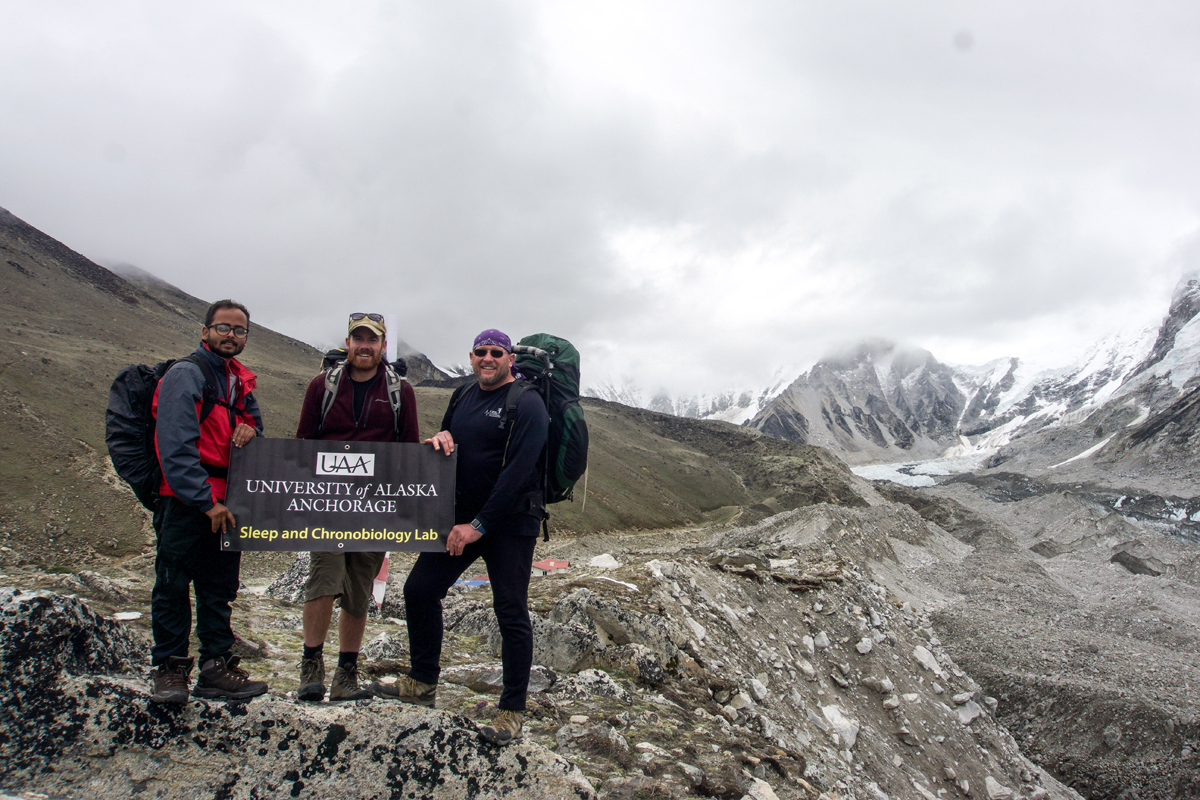 The scientific team at Gorak Shep with Mt. Everest, the Khumbu Ice Falls and Glacier behind them.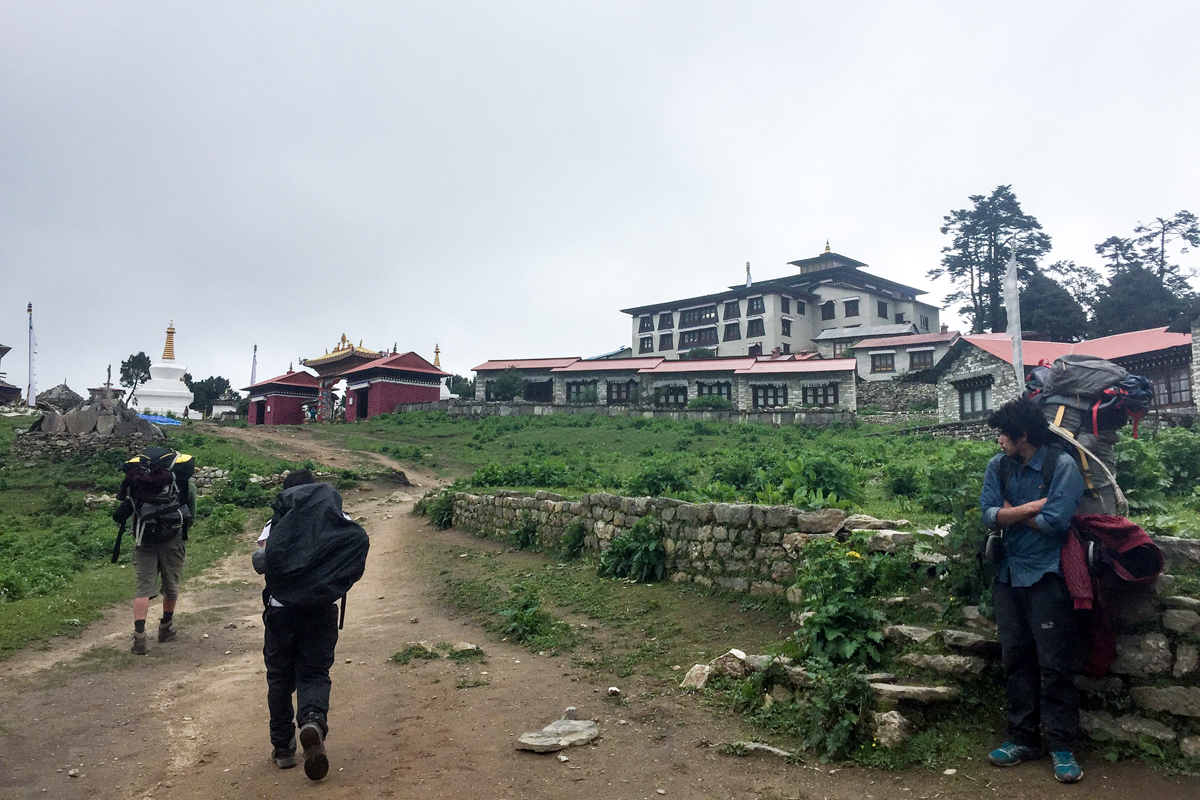 The Monastery in Tengboche.  From here it is two days to Lukla and the airport.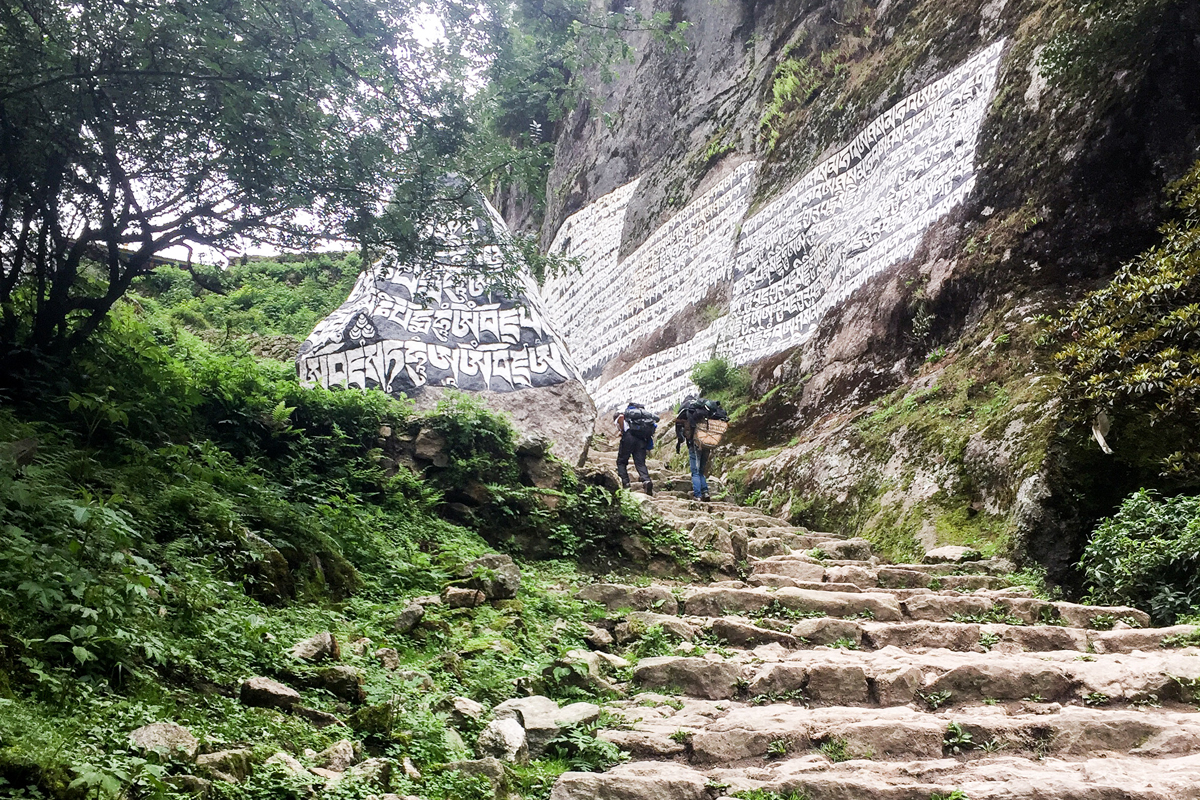 The walls and boulders along the climb to Tengboche and the Monastery contain prayers and lyrics to a Buddhist song.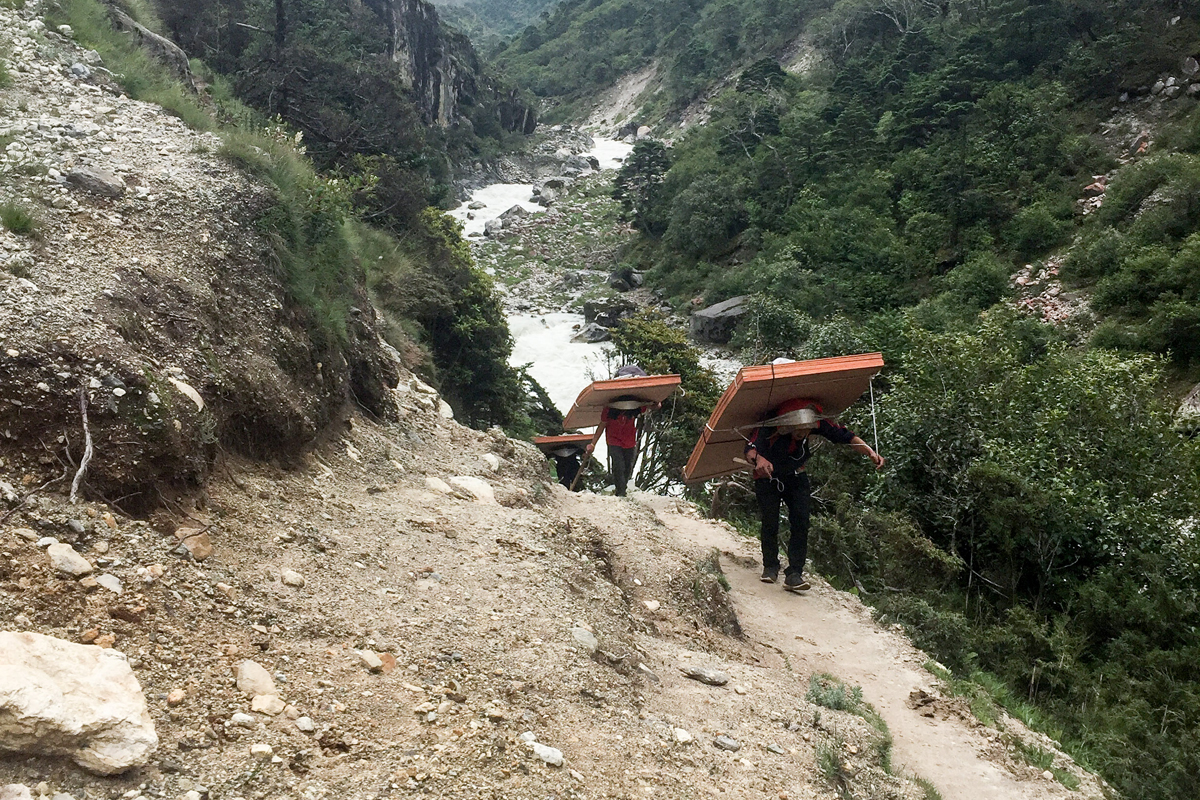 Phakding crossing with porters carrying plywood and doors. Everest is four days away.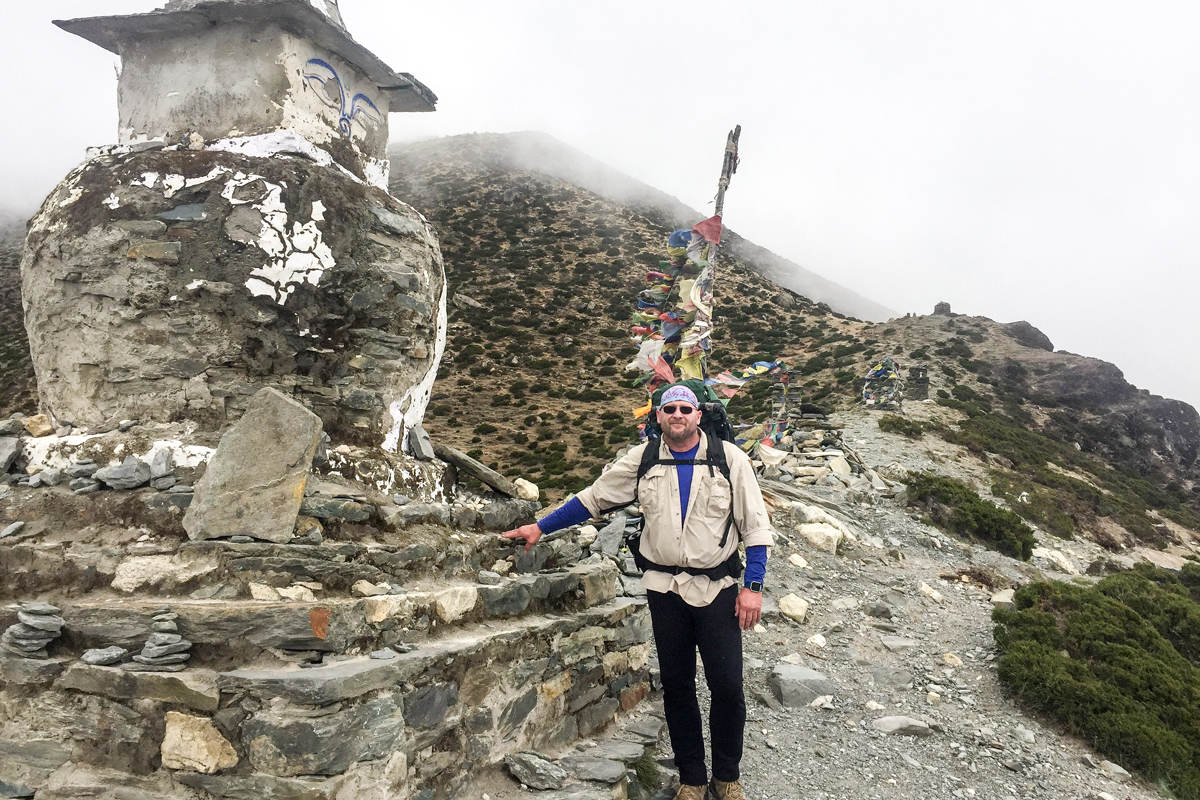 A Buddhist shine at Dingboche as Rich heads up the trail to Thukla, Loboche, Gorak Shep and then Everest.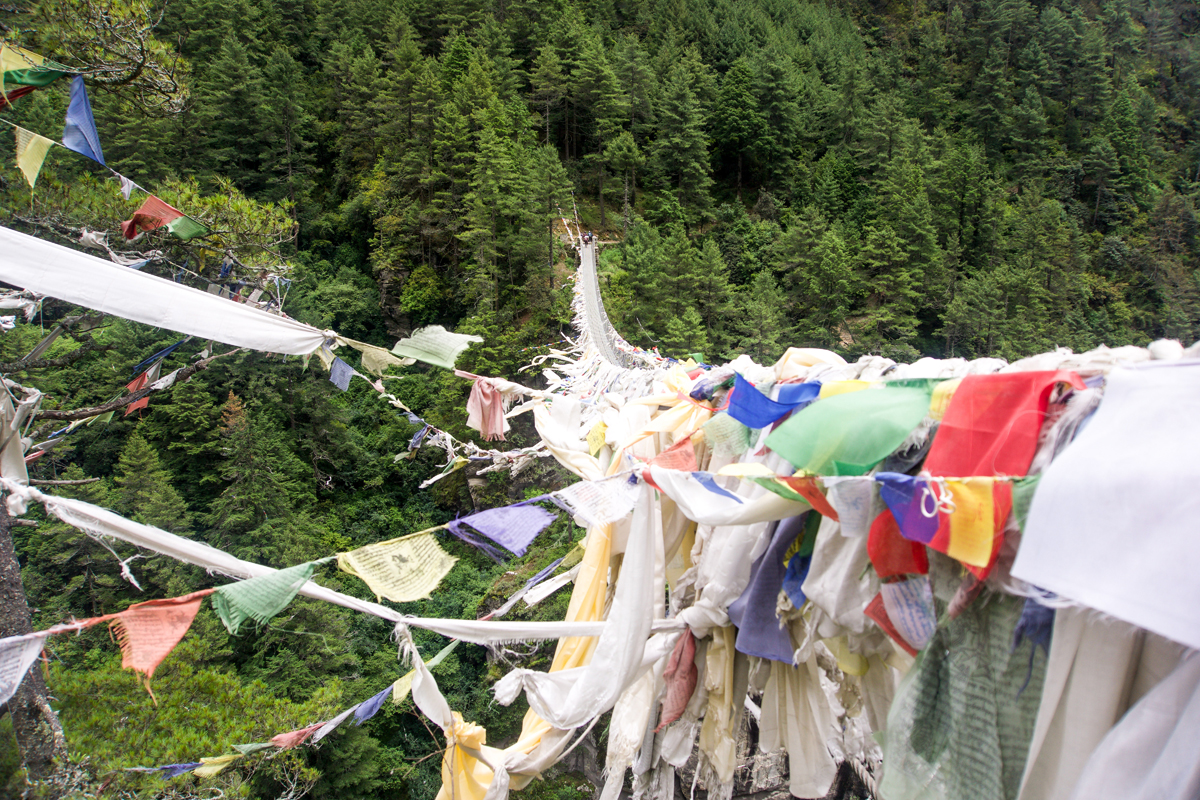 Prayer flags are put out and meant to degrade.  Each thread that fall off is a prayer that is released to the world.  If taken them down before they deteriorate, they must be cremated to release all the prayers.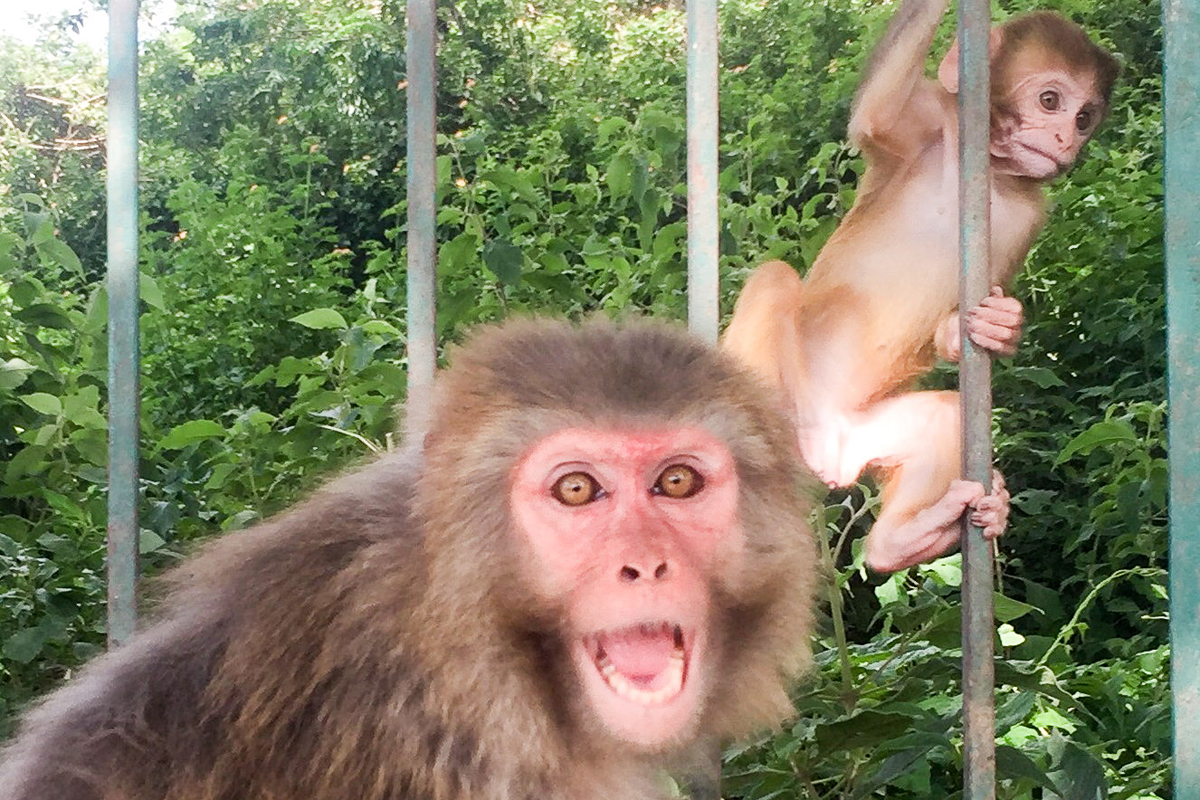 Swayambhunath Temple in Kathmandu is home to a large population of rhesus macaque monkeys.
"Everybody knows there's a limit of coffee that you should be drinking, and that's because caffeine causes tachycardia, tachypnea and some adverse vasodilation symptoms like headaches. That said, it's also a respiratory enhancer in that caffeine decreases bronchospasms, which is seen in asthmatics."
Because they like mountain research projects, Rich and Dr. Jung tossed around ideas about how caffeine may not be as bad as everyone says, especially at high altitudes.
"These symptoms — tachycardia, tachypnea, and hypertension — all occur at low altitude," explains Rich. "Our idea was that high altitude sees the same symptoms and at higher levels of severity. Therefore, the detrimental effects of caffeine would not exacerbate the symptoms, but be hidden inside the effects of high altitude, while leaving increased cognitive functions and reaction times as a benefit."
Rich continues. "Most headaches occur because you don't have enough blood going to the head. So, if caffeine—which is supposed to cut headaches—makes you tachycardic and tachypneic and hypertensive, that would drive blood to your head. More blood in the head could possibly mean more cognitive skills. Your hands are moving faster."
High altitude environments require a higher level of cognitive processing. The team's thinking was that the caffeine-induced hyperactivity that occurs at low altitudes might be more normal at a higher altitude.
Rich and Dr. Jung started looking into it, and discovered that nobody had done research on the impact of caffeine at high altitudes.
"You know, that was the beginning of it," Rich says. "We thought, 'Well, if we design this right, with protocols to match our previous research, we could actually do sort of a metadata combination.' Officially, we haven't made it known that we're going to do these comparisons, but that's the idea that we've been processing through."
The final research results haven't been released yet. "We're currently crunching data," says Rich. He's hoping that it will lead to some unique answers and publication within a 24-month period.
But for Rich, it's never been about the publishing.
"I don't really care about the publishing," he says. "I don't care what the results are," he says. "I just want to do it. I just want to see what the results are."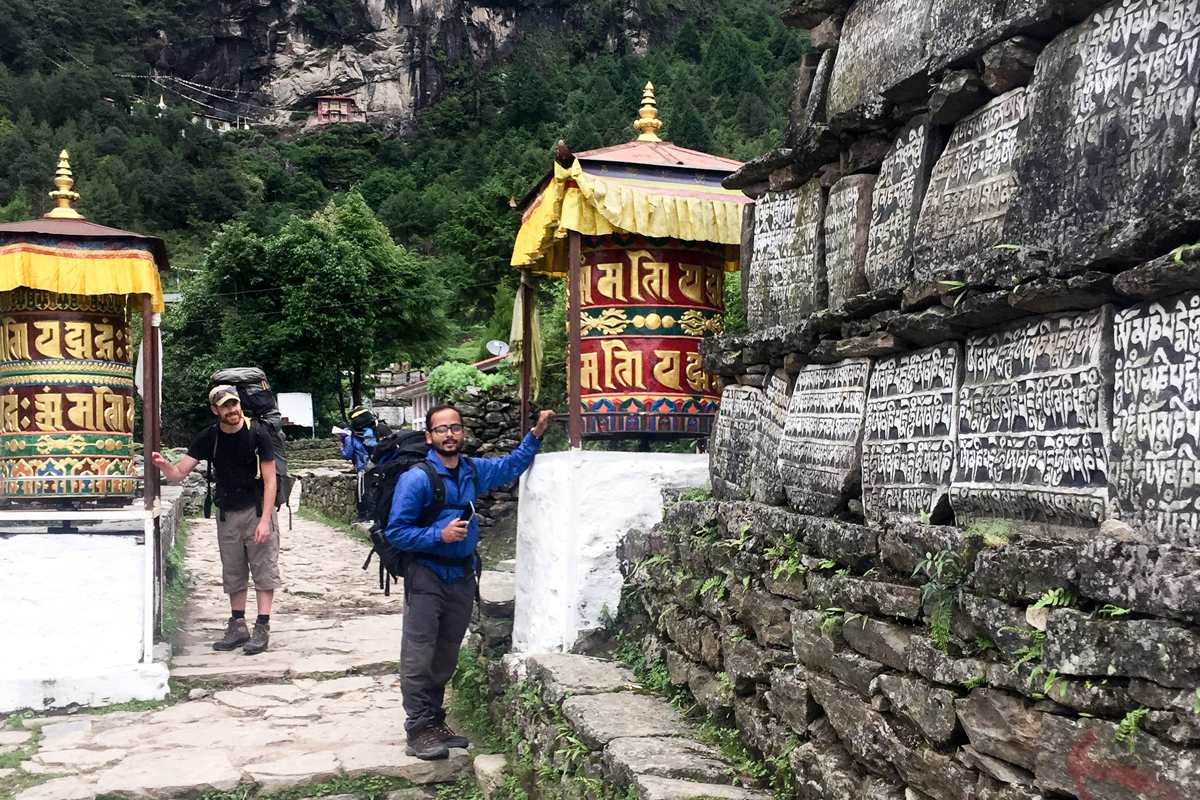 Dr. Jung and Dr. Suman encounter traveler's prayer wheels, which you spin in your direction of travel.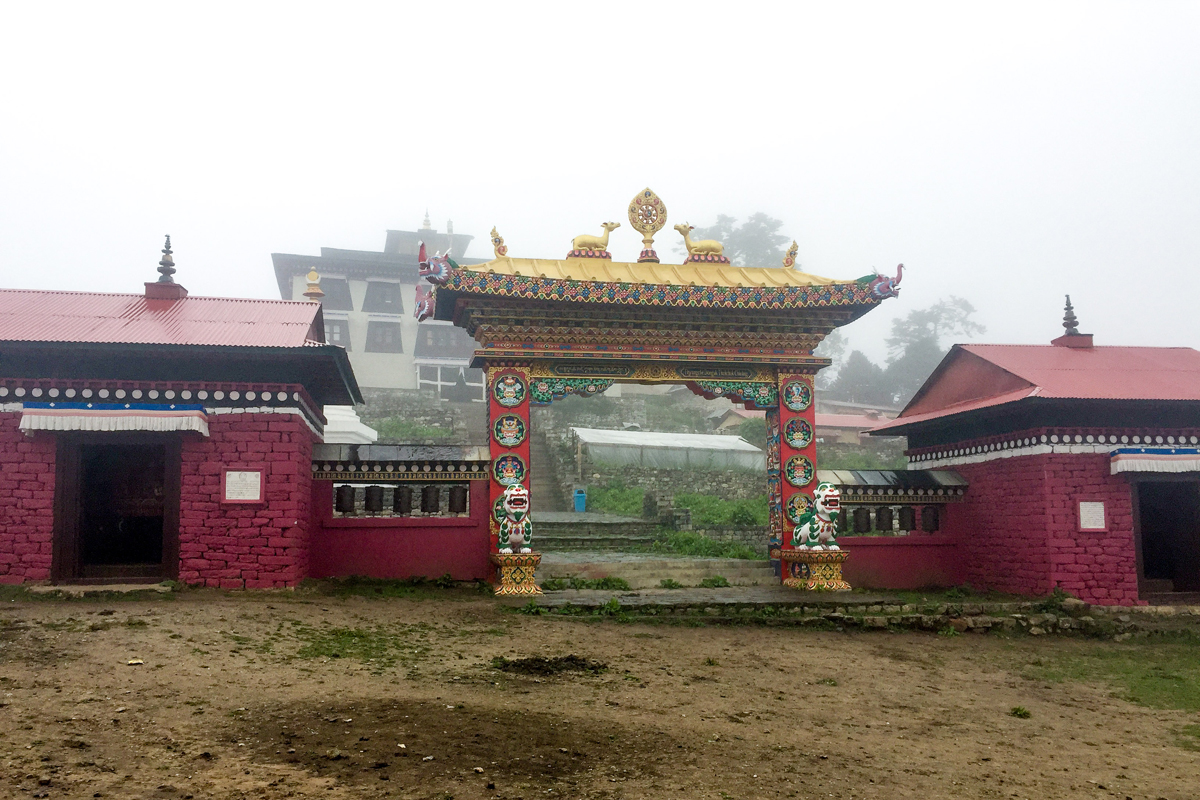 Entrance to the Tibetan Buddhist Monastery of the Sherpa community at Tengboche.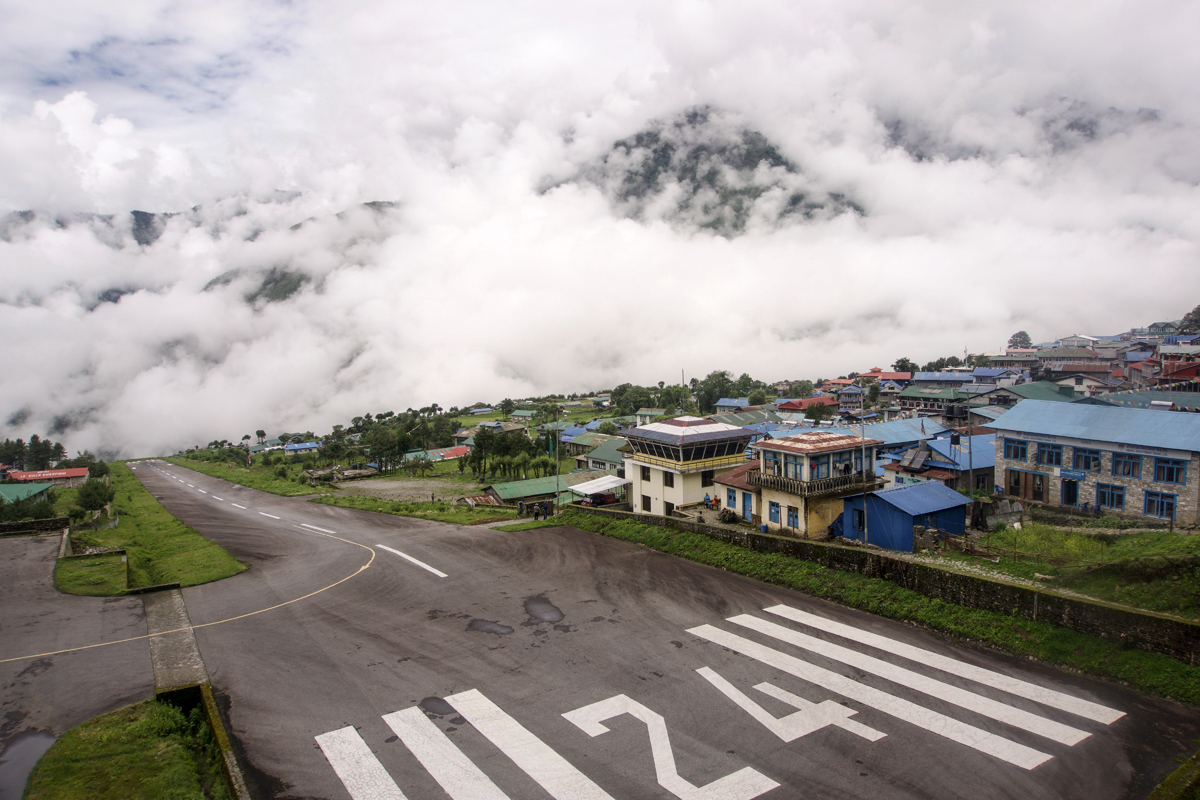 Lukla Airport, known as the most dangerous airport worldwide. Built on an incline to aid landing speed reduction, it is very short and dead ends into a rock wall.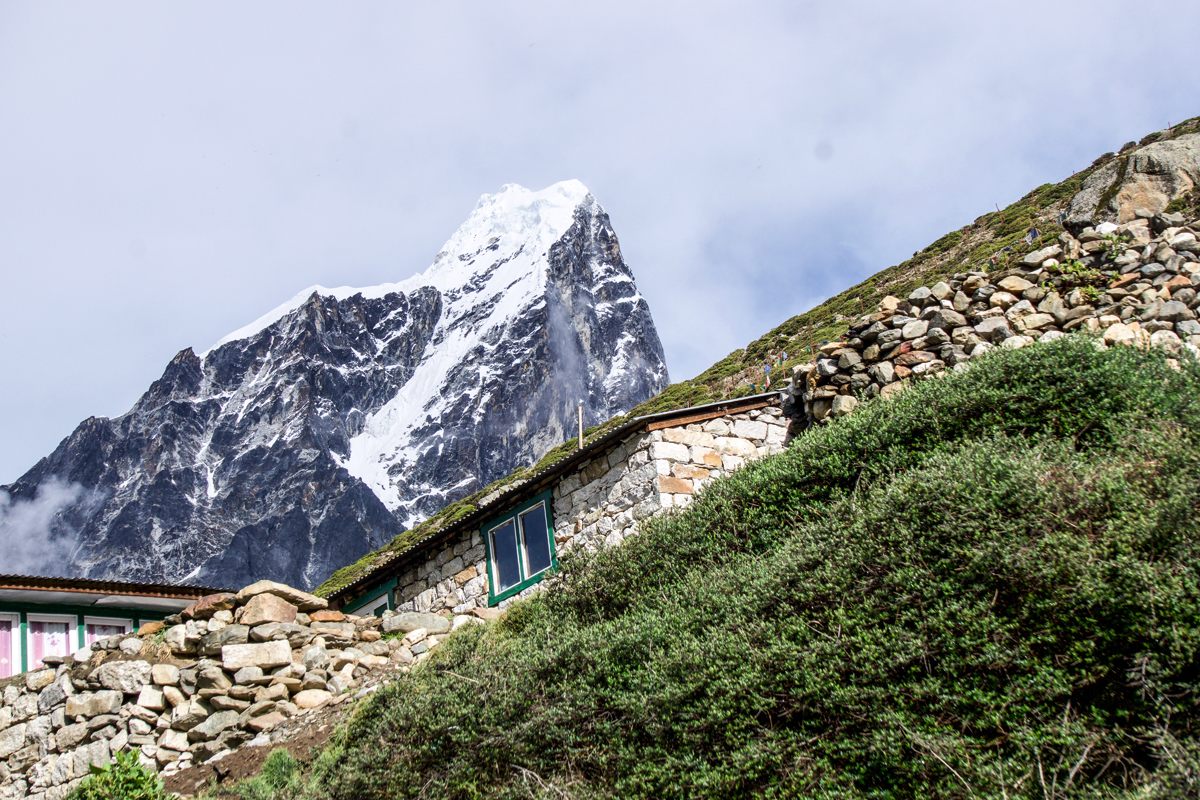 Ama Dablam as seen from the village of Dingboche, where all research began and ended.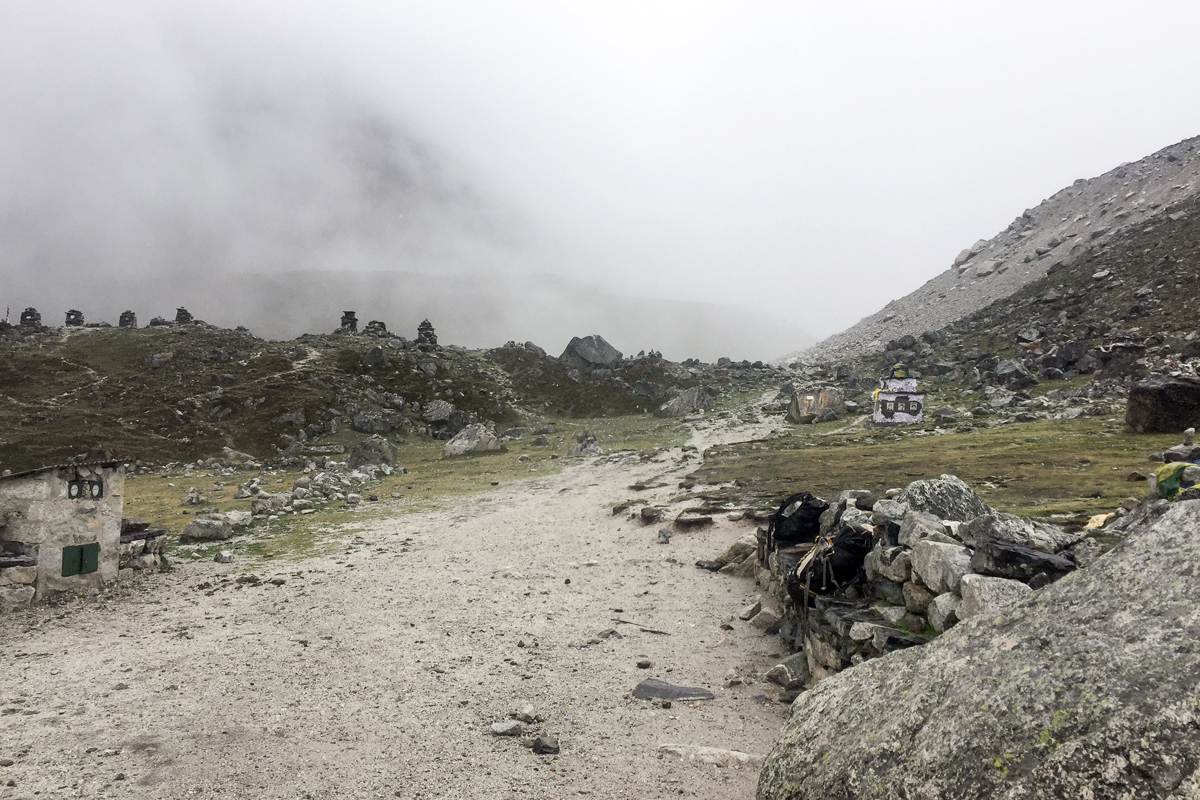 The path through the Climber's Shrine above Thukla.
Prayer flags on display along Climber's Shrine above Thukla.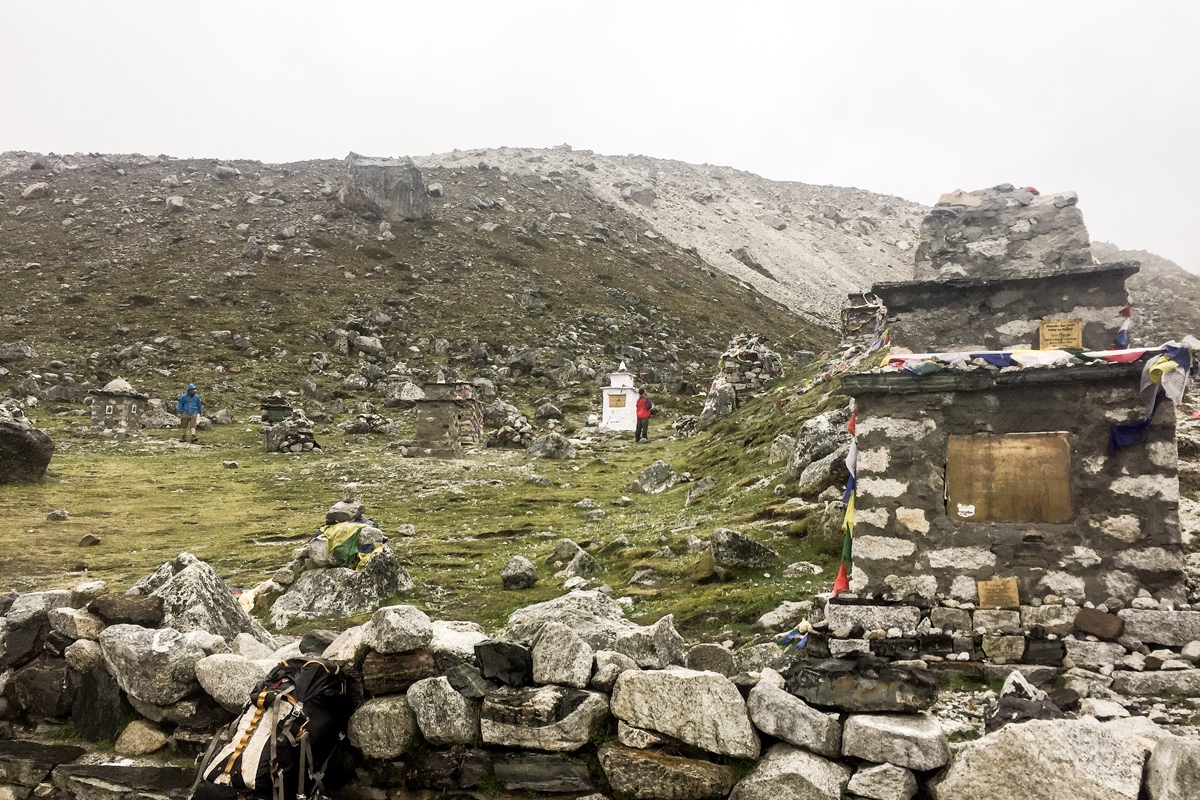 Monuments, memorials and prayers to the climbers of Everest located above the village of Thukla.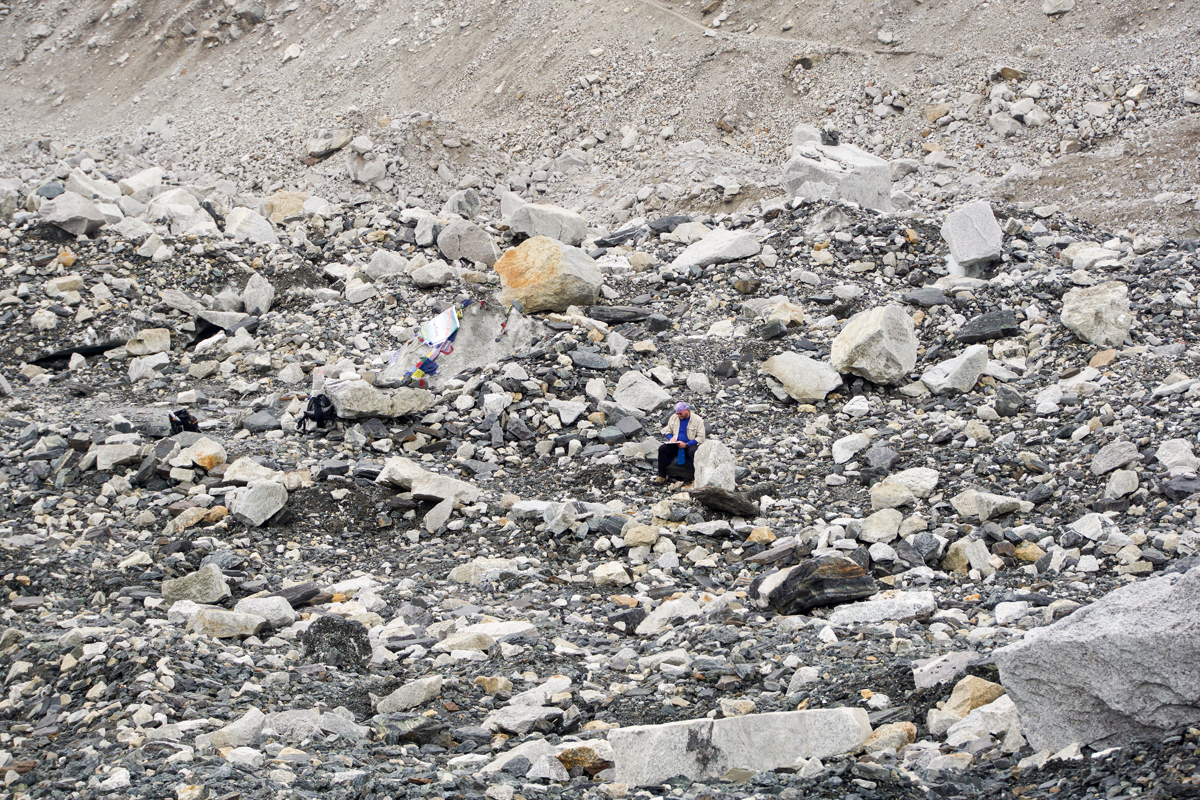 Rich taking a Chi moment at Everest Base Camp.
Rich initially met Dr. Christopher Jung while fulfilling his MEDEX anatomy and physiology prerequisites at UAA. "He was one of my instructors. We had similar interests and a sense of humor. From the get go, we just clicked."
While fulfilling the MEDEX prerequisites, Rich acted as Dr. Jung's teaching assistant for a couple of semesters. "After that, I ended up teaching a couple of his classes," says Rich. "I worked with him in the biology department where he was my boss at the time, while I waited to be accepted into MEDEX."
Previously, Dr. Jung and Rich Wehling had completed a number of research projects together, publishing and presenting data from sleep studies at a number of conferences, including the 20th Annual World Congress of Epidemiology and the Arctic Council Health Consortium, which is comprised of the eight Arctic nations—Canada, USA, Iceland, Finland, Norway, Sweden, Denmark and Russia.
The particulars behind the Mount Everest research would likely strain the skills of most academics operating in the field.
Arriving in the capital city of Nepal, Kathmandu, the team made their way to Lukla by air charter and here they began the 92-mile walk to Mount Everest base camp at 17,700 feet. Accompanying them on the journey were to be two local porters to help distribute the weight of 51 days of equipment, and a Sherpa who acted as our guide.
"We had to exclude the Sherpas from our research, or that would have skewed the data," says Rich "They have a genetic malformation that allows them to function superior at high altitudes with low heartbeats, low respiratory rates and low blood pressures."
The porters were excluded as well. "No one has ever really looked at it, but they probably have a similar malformation as well," says Rich.
The porters would carry 120-200+ lbs., bent over at a 45-degree angle with no complaint.  "They made our 60 to 80-lbs rucks look like a daypack," says Rich. "With all that, they were hiking up the same hills I was hiking, doing it faster and longer. These kids were half to a third my age, but with a lot less muscle mass. It was really humbling."
For research subjects, the team positioned itself in Dingboche (14,400 ft.) along the main trekking route to basecamp. The goal was to test the subjects when they had been at that altitude for less than three days. "If someone gets acclimated, they start losing the impact of high altitude," says Rich. "There's a period of time when the symptoms get really bad. And that's what we wanted—to see the symptoms, before they tapered off."
Altogether, there were 41 participants of American, Canadian, British, Scottish, Irish, Australian, Nepalese, Spanish, French and Indian origin.
The subjects would have to be awake for an hour or more to be rid of the sluggishness that comes with waking. Rich and Dr. Jung would take a pre-dosing cognitive functions test and a set of vitals, then "dose" the subjects with either 200 milligrams of caffeine or a placebo. The participants would then undergo a post-dosing serial vitals every 30-minutes and cognitive functions test every hour. The goal was to get three cognitive functions test per participant.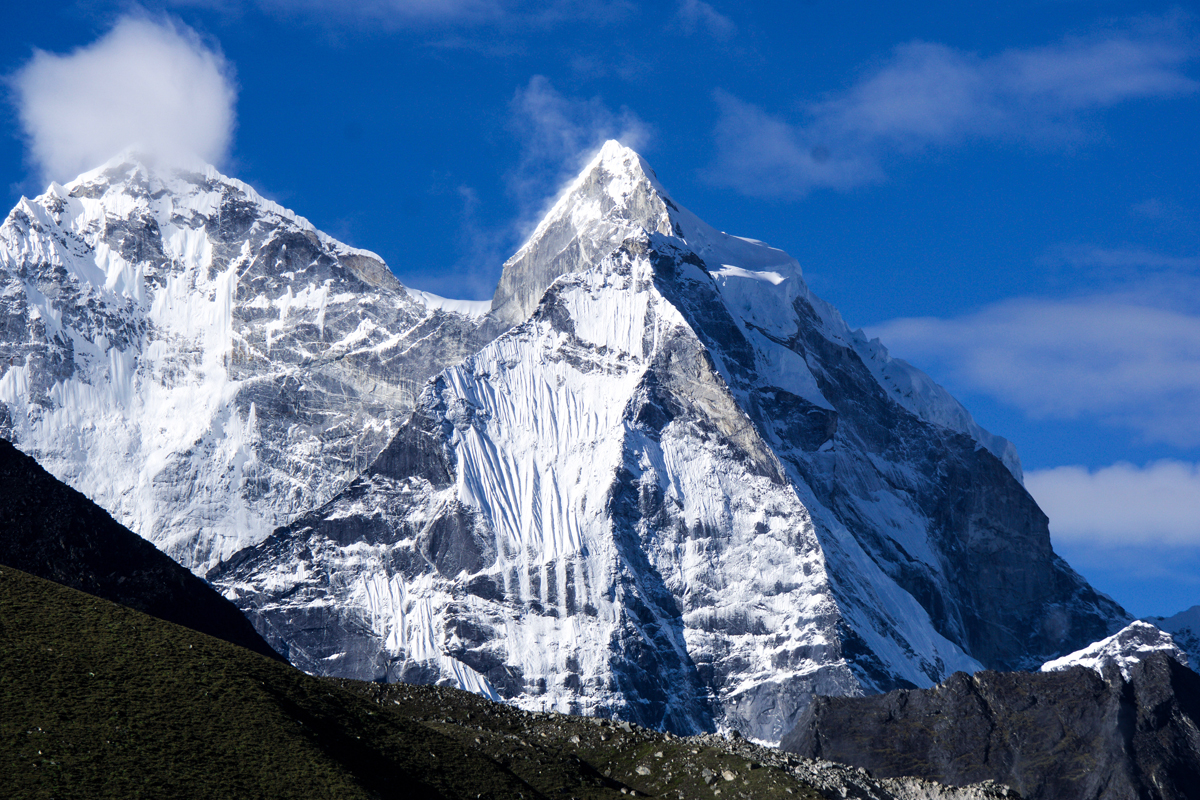 This view of Mt. Pomori is owned by Nepal, the backside by China.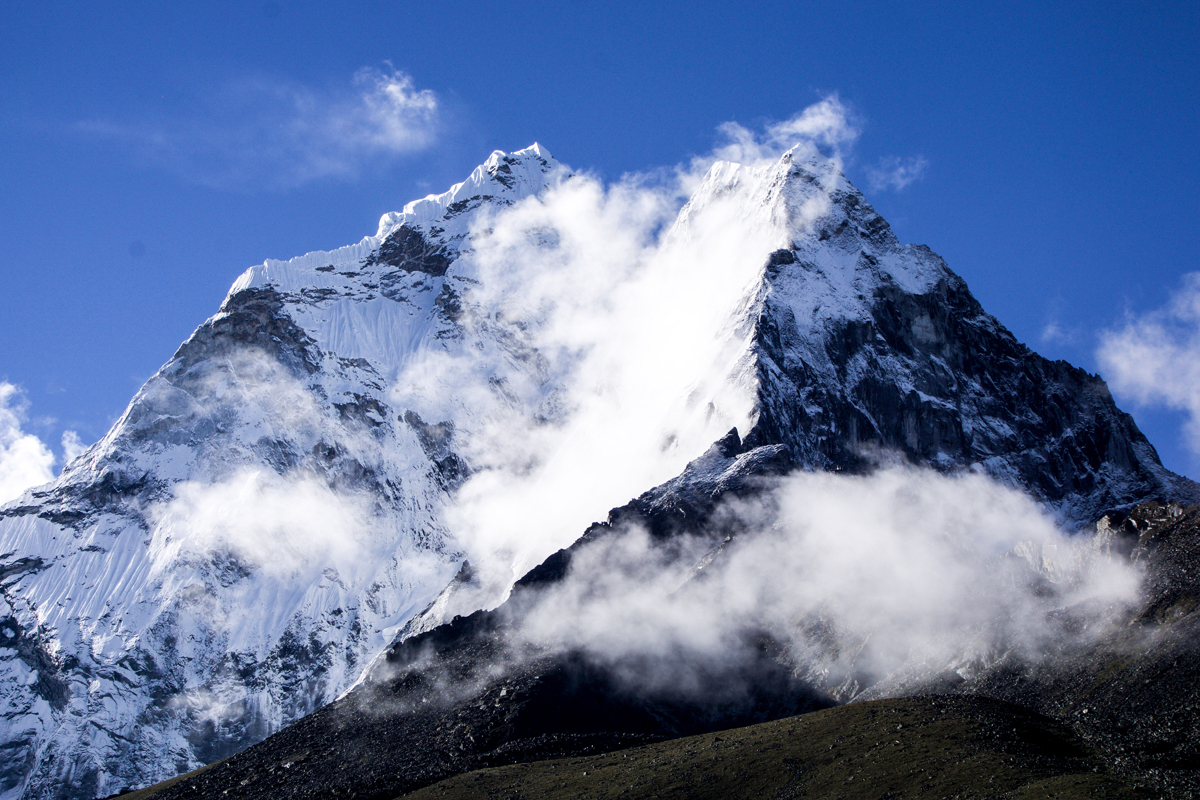 Mount Ama Dablum as seen from Dingboche.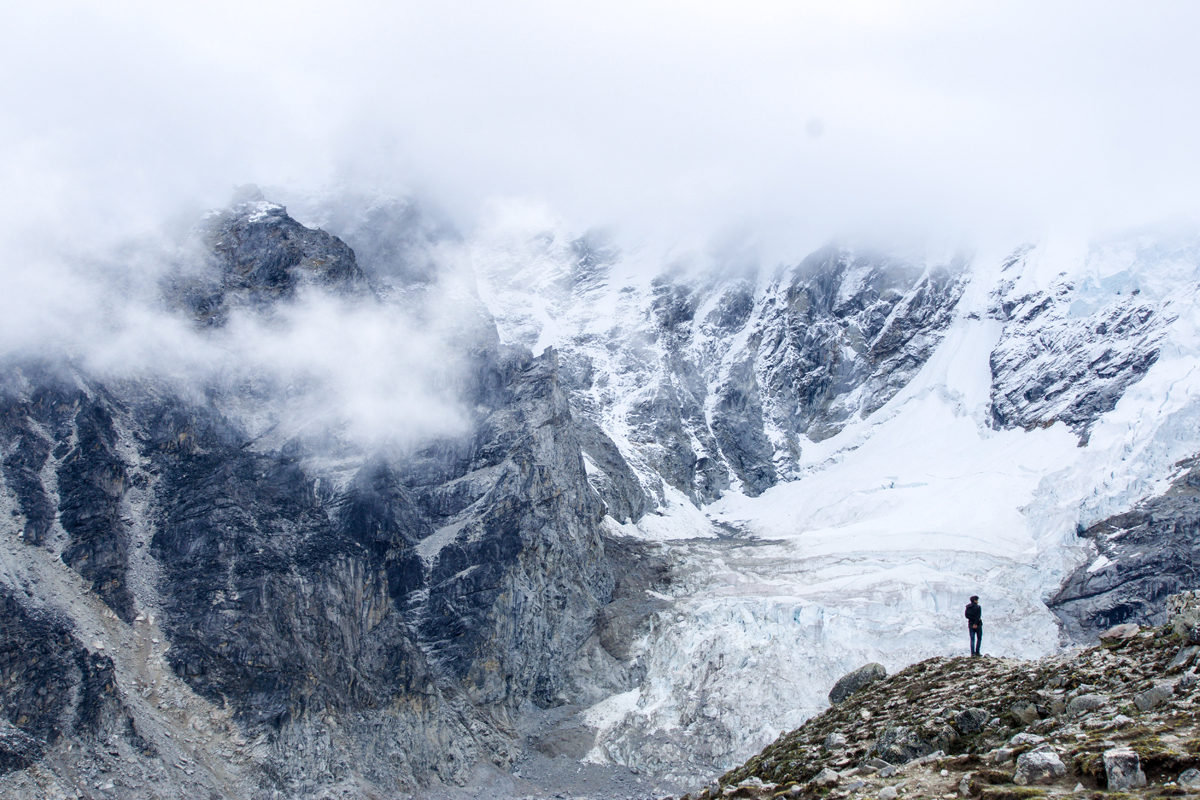 Looking from Mt. Pomori across to Mt. Nuptse.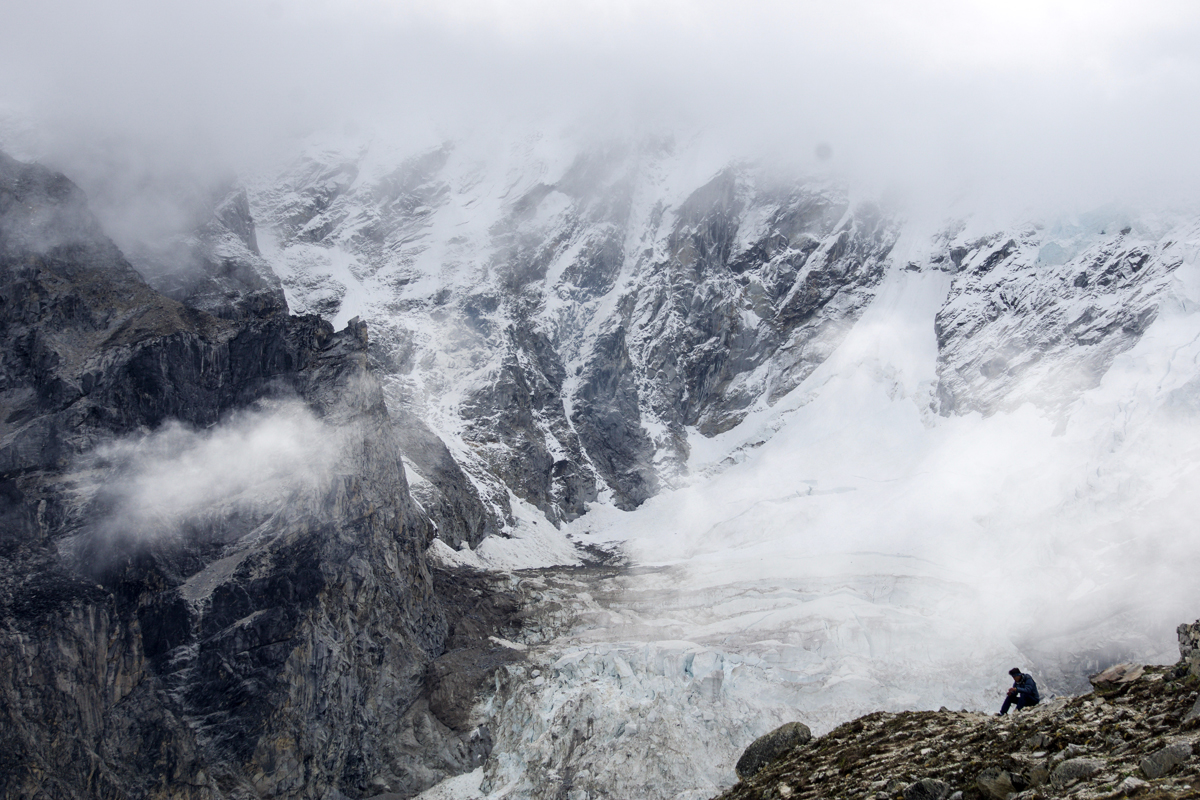 Mt. Pomori across to Mt. Nuptse, with Mt. Everest to the left.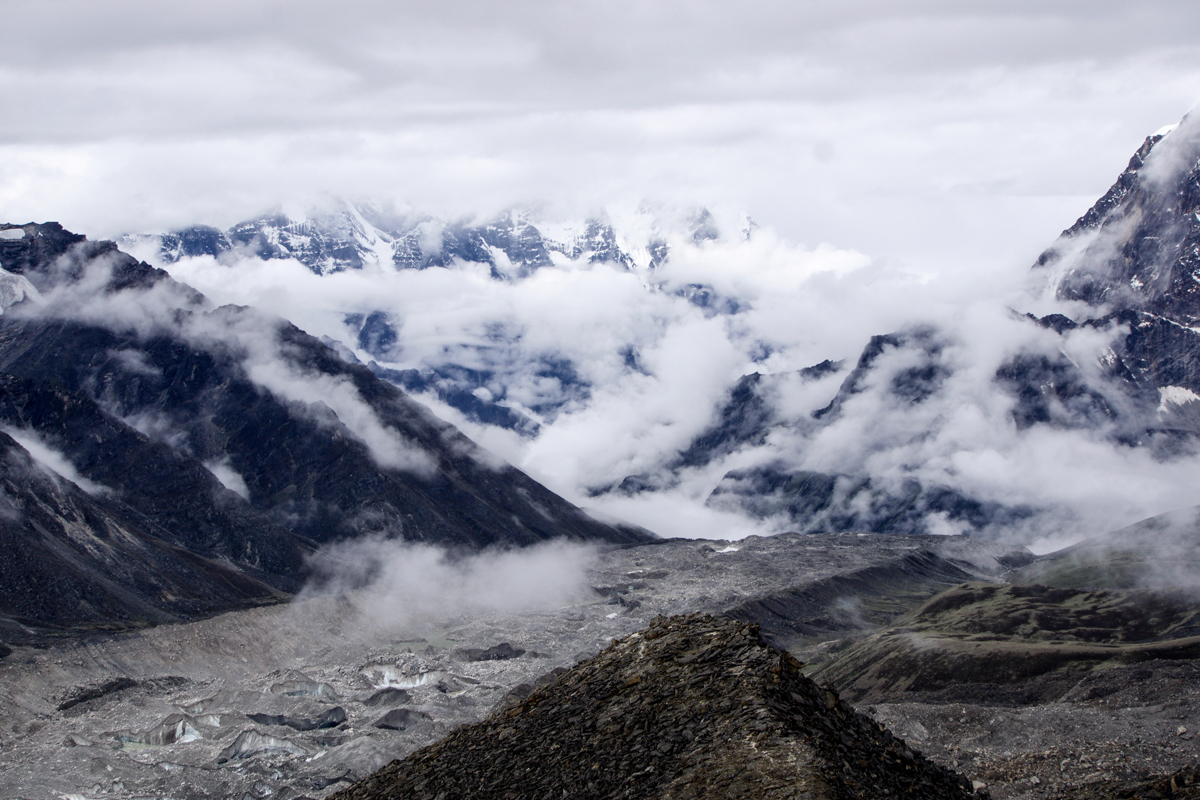 Pumori trail, looking southward back down the valley towards Gorak Shep and Loboche.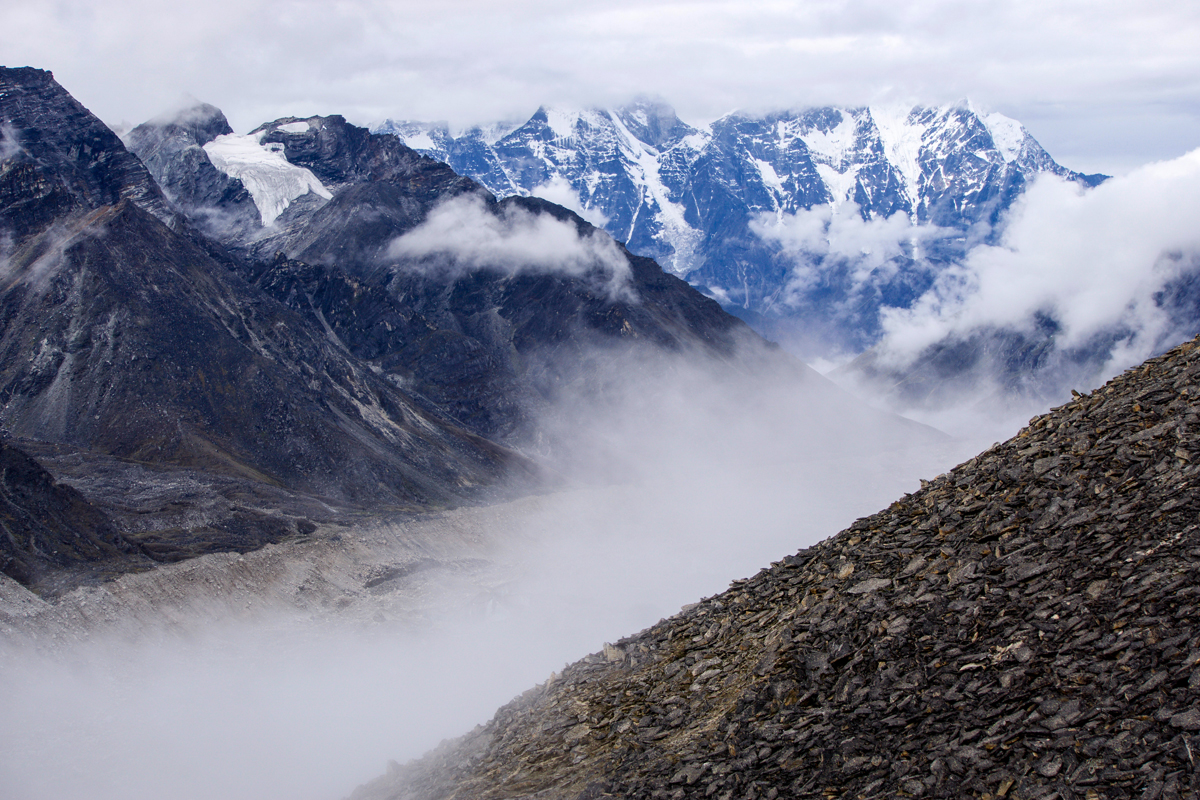 Pumori trail, looking southward back down the valley towards Gorak Shep and Loboche.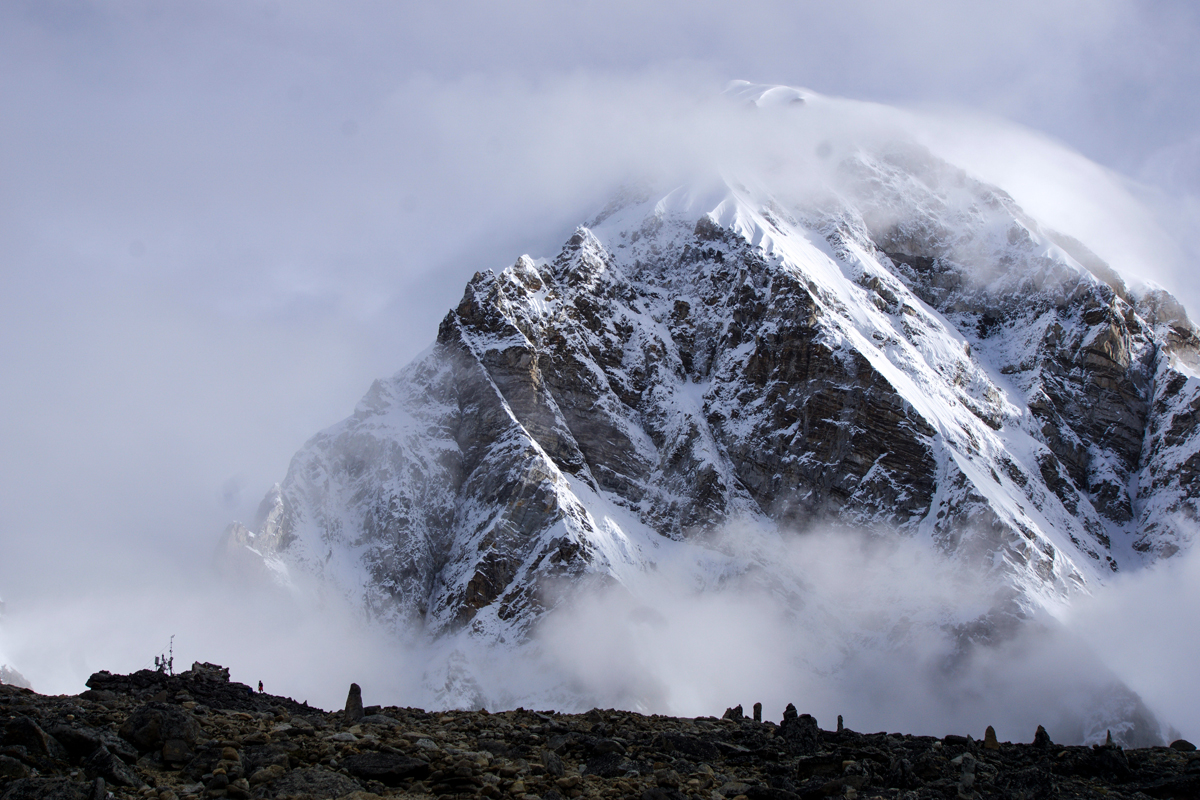 View of Ama Dablam from across the valley on Tobuche's Ridge.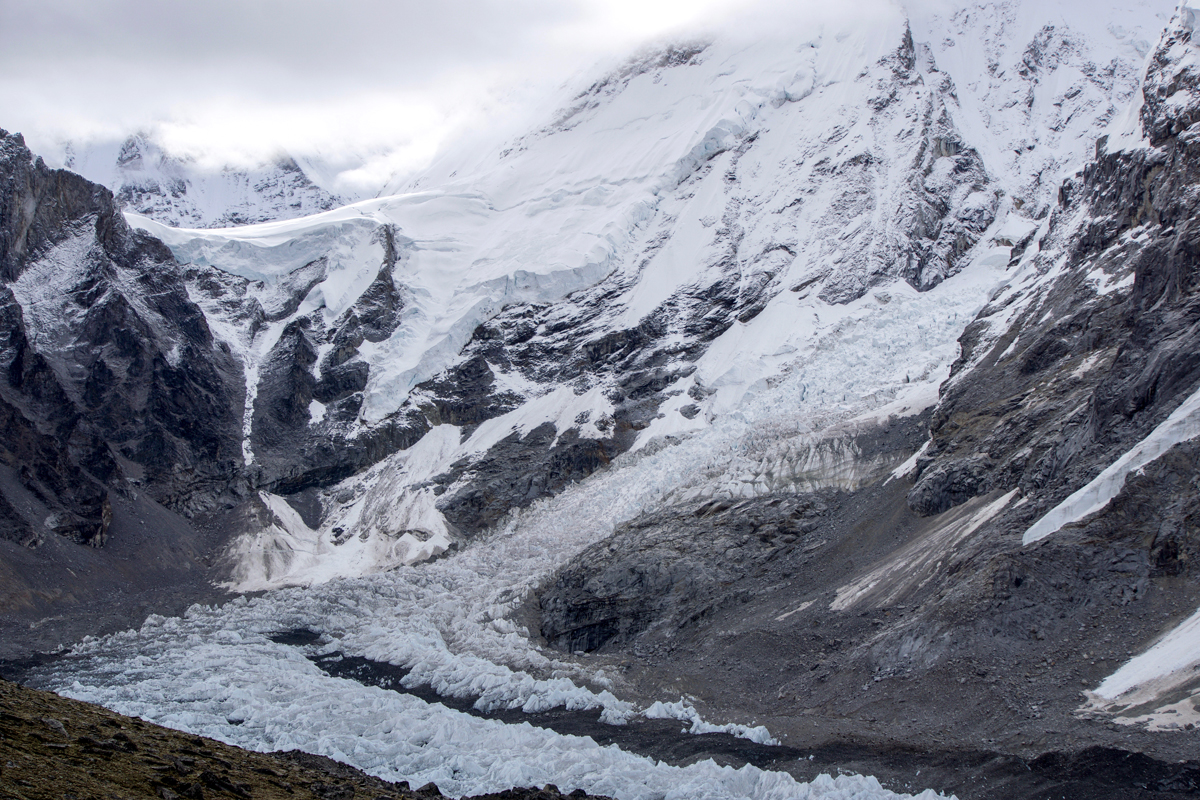 Everest is at the right, with Khumbu Glacier and Ice Falls visible.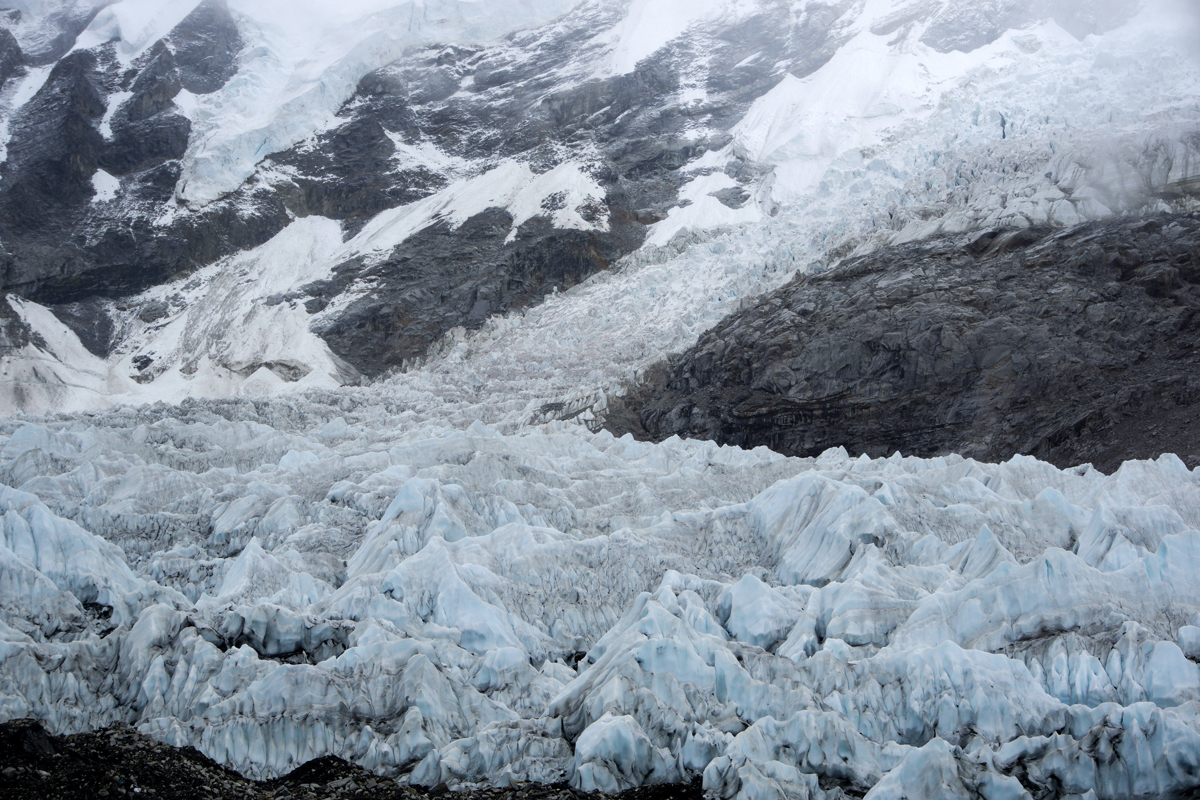 Khumbu Glacier and Ice Falls at the base of Mount Everest.
"We'd take vitals every 30 minutes, with a final cognitive after two hours," reports Rich. "Sometimes that worked, sometimes it didn't, because they are on Everest for a lifetime trek, so we didn't want to interfere with their daily routines."
Besides Rich and Dr. Jung, the research team included a Nepalese high altitude doctor who acted as their guide. Back in the States, they originally started with six on the team. But due to personal and financial requirements, they ended up with only the two of them on the ground in Nepal. The National Institute of Health paid for a portion of the study. The University of Alaska Anchorage paid for their transportation. The balance came out of Rich and Dr. Jung's pockets, which Rich estimates at around $1,500 each.
For Rich, there was another unanticipated expense of $1,000 on the return trip.
Travel to Nepal from the US required flying through China. For the return journey, this proved to be a potential problem for Rich. On the outbound trip, Rich was informed that he'd be in China for longer than 24 hours during the return, a situation which requires a special visa. Without it, he could be detained for up to 30 days.
Mysteriously, this visa rule was not applied to others like Dr. Jung.
"Being former military, I was not willing to take the risk of being trapped in a communist country without a true explanation," says Rich.
The extra $1000 went towards an emergency revised flight plan from Kathmandu to Qatar in the Middle East, then back to the US. He was able to avoid transit through China altogether.
As part of a military family, Rich Wehling was born on a military installation in Alabama. His own career with the US Army began as a Huey helicopter crew chief, where Rich performed a couple of spontaneous medivacs.
"That meant something to me," he says. "So, that started the idea of becoming a medic and would eventually lead me to MEDEX."
Before that could happen, Rich switched to the infantry and was assigned into the Ranger battalions and the Special Operations community. Everybody worked in very small groups, and all were trained in multiple jobs. "In addition to my normal duties, I went through the 91-Bravo course, which back in those days was the Army Medics, so my secondary job was field medic." For much of that time he worked out of the School of the Americas in Fort Benning, Georgia, meaning he was deployed to Central and South America for long stretches. Rich continued as a medic for the remainder of his military career until discharge in '93.
Now in the civilian sector, Rich jumped to the Department of Defense. "My job was to identify radioactive materials," he tells us. This took him to Colorado, Wyoming and locations as far away as Africa—places where the US has uranium interests or radioactive processing plants. "It's either repositories, storage facilities, source materials or missing materials."
Say what?
Rich clarifies. "You have to account for everything to the Department of Energy. Whether you're military or otherwise, you still have to know where all of your sources are. And then when those things get lost or disappear, you have to go find them."
Clearly, Rich possesses a scientific mind, something that continues to serve him well. "I need to know the reason behind things," he says.
In 2006, Rich and his wife made the move from California to Alaska. They were seeking a less stressful existence, and Rich understood how suitable Alaska would be from a prior time in the 49th state. Once established in Anchorage, the path to the MEDEX Northwest physician assistant training program proved a natural fit.
Rich's cultural observations about the people of Nepal sparked a deep curiosity about the place. Not a religious person himself, he was sensitive to the fact the Buddha is revered in Nepal and that the country is, in fact, birthplace of "the One." Rich became conversant with the locals on Buddhism and Hinduism, and the differences between the two faiths.
"I could see how passionate the people are about their religions and how it affects their lives," he says.
He saw how the people spend their time trying to earn merit, a beneficial and protective force that accumulates as a result of good deeds, acts, or thoughts. In Buddhism, there's no time for crime and hate.
"Everybody is acting to earn merit in order to be able to make the prayers," says Rich. This was reflected in the kind ways the locals acted towards others. "I thought that that was really cool."
Throughout Nepal—whether in Kathmandu or along the trek to Mount Everest—he heard the constant greeting, "Namaste." "We probably passed 1500 people over the time, but anytime you said it, it was always returned," says Rich. Concerning the sacred word namaste, he learned that the true meaning was 'Bless the person that watches over you'.
"It didn't matter whether the individual we passed was Buddhist or Hindu, all understood the significance, and it was returned. I'm not Buddhist, but I can appreciate that level of commitment and intensity."
Given the nature of his research while in Nepal, we wondered what the coffee was like in country.
"Well, they're actually famous for their teas," Rich says. He then recounts a moment along the Himalayan trek sitting at basecamp, enjoying a cup of coffee provided by the locals.
"Man, this is the best cup of coffee we've ever had," Rich exclaimed. "What kind is it?
In response, the local Nepalese produced a glass jar of Sanka instant coffee. "That was so funny," says Rich. "But whatever, it just tasted so good."
Now back in Anchorage and immersed in his clinical year at MEDEX, Rich has a couple of rotations scheduled in Anchorage, but expects to be fulfilling much of his clinical obligations in remote Alaskan settings.
"Unlike a lot of my colleagues who have kids at home, I am older. All my children are grown and on their own. So, I'm going to be doing a lot more traveling in my rotations, which is great. My wife will come see me when she can. She's a schoolteacher here in Anchorage. She teaches special needs preschool here. I think that's why she likes me: I'm special needs, ask anyone who knows me."
Looking back at his summer on Everest, we ask Rich to reflect on the personal reasons that drove him to undertake such an arduous journey.
"Well, the research was the outward reason that I did it," says Rich. "Looking back, Everest was the other driver. I'm 54 years old this year. So I will probably never get another chance to go to Everest. It just seemed like it was a defining moment for me. You know, there are great mountains on every continent, but Everest is the great mountain. I did a lot of soul searching while I was there. That's why I say, in hindsight, there was another reason that I went that wasn't even recognizable to myself."