Kira Sandon of MEDEX Spokane Class 18 is standing outside the Heritage Health mobile unit in Coeur D'Alene, Idaho. This specially fitted RV is part of the clinic's Homeless Outreach Program that meets the needs of underserved patients in several local neighborhoods. Kira is working in these tight quarters until August under the guidance of her family practice preceptor, TJ Byrne, PA-C. Together they follow a published schedule of stops in Coeur d'Alene and neighboring Post Falls.
"A lot of what we provide involves some social work, or some psych care," she says. "Some of them just want somebody to listen to them, without judgement." Patients may also find some food, water or basic supplies on the mobile unit. "We carry a lot of over-the-counter medications, and this time of year a box of cetirizine or bottle of sunscreen can have a dramatic effect on quality of life."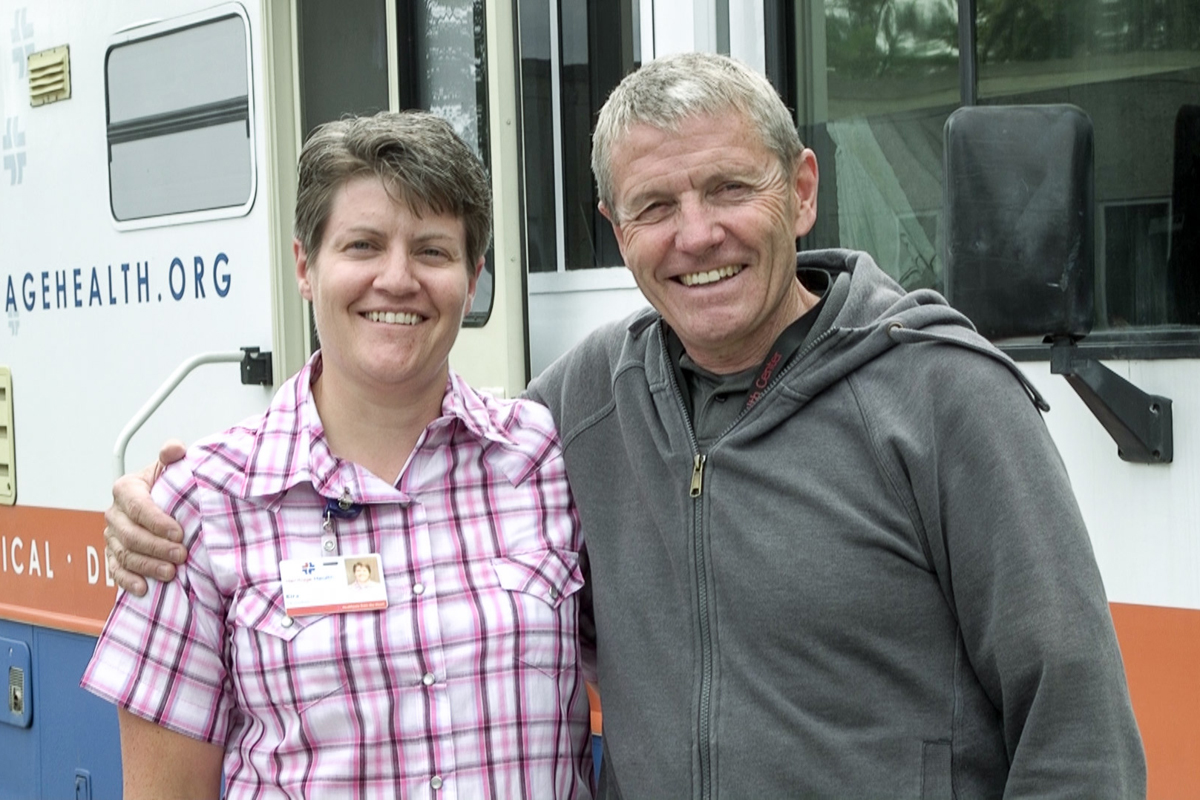 Kira Sandon of Spokane Class 18 with her family practice preceptor, TJ Byrne, PA-C.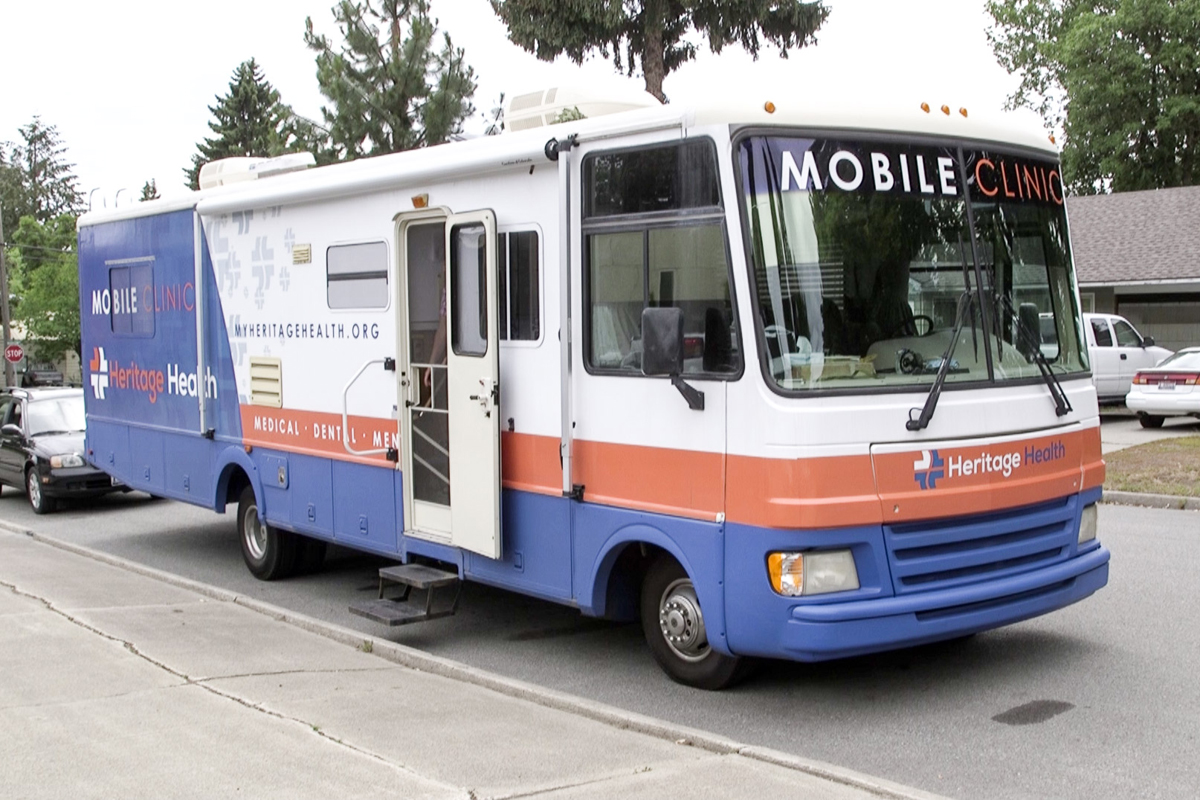 TJ and Kira work out of the Heritage Health Mobile Clinic in Coeur D'Alene, ID.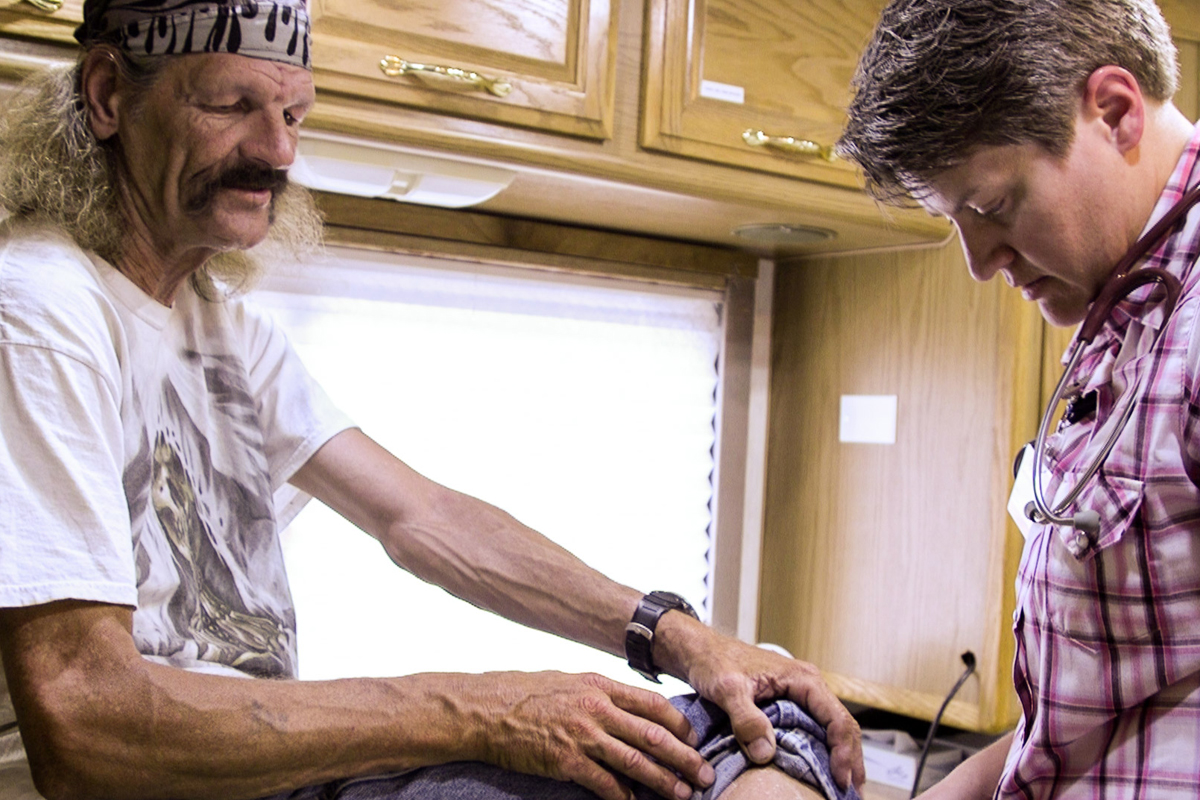 The van interior is fitted to provide medical services to the area's homeless.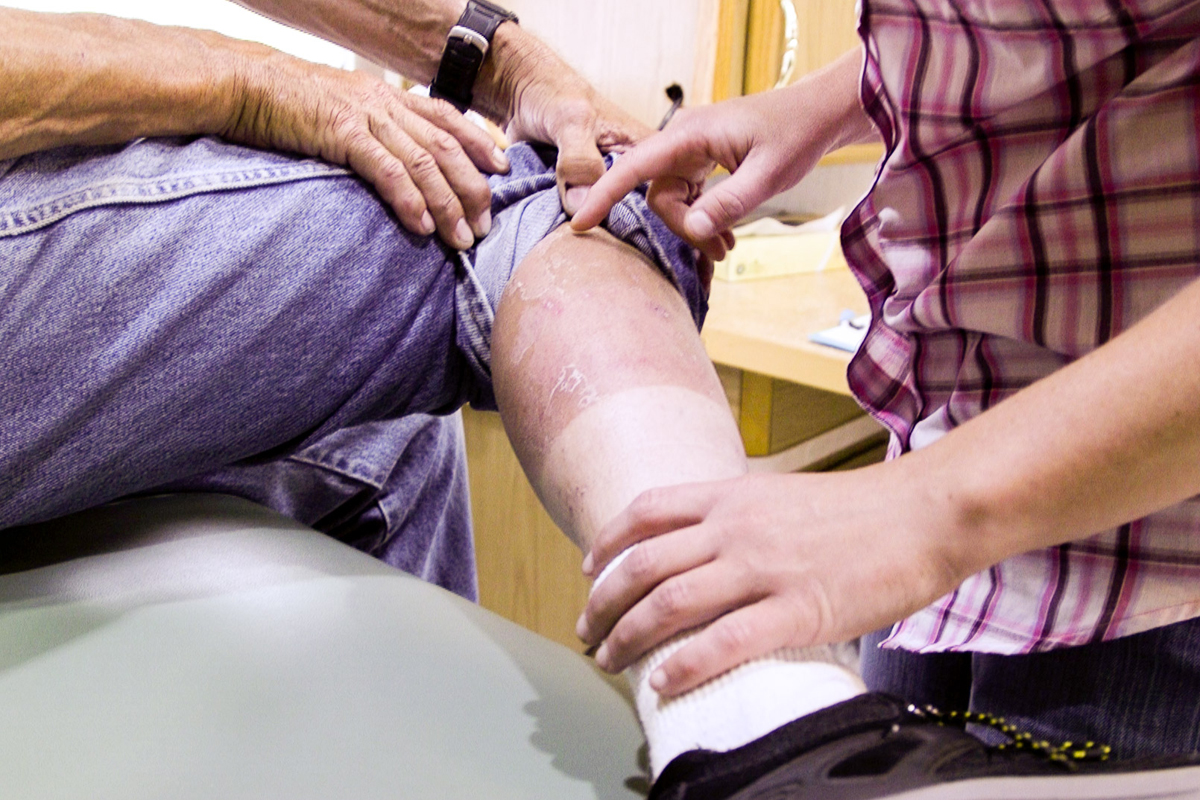 Kira Sandon examines leg of a patient with severe sunburn.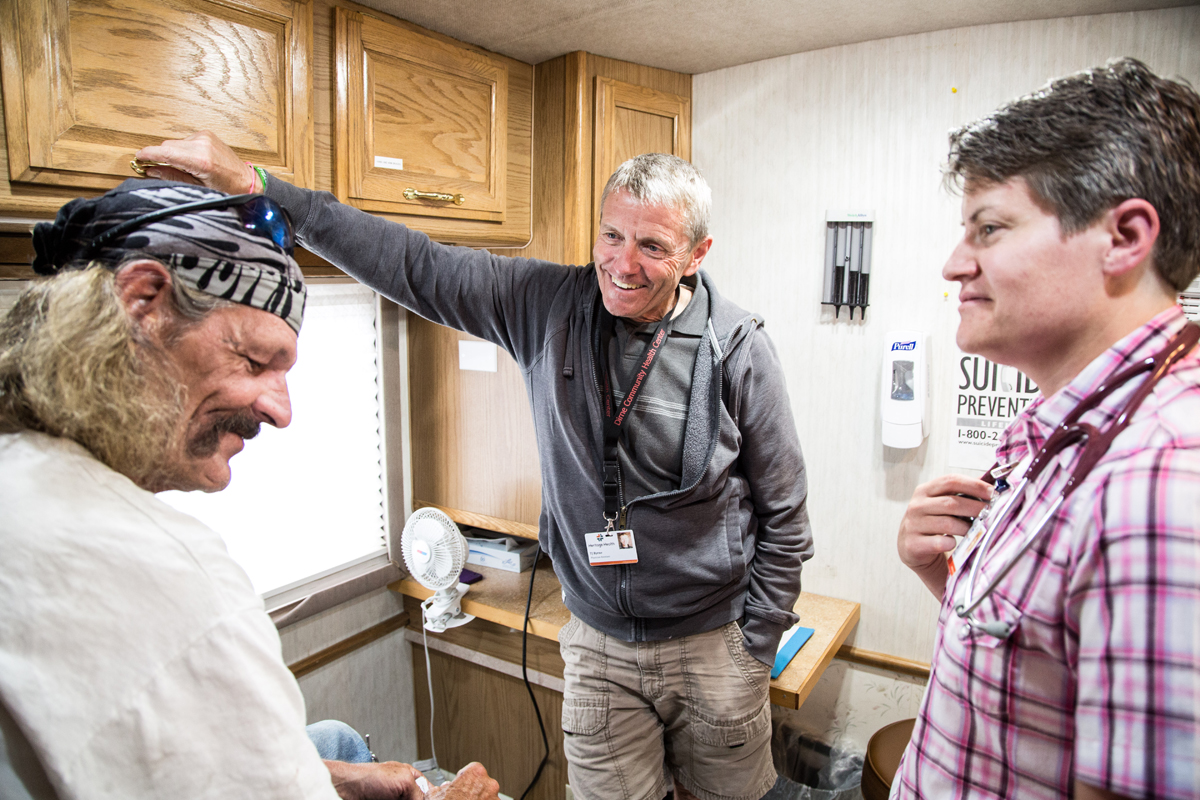 TJ Byrne, PA-C, and Kira Sandon take a moment to chat with the patient, a homeless man in his late 50s.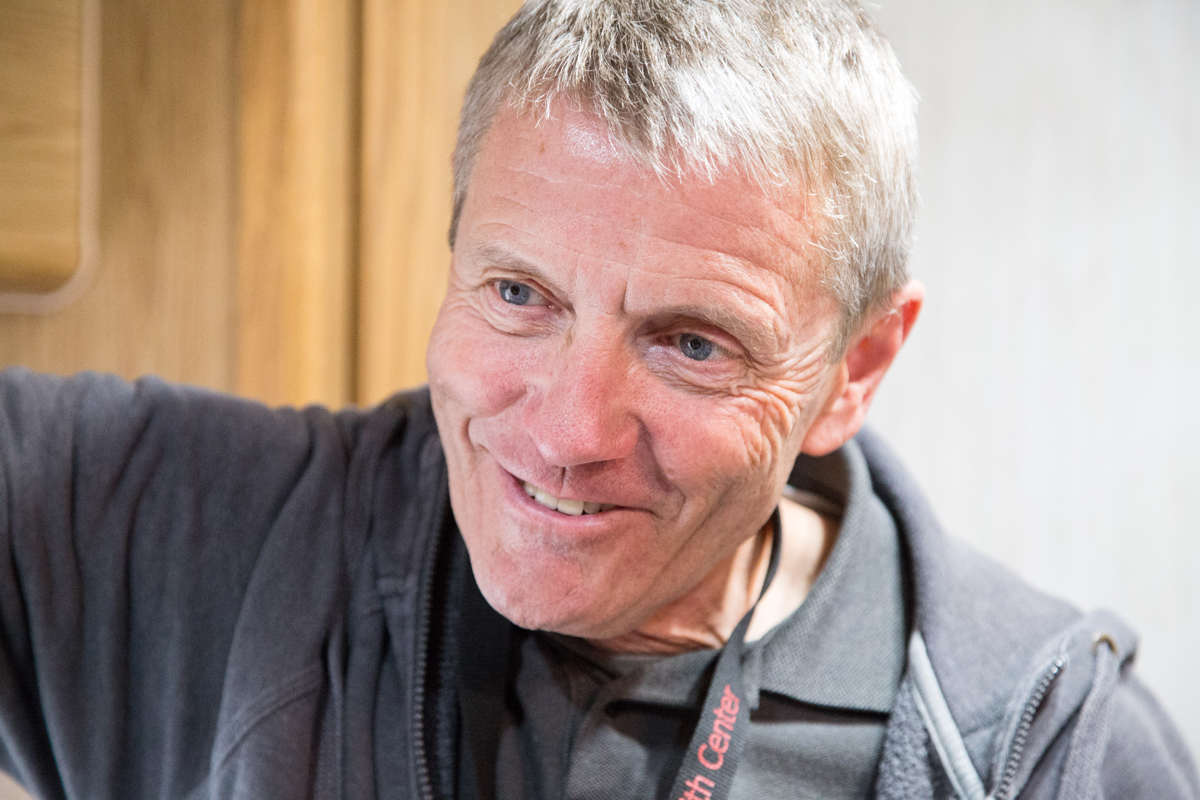 TJ Byrne, PA-C, is in charge of Homeless Outreach for Heritage Health in Coeur d'Alene.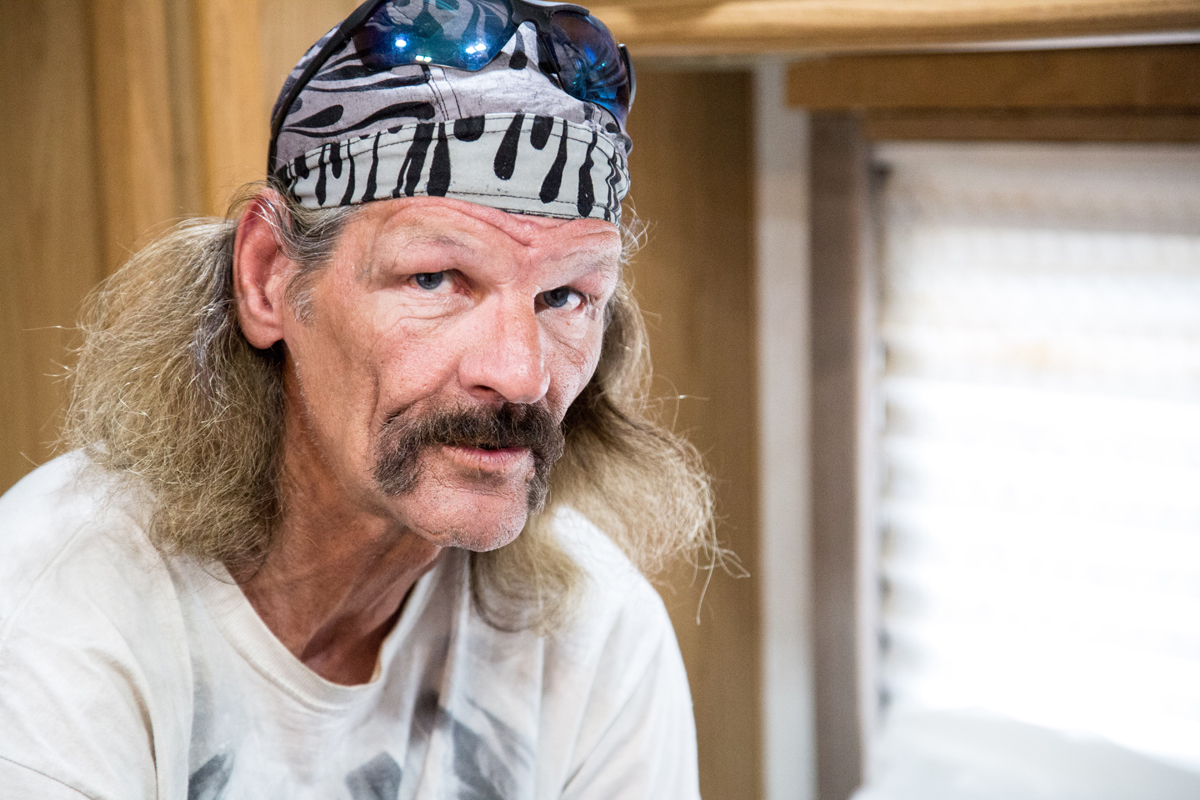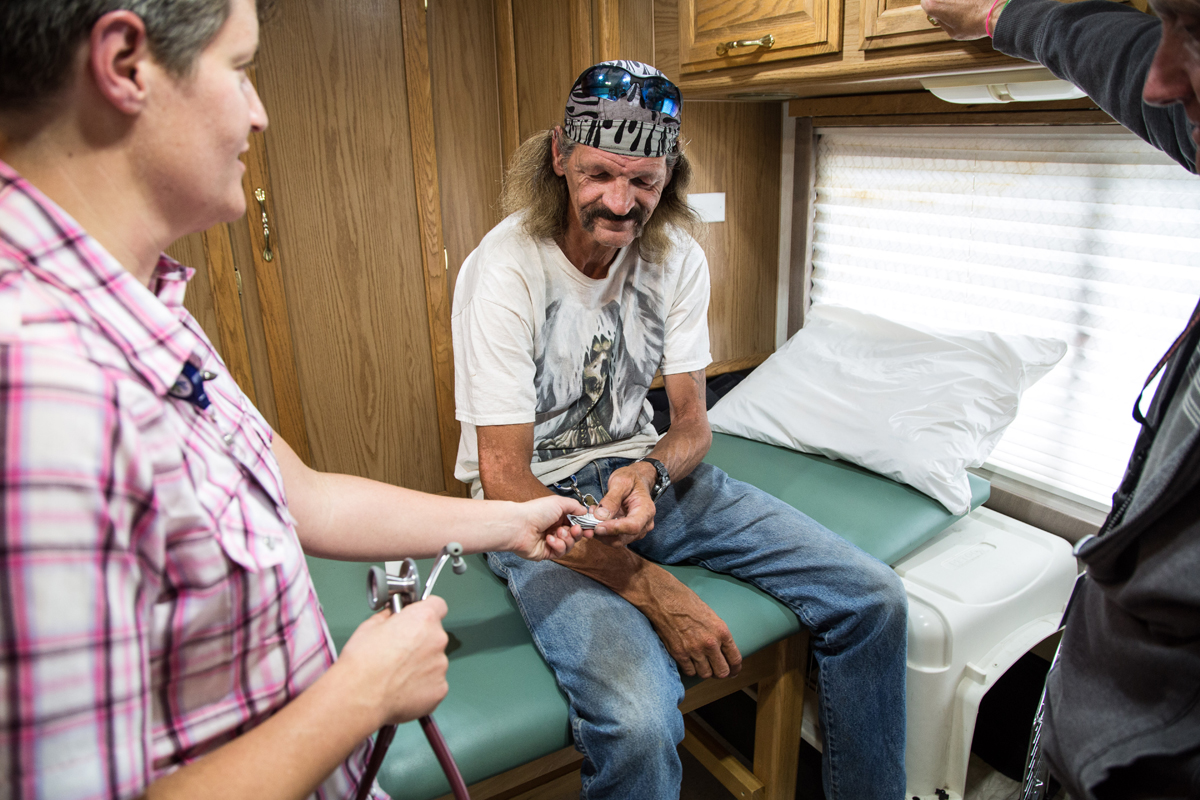 Kira Sandon hands the patient some antibiotic ointment that he can apply to his sunburned leg on his own.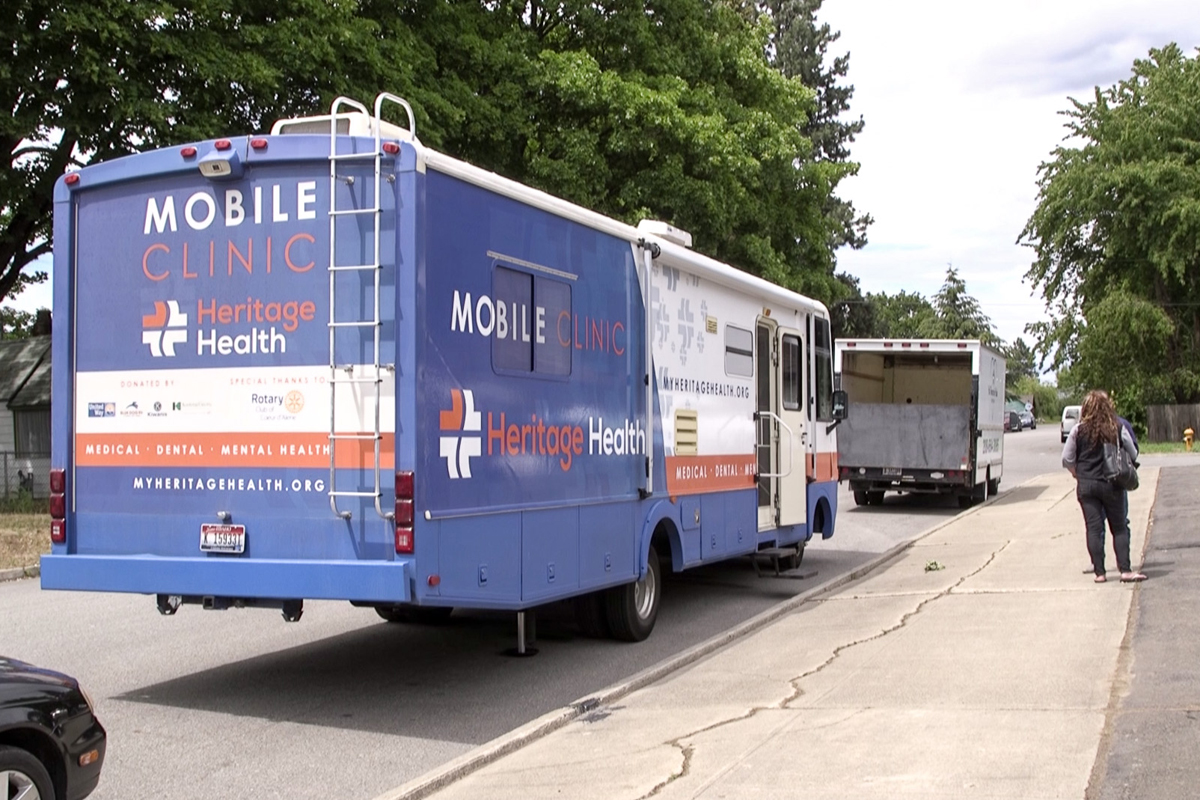 Outside the Heritage Health Mobile Clinic. The van follows a predictable schedule, parking in key neighborhoods around Coeur D'Alene throughout the week.
TJ and Kira do what is necessary to break down the barriers between themselves and their patients. For instance, their dress code is jeans or shorts. "We're not looking to appear to be at a different level from them, which I think helps them open up more, give full disclosure," she says.
This is a long way from Kira's background in medicine as a surgical tech. "My background is primarily in the operating room," she says. For 13 years she worked at a Coeur d'Alene hospital, the last 7 as a surgical first assist. Consequently, she's accustomed to moving about in her job.
This presented a challenge in her didactic year at MEDEX where students are corralled in a classroom. "In surgery we stand for 12 hours a day, so it was hard to do all of that sitting," she says. "It was a lot of constant studying or reading or writing papers… and sitting."
Fortunately, Kira enjoys learning. "I used to take college courses just for the heck of it," she says. Still, she calls the MEDEX didactic year "intense." Looking back she declares there was a lot to learn. "Now I feel like I've forgotten most of it. But being out in the field doing it is great. You learn way more than just sitting in a classroom, for sure."
As part of the requirements for her clinical year at MEDEX, Kira has fulfilled six 1-month clinical rotations meant to expose students to a broad range of medicine, including behavioral, emergency, inpatient and surgery. With each rotation, she considered a potential career choice. "I thought, 'Well I can do this for a career, it's not bad and I like what I'm doing'," she says. "There wasn't anything where I thought, 'No way.' But this has definitely been the most rewarding rotation."
The gig with the Heritage Health mobile unit came up as part of Care Week during Kira's didactic year. Falling at the end of the second academic quarter, Care Week assigns the MEDEX first year students to a practicing clinician for one week. It's the one break from classroom studies that allows students to shadow a clinician and get a practical taste of what their future career might be like.
Kira was assigned to TJ Byrne for her Care Week. "I think that was set up mostly because it's in Coeur d'Alene and that's where I live," she says. She learned that TJ took students for the 4-month family practice preceptorship. "I asked specifically if I could go with him."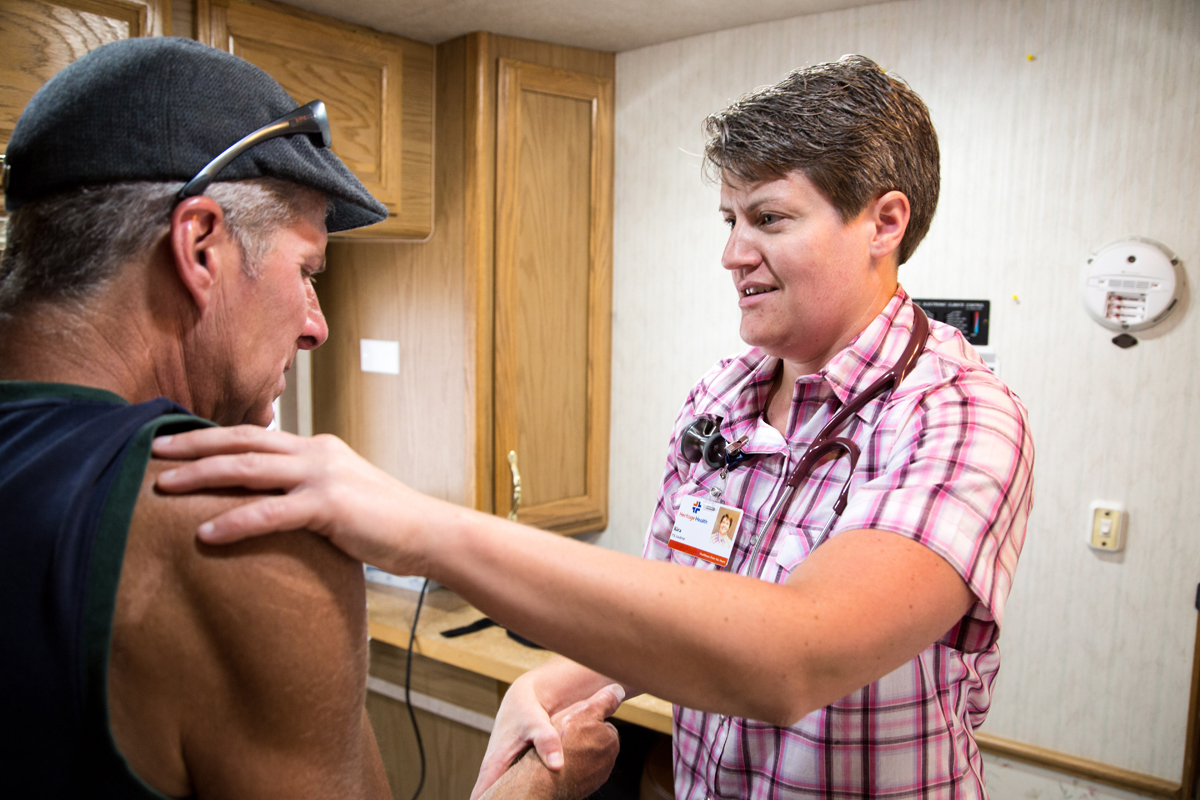 Kira Sandon sees a homeless man presenting with a possible clavicle fracture.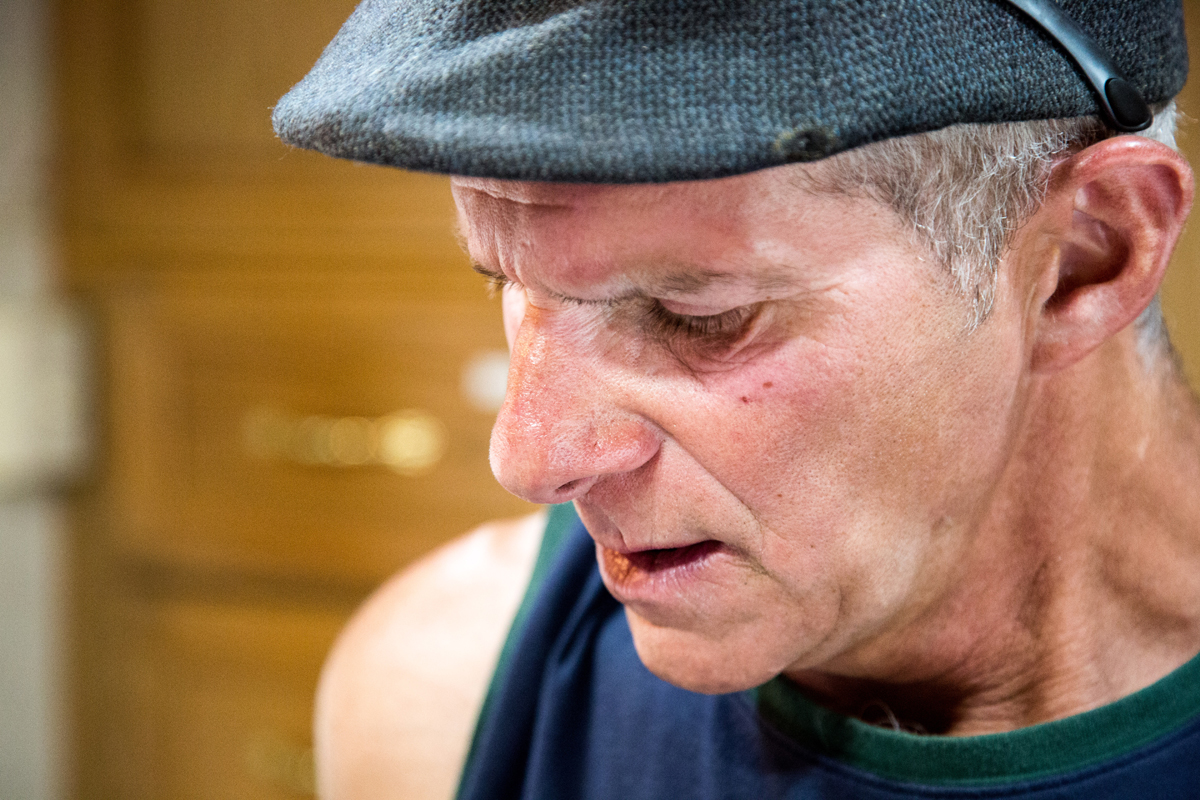 This gentleman identified as "homeless by choice".
Along with x-rays, Kira Sandon puts the patient through an exam to confirm a fracture.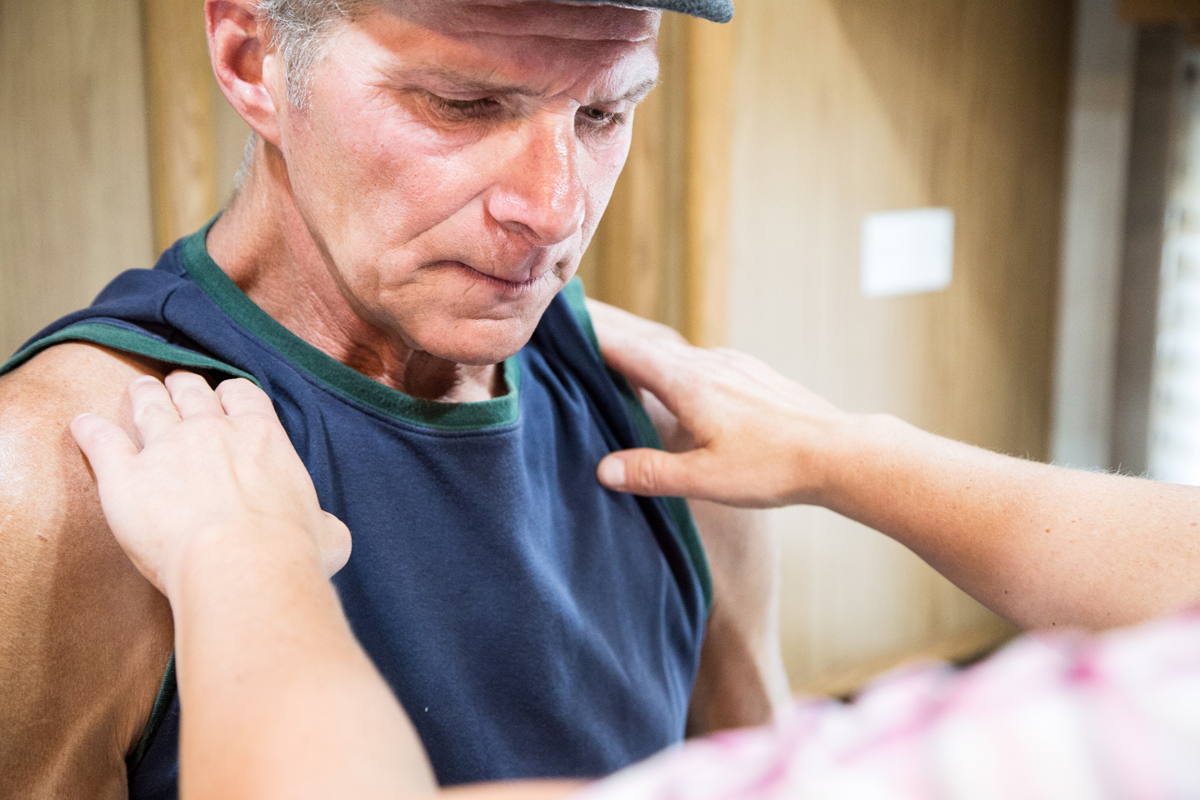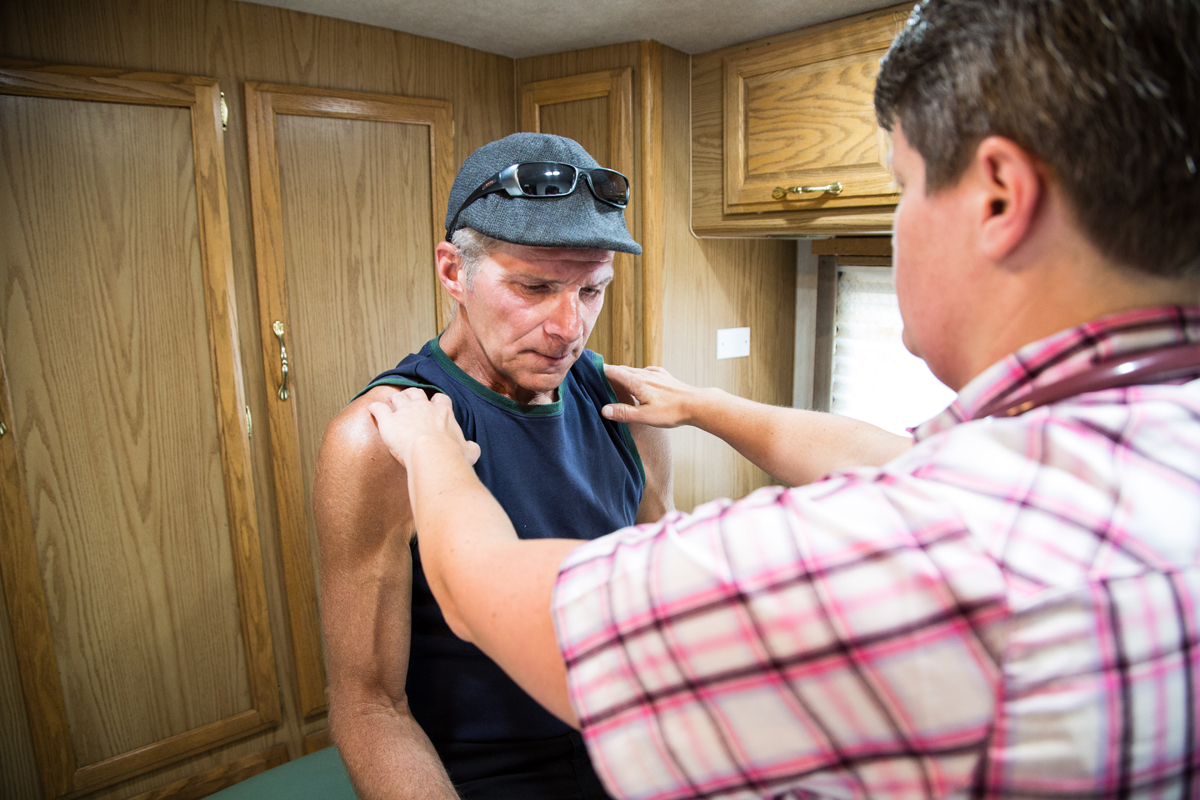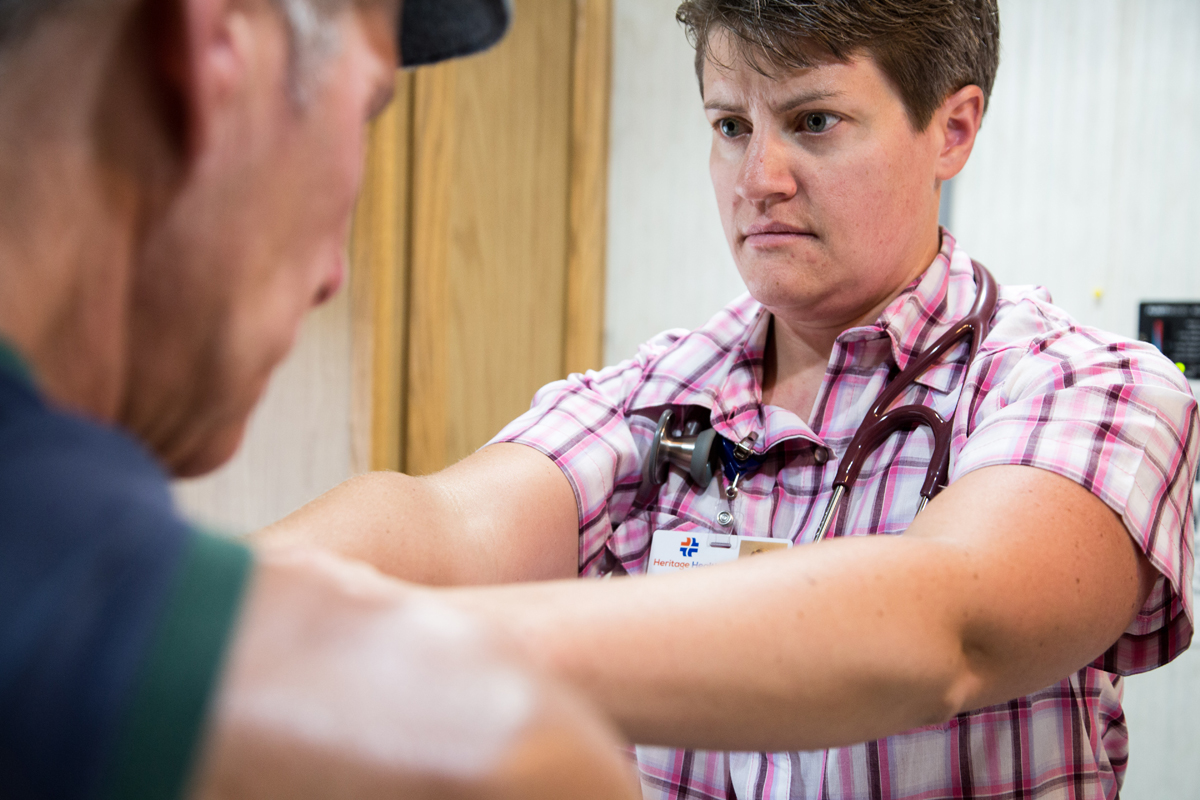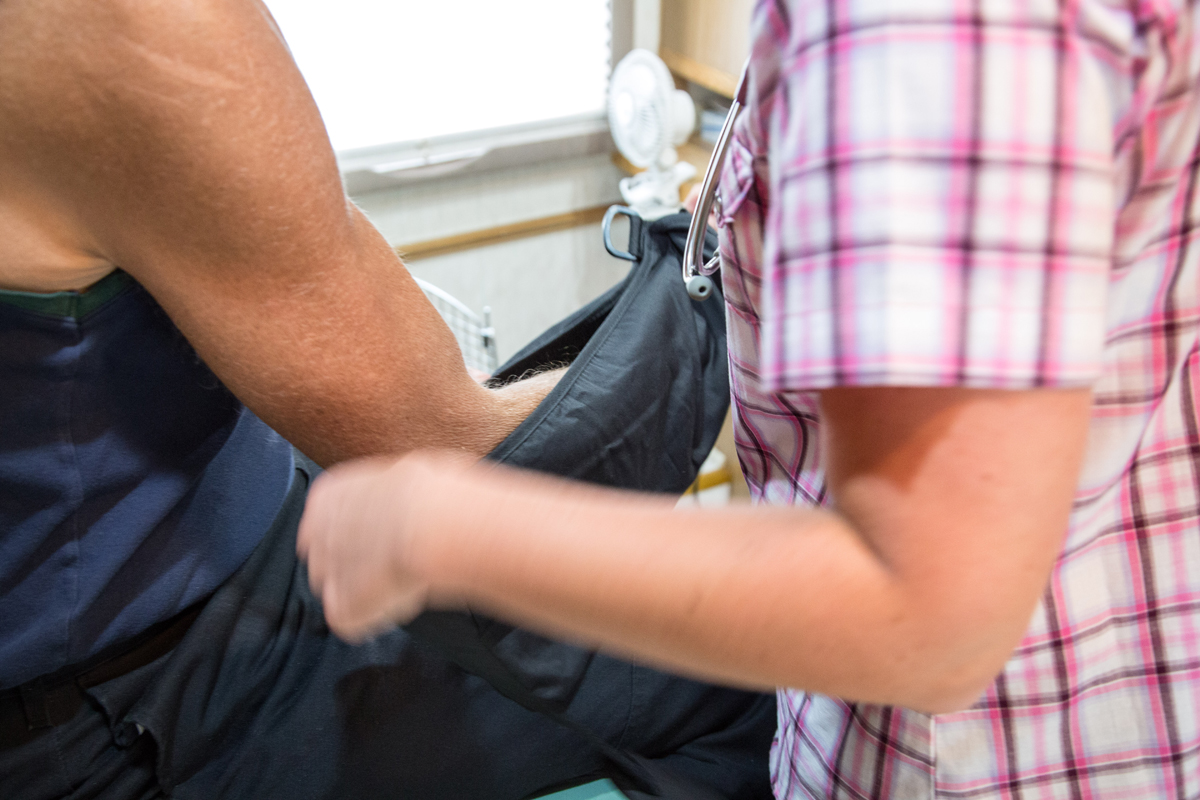 Kira Sandon helps the patient into a sling for the clavicle fracture.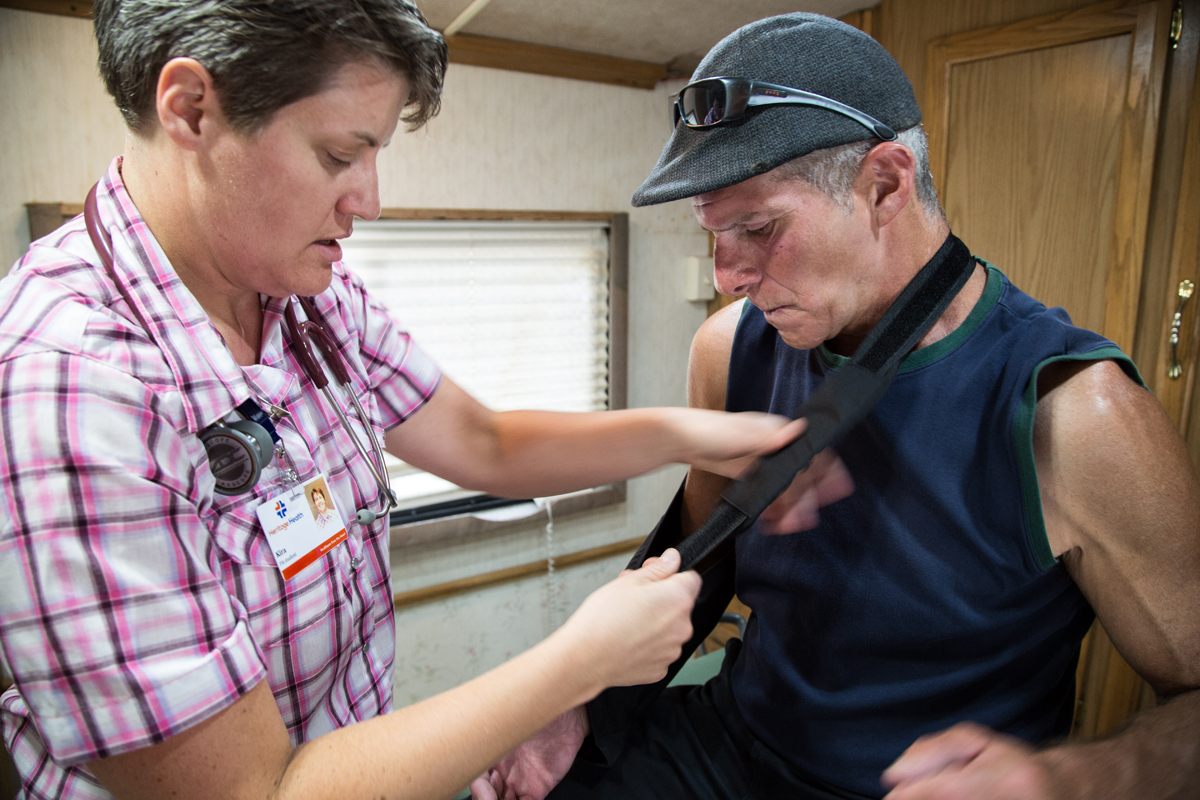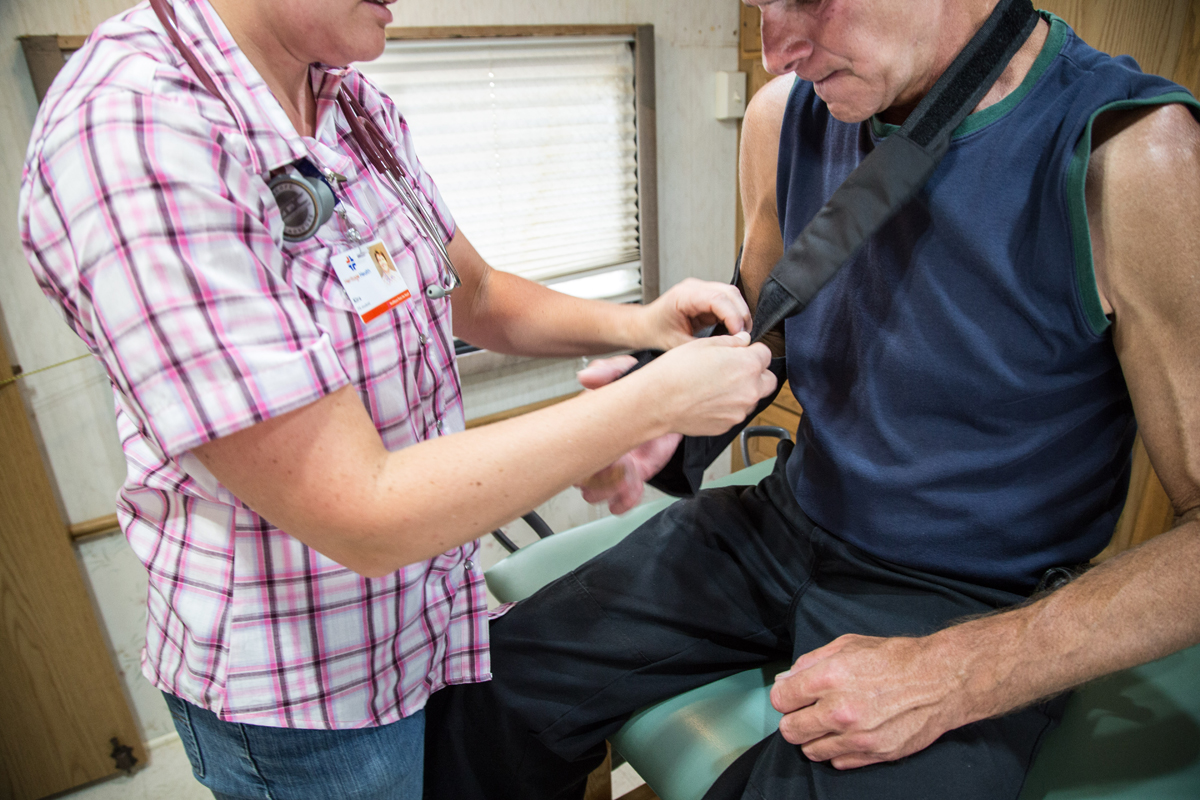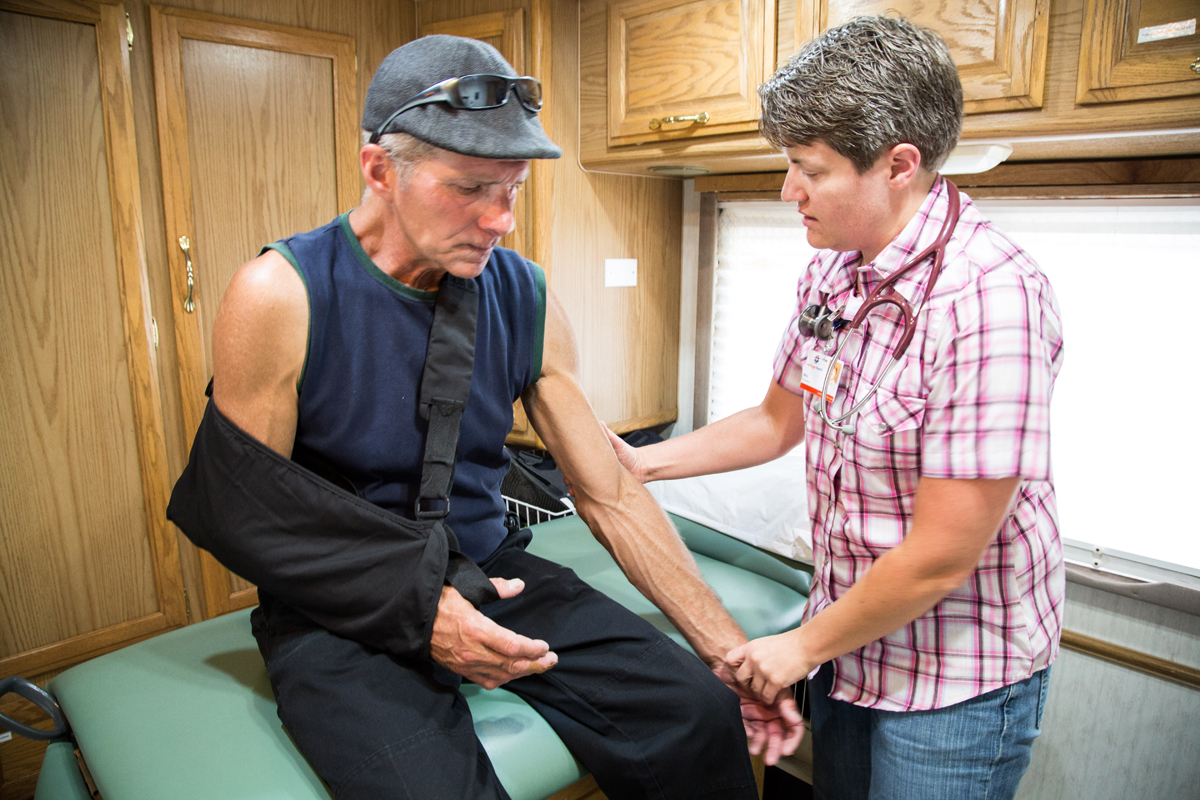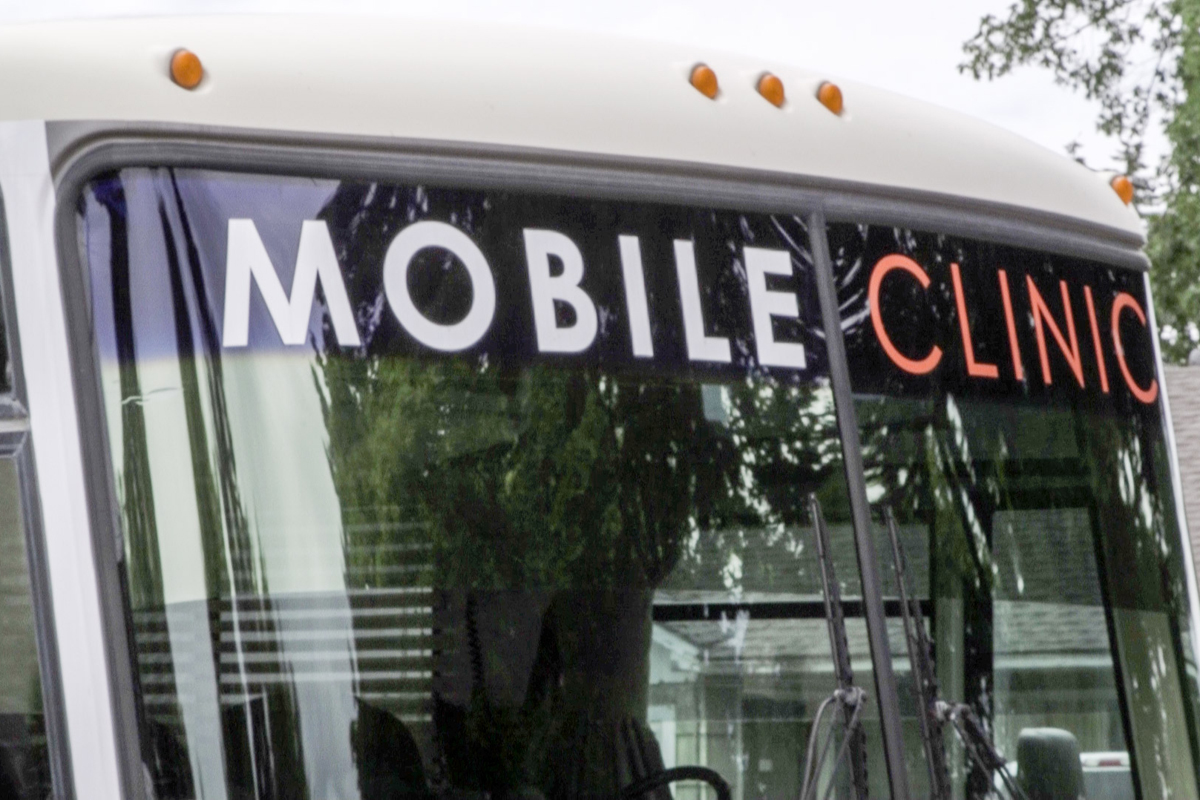 Working outside the four walls of a clinic setting appeals to Kira. "We take the mobile unit to them. We go where they are, where they gather, such as the shelters, soup kitchens, and food banks, and they come on for all of their medical needs, essentially. It's just a different environment than in the clinic."
She's impressed by the character and gratitude of those served. "These people are so appreciative and polite and thankful," she says. "You know, they don't really have anything, and what little we could give them makes their day." She contrasts this with time spent in the clinic setting where some patients act entitled. "It's just a whole different feeling, and I really like what Heritage does for the homeless. We treat everybody with respect and they give that back to us."
TJ Byrne, PA-C, was formerly on the teaching faculty of the MEDEX Spokane site. Now he is in charge of Homeless Outreach for Heritage Health in Coeur d'Alene, and also serves as Kira's preceptor for the four months of her family practice preceptorship.
"TJ is just an amazing man," Kira tells us. "Half the time he's a social worker as much a medical provider."
"TJ is just an amazing man," Kira tells us. "Half the time he's a social worker as much a medical provider. He shows a lot of compassion for our patients, yet he isn't a pushover either. I've seen him literally give someone the socks off of his feet because they had none when we finished caring for their blisters. They know that being seen on the mobile unit is a safe place and he makes it clear that we aren't there to judge them.  Most of our patients have problems with addictions, in various stages.  We see a lot of folks that have just been released from prison as well.  We try to connect them to local resources for housing, jobs, etc. TJ is the epitome of Healthcare from the Heart."
Aboard the mobile unit they can handle all types of minor procedures, including casting, splinting and excision of lesions. Because they park in regular locations on a scheduled basis, they see a lot of patient follow-up. "Sometimes we'll see them two or three times a week," Kira explains. "So we can rebandage their wounds or ask them if they picked up their prescription. Sometimes they'll come by just to say, 'Hey, I'm feeling better, thanks.' I don't think you get that much follow-up, or feedback, in a clinic setting."
Referrals become necessary for more complex conditions. "We can do referrals from the unit such as an x-ray, labs, or an ultrasound," says Kira. "We had someone come in the other day with abdominal issues and a hernia and we referred him to general surgery. We are connected to WiFi so we use the same EMR system and can send prescriptions and access reports the same as if we were in the clinic."
On some scheduled afternoons, TJ and Kira practice street medicine. They leave the RV behind, load medical supplies into a backpack, and walk to where the homeless or nearly homeless are camped out. "TJ knows where they're staying, or if they can't get out to us," she says. "A lot of them are living in a motel room or RV, and we go to them and take care of their needs. They are really a community and a lot of them give us tips about someone they know that isn't doing well and we will seek them out and find out if they will accept our help."
For Kira, graduation is a mere two months away. As she looks ahead to her future as a physician assistant she considers all her of deep connections in the Coeur d'Alene area after 13 years as a surgical tech/surgical first assist. "My heart is really in surgery, so right now I'm primarily looking into those specialties."
She hesitates then speaks forthright. "That being said, if I could have the opportunity to work alongside TJ every day, I would do it in a heartbeat."