With a long history of Seattle-based community activism, MEDEX's own Lois Thetford was honored by the UW School of Medicine Alumni Association with their 2017 Humanitarian Award in a ceremony on Friday, June 2nd. In particular, Lois was recognized for her work on behalf of the homeless. Earlier this year Lois co-chaired a UW course on "Homelessness in Seattle" for University of Washington Health Sciences students. A stated objective of this course was to teach students how to address the particular healthcare needs of homeless patients.
Surrounded by friends and family, Lois was called to the stage by UW Medicine Dean Paul Ramsey and presented the 2017 award for her "unparalleled dedication to working with battered women, children in need and the homeless."  She was one of five UW Medicine alumnus to be so honored, the only woman and physician assistant among them.
When Lois Thetford started volunteering with Seattle area community health clinics back in the 1970s, the clinics provided on-the-job training. "We learned all the jobs needed to run the clinic: lab, reception, care provider, medical assistant, cleaner," she says. It was great experience for later becoming a mobile healthcare provider.
Before the community clinics started in Seattle, there were no low-cost medical options.  Most people without insurance or access to care used only the emergency room and, because of that, went into debt.  "We used volunteer providers, got some Federal Block Grant funds, and patients donated whatever they could to cover expenses," Lois tells us.  "I was thrilled when I got into MEDEX Northwest as a PA student in 1980 to expand my skills and help the clinic stabilize both the staff and our funding sources."
Lois had worked a little in her father's family practice growing up, and accompanied him on a few house calls and visits to migrant labor camps.  "My father was a small-town physician who entered the US Public Health Service, and my mother earned a master's degree in social work during the 1930s when the profession was new," she tells us.  "This is in my DNA."
As a political organizer and feminist, the poor choices and lack of access to birth control and birthing options were strong motivators for Lois to create new systems that served people who needed healthcare that were not shaming or too expensive.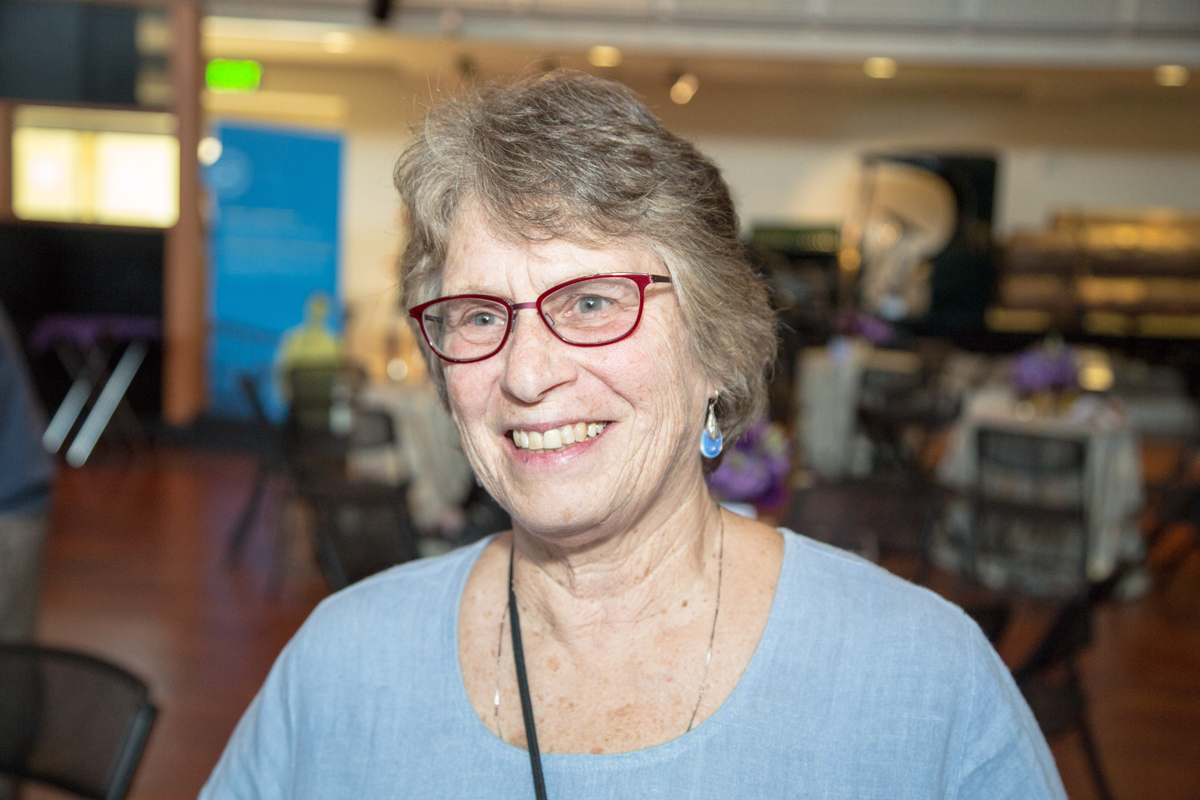 Lois Thetford, PA-C- Recipient of the 2017 UW Alumni Humanitarian Award.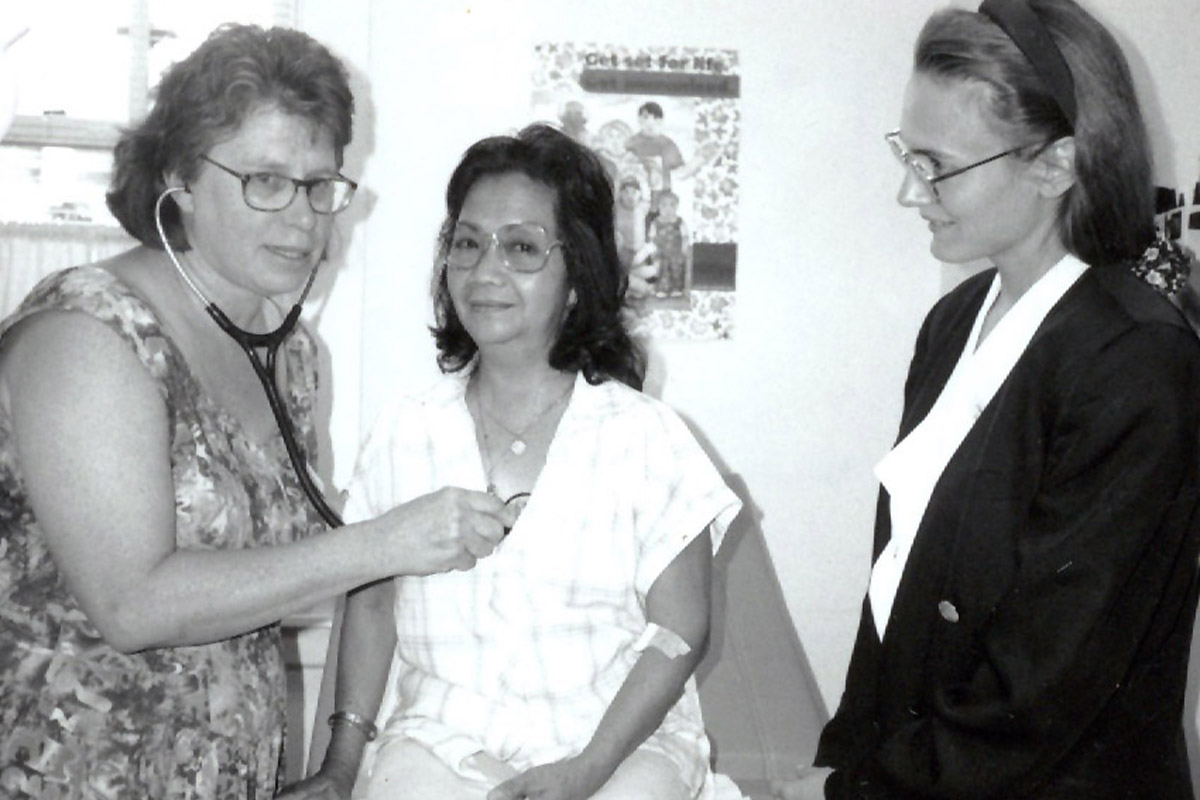 Lois Thetford, PA-C in 1985, a few years after her graduation from the MEDEX Northwest PA Program.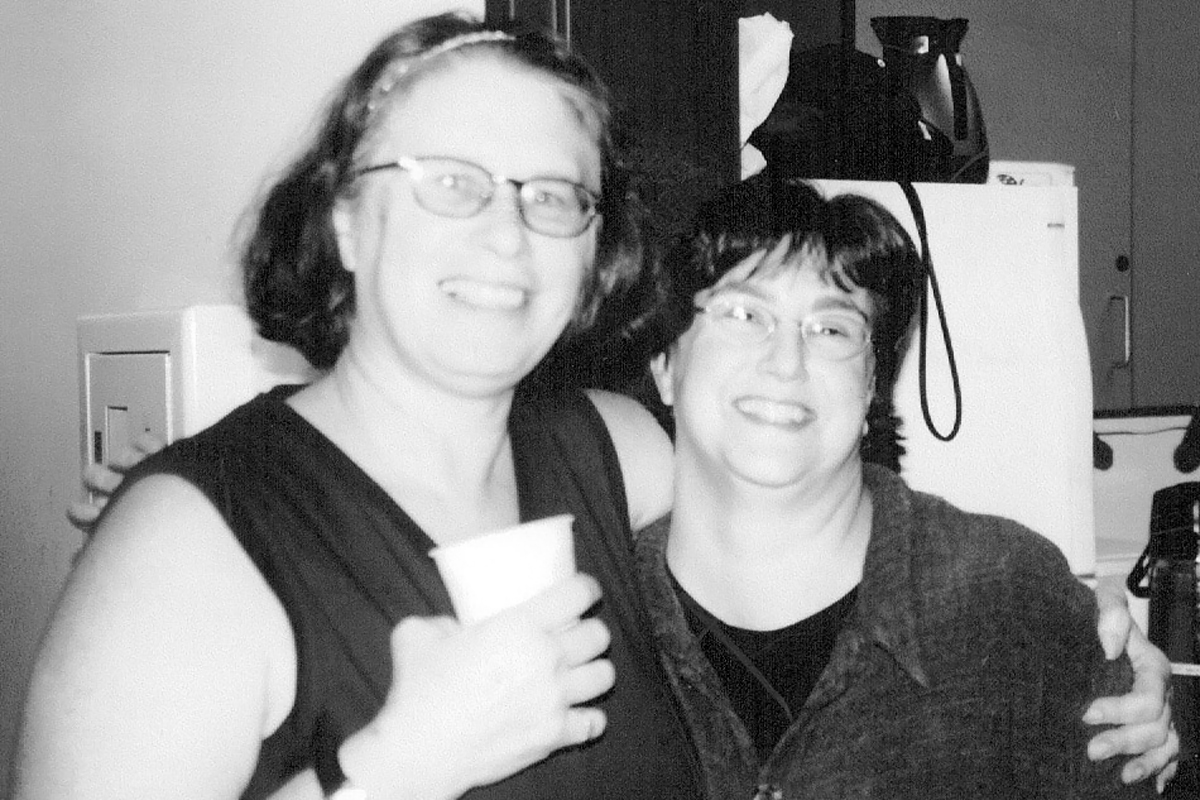 Lois Thetford at left in 1986.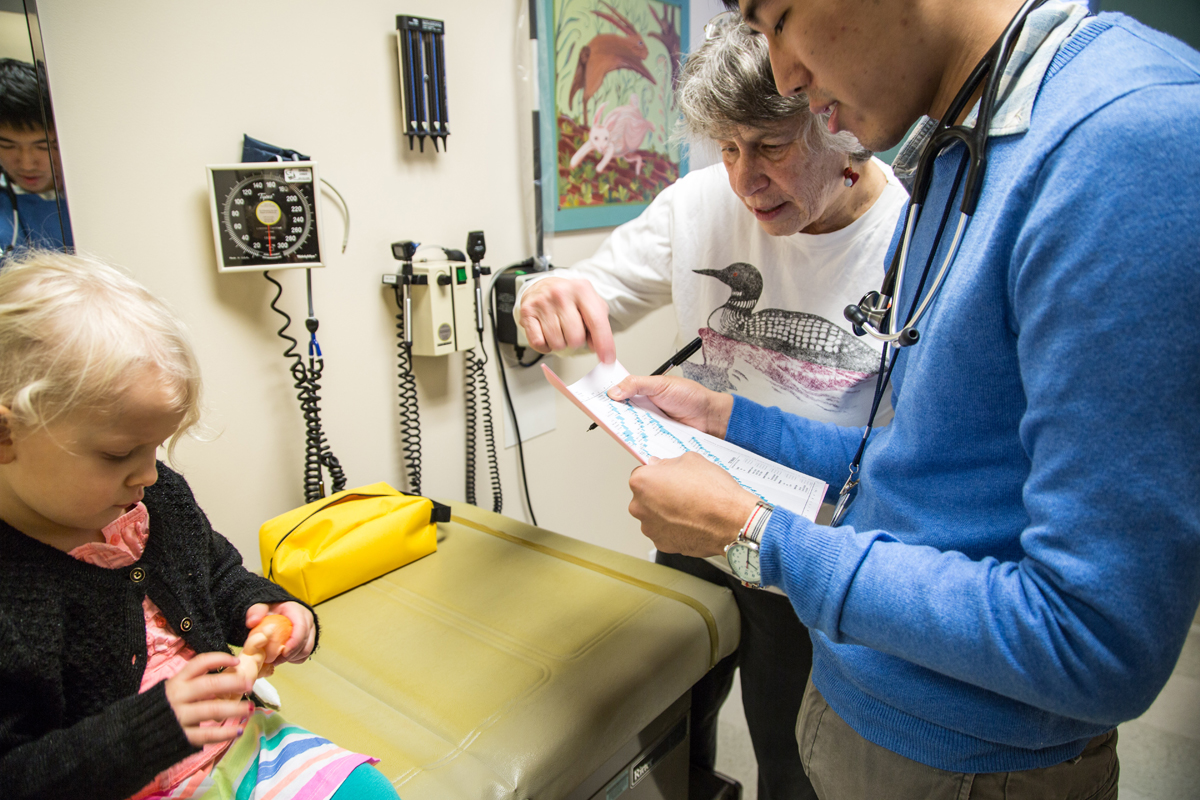 Lois instructs PA student Young-Bin Song of Seattle Class 49 during the Well Child Workshop.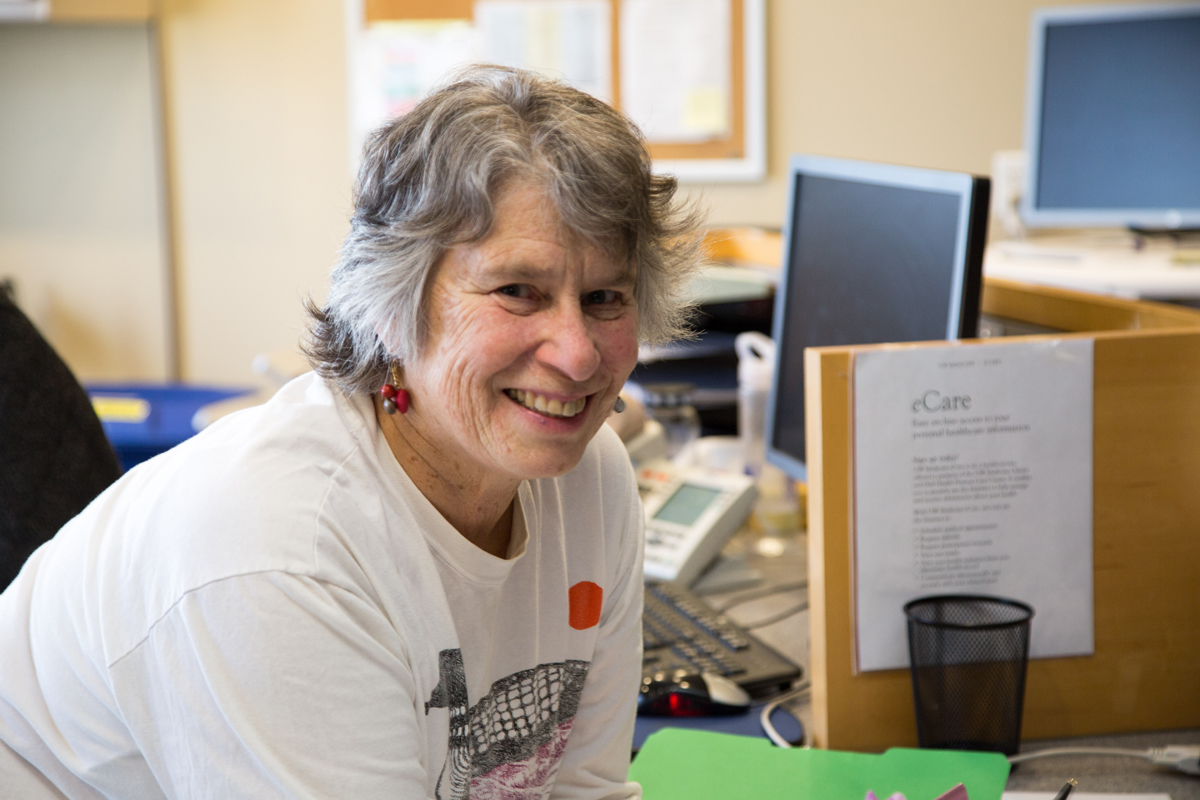 Lois chairs the Maternal and Child Health course at MEDEX.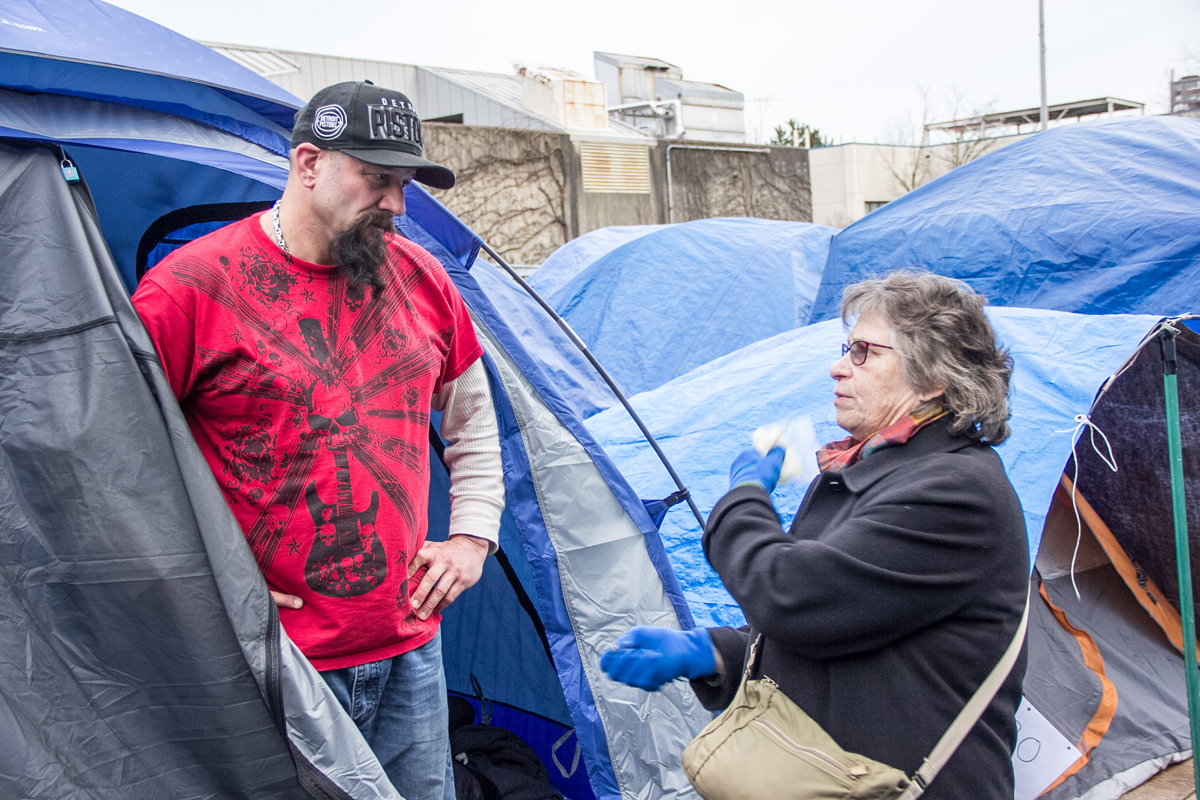 Lois was also active with outreach efforts to Tent City 3 during their residency period on the UW Campus in the winter of 2017.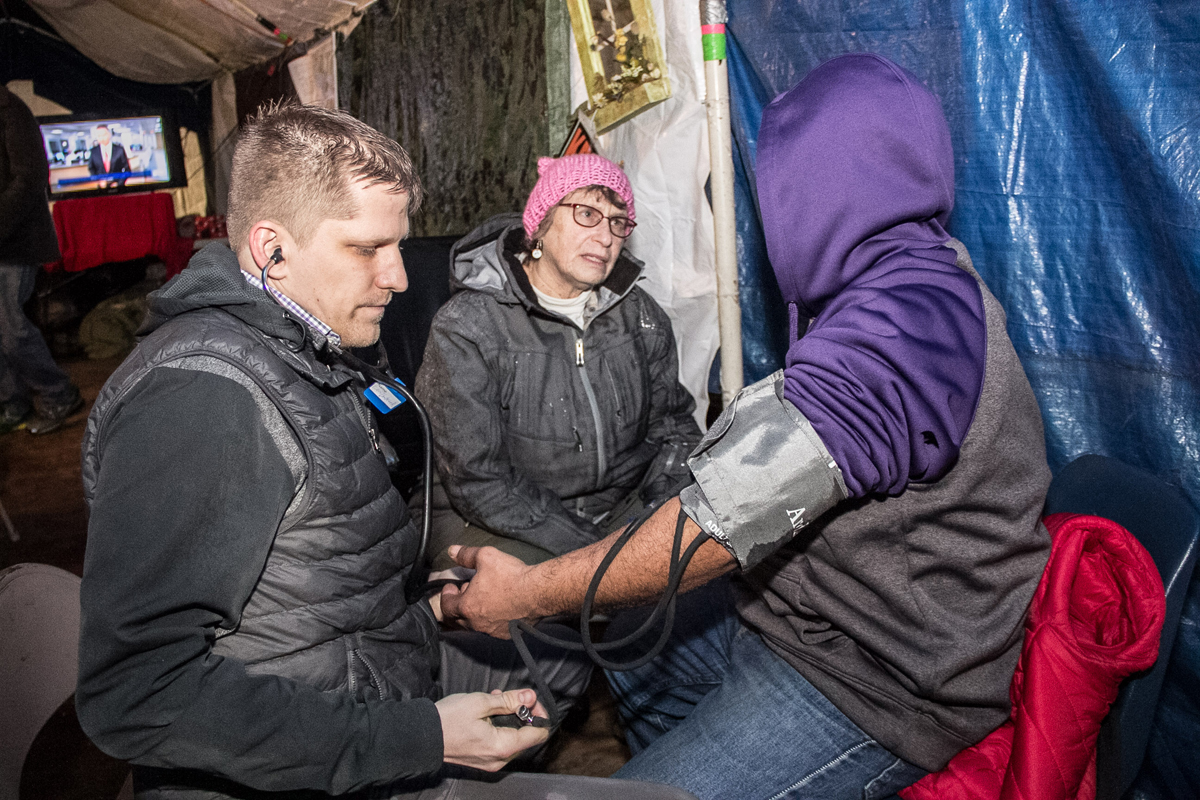 As part of these outreach efforts she took MEDEX PA students to the encampment for supervised exams of the residents.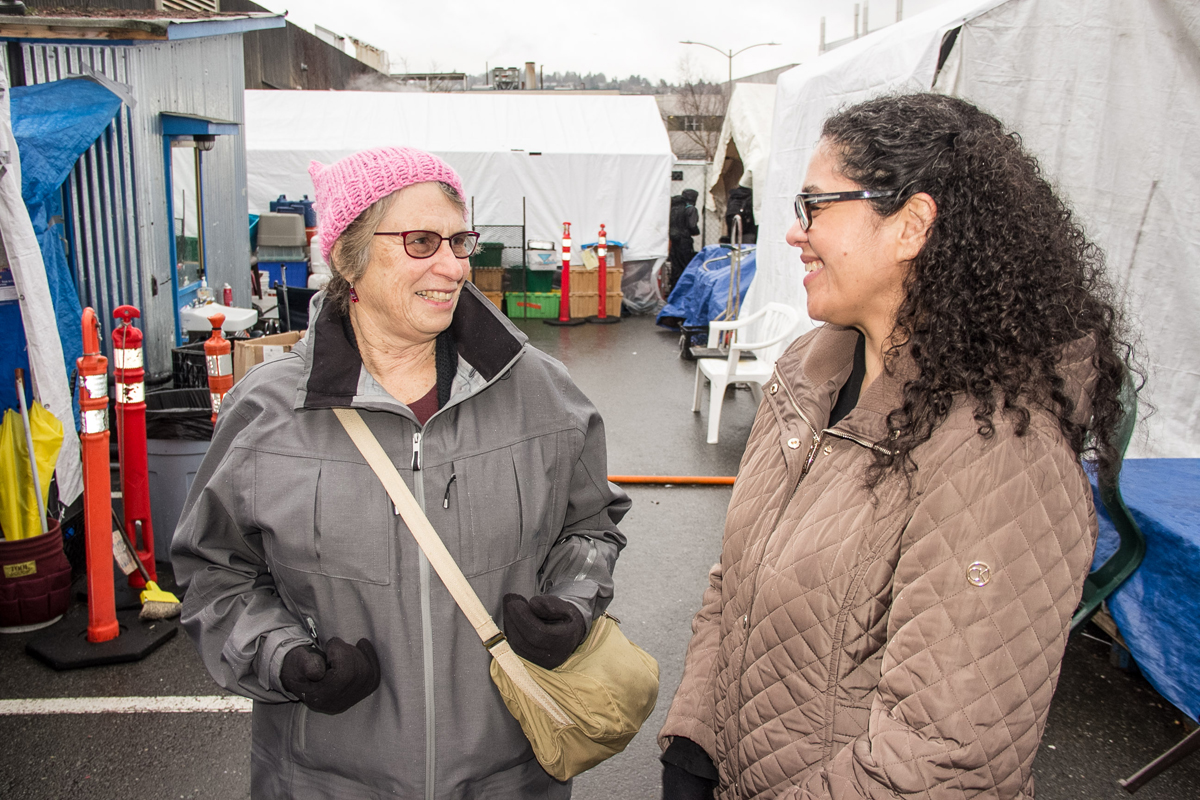 Lois Thetford, PA-C and Charlotte Sanders, MSW were co-chairs of the 10-week UW "Course on Homelessness".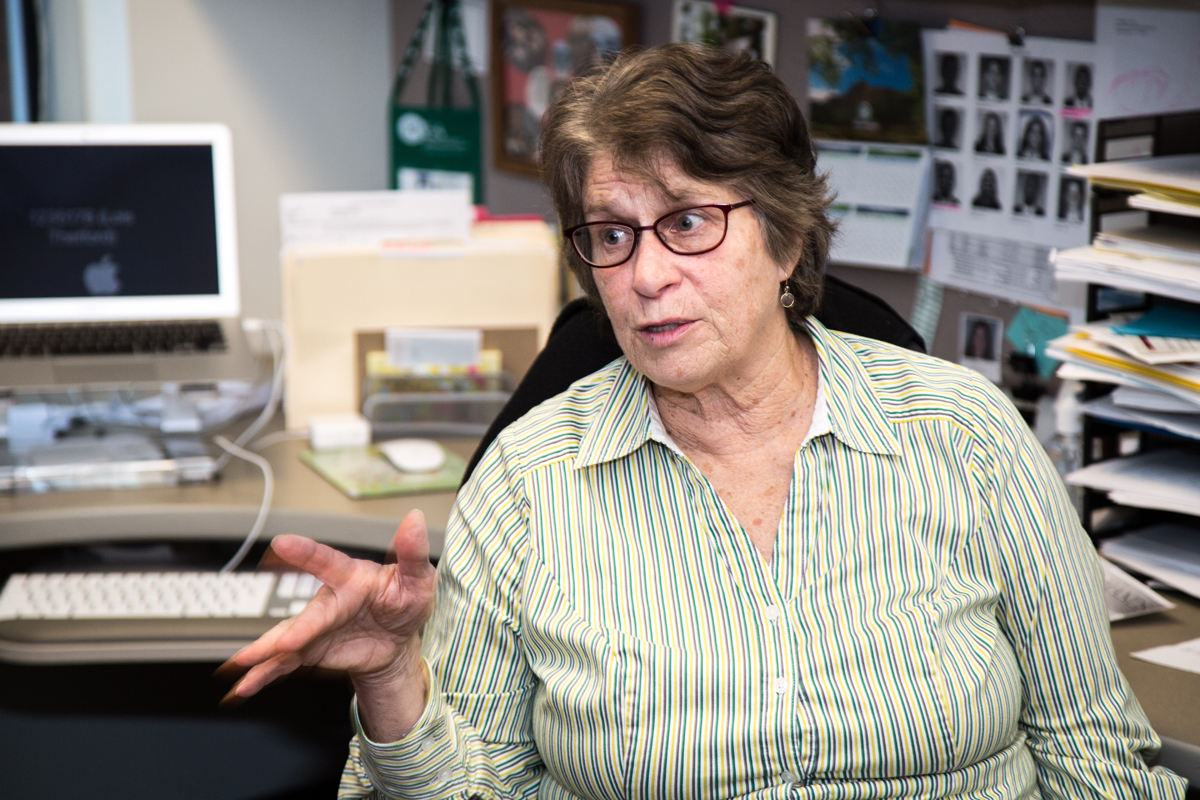 Lois Thetford, PA-C in her MEDEX Northwest office.
After 10 years of regular office practice, Lois began visiting family shelters, domestic violence shelters, sanctuary church shelters, homeless schools and daycare centers to provide onsite medical care as part of the Healthcare for the Homeless Program.
"I screened onsite for pregnancy, sexually transmitted infections, tuberculosis, tinea, anemia, diabetes, urinary tract infections, and strep throat," she says. "I provided all vaccines needed for children and adults, and provided treatment for all diagnosed conditions. Working with people at life crisis points, I was able to provide safe and compassionate care that assisted families in making positive changes when the alternative is often unsafe and onerous."
For example, if a battered woman returns to her regular provider, she becomes more vulnerable to being found by the abuser. Lois was able to support moms and kids when they were newly homeless, make easier adjustments to school and daycare, and help control communicable disease in crowded shelter environments. "I continued my clinic practice and transitioned them from shelter care to clinic care as they stabilized," she says.
After a number of years covering for the 45th Street Homeless Youth Clinic clinical leader off and on, Lois assumed the lead position in January 2006.
"Over the years, it's been my pleasure to provide clinical training for many different students from RNs and ARNPs, PAs, to pre-med and naturopathic students," Lois tells us. She began didactic instruction at the Seattle Midwifery School (now at Bastyr University) in 1993 and started teaching at MEDEX Northwest in 2005. By 2010 Lois came onboard MEDEX as didactic faculty, and is currently responsible for the Maternal and Child Health course.
"I love working with students," Lois tells us. "I am always learning when I teach and I'm thrilled to see the number of PA students who carry on the mission and the spirit of service for the medically underserved.  It is such an honor to be part of their journey and gives me hope that expanding access to care will continue to increase."
Lois' recent advocacy work for the homeless reached a peak with the introduction of the 2-credit UW course that started in January of this year. The course coincided with the appearance of Tent City 3 on the University of Washington campus at the invitation of UW President Ana Mari Cauce. Lois has plans to repeat the 10-week MEDEX Course 580 again this fall.
Lois sees the role of the healthcare provider as essential to addressing the present-day problems of homelessness.
"Homeless people die an average of 30 years younger than the average American," she says. "It isn't like they have different kinds of health problems. But their health problems go untreated, they progress, and then they have a lot of them. There is no way you can get the kind of care you need if you don't have a stable place to live."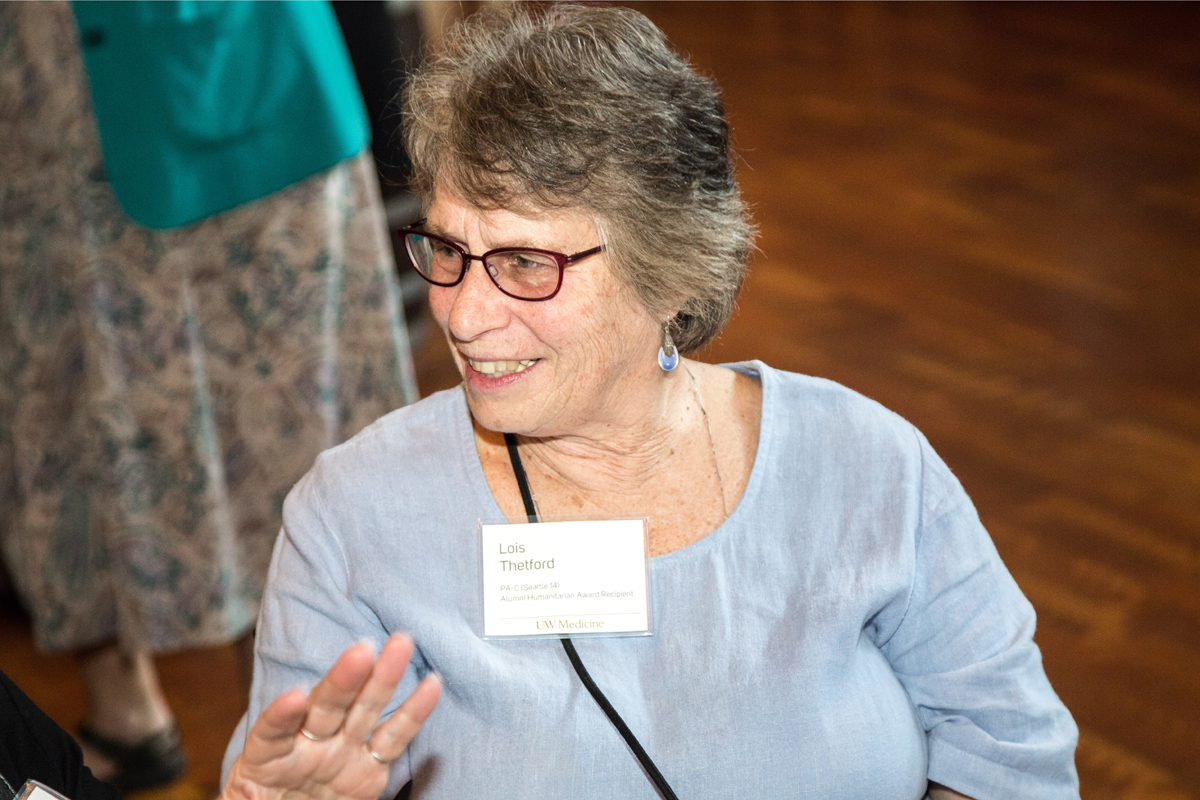 Lois Thetford, PA-C at the June 2nd UW Medicine Alumni Association Awards Ceremony.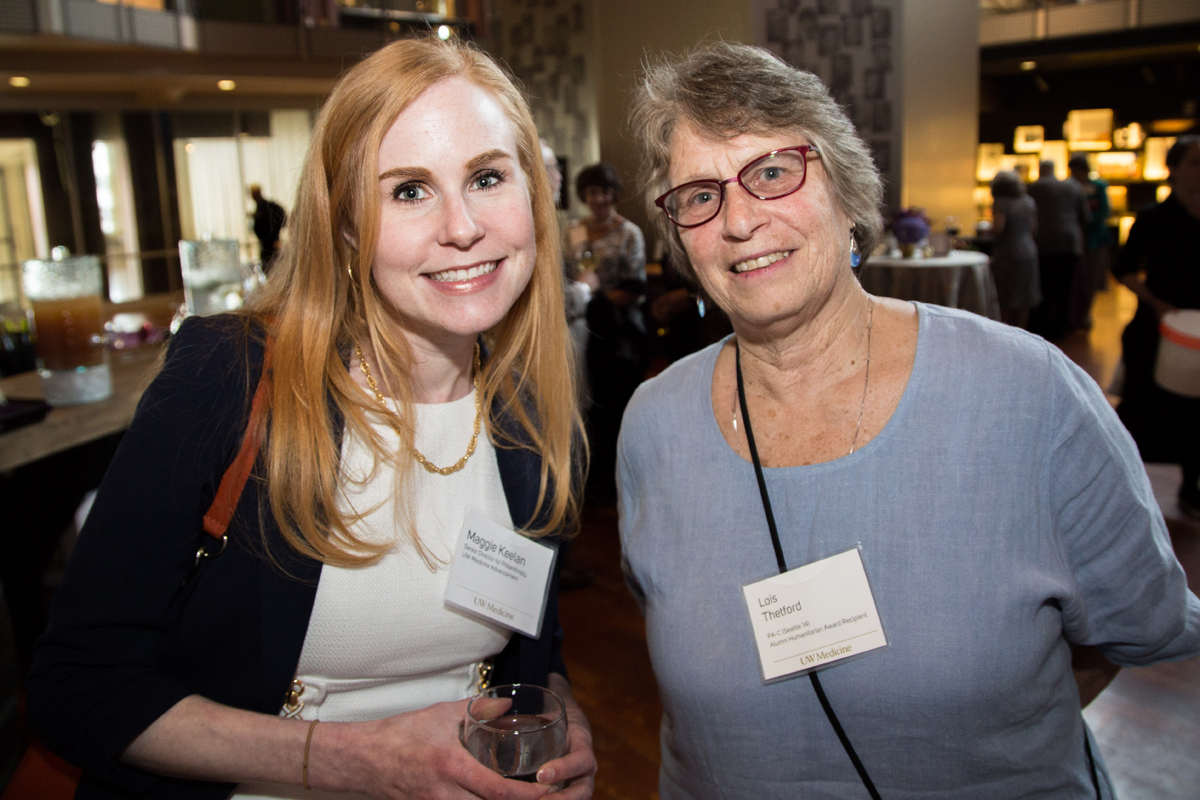 Maggie Keelan, Senior Director for Philanthropy at UW Medicine Advancement, with Lois Thetford, PA-C.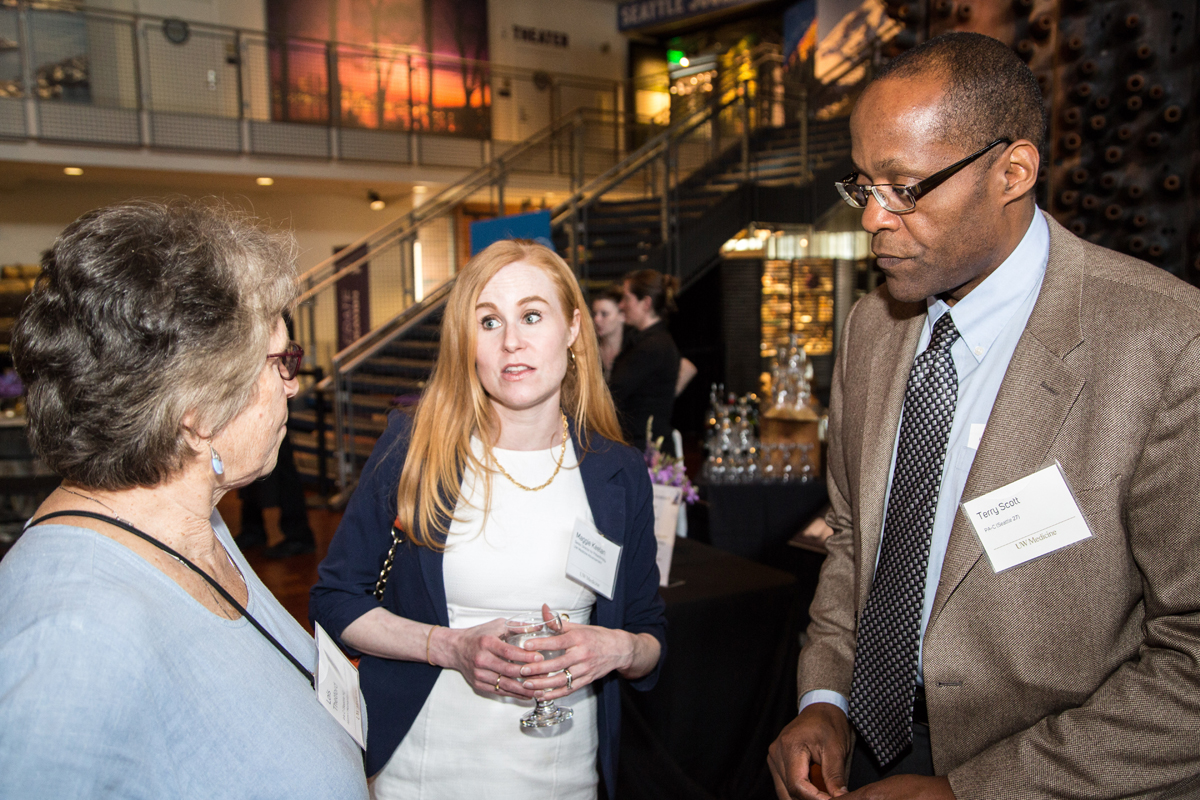 Lois Thetford, PA-C, Maggie Keelan with Terry Scott, MPA, PA-C and MEDEX Northwest Program Director.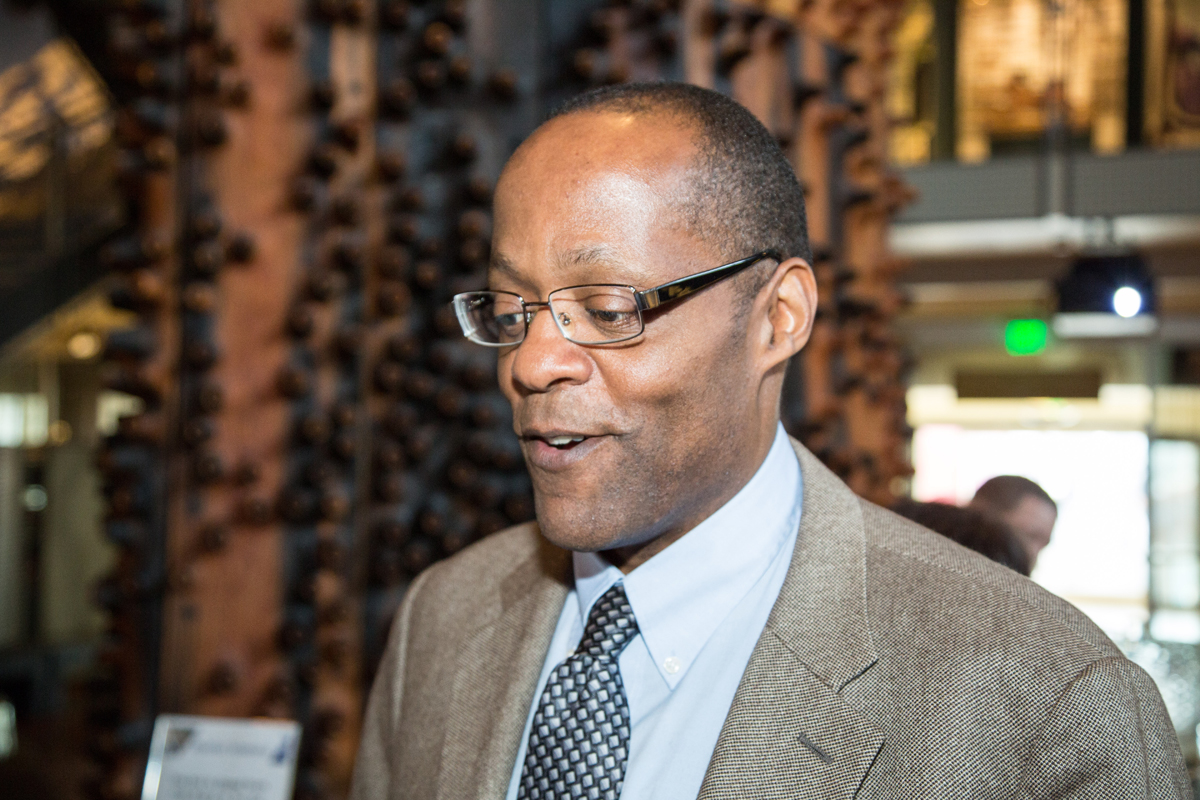 Terry Scott, MPA, PA-C and MEDEX Northwest Program Director.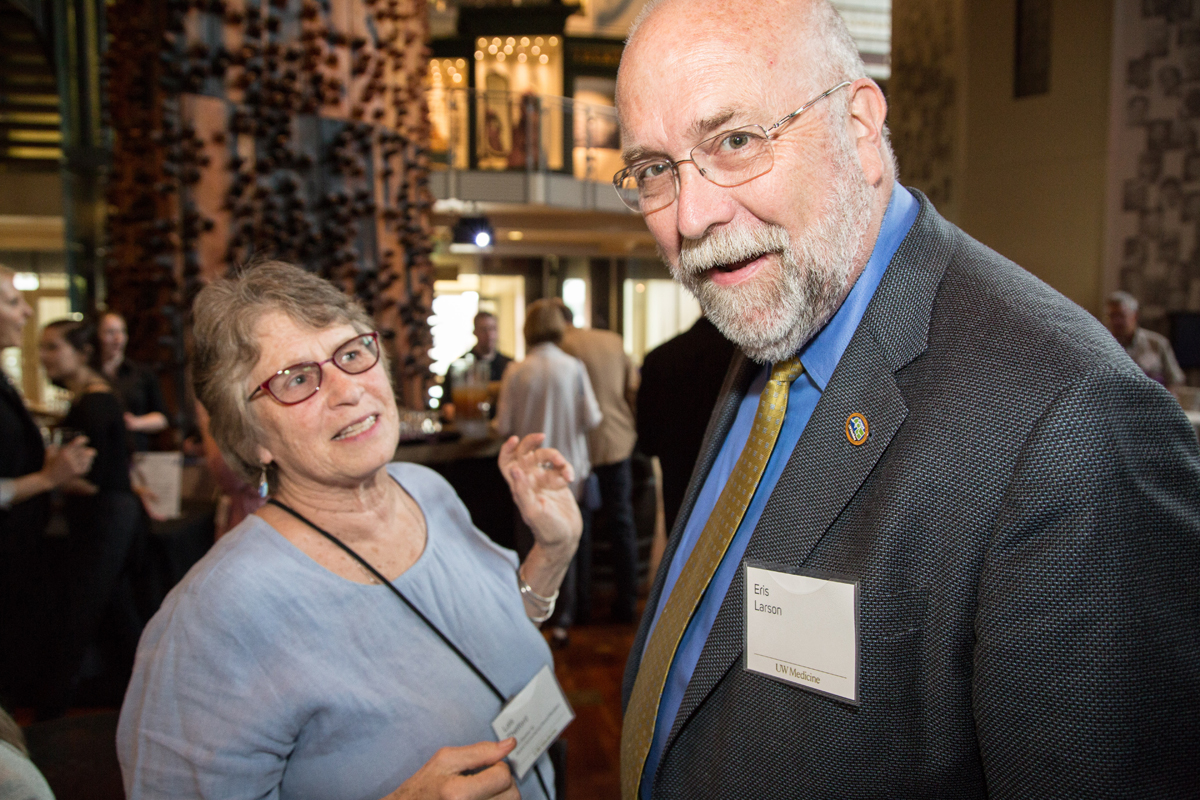 Lois Thetford with Eric Larson, PhD, Research Associate Professor at MEDEX Northwest.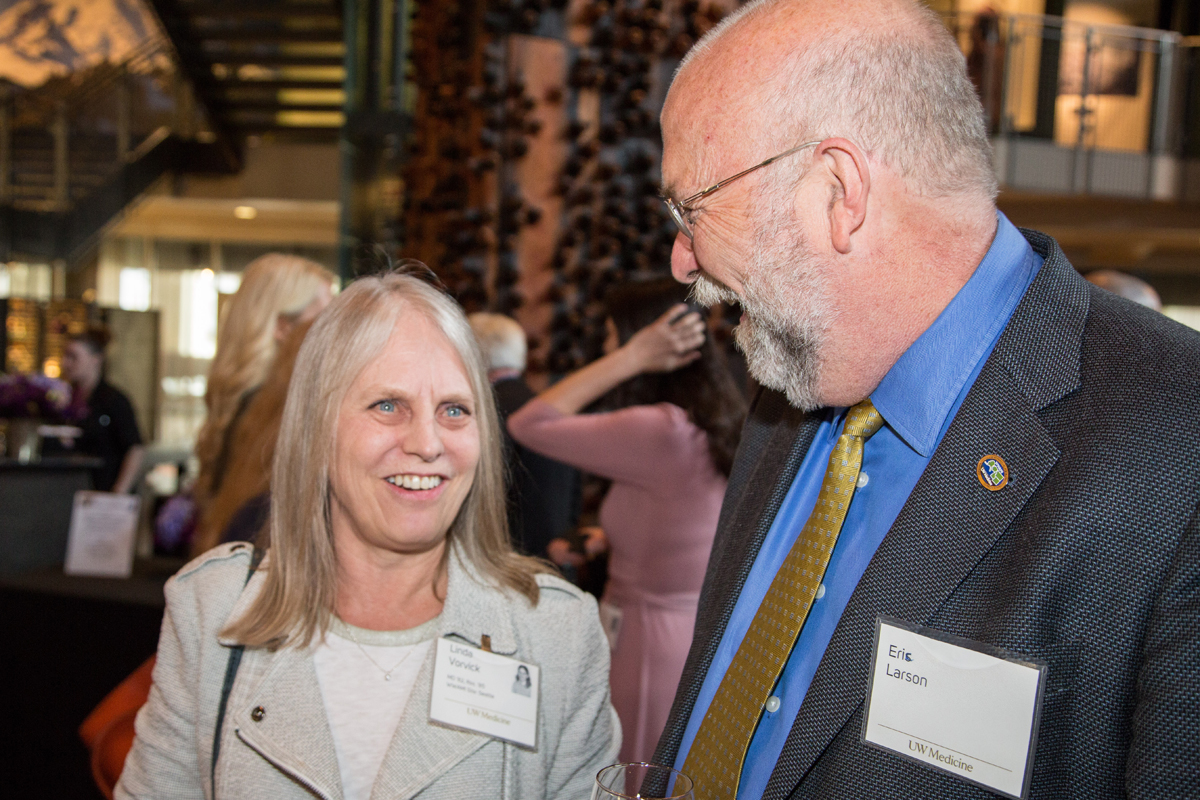 Dr. Linda Vorvick speaks with Eric Larson, PhD.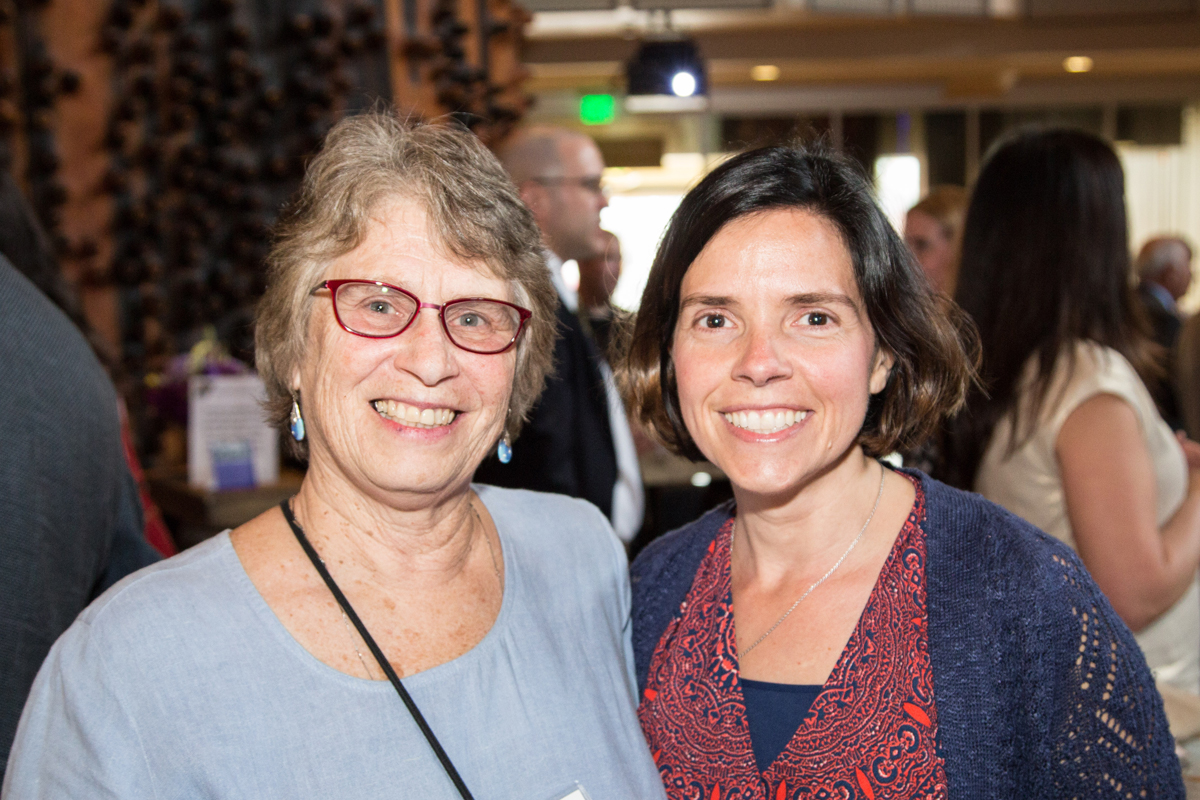 Lois Thetford, PA-C with Cheri Gail, ARNP of Neighborcare Health Youth Clinic at 45th Street.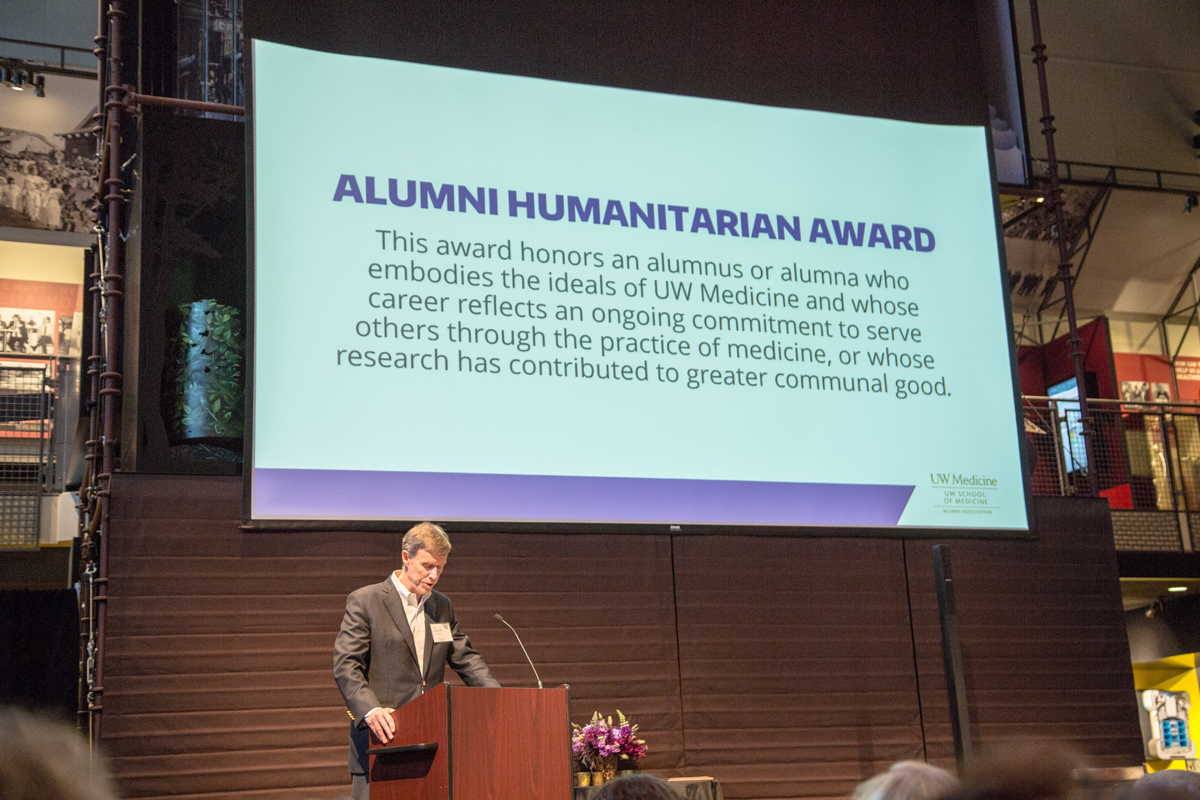 Dean Paul Ramsey announces the Humanitarian Award.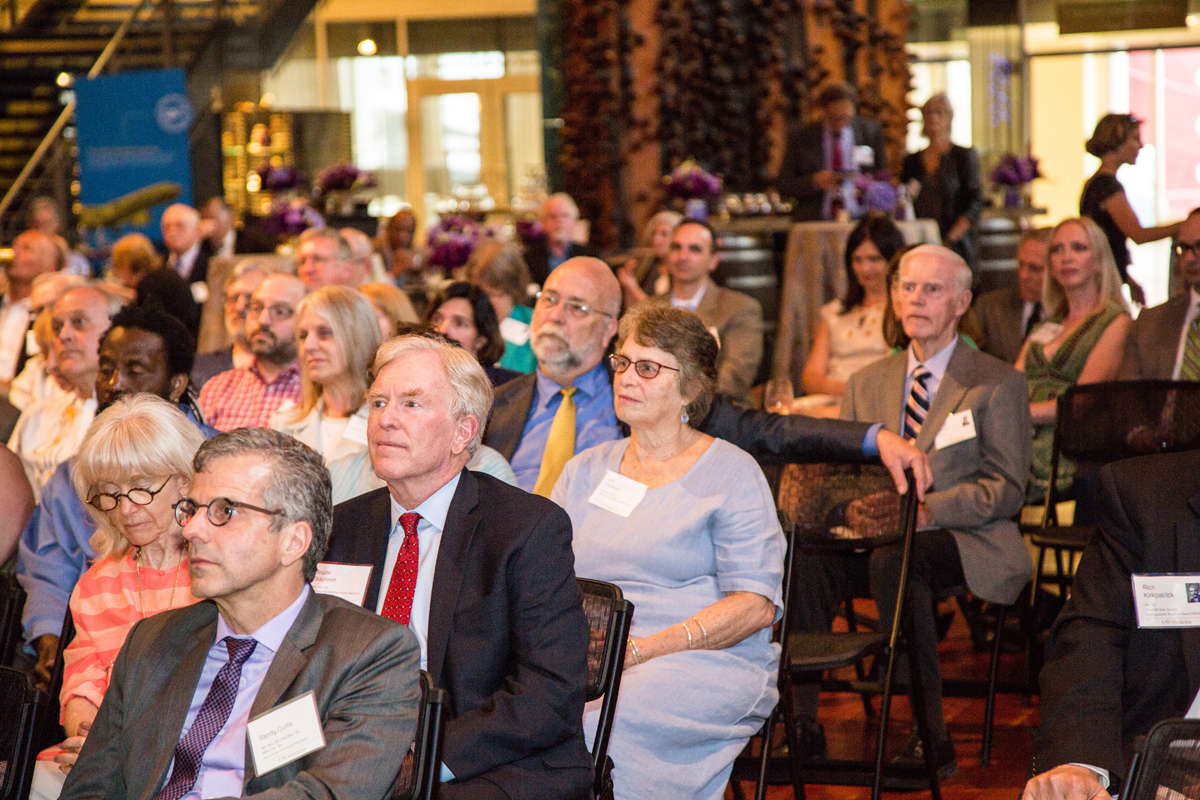 Lois sits with friends & supporters while her name is announced.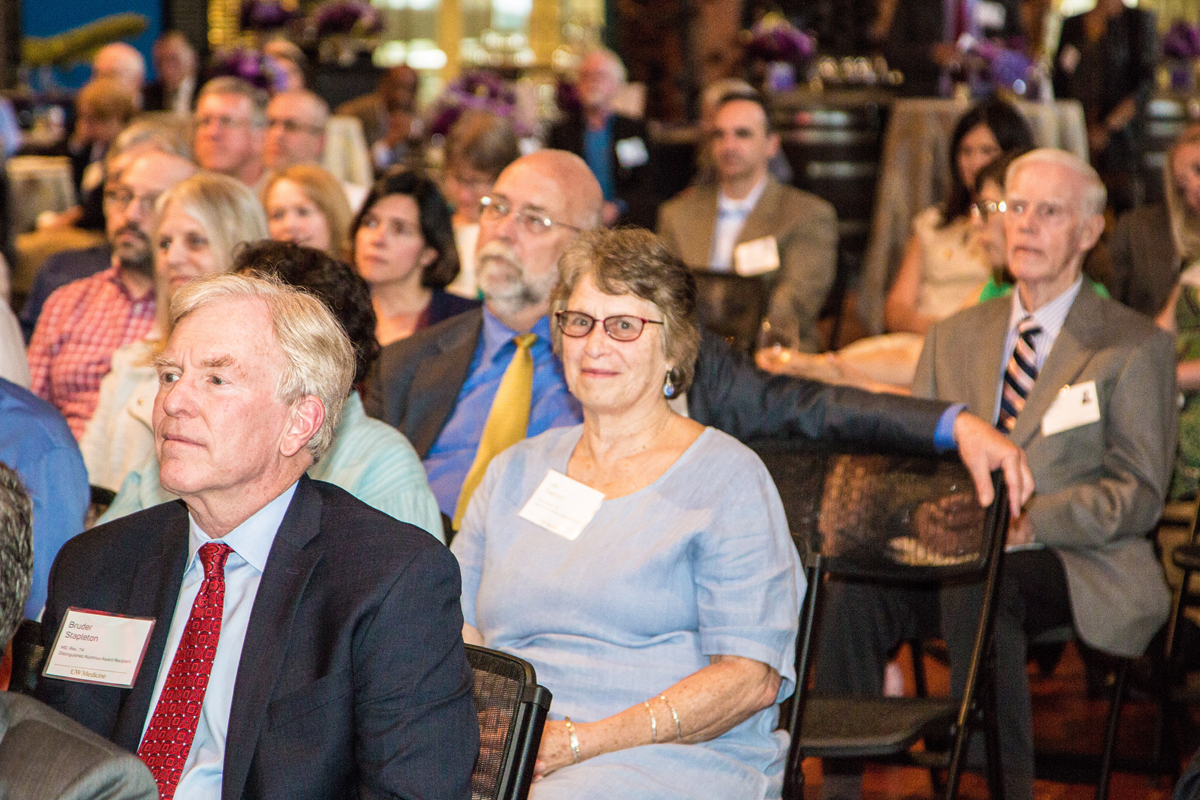 The June 2nd awards ceremony was held at the Museum of History & Industry along Lake Union.
The audience watched a short film about Lois and her work with the homeless in Seattle.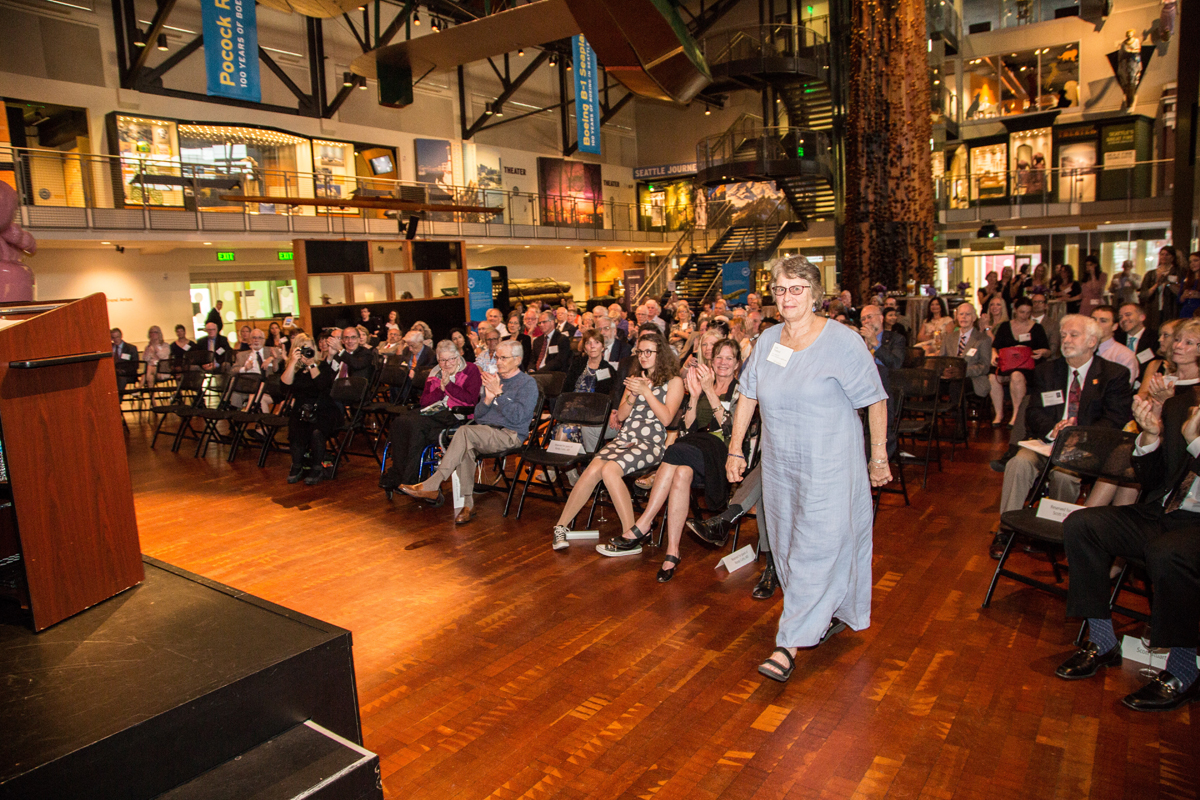 Lois is called to the stage to accept her award.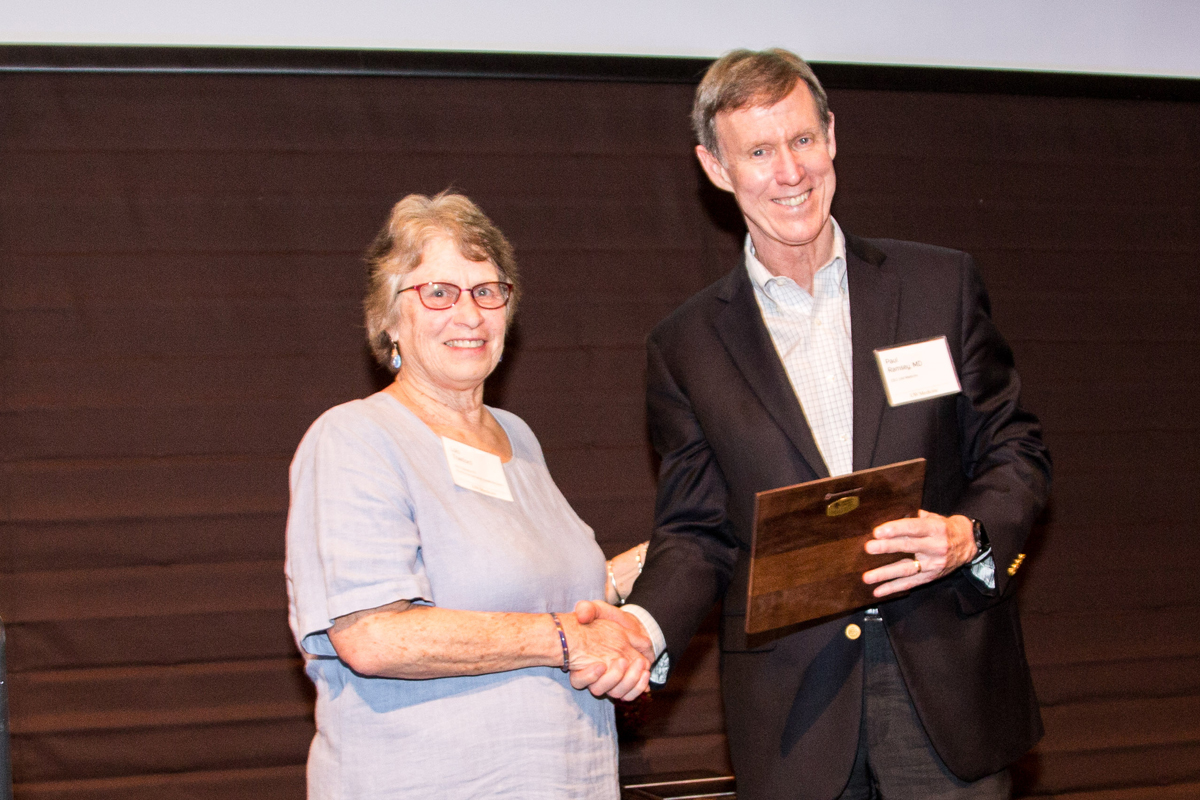 Lois accepts the 2017 UW Humanitarian Award from Dr. Paul G. Ramsey, CEO of UW Medicine and Dean of the School of Medicine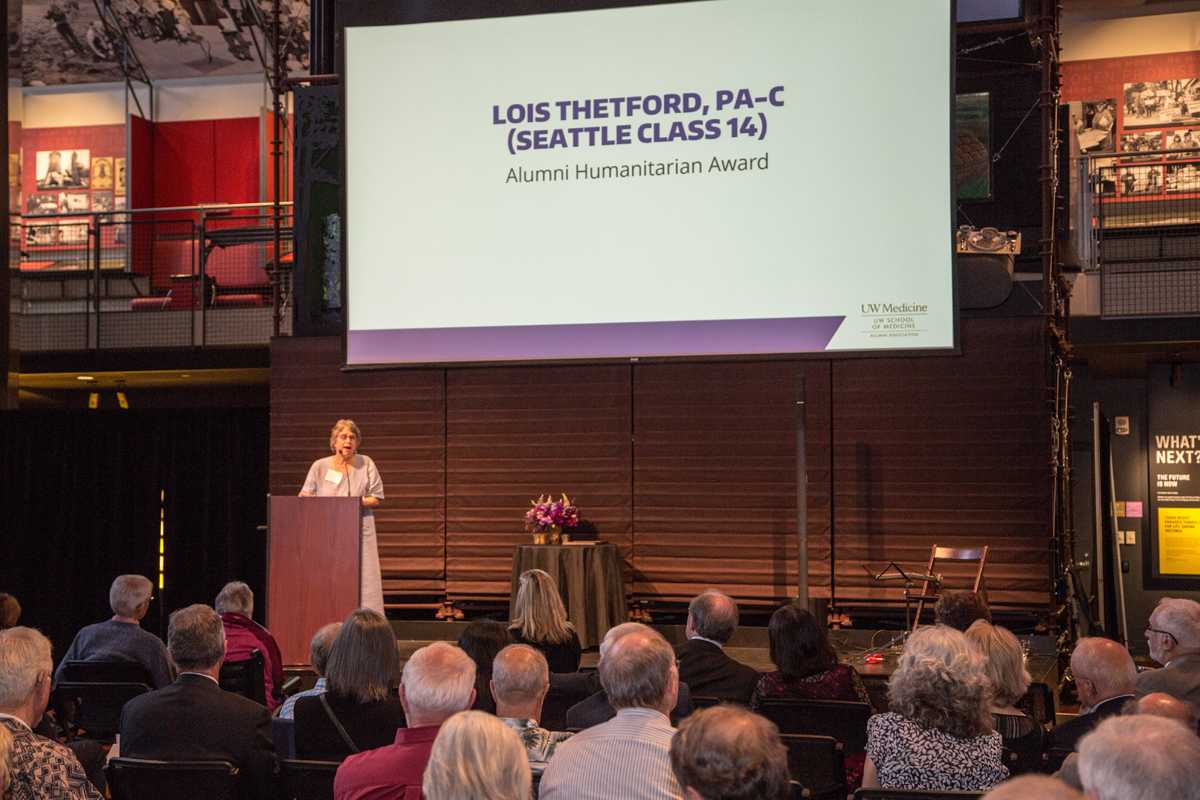 From the stage, Lois urges her fellow medical providers to get involved in care of the homeless population.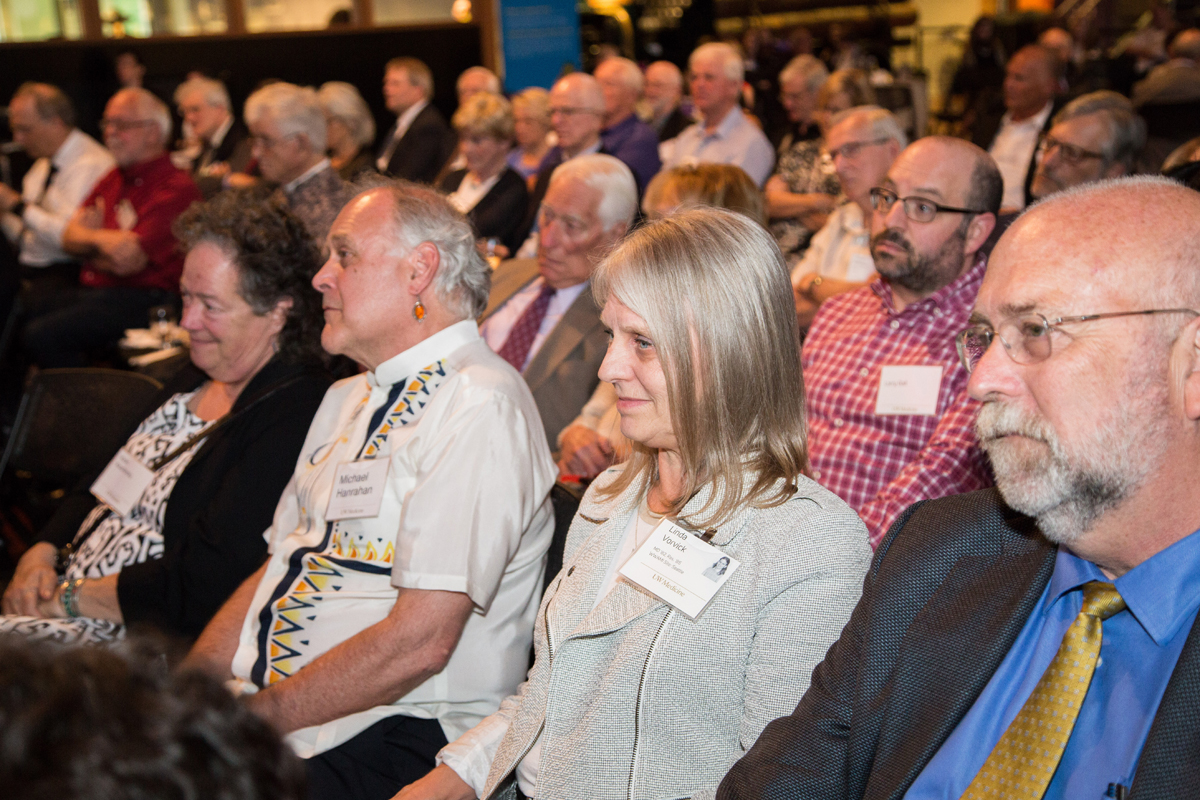 Friends and supporters listen intently to Lois' message.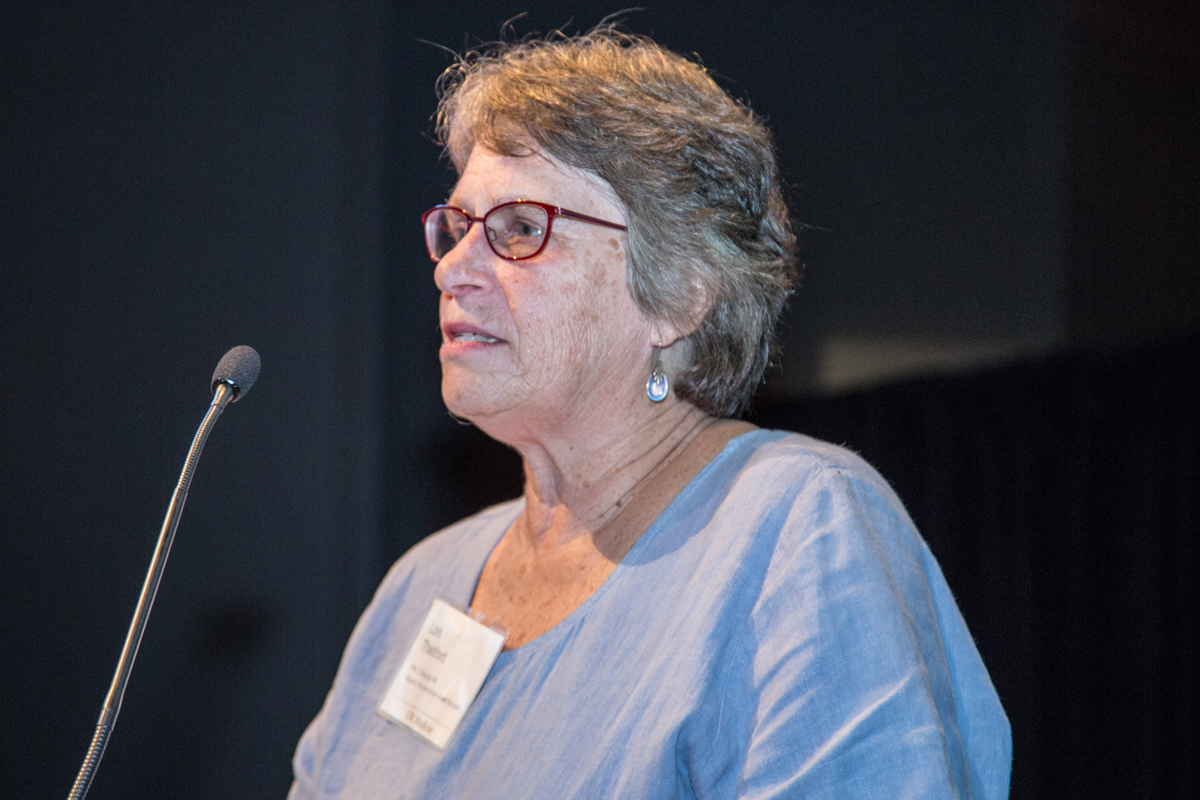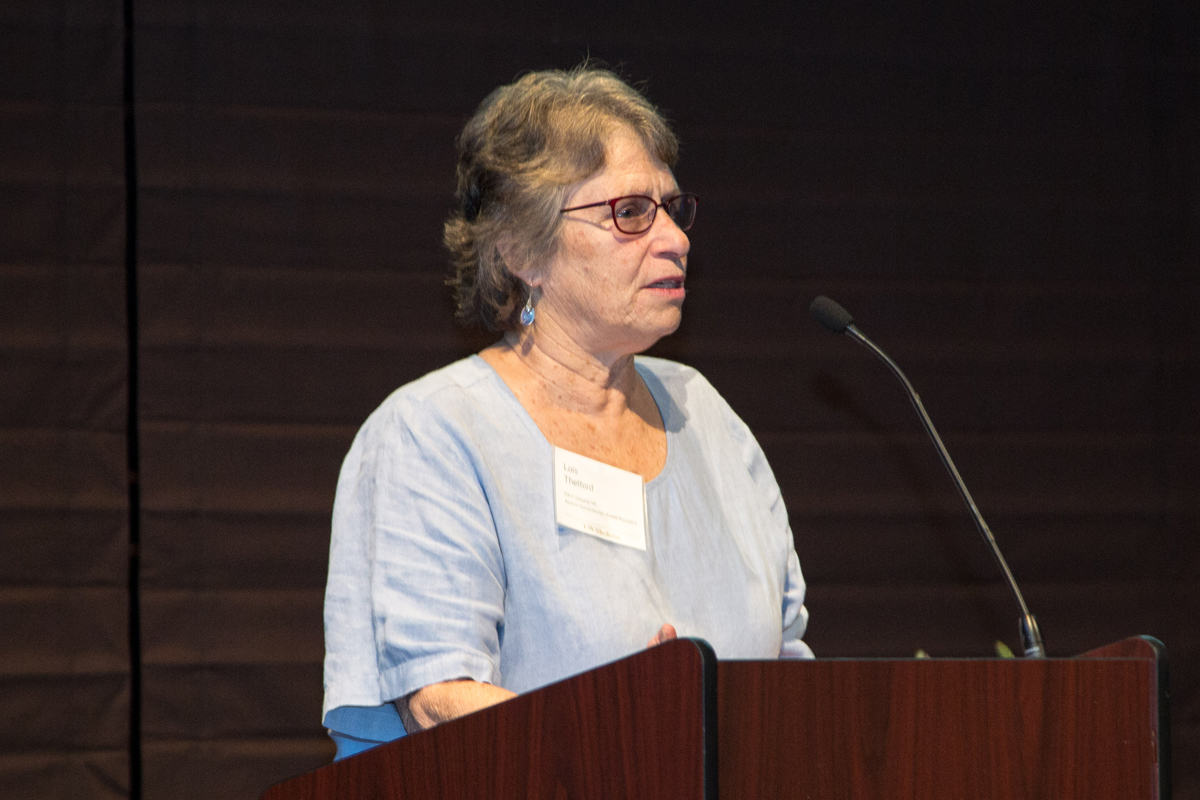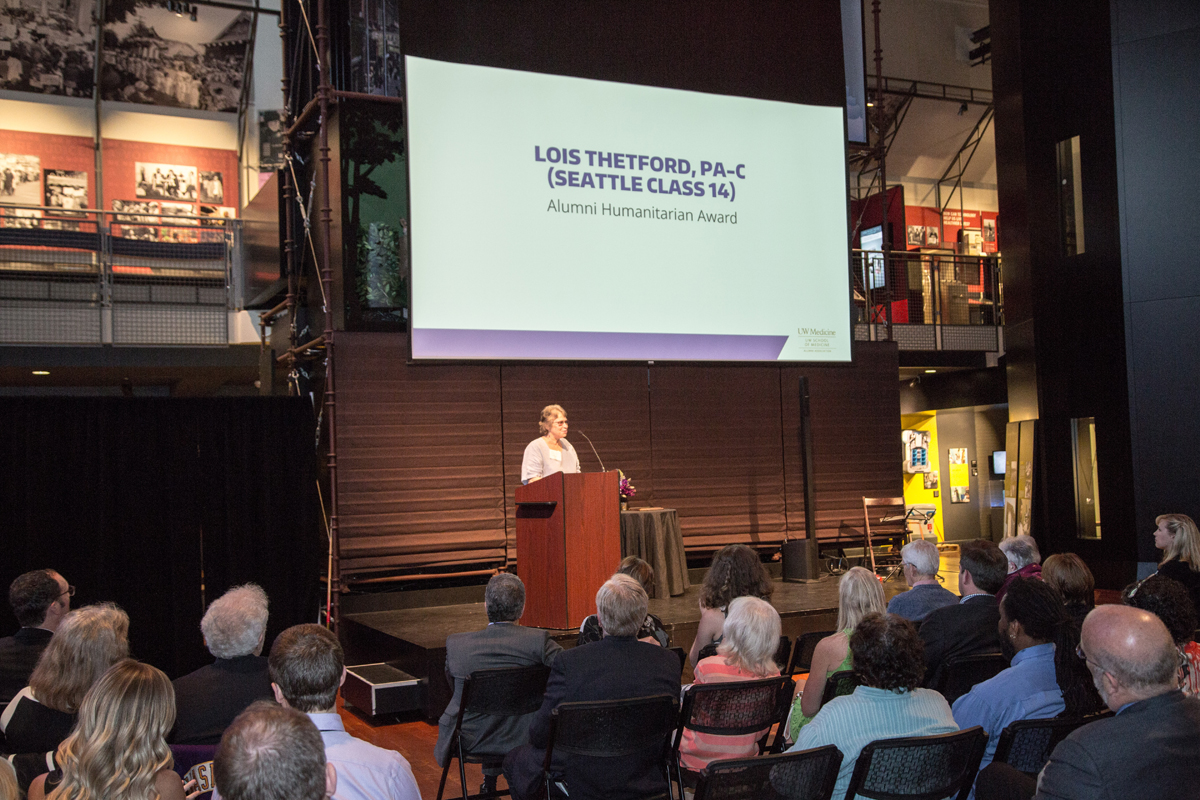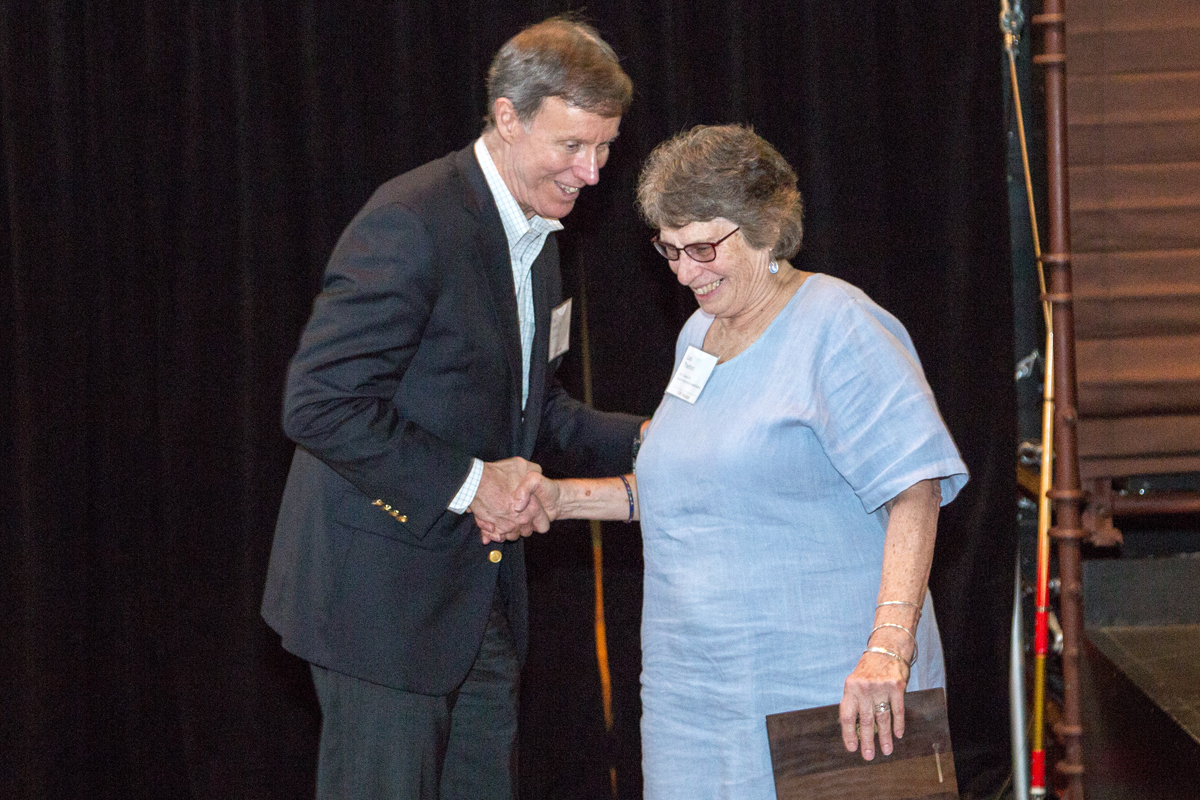 Dean Ramsey offers one last congratulation as Lois departs the stage.