On July 5th MEDEX Northwest welcomed its newest class of incoming physician assistant students to the 2-year UW Medicine training program. The 133 new students will spend their first six weeks of training in Seattle at the Health Sciences Building before returning to their respective sites. MEDEX has four sites across Alaska and Washington State. The incoming class is made up of 23 Anchorage students, 30 Spokane students, 28 Tacoma students and 52 Seattle students.
Most significantly, the incoming Seattle cohort comprises Seattle Class 50, marking the school's semicentennial. Founded as the second physician assistant training program in the US (after Duke University), MEDEX has contributed over 2300 PAs to the workforce over the past 50 years.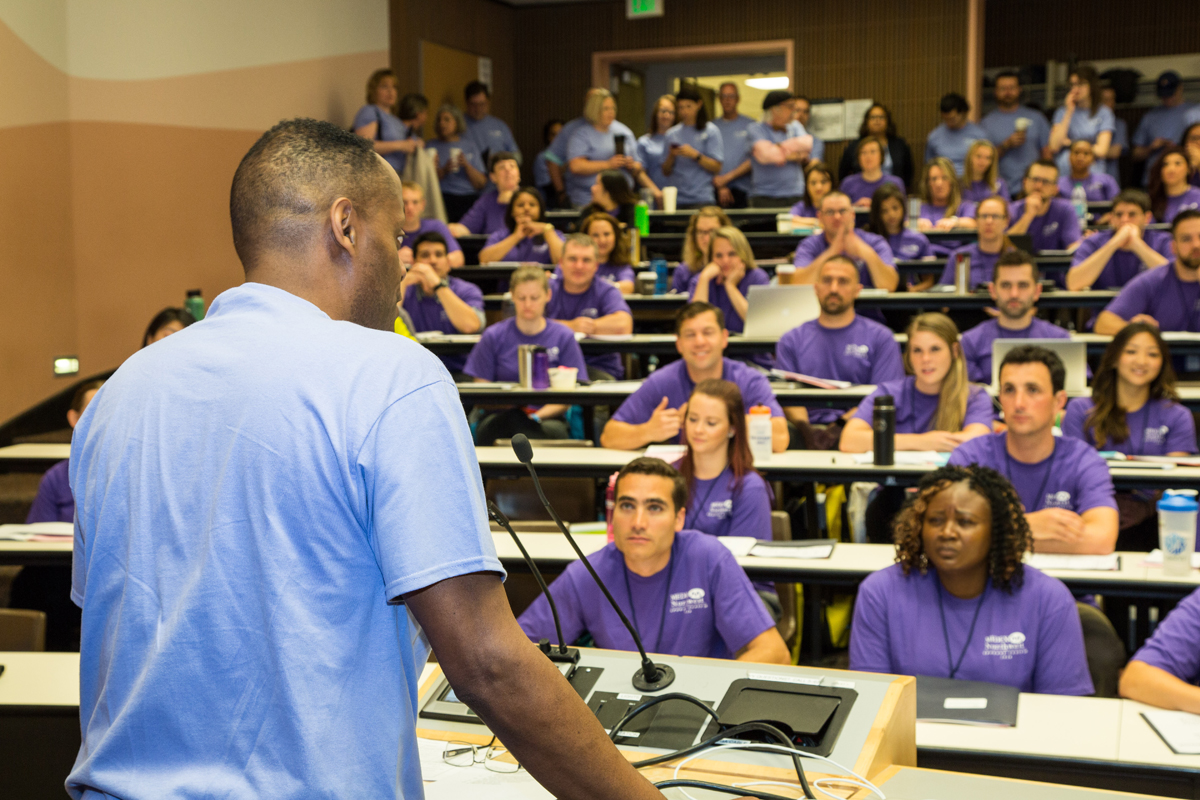 MEDEX Program Director Terry Scott, MPA, PA-C addresses the 2016 incoming students.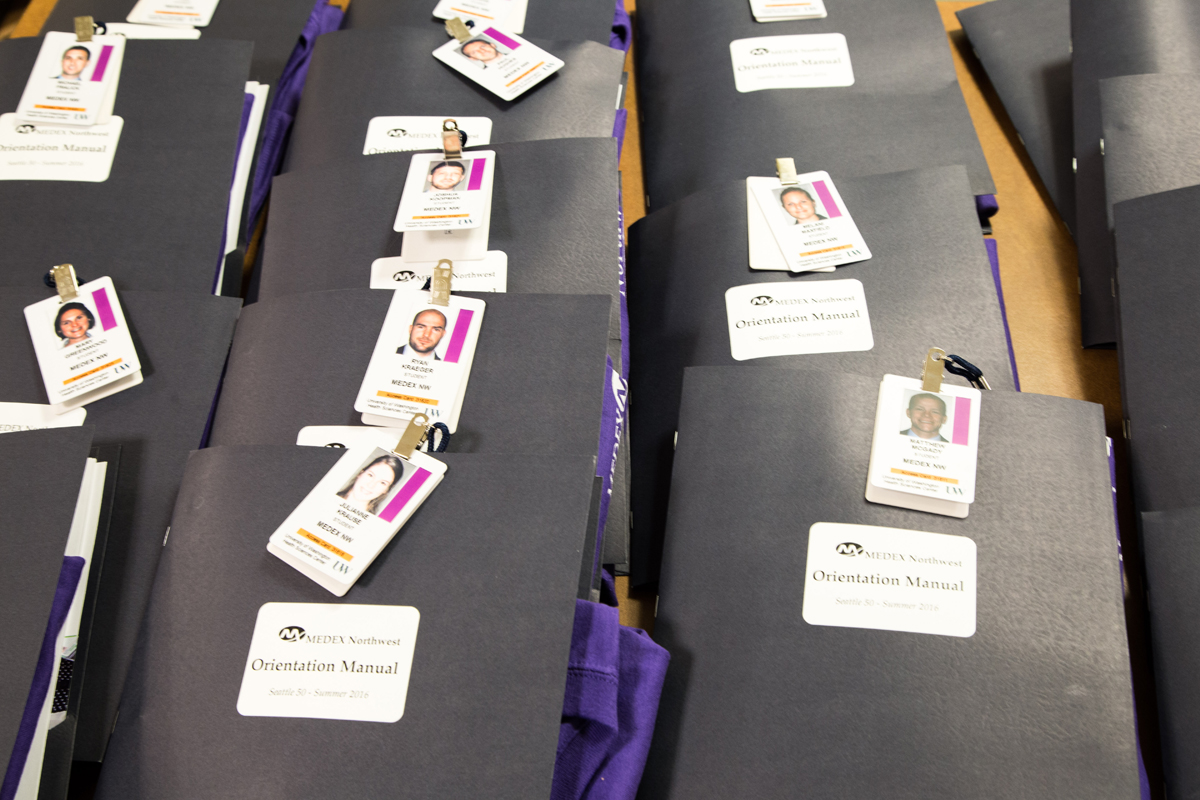 All incoming students receive an Orientation Manual containing their UW ID Card, class schedules, class rosters, faculty lists and campus maps.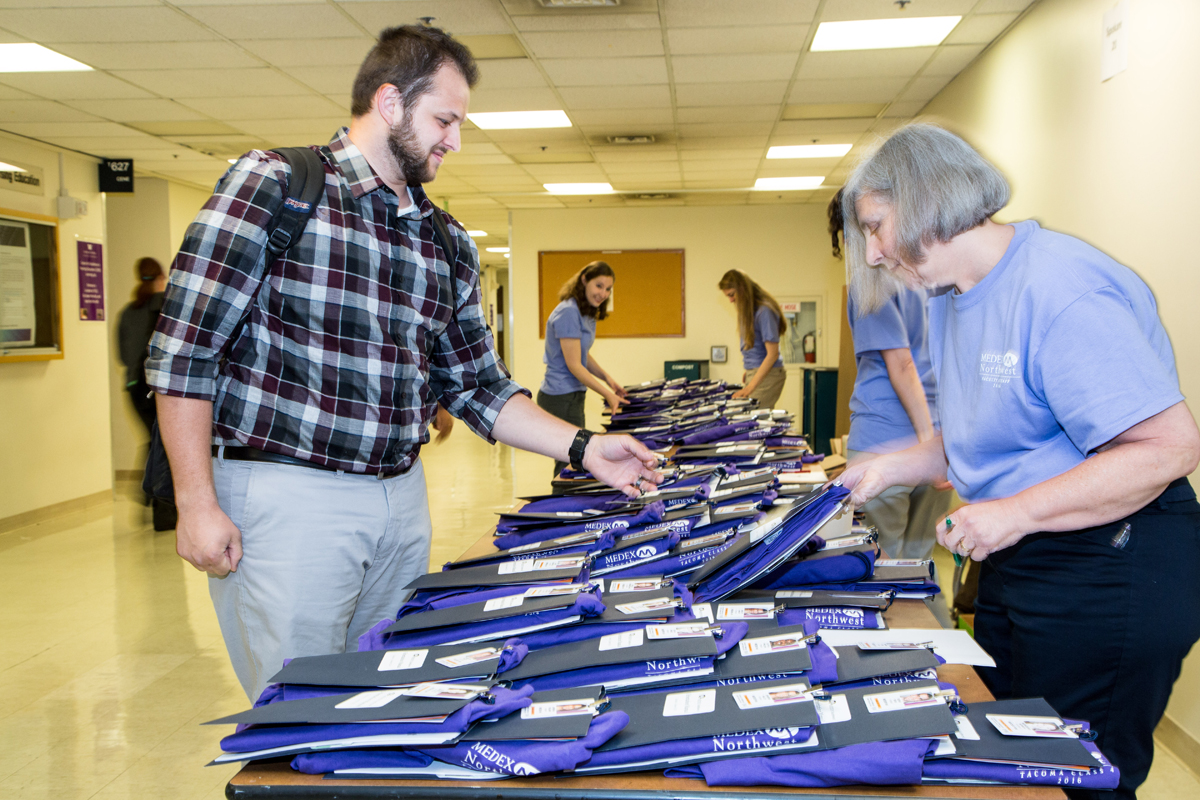 Steve Burcheci of MEDEX Tacoma Class 4 arrives and picks up his orientation manual.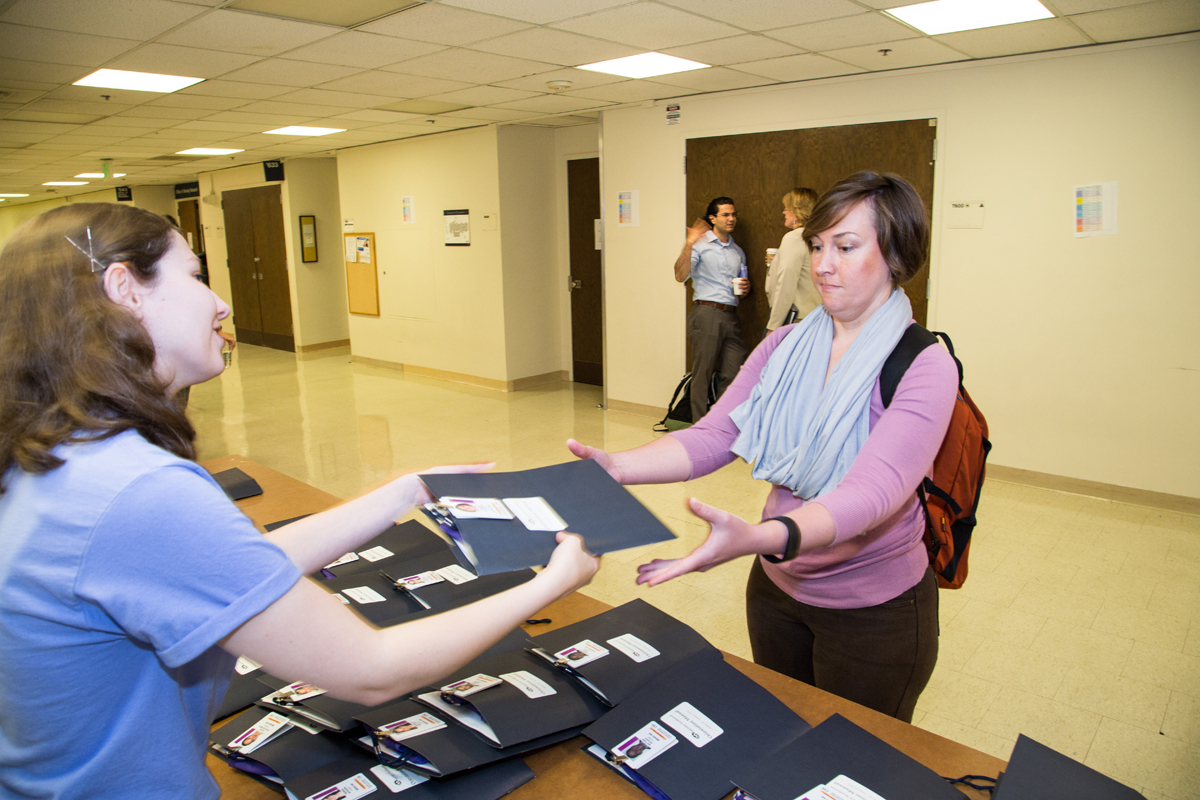 Sarah McDougal of MEDEX Seattle Class 50 receives her Orientation Manual.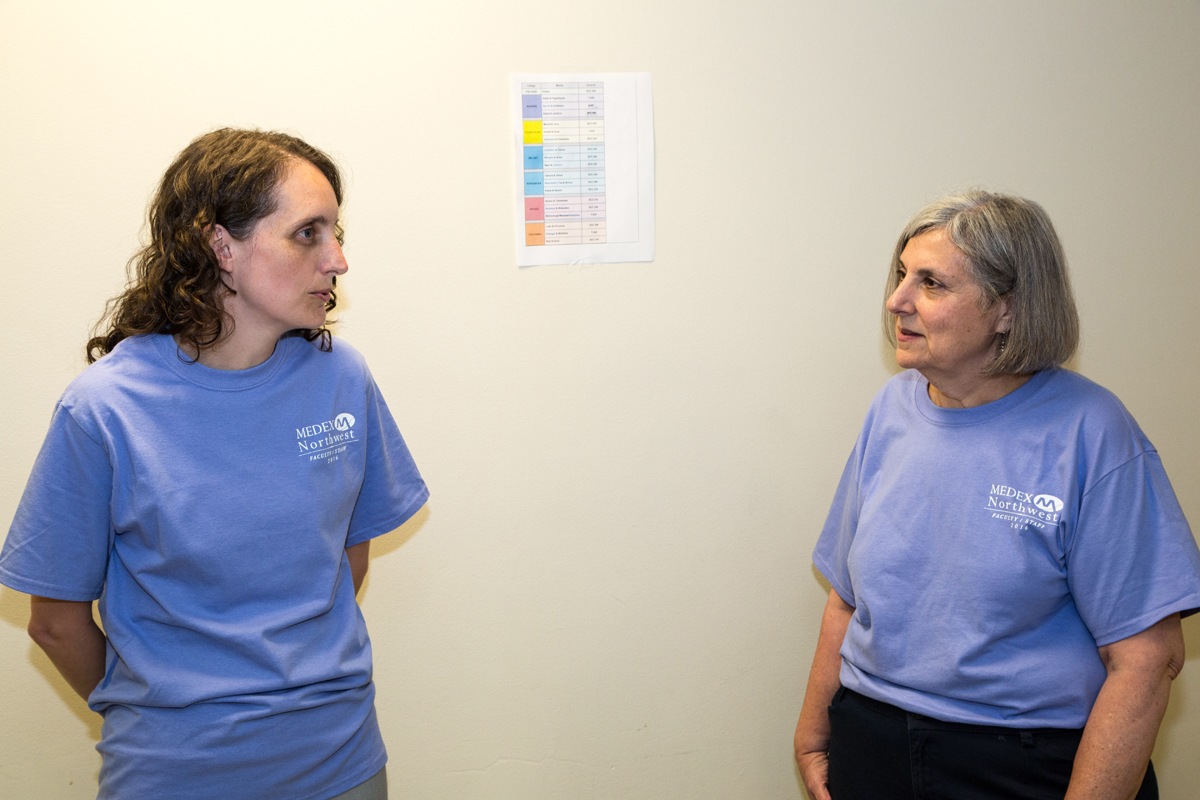 Spokane staffer Michelle Madeen and MEDEX Administrator Donna Lewin chat while waiting for the new students to arrive.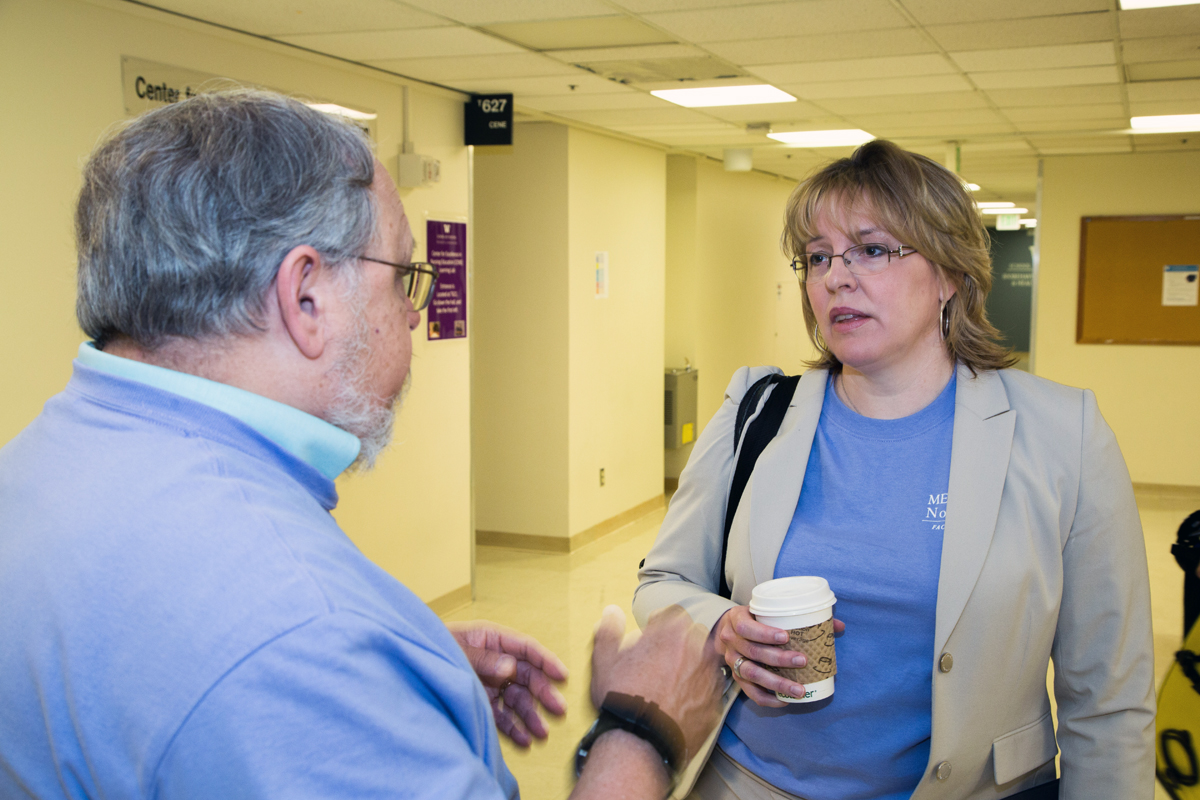 MEDEX faculty Don Coerver, PhD, PA-C and Susan Symington, DFAAP, MPAS, PA-C meet and talk outside the auditorium as the new students arrive.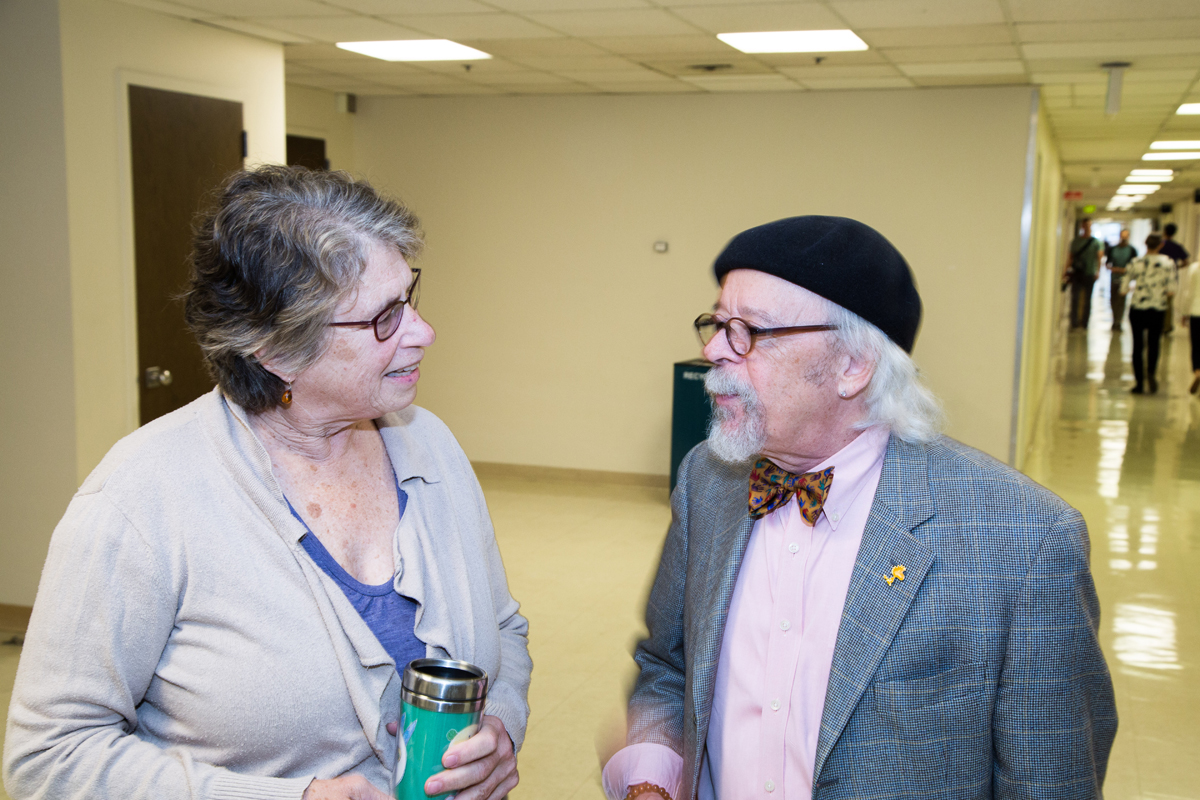 MEDEX faculty Lois Thetford, PA-C and Gino Gianola, MA, PA.
Opening Day
Program Director Terry Scott, MPA, PA-C, an alumni of MEDEX Seattle Class 25 in 1993, was first to welcome the incoming students. "You ought to be very proud of yourself because it's a big accomplishment just getting here today," he said. "You've embarked on a journey that will be one of the most challenging and rewarding in your career. Getting through the MEDEX program, by its very nature, is going to mean that you are not going to be same person two years from now that you are today."
The mood of the crowd was buoyant yet serious, reflective of the task ahead. They had experienced a mere taste of what was to come as the online anatomy review course occupied them since March.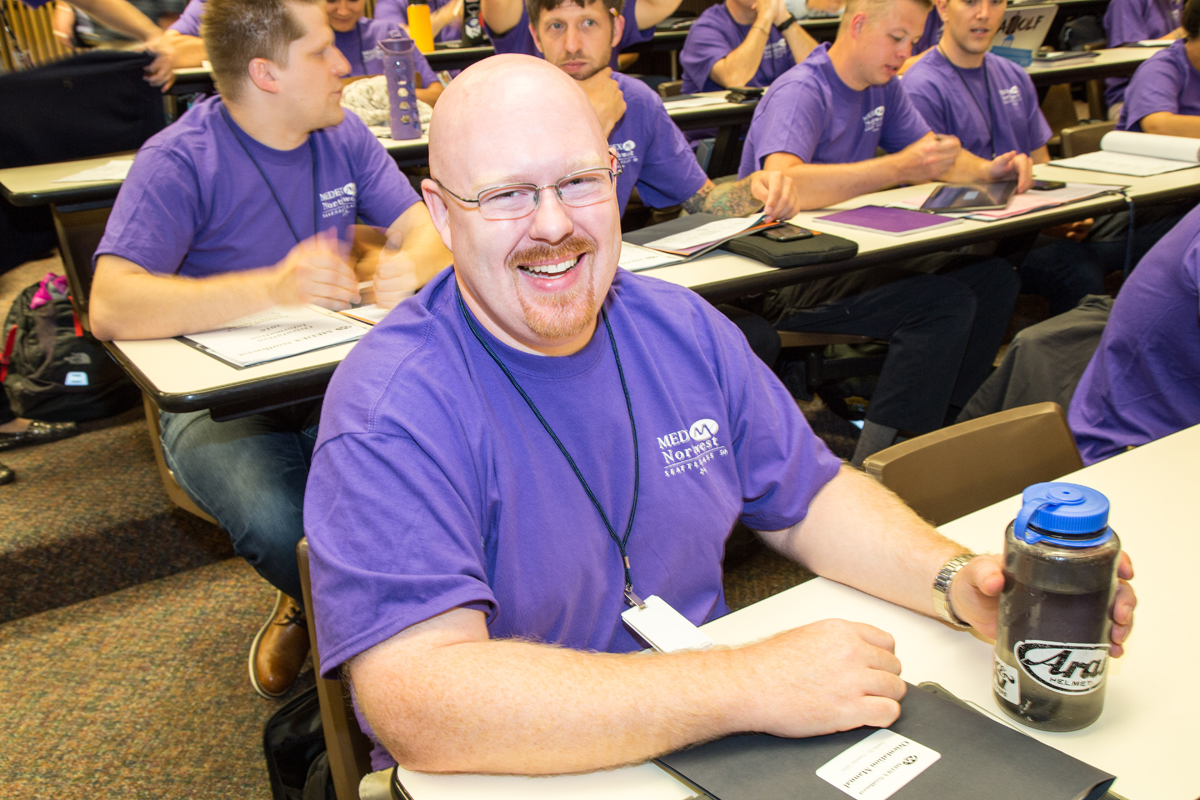 Leroy Spurlock of Seattle Class 50.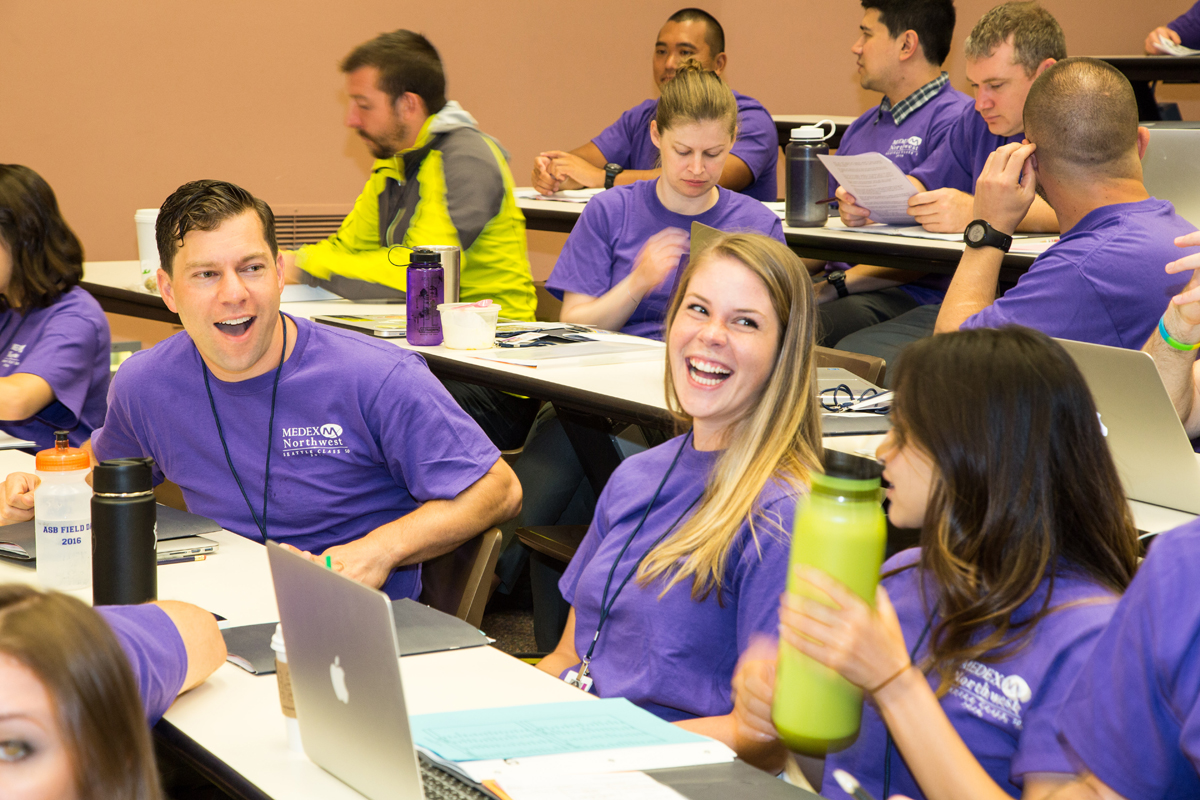 Josh Swidler and Julianne Krause of Seattle Class 50.
Pearl Churchill of Anchorage Class 8.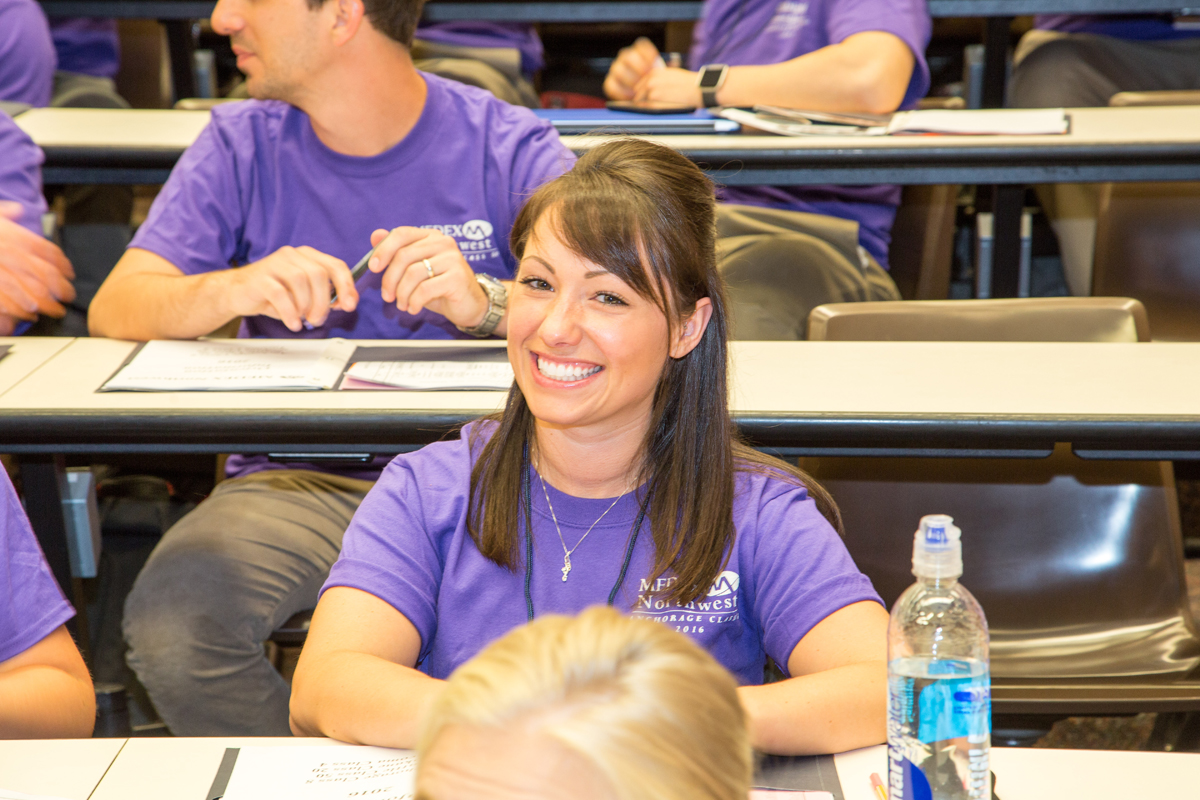 Sara Landford of Anchorage Class 8.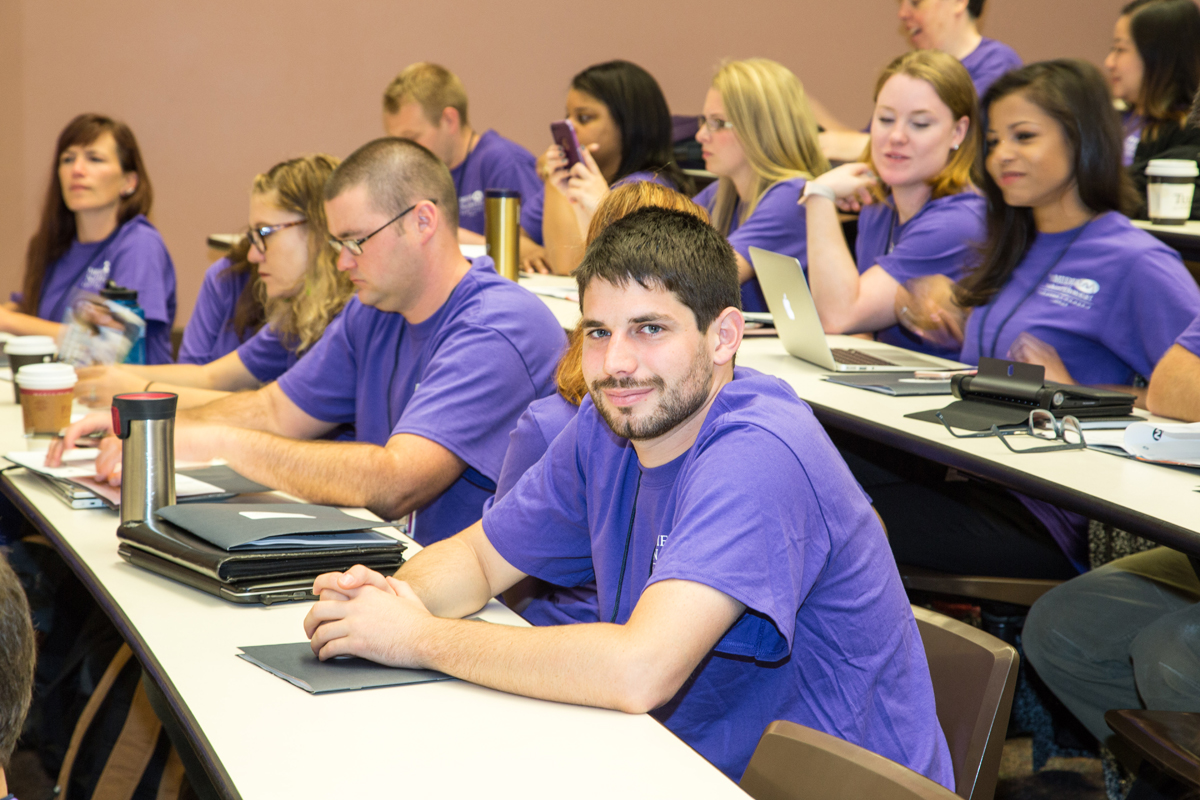 Winston Walker of Tacoma Class 4.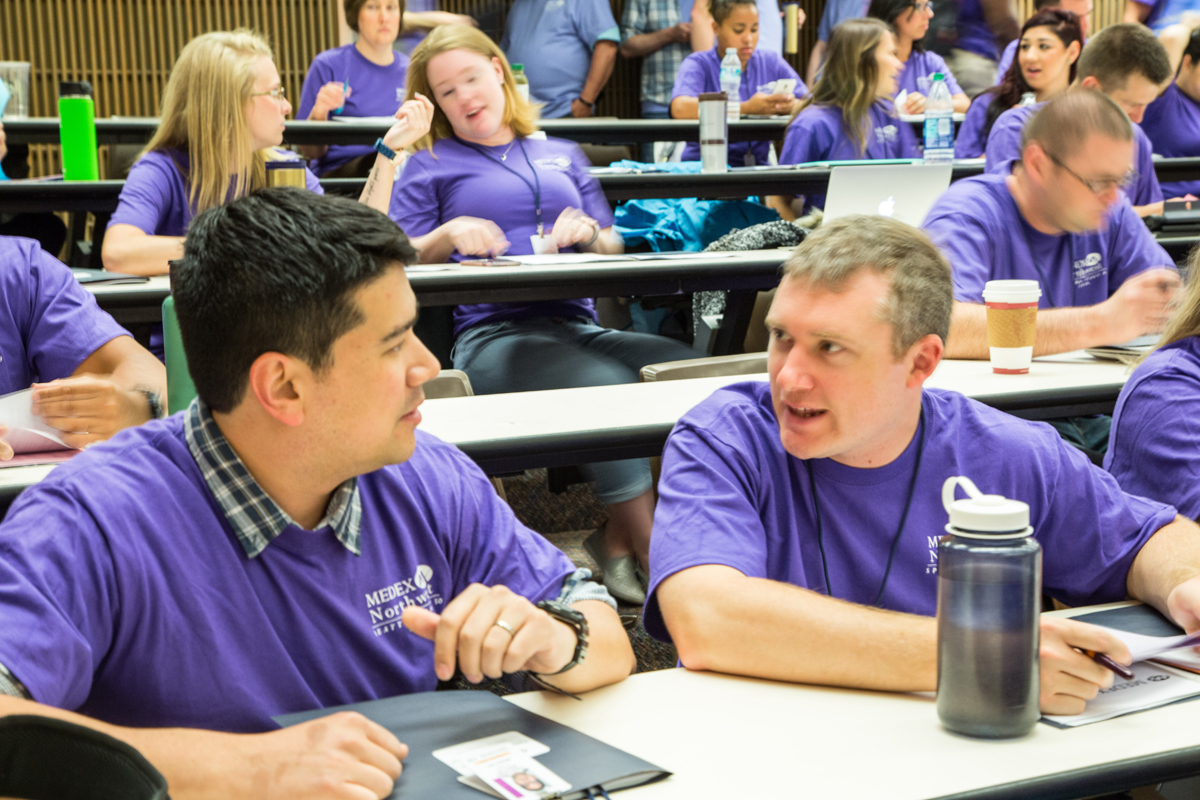 Chris Brantley of Seattle Class 50 and Dan Boyd of Spokane Class 20.
Clifton Phillips of Tacoma Class 4.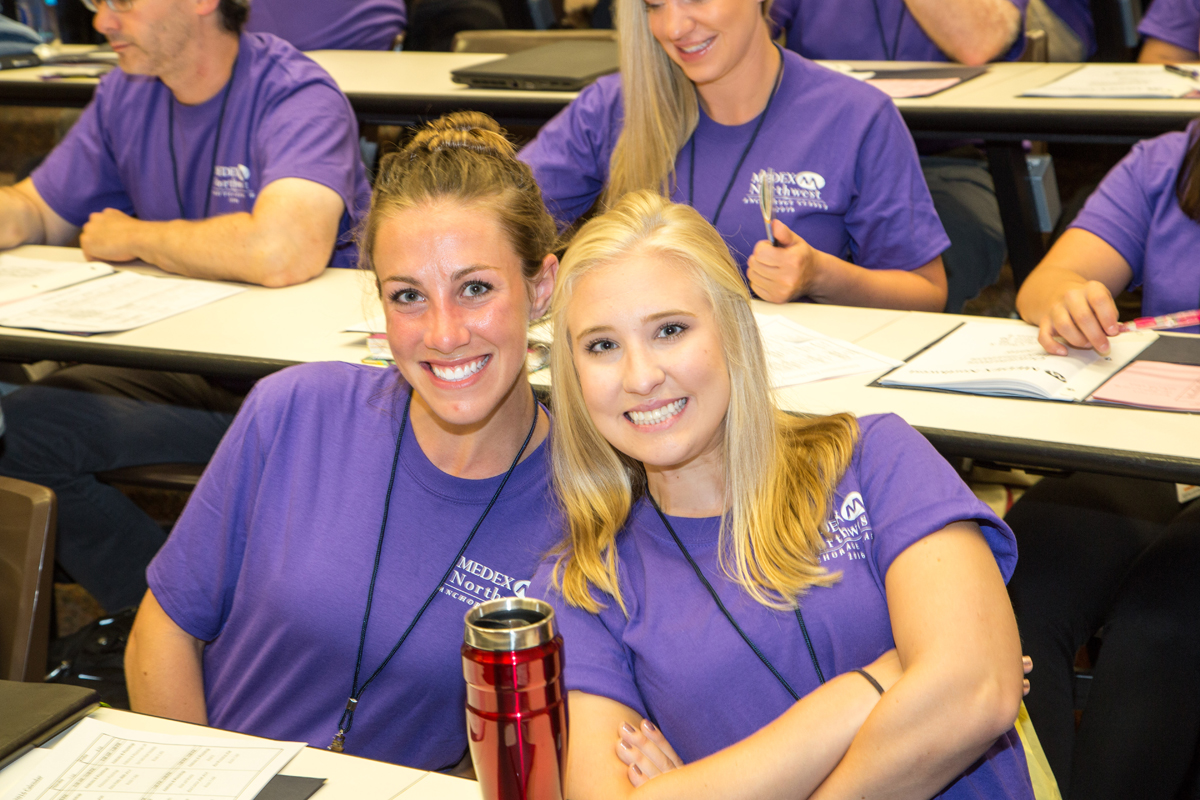 Dayna Daku and Micah Endres of Anchorage Class 8.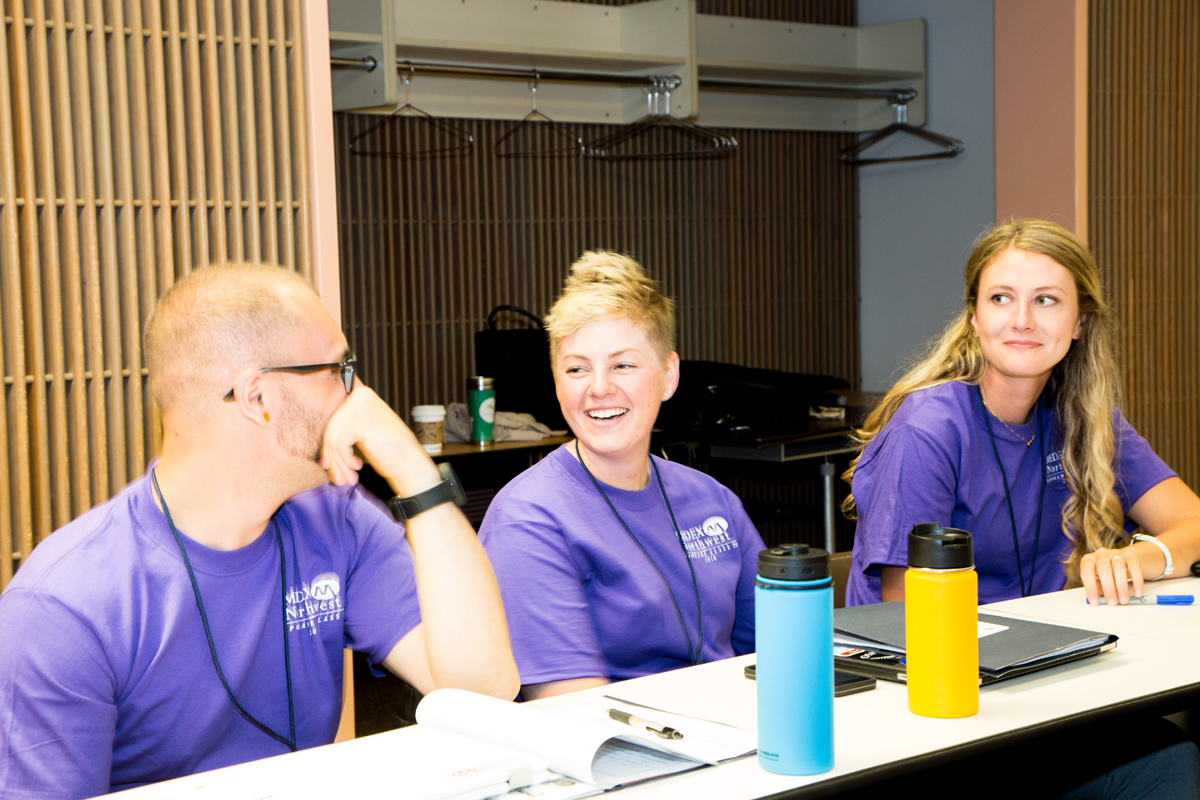 Emily Marshall (center) and Michaela Howe-Cob of Spokane Class 20.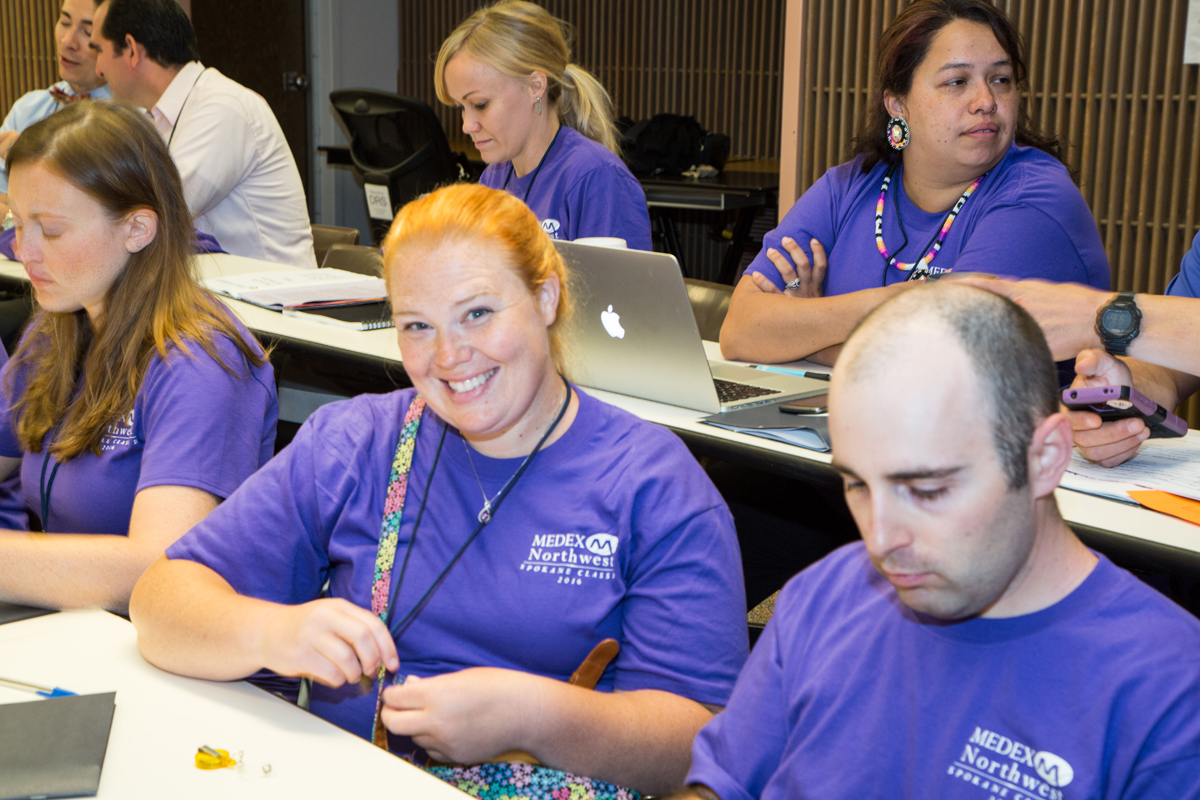 Jaime Martin (center) of Spokane Class 20.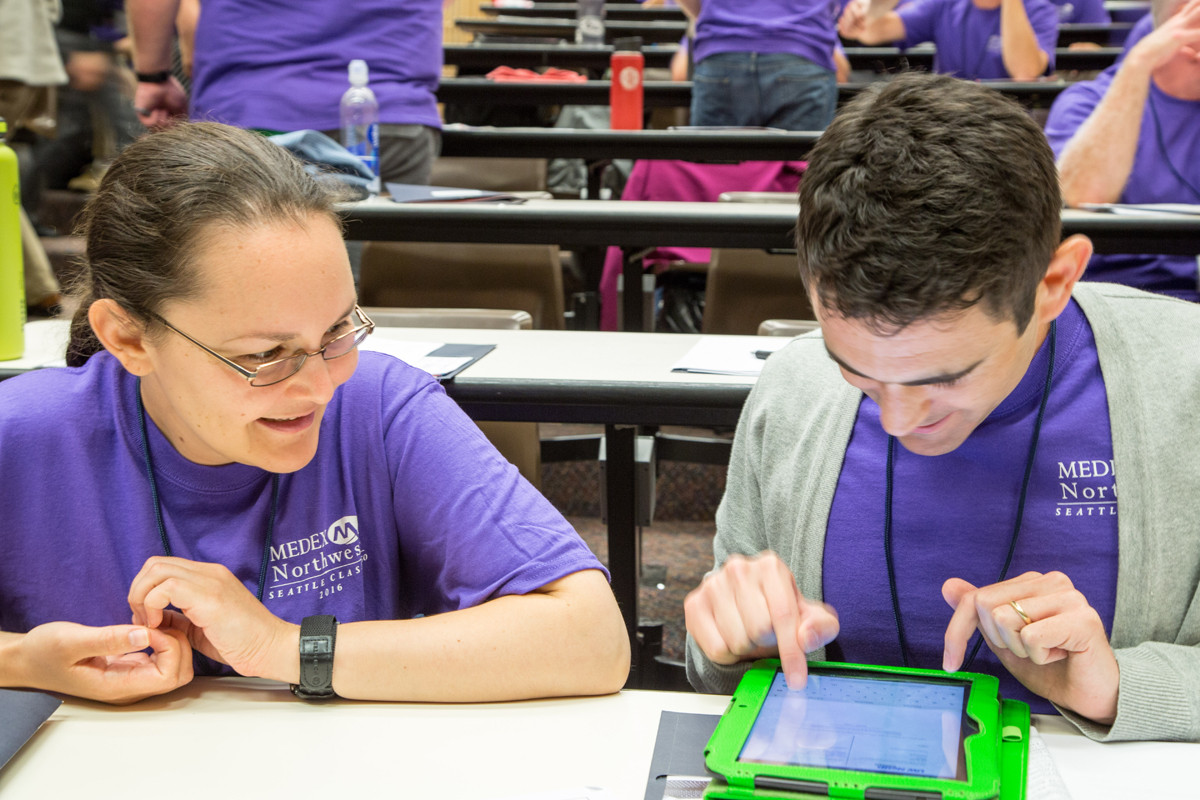 Lena Redkina and Warner Asch of Seattle Class 50.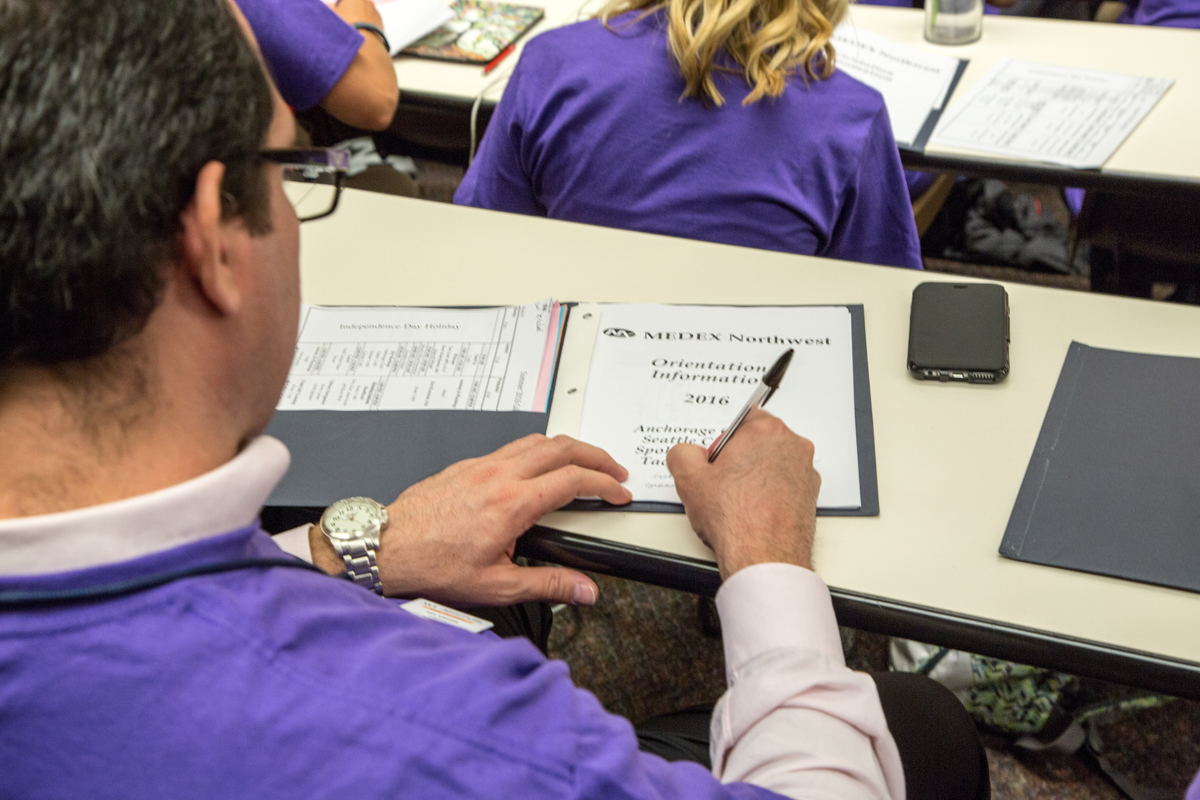 Looking over the 2016 Orientation Manual for incoming students.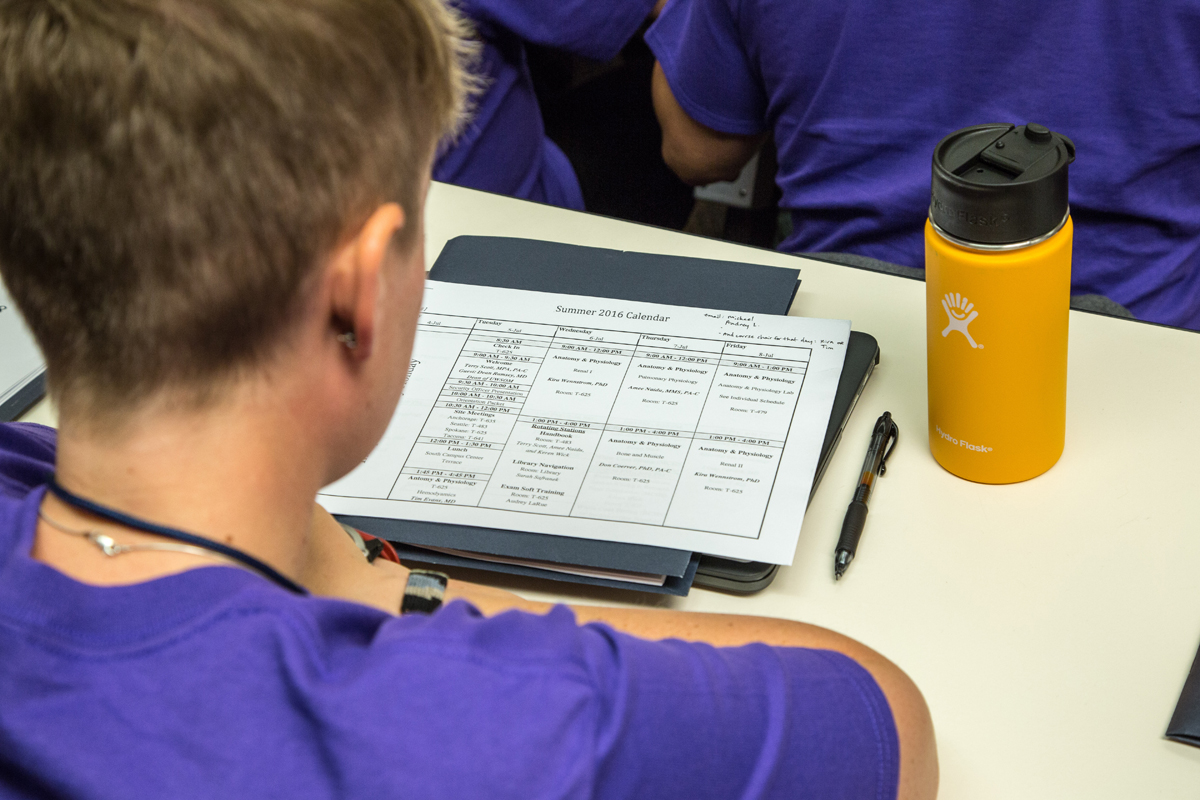 Examining the Summer Quarter Calendar.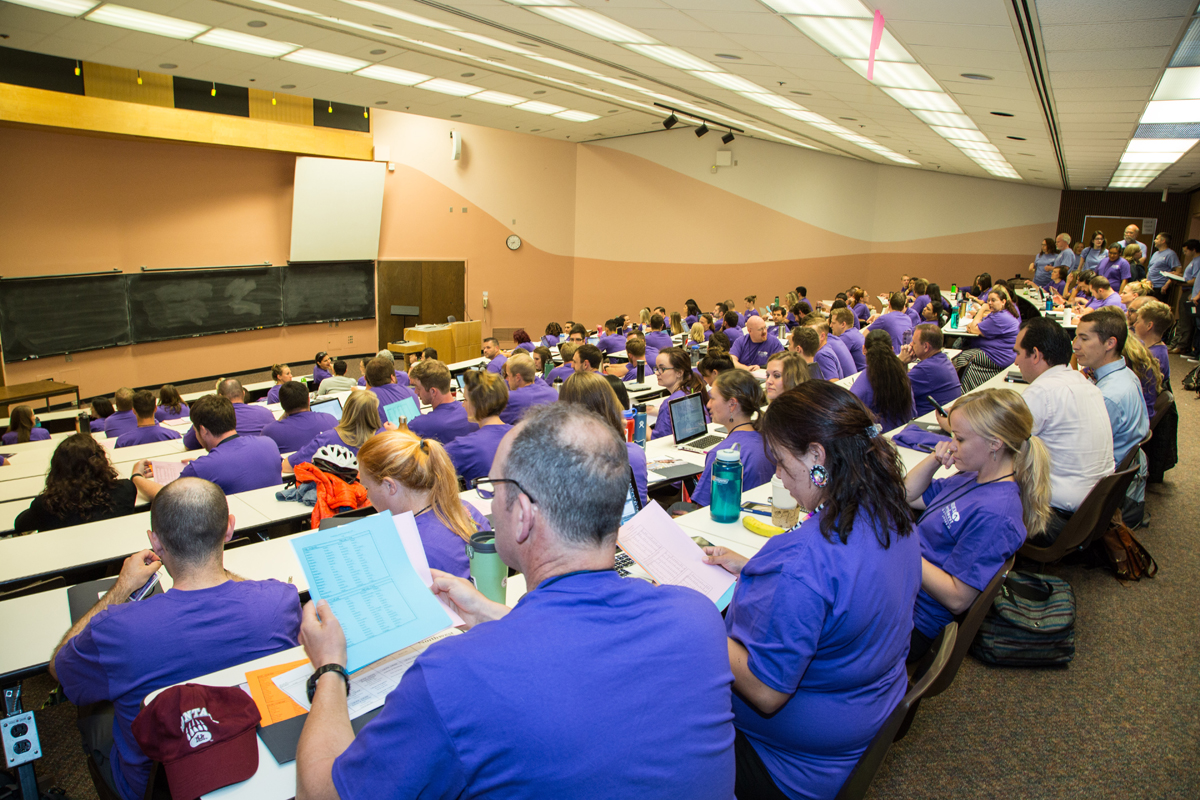 The Incoming 2016 students review their information packets.
Speaking to the customary challenges of PA education, Terry Scott continued. "I can tell you that sometimes the purpose of something may not be clearly evident for those going through this process. But there is a method to the madness because we have a responsibility—to the public, to you and to this university—to ensure that you are well-skilled, well-tuned healthcare professionals by the time you get out of here. That means that if we didn't challenge your frame of reference—if we didn't challenge your biases—then we wouldn't be doing our job and doing justice to you as a future healthcare provider. So, bear with us. This is going to be a journey. We've got past the let's-check-each-other-out phase. The real relationship starts now."
Dr. Paul Ramsey, Dean of the UW School of Medicine, took to the podium to address the students. "You are starting your career at what I believe is the most exciting time in the history of medicine," he said. "You're going to have the ability to diagnose and treat diseases we couldn't treat before. You're going to have the ability to know how to prevent diseases in the way we could not do prevention before. I am delighted to welcome you to the School of Medicine. I am confident that you are going to emerge as leaders of medicine as you complete your training and graduate and join the healthcare team."
Tim Evans, MD, PhD, FACP and Senior Medical Director for MEDEX, is a favorite faculty lecturer among students, and he addressed the crowd by invoking their earlier cohorts. "It looks kind of strange seeing all these faces out here because we just got through sending your predecessors off to their terror-filled summer waiting to go to clinic," he said. "We get pretty bonded with you guys in the course of the year. You might look a little strange to us now but, by the end of the next couple of weeks or so, we're going to fall in love with you, too, and then we'll be yours and you'll be ours. You have joined a big family, and you'll have a chance to meet a lot of them in the course of your training. So, welcome."
Dr. Evans continued. "This is the beginning of a process of lifelong learning, and we hope we give you the skills to be able to continue that process. There are a lot of reasons to get all you can get out of this. What is going to seem long sometimes in a couple of years you will say, 'Where did it all go, and how am I possibly going to go out in the clinic and not kill people?' But I reassure, that's really difficult to do. You have to work hard at it to hurt someone, so you are not going to. But now is your chance to actually have a full time job learning medicine. It's so darn interesting, and I hope you'll think that as well."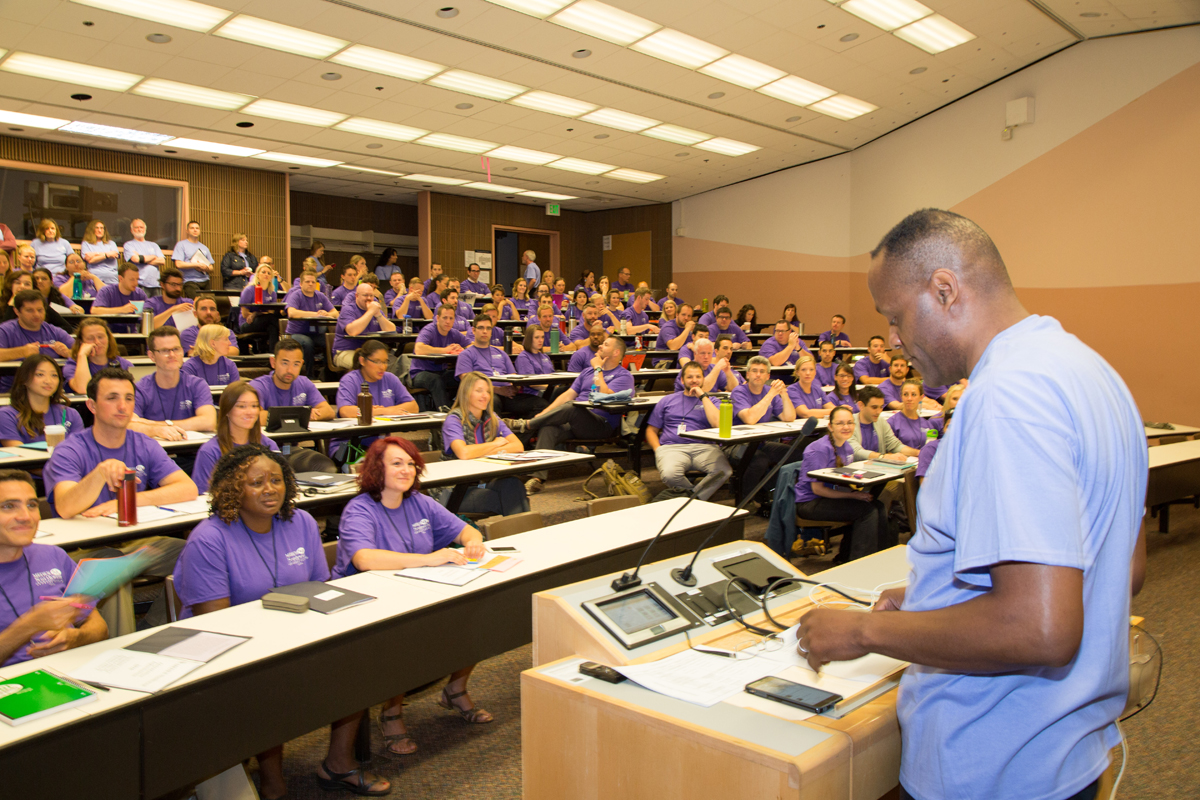 MEDEX Program Director Terry Scott, MPA, PA-C, and an alumni of MEDEX Seattle Class 25 from 1993, addresses the incoming Class of 2016.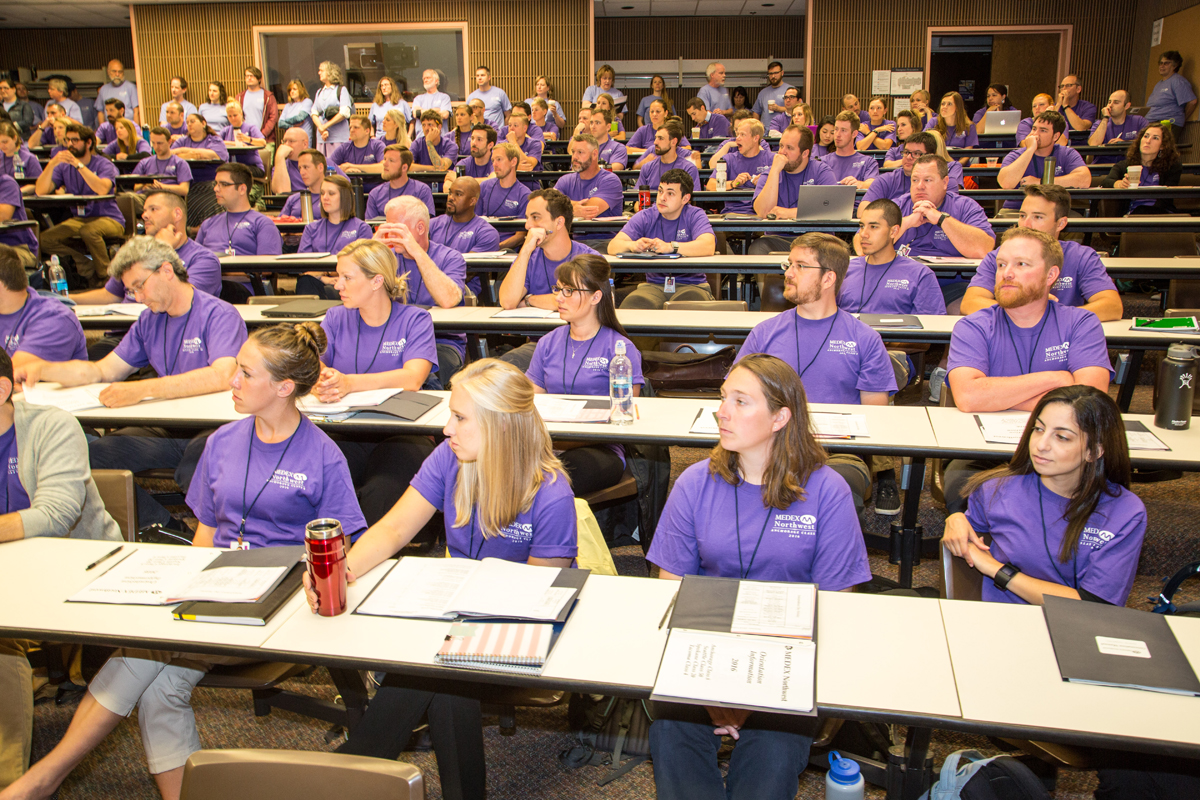 The 2016 incoming MEDEX students listen attentively to the leadership speakers.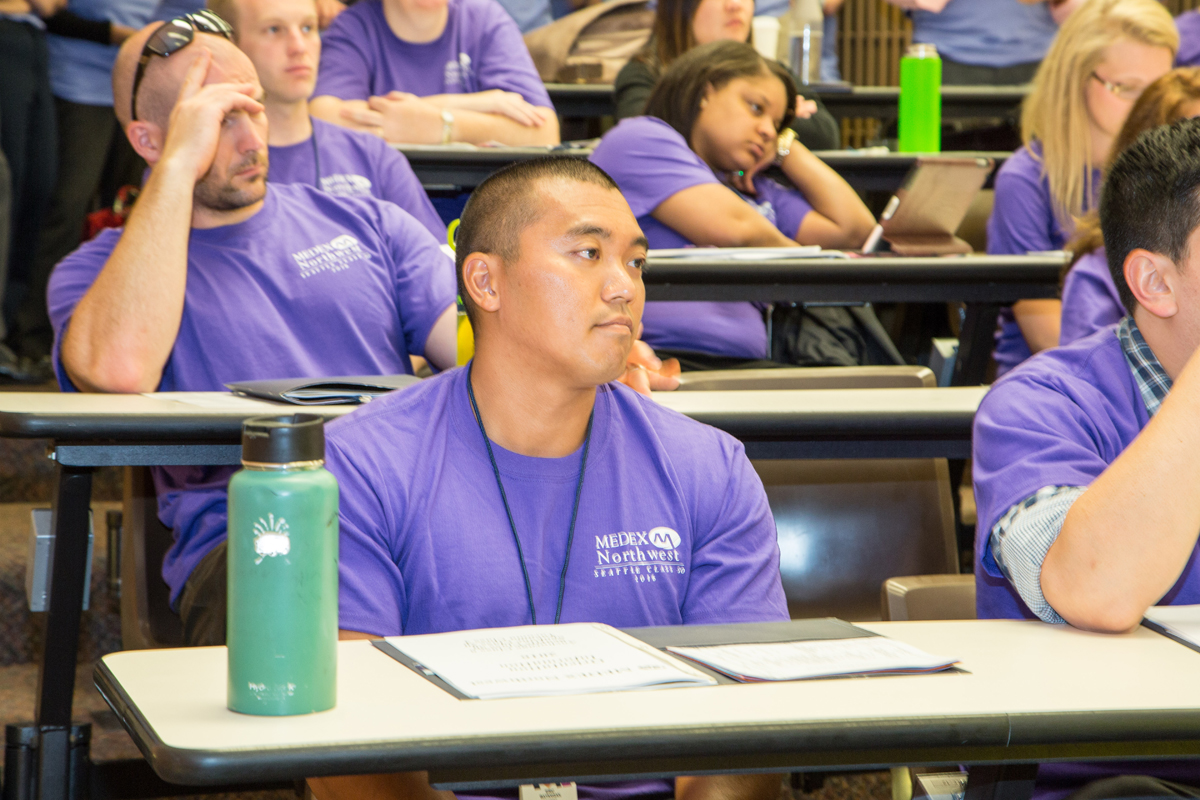 Eric Bantangan of Seattle Class 50.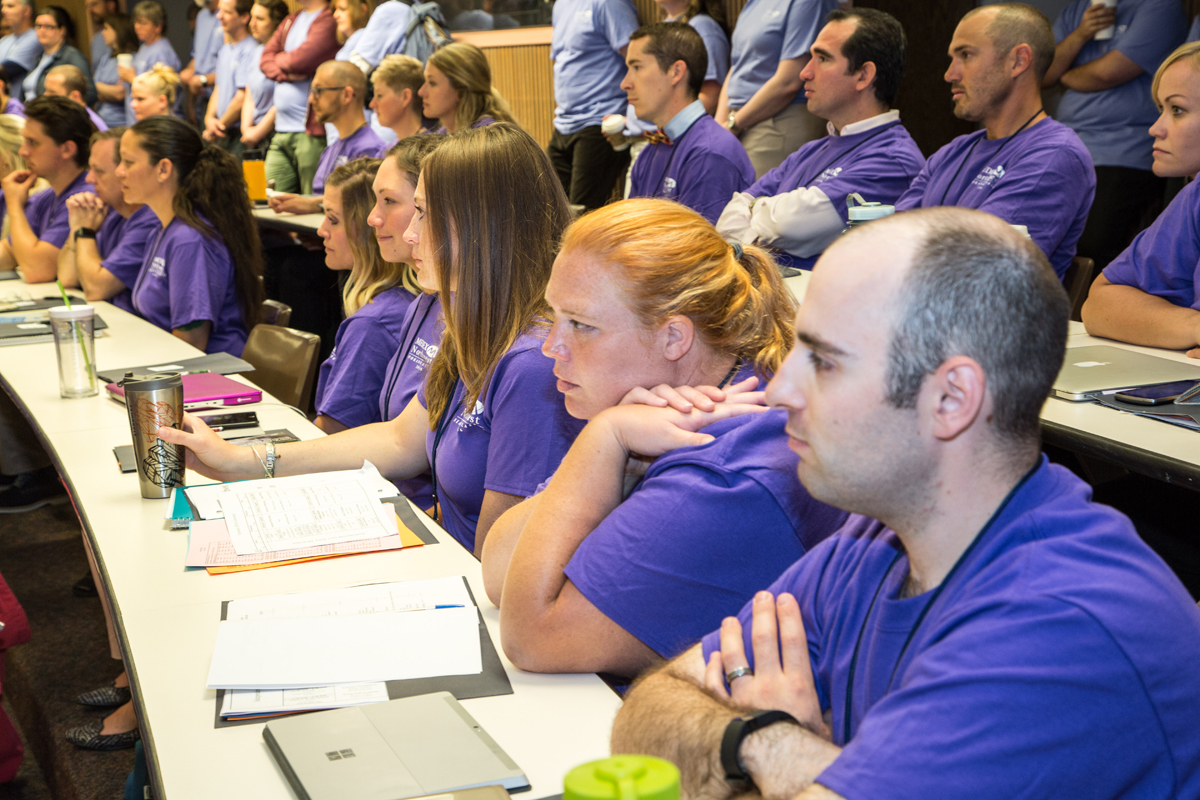 Some of the incoming MEDEX students of 2016.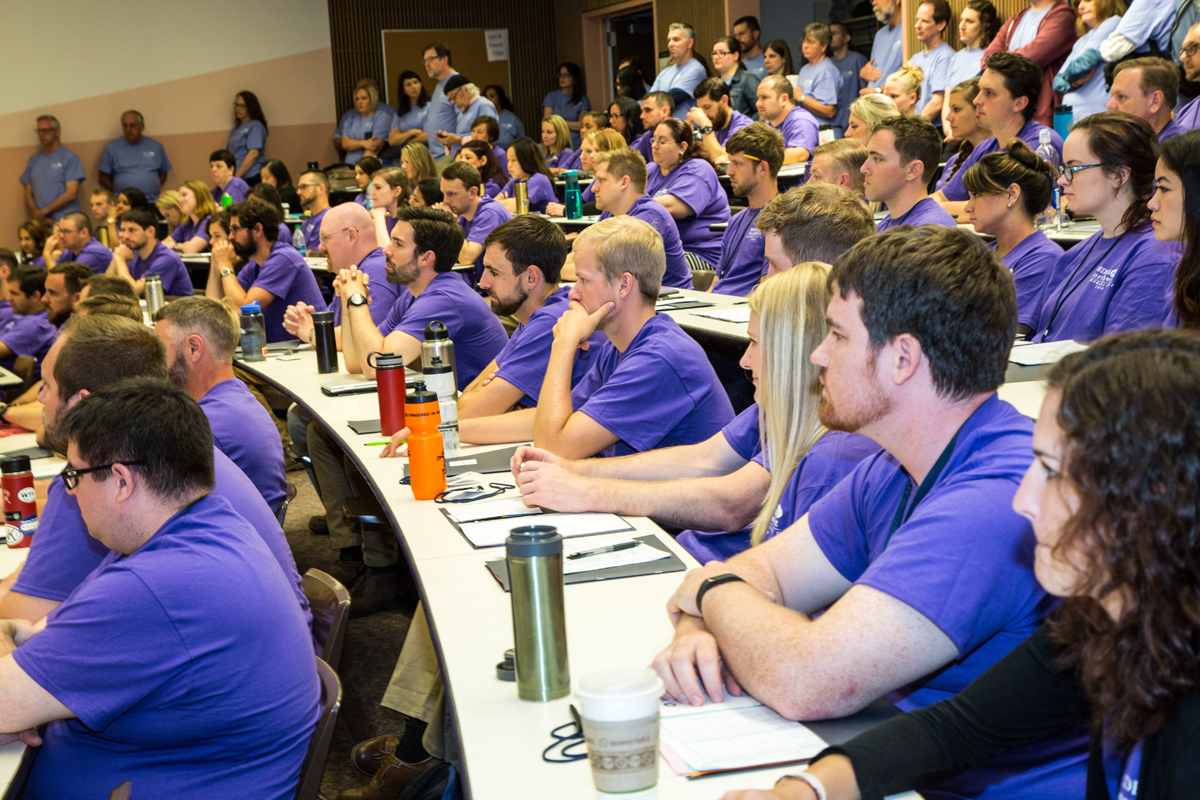 Some of the incoming MEDEX students of 2016.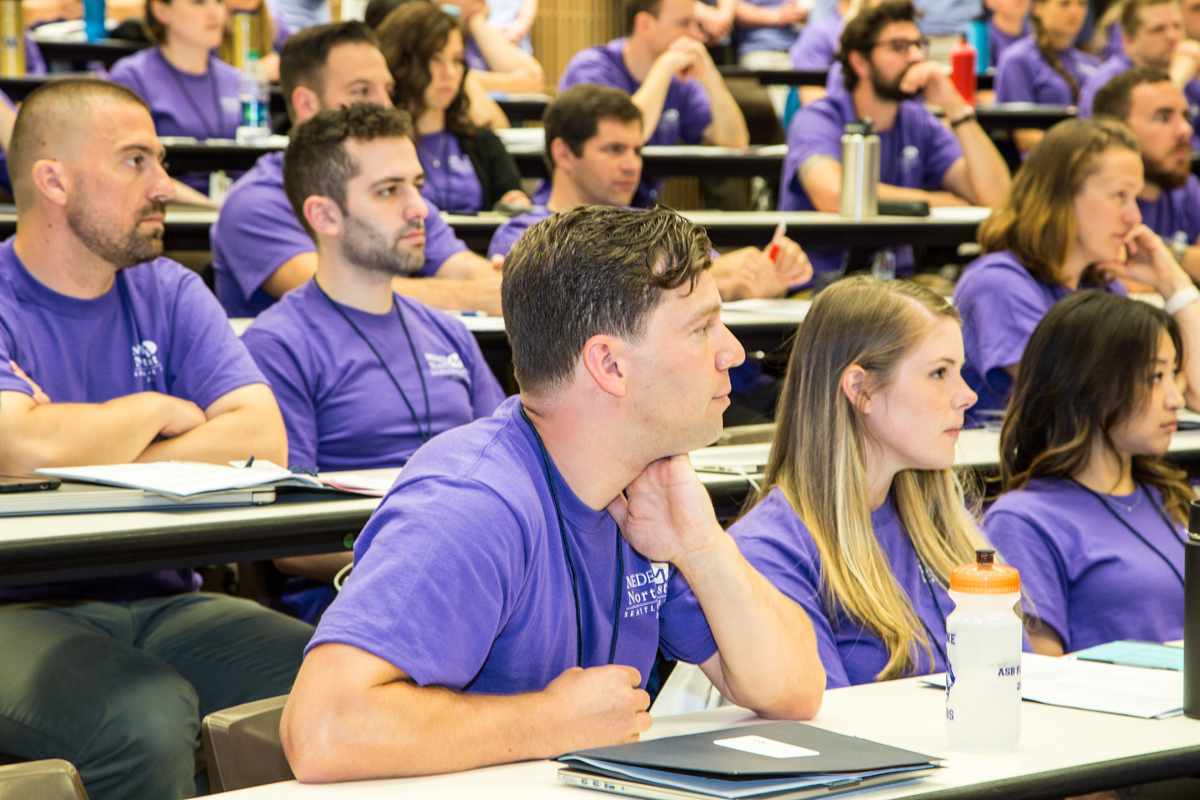 Josh Swidler of Seattle Class 50.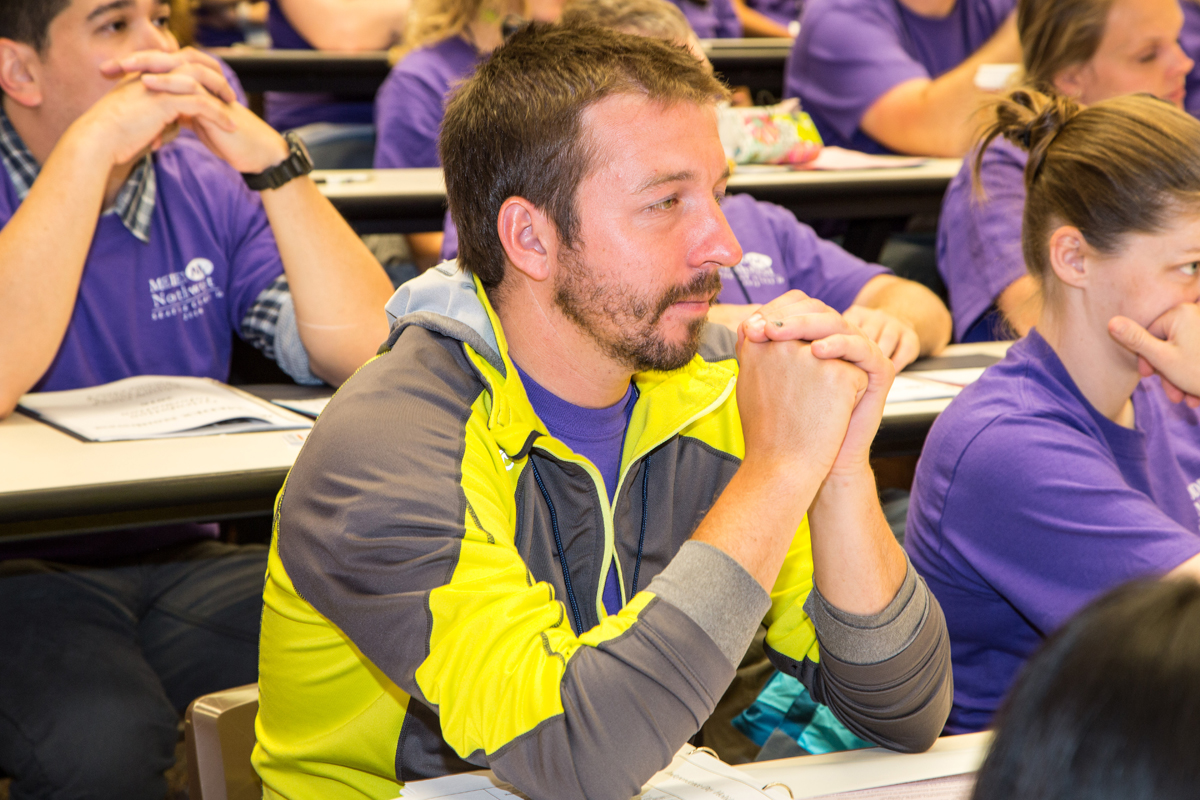 Chris Dunaway of Anchorage Class 8.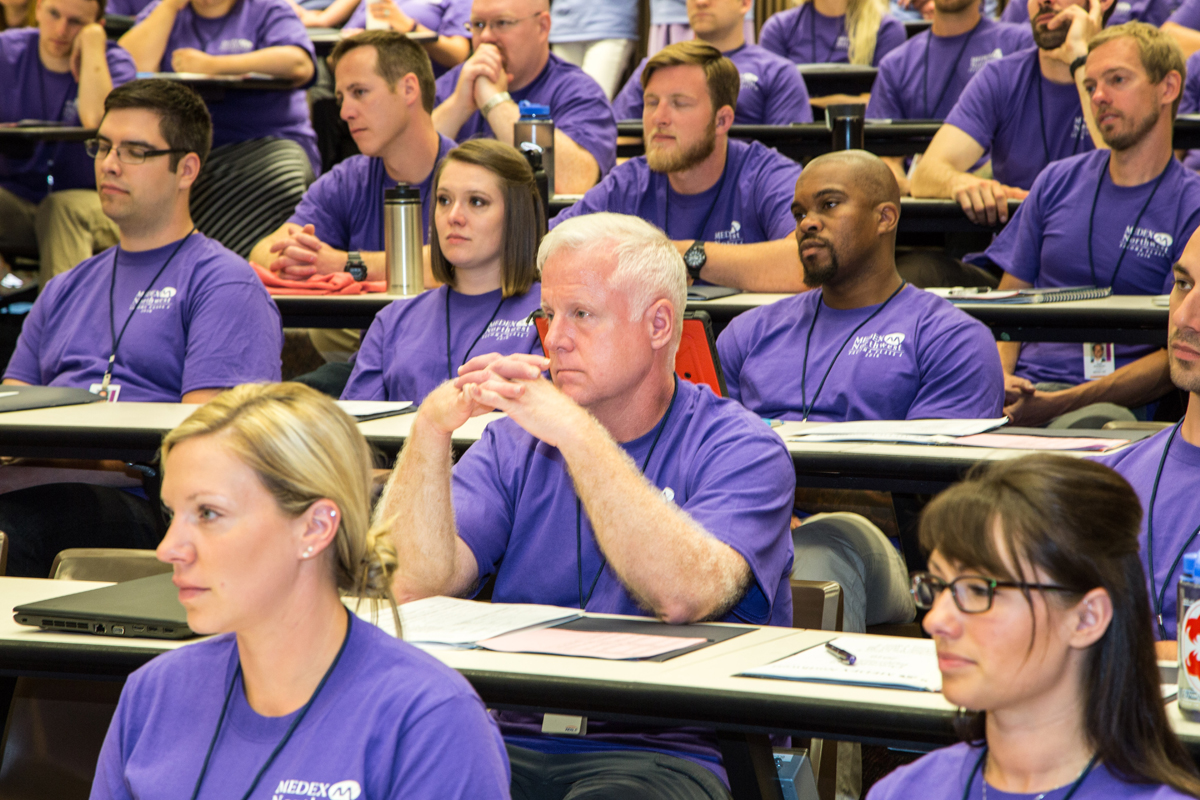 Robert McCrorie of Seattle Class 50.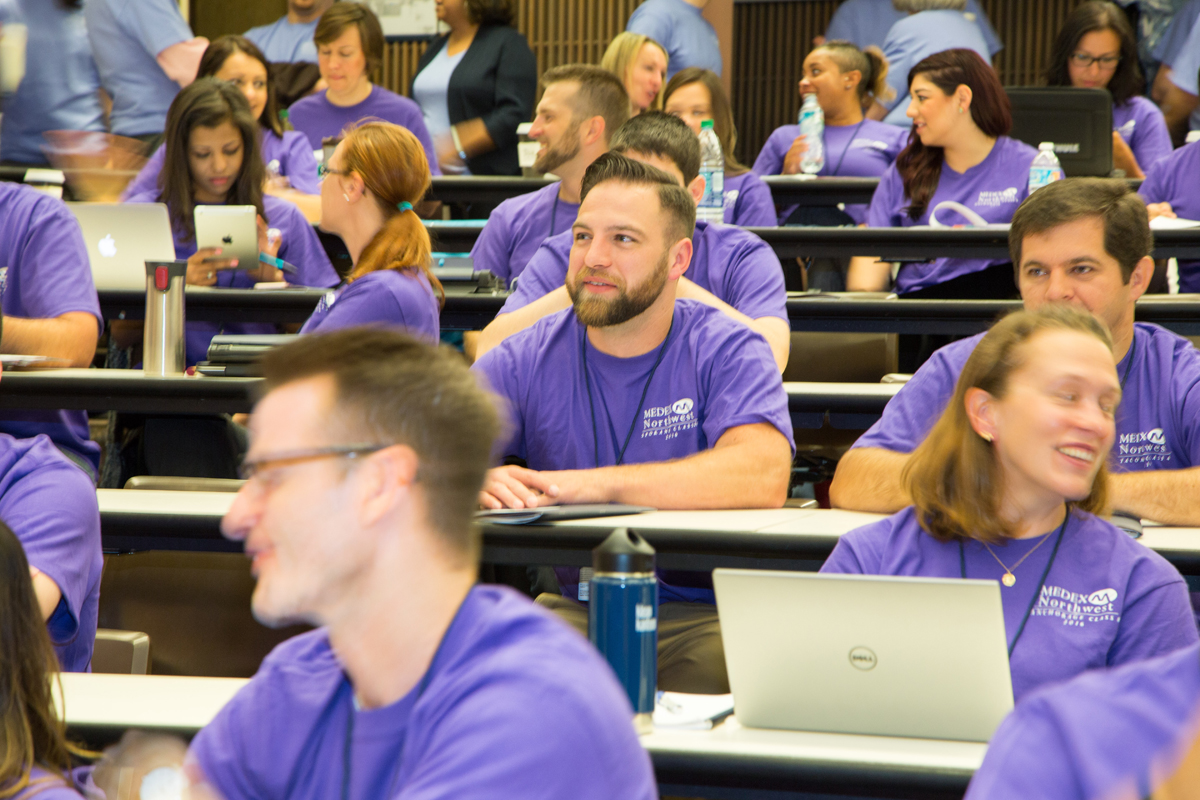 Brian Taft of Spokane Class 20.
In the course of the morning the students picked up their information packets containing class schedules, class rosters, faculty lists, campus maps and their UW ID badge. After the major welcoming addresses, Terry Scott invited all MEDEX faculty and staff to the front of the auditorium for individual introductions. By noon the assembly moved to an outdoor location for a hosted lunch and mixer.
Later we caught up with Program Director Terry Scott one-on-one to discuss the current state of the union at MEDEX Northwest. At 50 years the future of MEDEX looks bright.
Improvements to the PANCE Rate
Terry Scott is the first to acknowledge the challenges to the MEDEX program over the past several years. Specifically, he's talking about the low PANCE scores going back to 2009. The first-time pass rate of the Physician Assistant National Certifying Exam had dropped to 75%. "When I graduated from this program in 1993, I got the kind of training that allowed me to perform at a high level," he says. "I watched and saw this slow decline. This was not acceptable. The lower PANCE scores were a symptom of a greater problem."
It took a focused effort on the part of everyone at MEDEX to turn these numbers around. The improvements have paid off such that the PANCE scores have climbed steadily over the past five years, reaching a 96% first-time pass rate for the 2015 graduating classes.
"Of course, even those who did not pass that first time subsequently pass," says Terry. "Now is a unique time at the MEDEX program. We have new and well-established faculty here. Out of 60-some individuals, three-quarters of our faculty and staff that have joined us here in the last five years are new. That's a good thing for us. They bring new energy. Plus we have a cadre of senior faculty who have the passion and the desire to give their best to PA education. I think our best days are ahead of us."
Changes to the Spokane Site
Over the past year there's been a very public separation between the University of Washington and Washington State University, as WSU has publically declared their intention to build a medical school in Spokane. For years the MEDEX program in Spokane was housed on the WSU campus, along with UW Medicine students. The decision to part ways resulted in a new affiliation with Gonzaga University. This summer the MEDEX Spokane site has relocated to the Schoenberg Center on the Gonzaga campus in time for the return of the Spokane students in August.
"We're very proud to have this relationship with Gonzaga," says Terry. "And while the Schoenberg Center is a temporary building, Gonzaga has been very warm and receptive to our joining them. The challenges are having to leave the relationship we had at WSU. But the opportunities are great at the new place. In Spokane our strengths are that we have a strong team of faculty there. The leadership is intact and strong.
The move to Gonzaga also allows the MEDEX PA students and the UW Medicine students to be housed in the same building for the first time, likely encouraging collaboration and innovation.
Tacoma Year 4
Started in 2013, the Tacoma site on the UW Tacoma campus was selected for it's close proximity to Joint Base Lewis-McChord and Bremerton Naval Base. The intention was to draw military veterans of qualified medical backgrounds—Army Medics and Navy Corpsmen. Now hosting its fourth class, the number of participating veterans at the Tacoma site has been as high as 50%, and never lower than 41%. "This has been a homerun for our program," says Terry. "Our faculty there are sharp, dedicated and committed, producing the best and highest quality physician assistants."
The Tacoma site was established on the UW Tacoma campus, a strong choice due to the available resources for the program. "We've had campuses that weren't affiliated with academic institutions," says Terry, referring to the now closed Yakima site. "We've learned that if sites are going to be successful, they need to be tied to a university. And I think our Tacoma site at UW Tacoma has been an outstanding success."
Eyes on Anchorage
This year the numbers are up for the incoming class in Anchorage. The MEDEX program operates under a partnership with the University of Alaska in Anchorage, making use of the UAA classroom facilities. MEDEX has a champion at UAA with Virginia Miller, Chair of the Health Sciences Department. "She talks about supporting the Alaska site, assuring us that our facilities there will remain topnotch," Terry says. "We have a faculty that are working with each other to produce the best PAs in Alaska and in the country."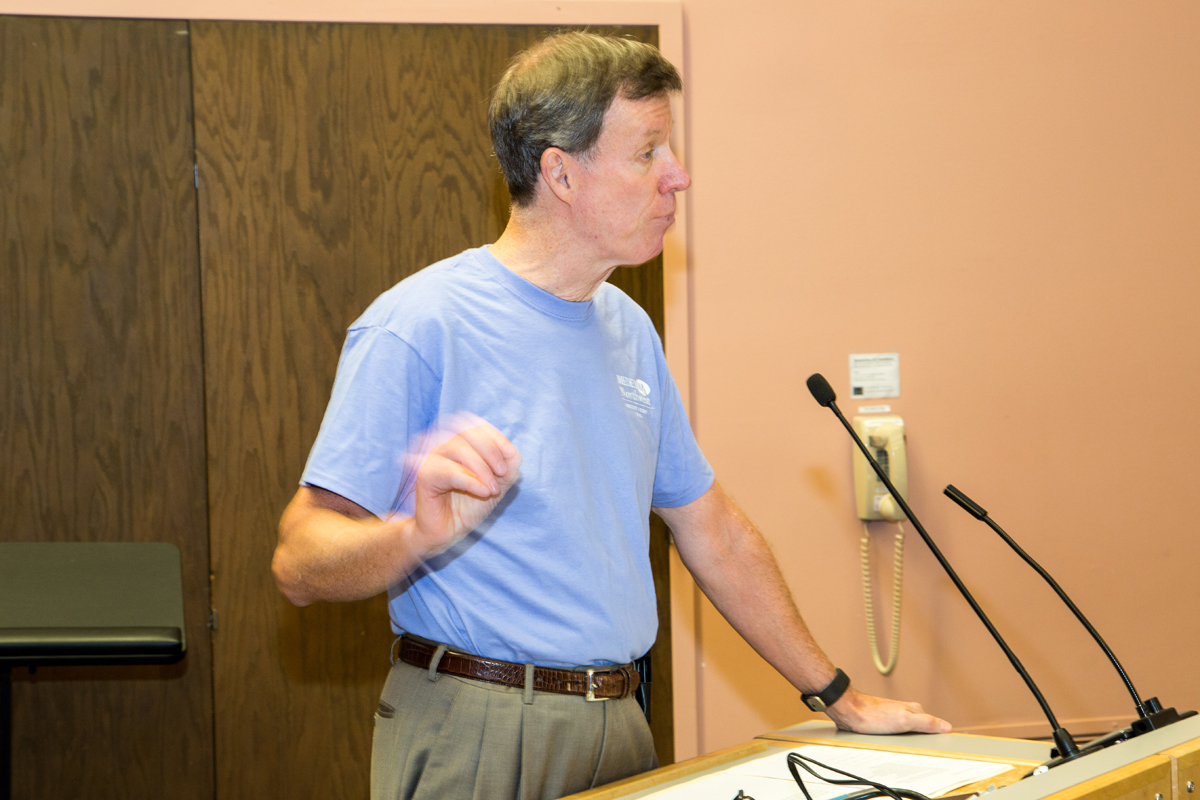 Dr. Paul Ramsey, Dean of the UW School of Medicine, took to the podium to address the incoming 2016 MEDEX students on Day 1.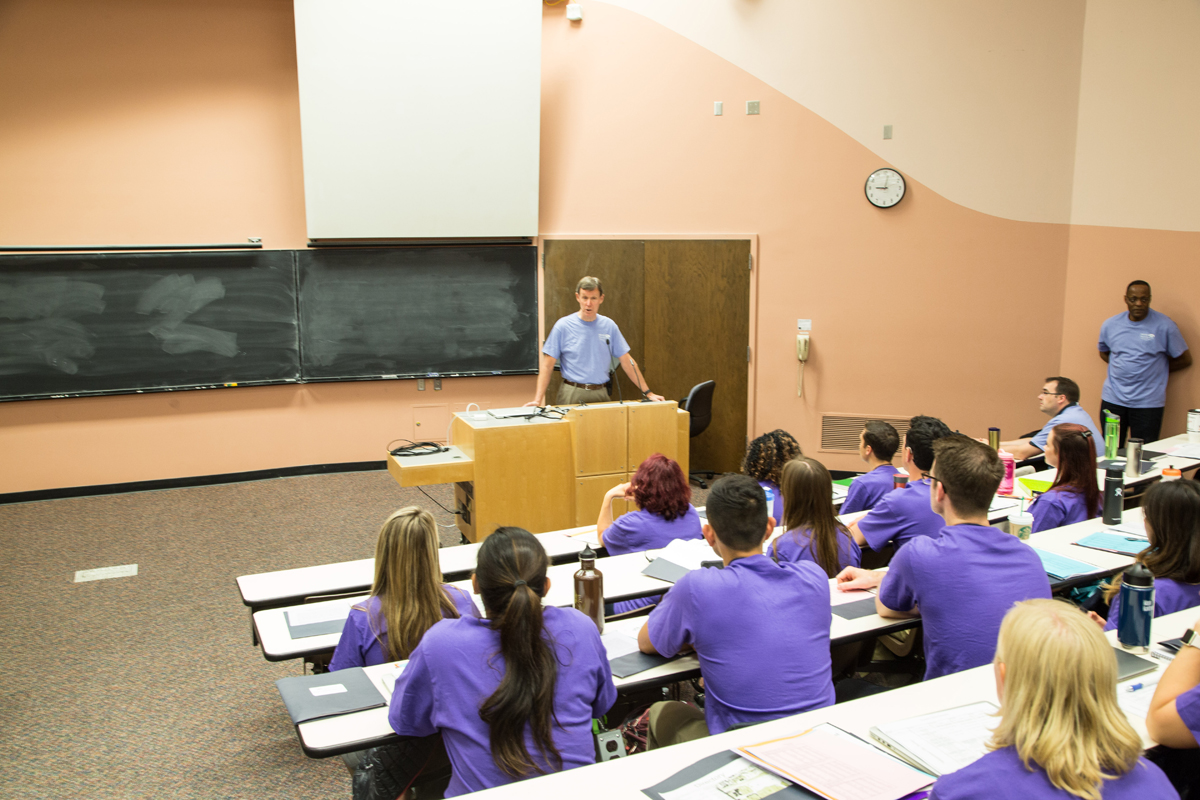 Dr. Paul Ramsey addresses the new MEDEX students: "You are starting your career at what I believe is the most exciting time in the history of medicine."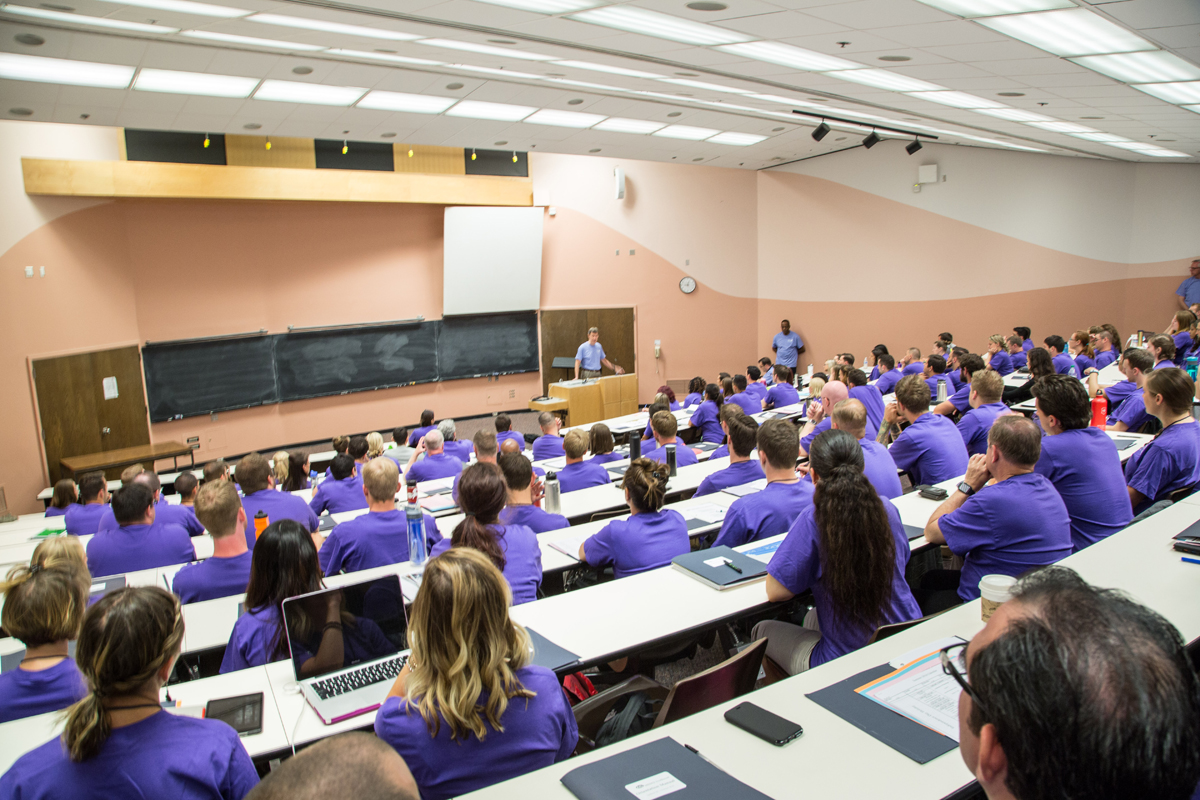 The incoming MEDEX students of 2016 listen to Dr. Paul Ramsey, Dean of the UW School of Medicine.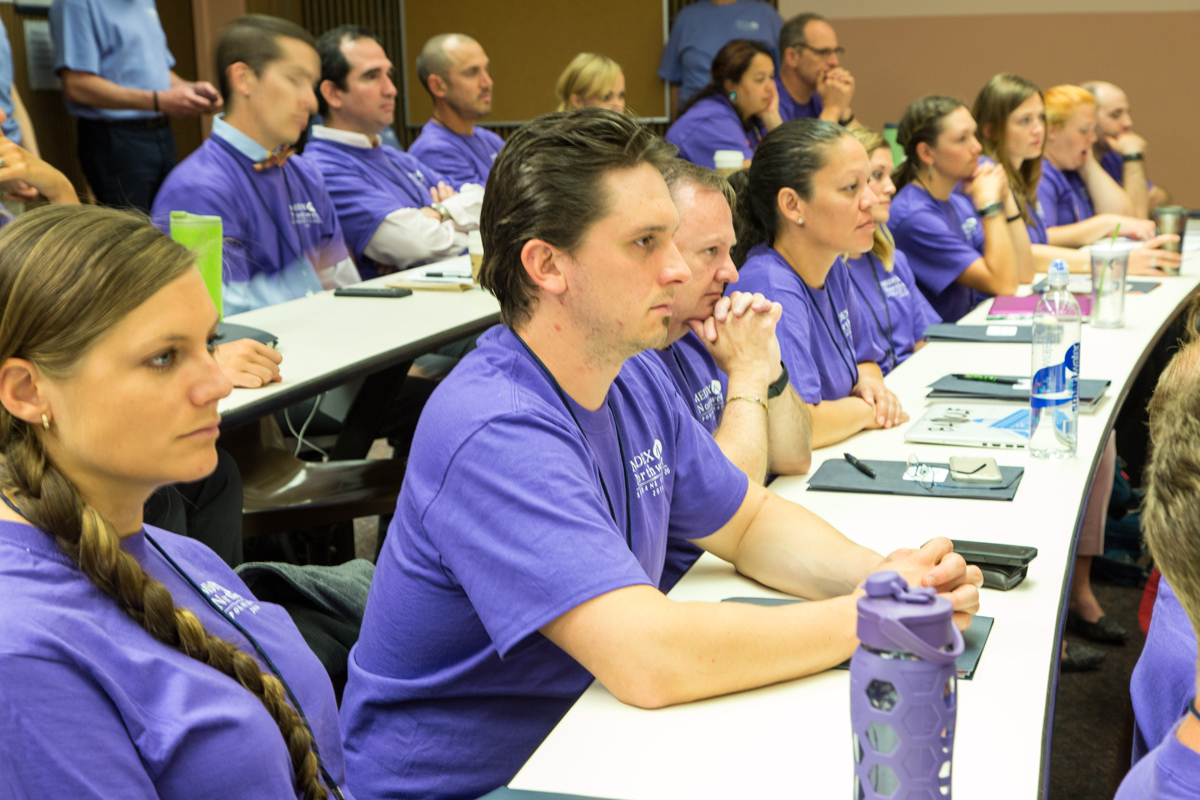 Adam Boyd of Spokane Class 20.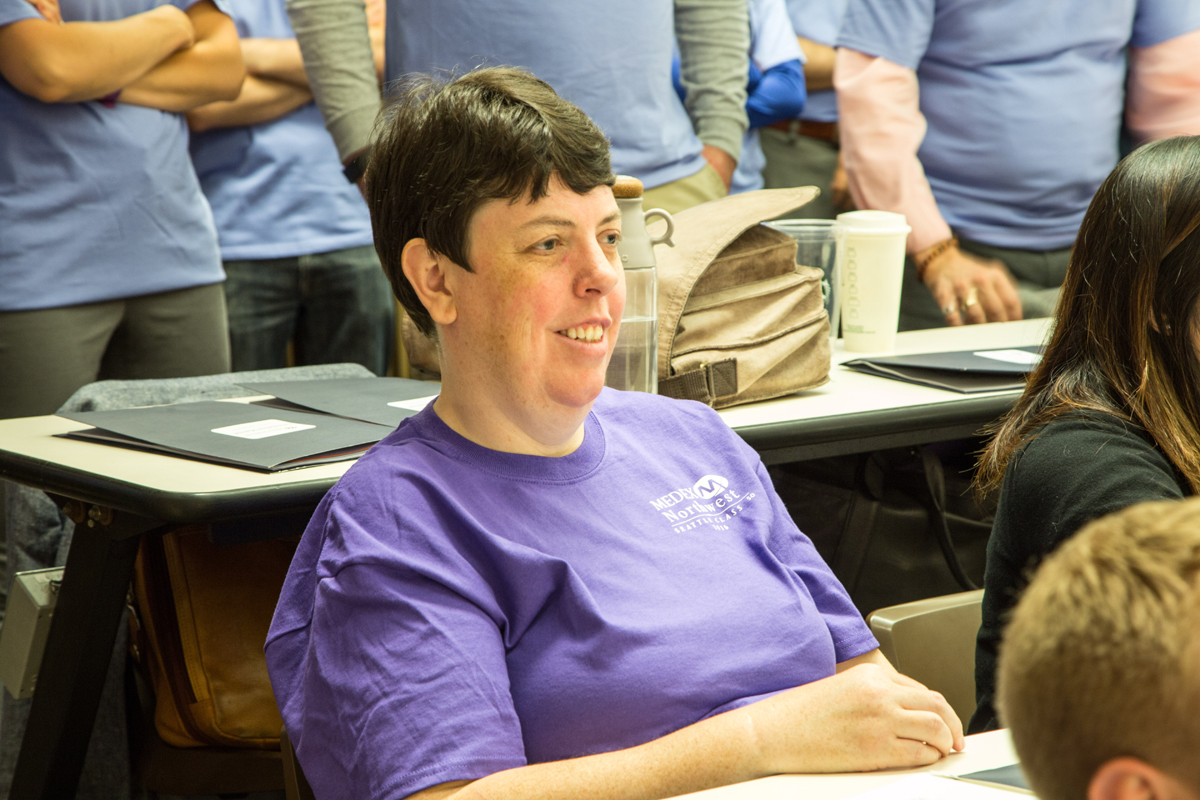 April Riverland of Seattle Class 50.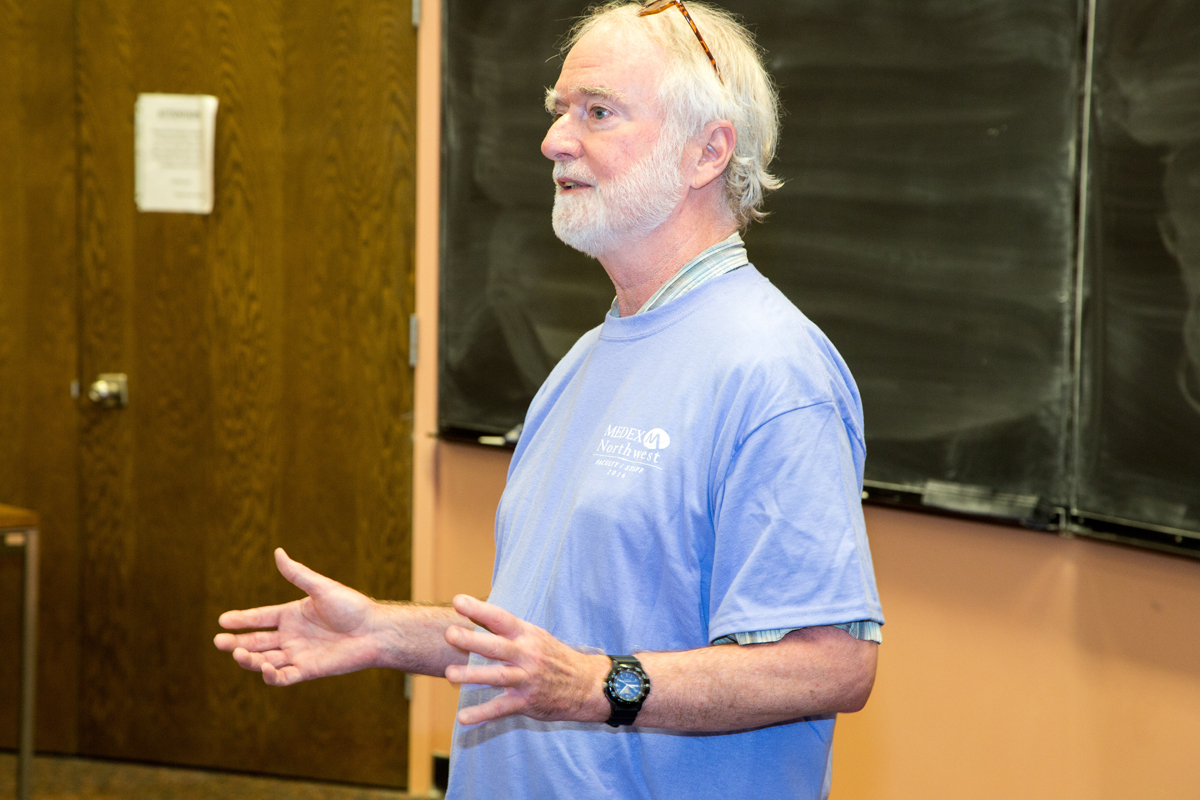 Dr. Tim Evans speaks to the news students: "By the end of the next couple of weeks or so, we're going to fall in love with you, and then we'll be yours and you'll be ours. You have joined a big family, so welcome."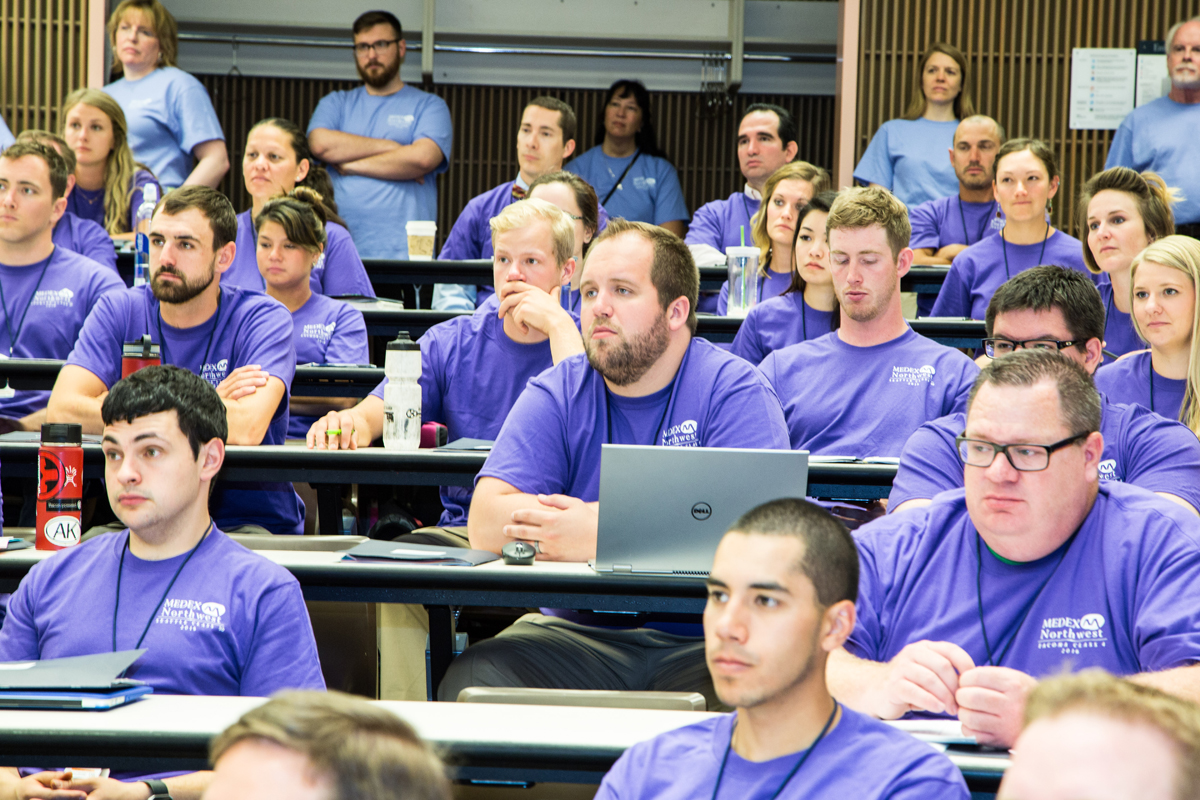 Andrew Stefan (center) of Anchorage Class 8.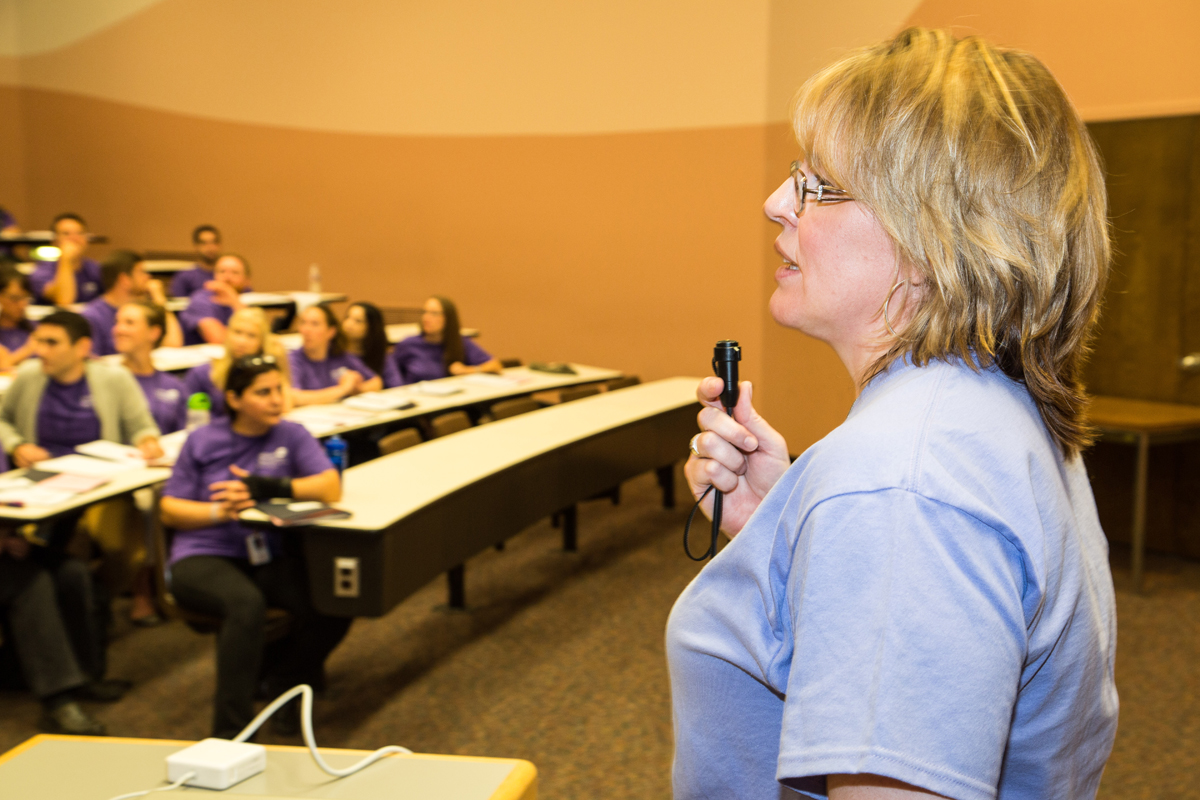 Susan Symington, DFAAPA, MPAS, PA-C, MEDEX Director of Academic Affairs, gives some logistical details to the new students.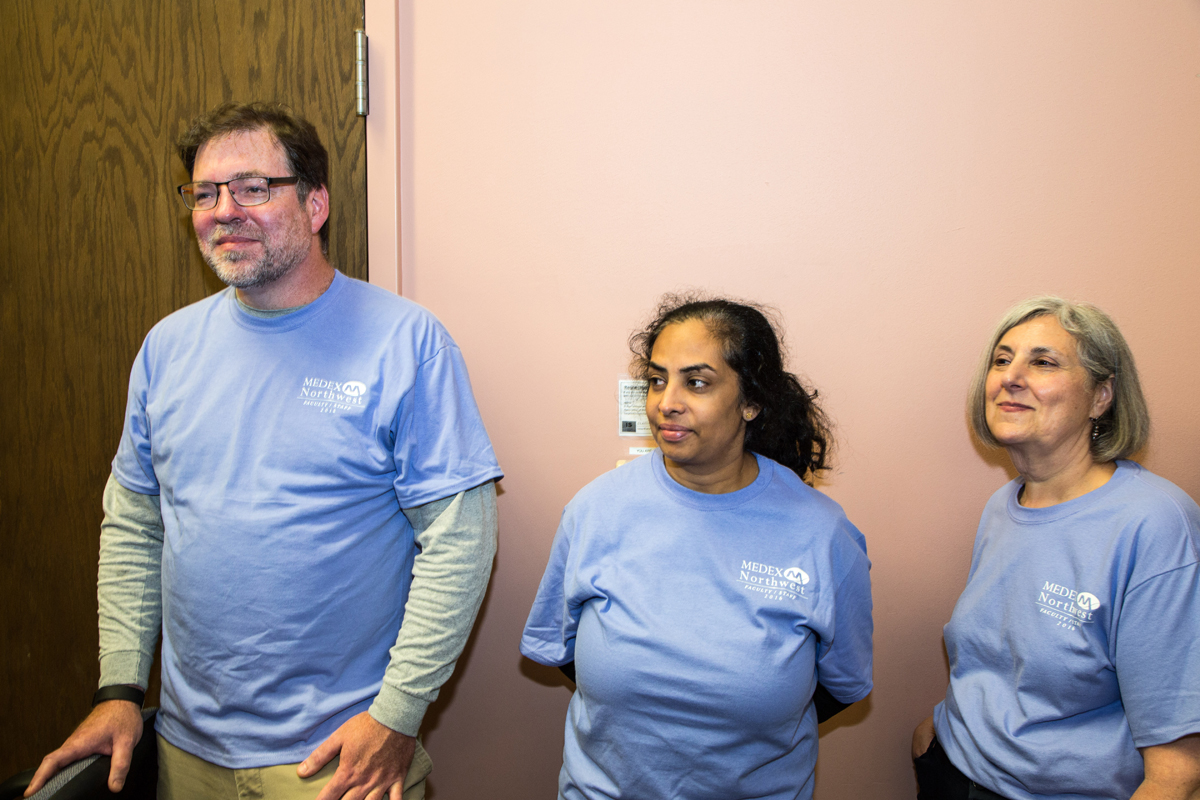 All MEDEX faculty and staff were in attendance including Jonathan Maher, PA-C; Director of Student Affairs Amee Naidu, MMS, PA-C; and Administrator Donna Lewin.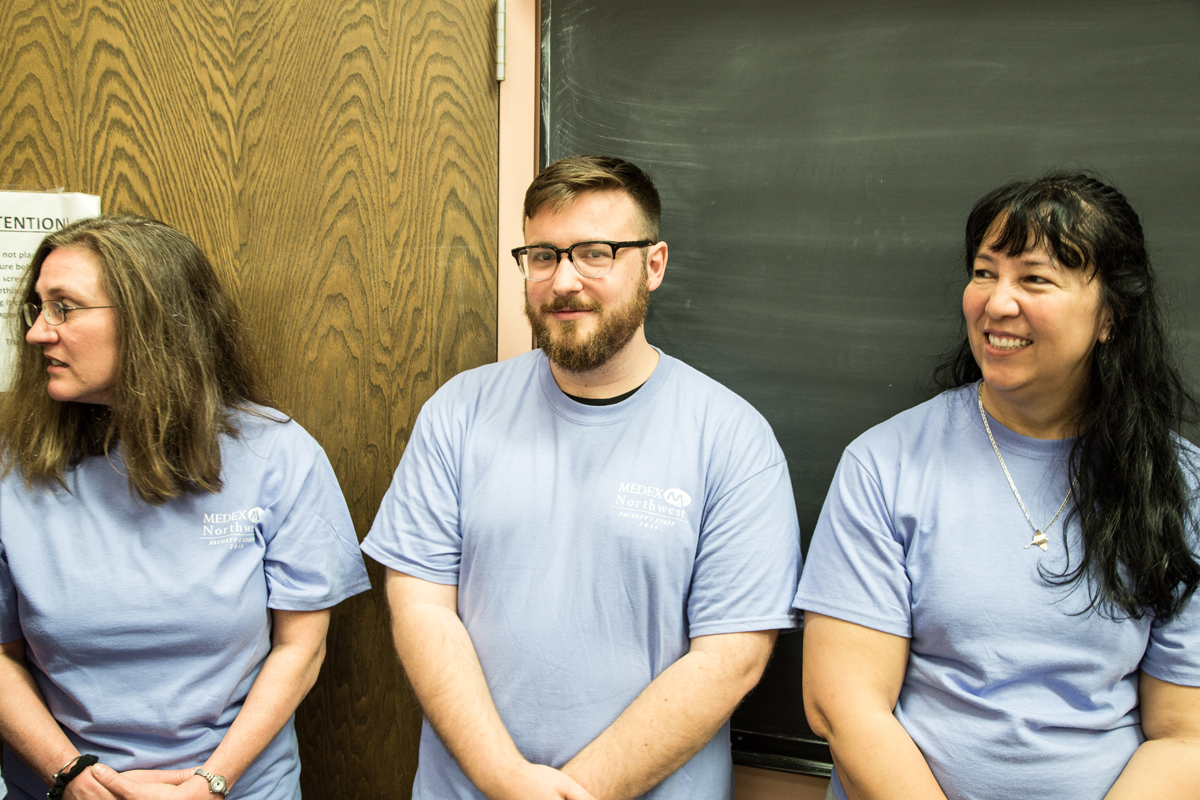 Also on hand was Director of Research and Graduate Programs Keren Wick; Seattle didactic staffer Ryne Risner; and Anchorage didactic staffer Sandy Snethen.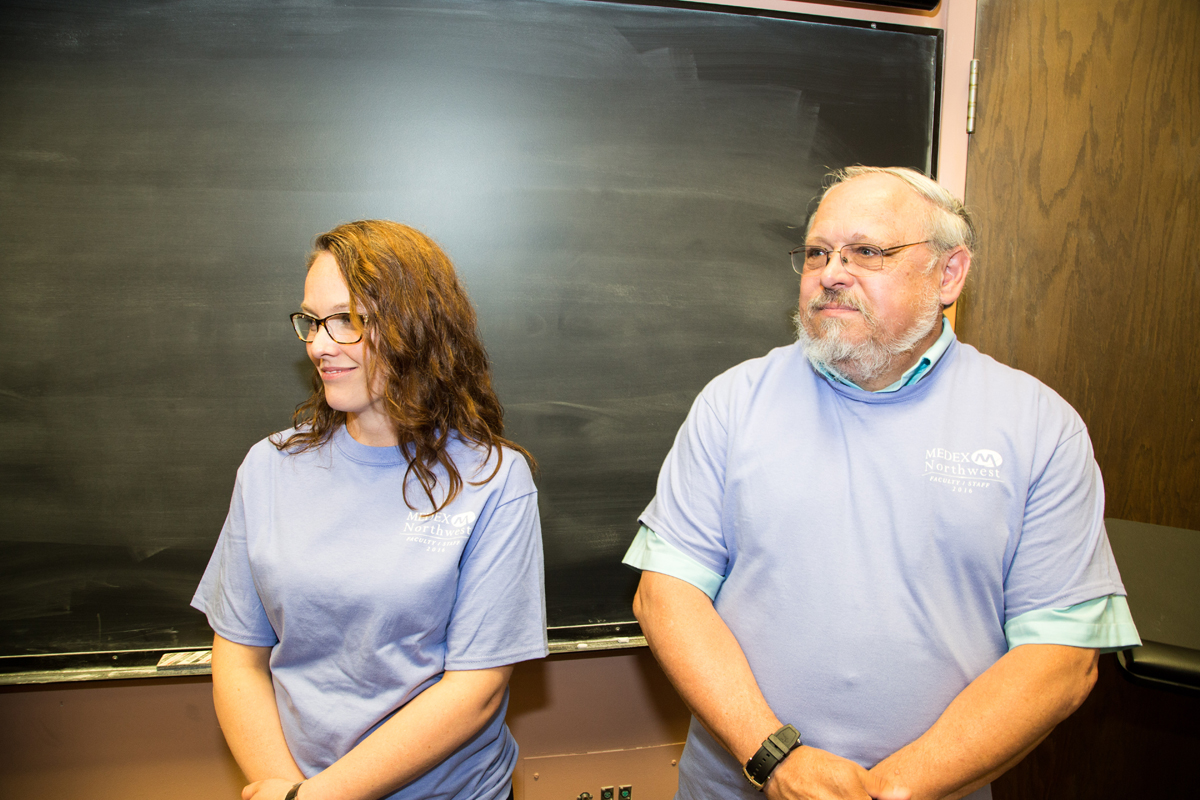 MEDEX Tacoma Site Director Vanessa Bester, PA-C, MPAS and Spokane Site Director Don Coerver, PhD, PA-C.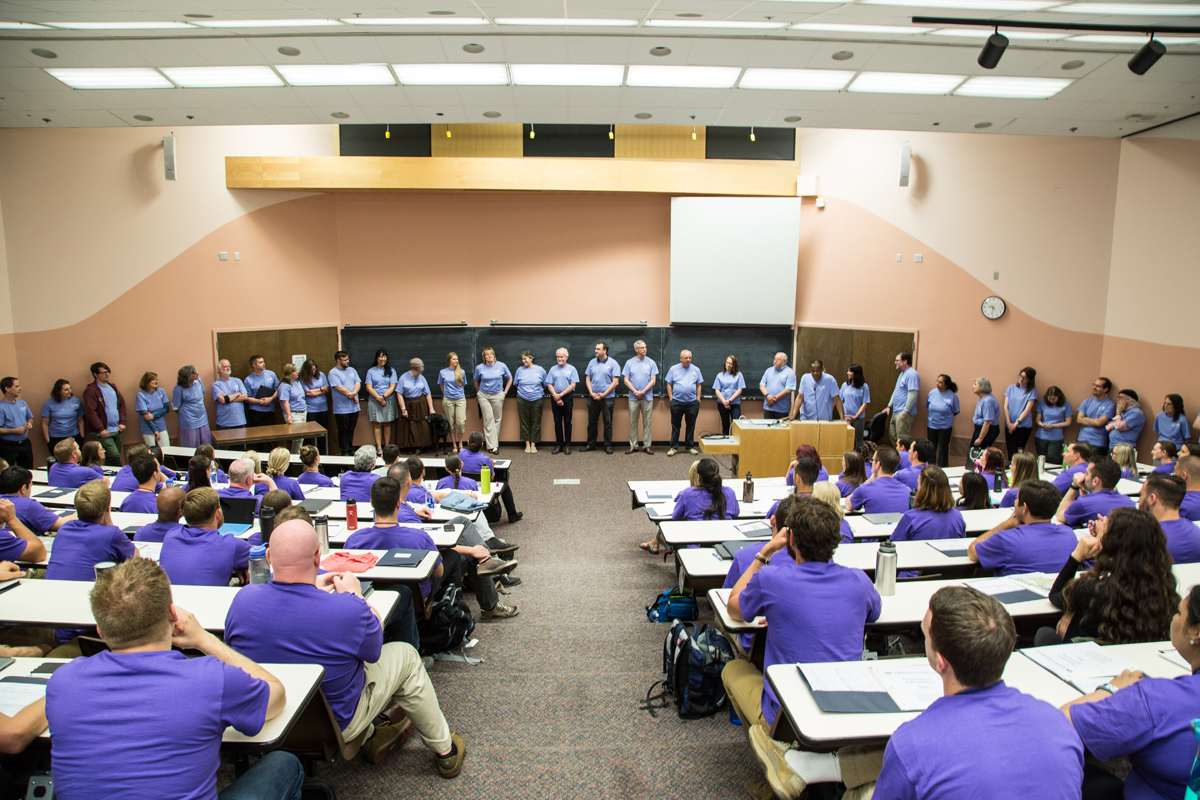 MEDEX Faculty and Staff (in light blue T-shirts) are introduced to the 2016 incoming students.
On the Possibility of Expanding
The University of Montana has courted MEDEX about opening a fifth site in Missoula. We ask Terry about this talk of expanding the MEDEX program outside of Alaska and Washington. "Well, right now, we're going to continue to work on improving what we have," he says. "And if there are any thoughts of expanding, we will look at that on a case-by-case if that should come. But right now, we're going focus on making our program the best in the country."
Terry on his Role as Program Director
For just over a year now, Terry Scott has operated in the role of Program Director, guiding MEDEX into the future. He still gives lectures and enjoys it, but for the most part he's removed from the classroom and day-to-day operations. He continues to work clinically one day a week, and precepts students. "I'm now an administrator," he says. "I'm wise enough to know that my role now is different. I need to have the wisdom to get out of the way and allow my faculty to equip themselves, and let them do what they're capable of doing. We've got individuals here who have been set free to go forth and be the best at what they do. Those are the things that I, as a leader, can do to help facilitate our faculty."
On the Incoming Class of 2016-2018
133 is a large number, the biggest incoming class yet for MEDEX. The 2016 incoming students are now part of an organization and a fraternity of 98 prior graduating classes (across all sites) since the founding of the program in 1967. "They're joining a program that has a standard of academics that is as high as in any place in the country," says Terry. "More importantly, they're joining a program that has a sense of social responsibility. There are people in this world who are suffering, and they are wondering, 'Does anybody care?' They have chosen to come to a program where, from the lowest level staff person to the highest-level office in this program, we care. They're joining that."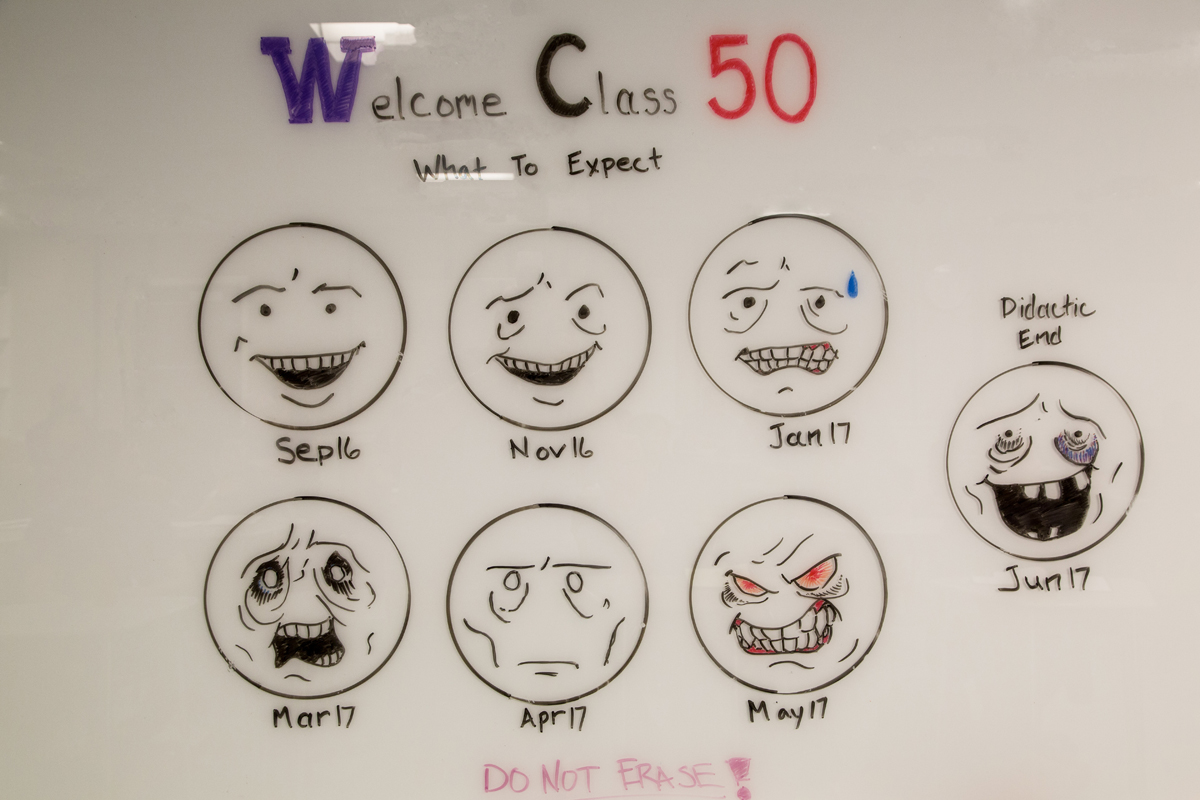 The previous Seattle Class 49 has left their successors a diagram of emotional states.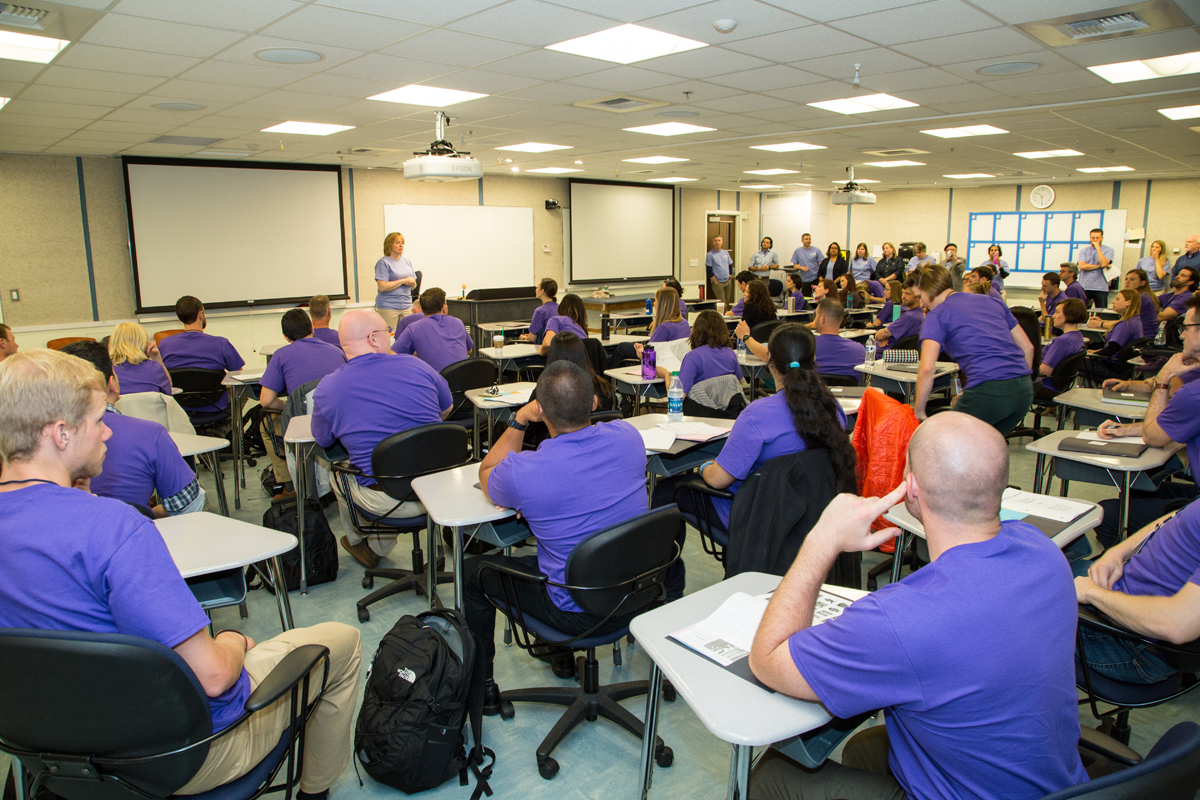 After the large hall assembly, the individual classes breakout. This is a view inside the Seattle Classroom with Class 50.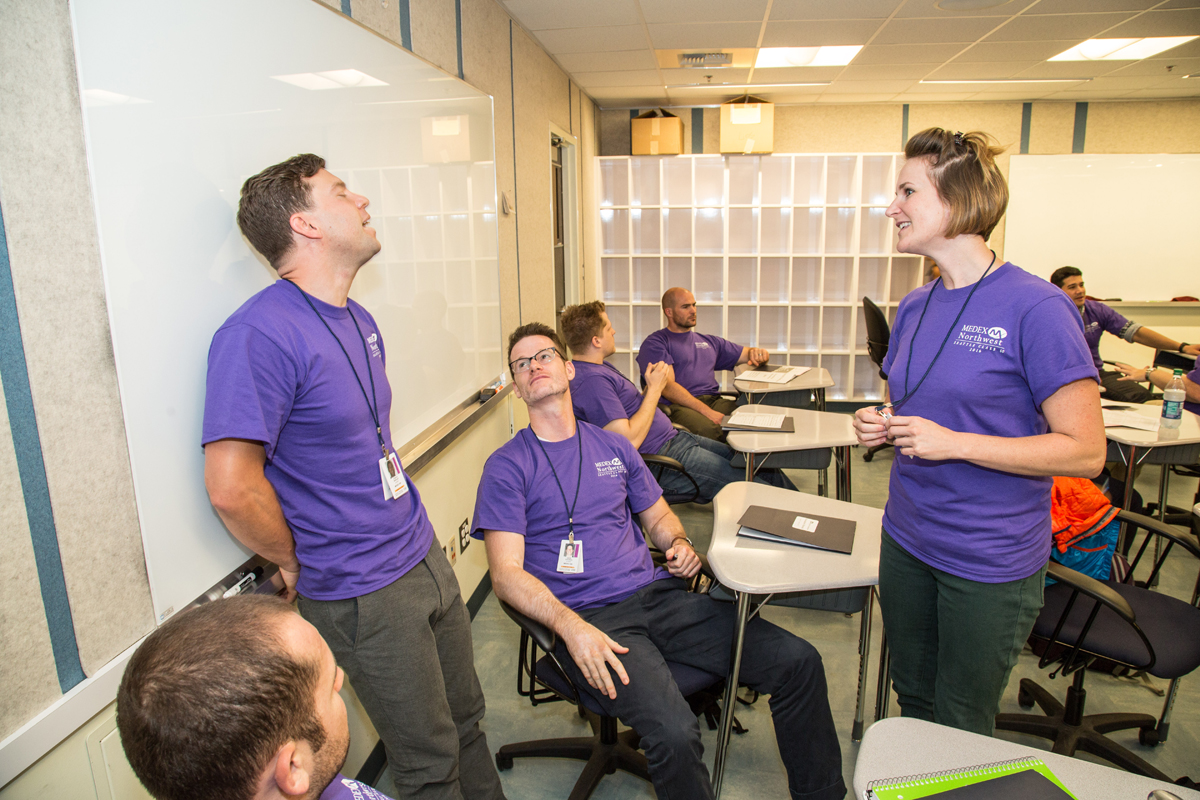 Mary Greenwood (at right) speaks with some of her new Seattle 50 classmates inside the Seattle classroom.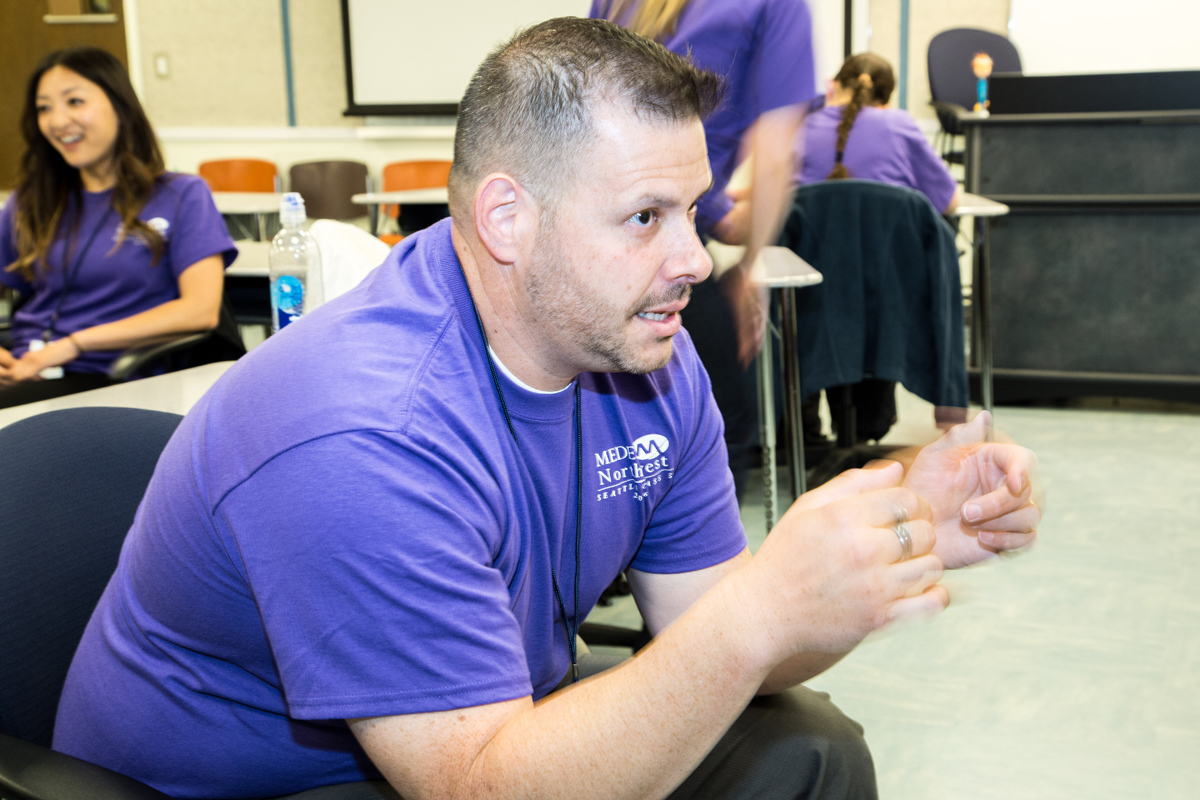 Christian Garrido of Seattle Class 50.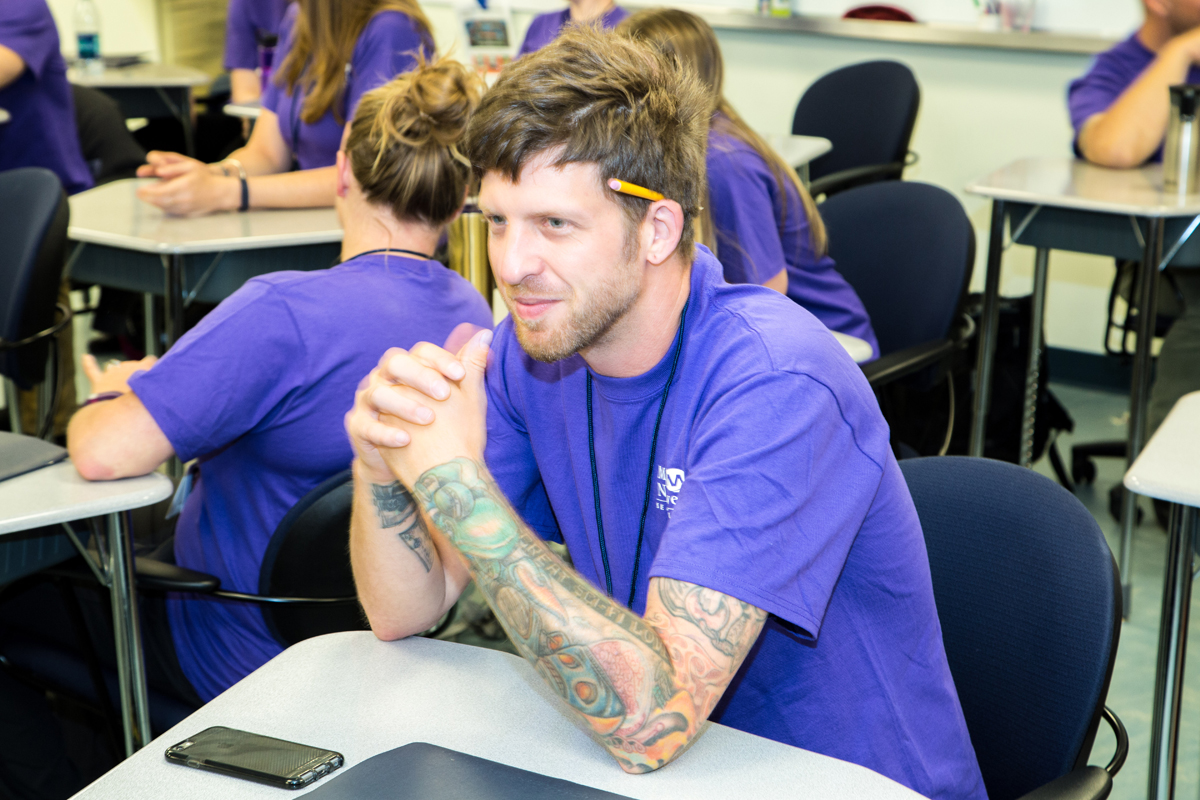 Joshua Koopman of Seattle Class 50.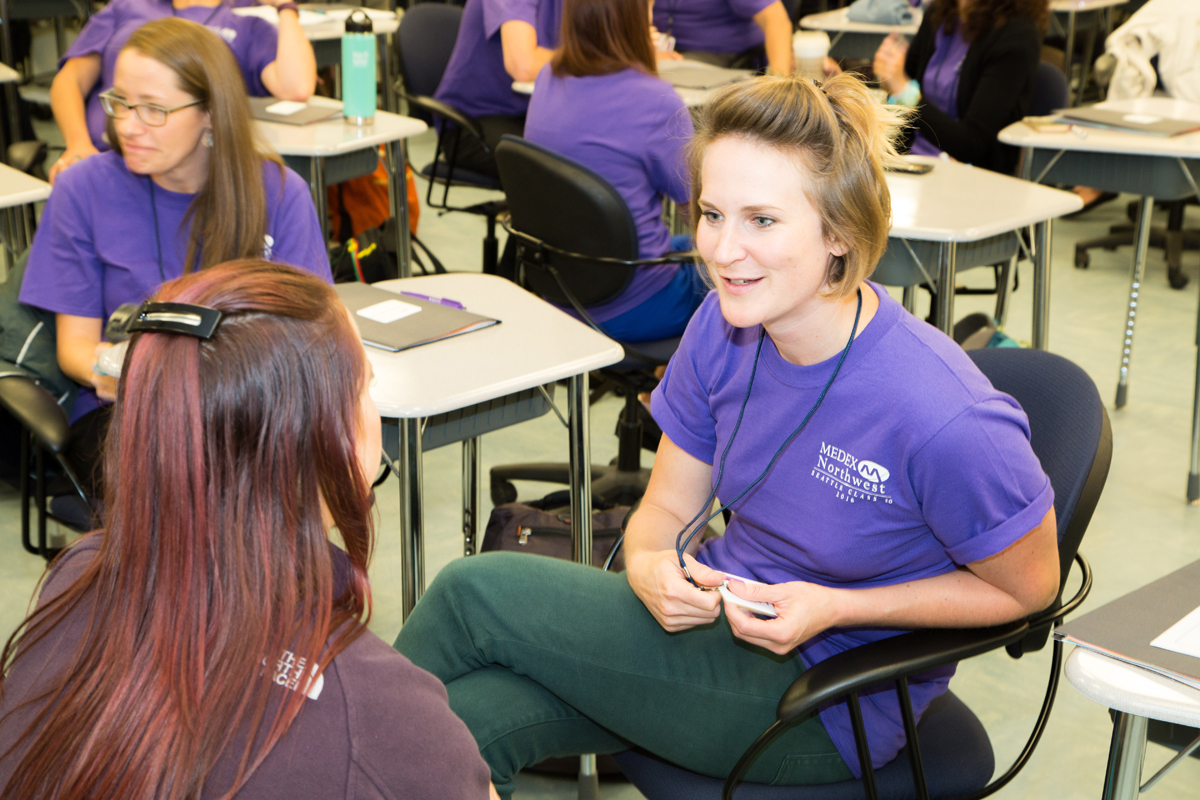 Mary Greenwood of Seattle Class 50.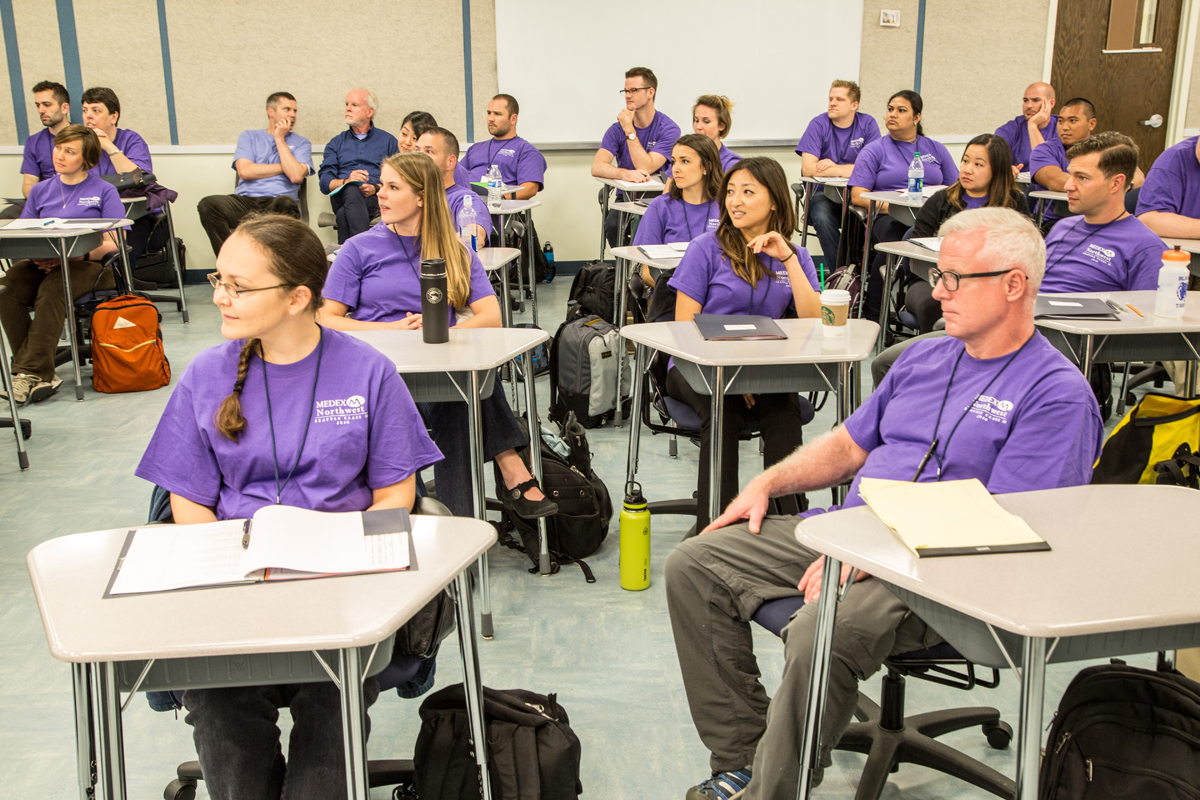 Members of Seattle Class 50 gather in their classroom for the first time on Day 1 at MEDEX.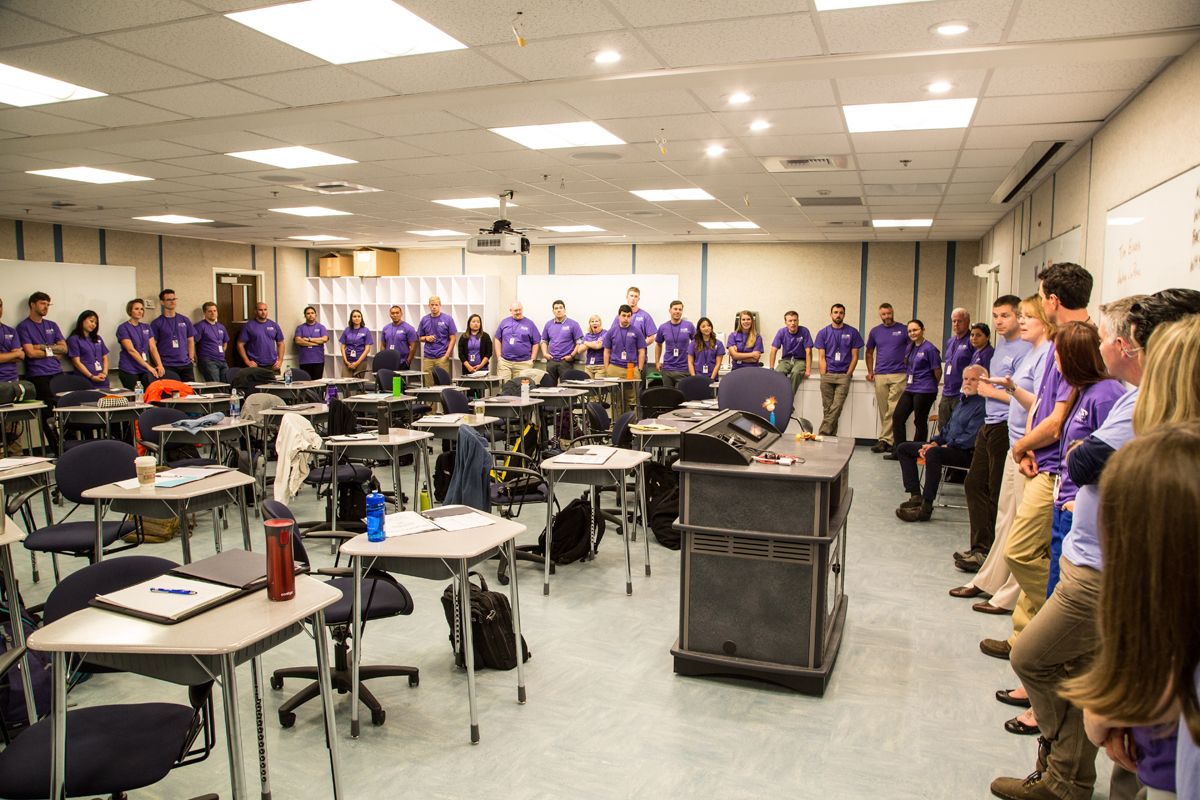 Everyone in Class 50—students, faculty and staff alike—had the opportunity to stand and introduce themselves.
There are many things that set MEDEX apart from the 200 plus PA programs in the nation. Built in to the mission statement is an emphasis on underserved populations, and this attracts mission-driven candidates. "Our students are interested in social justice," says Terry. "Our students are interested in healthcare for the homeless. Our students are interested in activist role that they can play as healthcare providers. That's fitting the mission. That, to me, is powerful."
Meet Our Students
In closing, we want to share some short profiles of five of our incoming students who meet the requirements for mission fit. They are but a sampling of the 134 individuals who are in deep for the next two years. We believe they are representative of the character of MEDEX students in many ways.
Olivia Price – Tacoma Class 4
Olivia Price might be in need of a geography lesson. Originally from Northern California, for a long time she thought that California was part of the Pacific Northwest. In her mind that made the leap from Medical Assistant to MEDEX Northwest an easy move. In actuality, Olivia found herself aligned with the core values of MEDEX. "It just seemed very much in tune with what I wanted to do with my life," she tells us. "(Founder) Dr. Richard Smith was so heavily involved in the Peace Corps, and I've always had my heart set on doing some sort of disaster relief or Peace Corps work."
Prior to MEDEX Olivia worked as an MA in an Indian Health Service clinic with the Yurok Tribe in Northern California. Clearly, working with the IHS is to her liking. "I've had my eyes on the Puyallup Tribe," she says.
Attractive as the Peace Corps might be, she's not sure about a full-time commitment. "I'm married and have commitments here," she explains. But she's looked into commission-corps projects where she could work locally but affect globally. "One can be part of a disaster relief team if there's another earthquake in Haiti, or any disaster like that."
In the meantime she's in enrolled in the MEDEX Tacoma program, as that site will allow her to earn her bachelors degree.
During our brief meeting on Day 1 we had to ask Olivia about her dinosaur earrings. She happily explains.
"I was working with kiddos a lot at the Indian Health Service. I worked with an OB/GYN. We saw pregnant ladies who came in later with their children for well-child checks. I would try to do anything to alleviate the stress and tension of me giving shots to kids in this very professional setting. I'd wear goofy scrubs, I'd wear goofy earrings. I still feel like it's a really great icebreaker, even for people who aren't children. It's like, 'Yeah, look, I have funny earrings!'"
Clearly, a mover and a shaker, Olivia has already assumed co-lead responsibilities among her Tacoma Class 4 cohorts for the MEDEX Tacoma Foot Project, servicing homeless men and women in concert with Urban Grace Church. For more on this community-based student-run project, go to http://depts.washington.edu/medex/tacomafootproject/.
Doug Stroop – Seattle Class 50
Many people come to the physician assistant profession as a second, third or fourth career, and Doug Stroop of Leavenworth, WA is no exception. By our count, he's had three job pathways leading here.
To begin, Doug worked in environmental chemistry in Alaska. "I started off in the sciences, which I loved," he tells us. In time he was looking for something a little different and got offered a job running a school. That led to 17 years as a paragliding instructor.
By his late 30's Doug began considering his future. "I'd better start thinking about something I can do for a long period of time."
Most recently he worked as an EMT for Cascade Medical Center, a small hospital in his Eastern Washington hometown of Leavenworth. "I was working on an ambulance, but it's a small enough hospital where I'm allowed to spend time in the emergency department as well," he says. "I also did a lot of search and rescue, and back-country kind of things in that community. That's been my experience for the last five years."
At Cascade Medical Center he worked with Lucca Criminale, PA-C, a MEDEX alumni of Seattle Class 39 in 2007 and winner of the Future of MEDEX Award in 2016. "Initially, I thought paramedicine was it, but then I talked to Luca," he says. "So now I'm here."
And like many people, Doug had to apply to MEDEX multiple times before he was admitted. "I actually applied three times," he tells us.
The first time, he got an interview, but didn't get in. "The bar was pretty high," he says. "I had applied to a few other schools but MEDEX always was the focus." In the following year, Doug didn't even get an interview. But he persisted, applying to MEDEX the following year, and was finally accepted. "I applied to a few other schools, but as soon as MEDEX came through, that was it."
For the duration of his schooling, Doug has moved to Western Washington, but he fully intends to return to Leavenworth once he graduates in the fall of 2018. "My goal is to work in rural family or emergency style medicine," he says. Doug wants to be in a small hospital like Cascade Medical Center. "I think that provides a lot more diversity with the different things you get to do. That's one of the great things about Cascade. We have a family practice side, but you also get to work in emergency medicine as well."
The third time's the charm, so despite the delays, MEDEX remains Doug's top choice for PA school. "I feel pretty lucky to be here," he says.
Andrea Cigliola – Seattle Class 50
Andrea Cigliola was born in Italy, and finds it easier to go by his Americanized name here, Andrew. "When I landed in the United States—when I got my green card—it was 2005," he tells us. That's when he became an EMT, working as a volunteer for a number of years. "And then my family and I moved to California, where I went back to school and became a bio-technician."
Andrew worked in that profession for a few years, until the economy went sideways. "It was time to get my life back together. So I joined the Army because I needed money for education."
He had become a US citizen in 2008, and the military afforded him a chance to deepen his medical education as a Medic in a Stryker Brigade at Joint Base Lewis-McChord.
Looking ahead past his two years at MEDEX, Andrew envisions his future with a small practice. "Preferably rural," he says. "I like orthopedics, I like sports medicine, but—to be honest with you—I don't know what I like yet."
Fair enough. We assure Andrew that he'll get exposed to a lot while at MEDEX.
He's quick to respond. "Yes, you guys are going to show me, and I bet I'm going to love every minute of it!"
Robert McCrorie – Seattle Class 50
Robert McCrorie has never quit a job before. "That was kind of scary," he confesses. Rob is talking about ending his association with the US Army after 26 years plus 9 months active duty, then 6 years employment as a civilian with the military.
"It's a big step," he says.
Yet here he is, a member of MEDEX Seattle Class 50, and part of a historic lineage of military veterans who are vital to the physician assistant profession.
For 24 years Robert was a Special Forces Medical Sergeant, referred to as 18 Delta. The Army considers these to be the finest first response/trauma medical technicians in the world. Though primarily trained with an emphasis on trauma medicine, they also have a working knowledge of dentistry, veterinary care, public sanitation, water quality and optometry.
Upon retirement in 2010, Rob continued to work as an 18 Delta civilian contractor for the Asymmetric Warfare Group, where he ran their Fort Meade, Maryland clinic. For the past two years he taught Combat Trauma Management for the Joint Special Operations Medical Training Center at Fort Bragg, North Carolina.
Now that he's landed in Seattle at MEDEX, Robert is eager to take on the next phase of his life. "Well, I'm excited to give it a shot," he says. Clearly, he's got some experience and years on his fellow classmates, where the average age is 33 years. "I'm used to being the old guy. In fact, where I last worked, I was the oldest one there, too."
The conversation turns to the future, and we wonder where Rob sees himself when he graduates in the fall of 2018. His answer is clear. "Well, I want to be a PA in some under-served community, that's probably rural. I don't care who or where so much as the fact that I want to be someplace where they really need a PA."
We look forward to following Rob's next act as a civilian physician assistant.
Tenesha McFadden – Seattle Class 50
It's a bit unusual to meet an incoming student who has a vision about impacting public health policy. But that's exactly what drives Tenesha McFadden.
Tenesha volunteered as a firefighter in Brownspoint in Tacoma, then worked as an EMT for five years in Seattle, King County. Prior to entering MEDEX she worked out of an emergency room in Burien Highline Hospital. Across all these experiences she had contact with a lot of mental health patients.
"I'd encounter these patients that I'd see all the time, and would have to take them to the ER," she tells us. Within the ER there weren't the proper resources to treat these patients. "Most of our medical beds are taken with psych patients, and it has systematic effects. If we have psych patients boarding in our ERs for days at a time, there are chest pains patients waiting in the ER triage for three hours. These are critical patients, and our psych patients are critical as well. But we need to figure out a different way to help these psych patients where they don't keep coming through our ER, time and time again."
Tenesha saw this, and wanted to make a difference. She knew that by becoming a PA, maybe she could affect policy. "I could get involved with care as a whole, for mental health, and come together with others to make a difference."
There's something personal at stake for Tenesha as well. "My biological mother has schizophrenia," she tells us. "And I've not been able to help her in a lot of the ways that I want to. But all this has inspired me to learn medicine, and get involved in policy so that everyone, including my mom, can have better access to care."
This was Tenesha's second time applying to MEDEX. Now that she's here, she's excited. "Nervous, but excited," she says. It appears we can expect big things from her.