"I see MEDEX Northwest being a collaborator with countries that want to start the physician assistant model in their country," says Alicia Quella, Ph.D., PA-C. Quella, the former site director for MEDEX Northwest in Spokane, who believes that physician assistants are an effective solution in addressing the primary-care needs of low-resource nations across the world.
So do other leaders at MEDEX. In November 2015, Quella and MEDEX global health faculty Reba McIntyre, Ph.D., were awarded a Robert K. Pederson Global Outreach grant from the American Academy of Physician Assistants. With the grant, they took a group of students to Laos to test a pilot project: an elective rotation. One that would provide a valuable experience to the growing number of MEDEX students with an interest in global health, and, more importantly, an additional resource for medical education in Laos.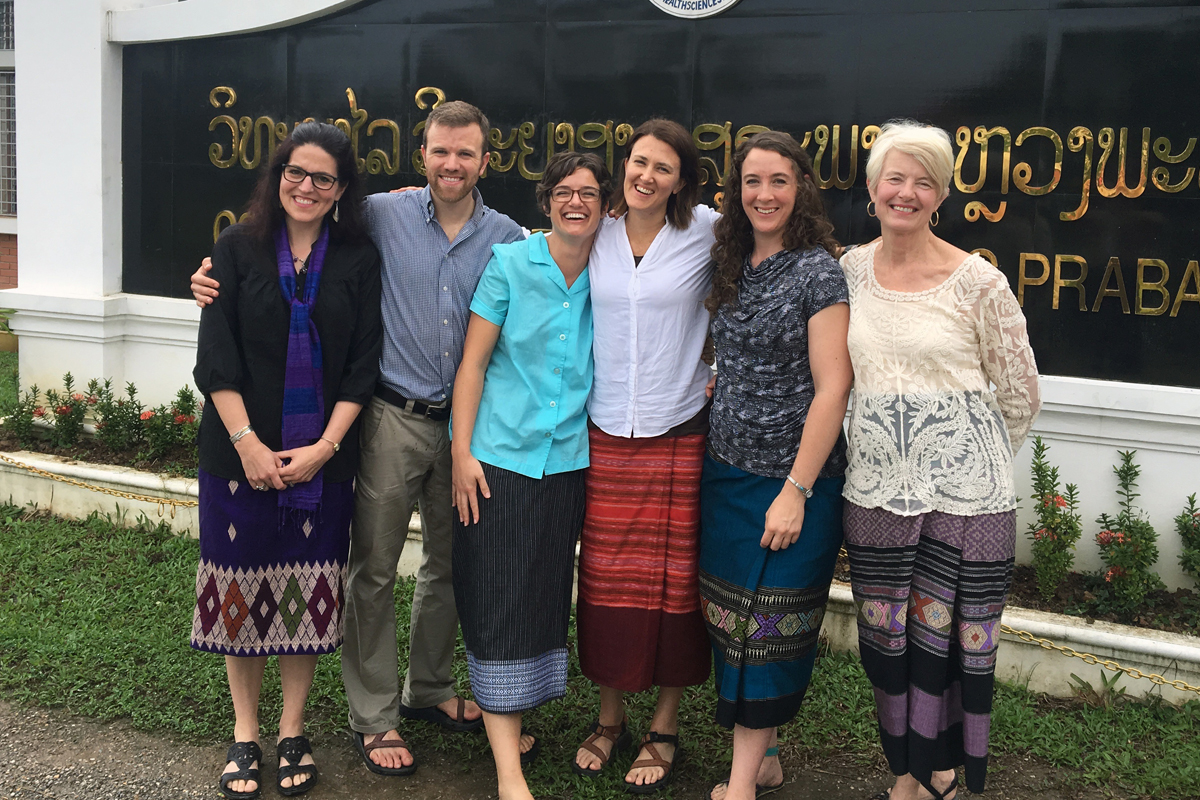 MEDEX students Justin Shobe, Ellie Andrews, Sarah Kopke, Portia Kamps outside the College of Health Sciences in Luang Prabang with instructors Alicia Quella (far left) and Reba McIntyre (far right).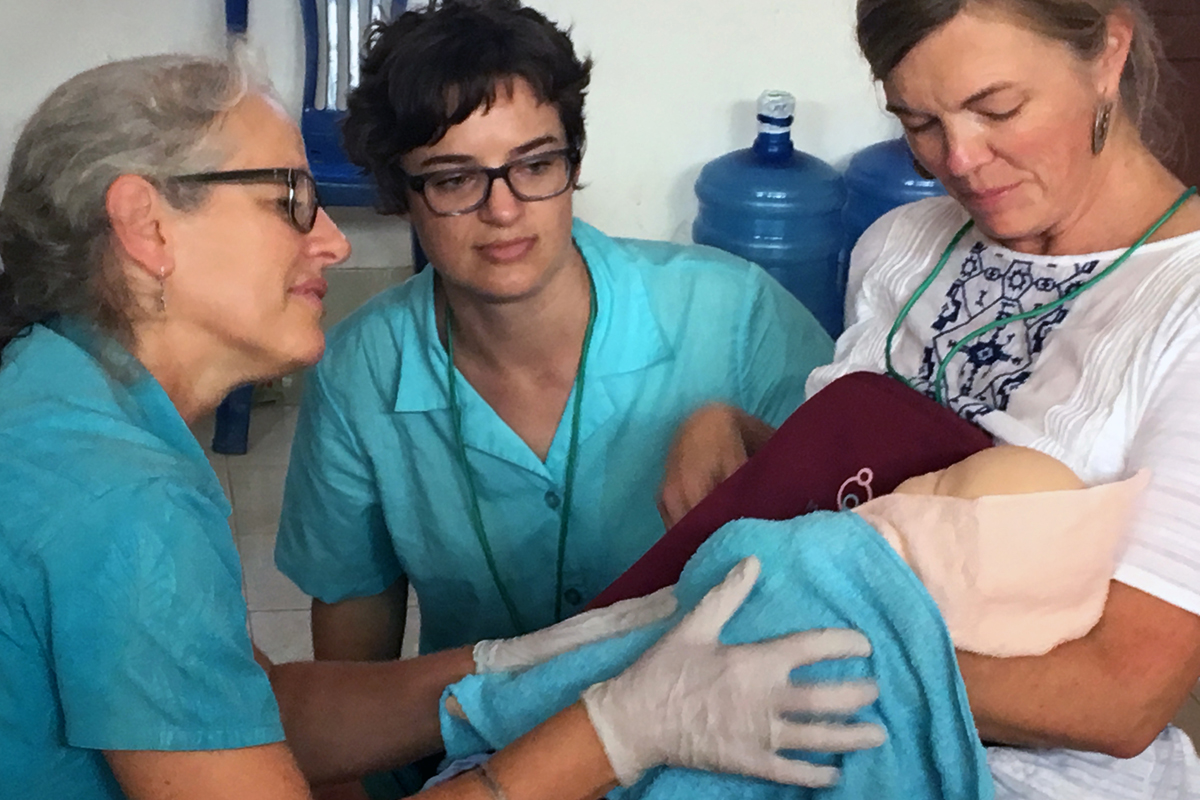 Ellie Andrews (center) participates in a midwifery class with Karen Hays DNP, CNM, ARNP and Bev Shubert CNM, a visiting HLI Seattle donor.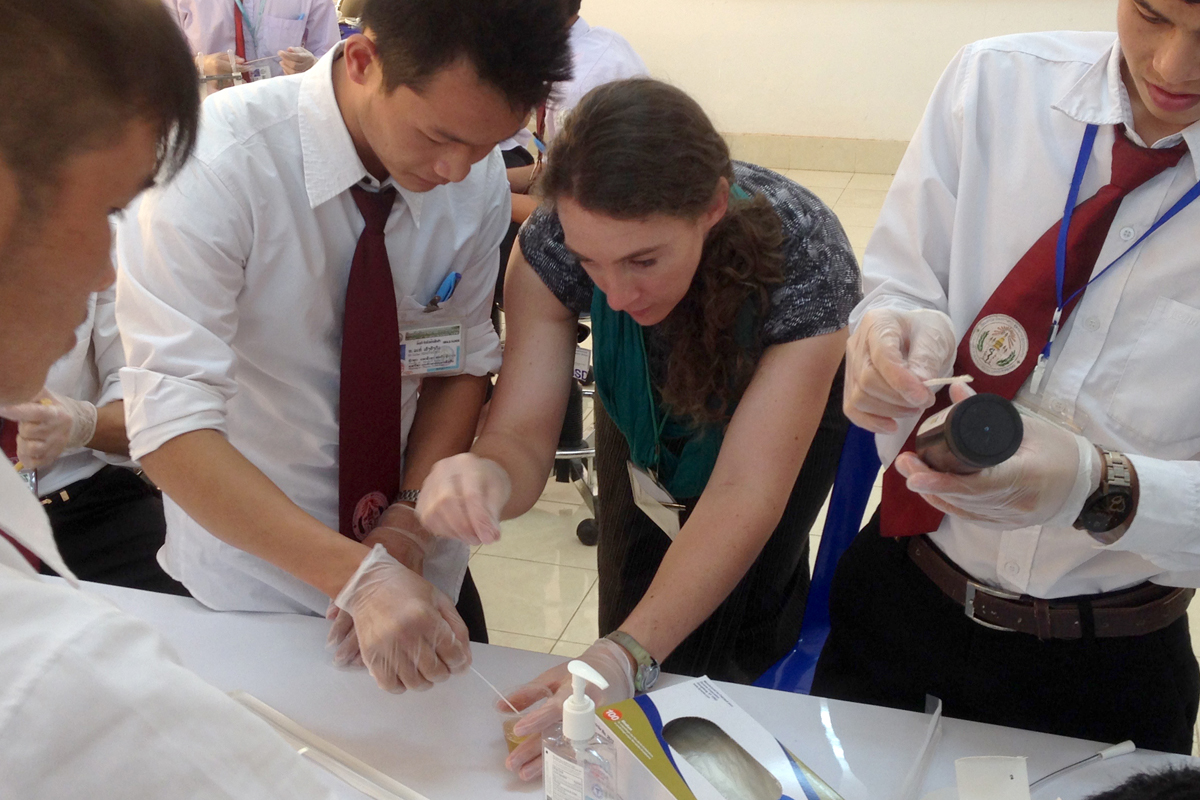 Portia Kamps with College of Health Sciences PA Students in a skill-based clinical lab.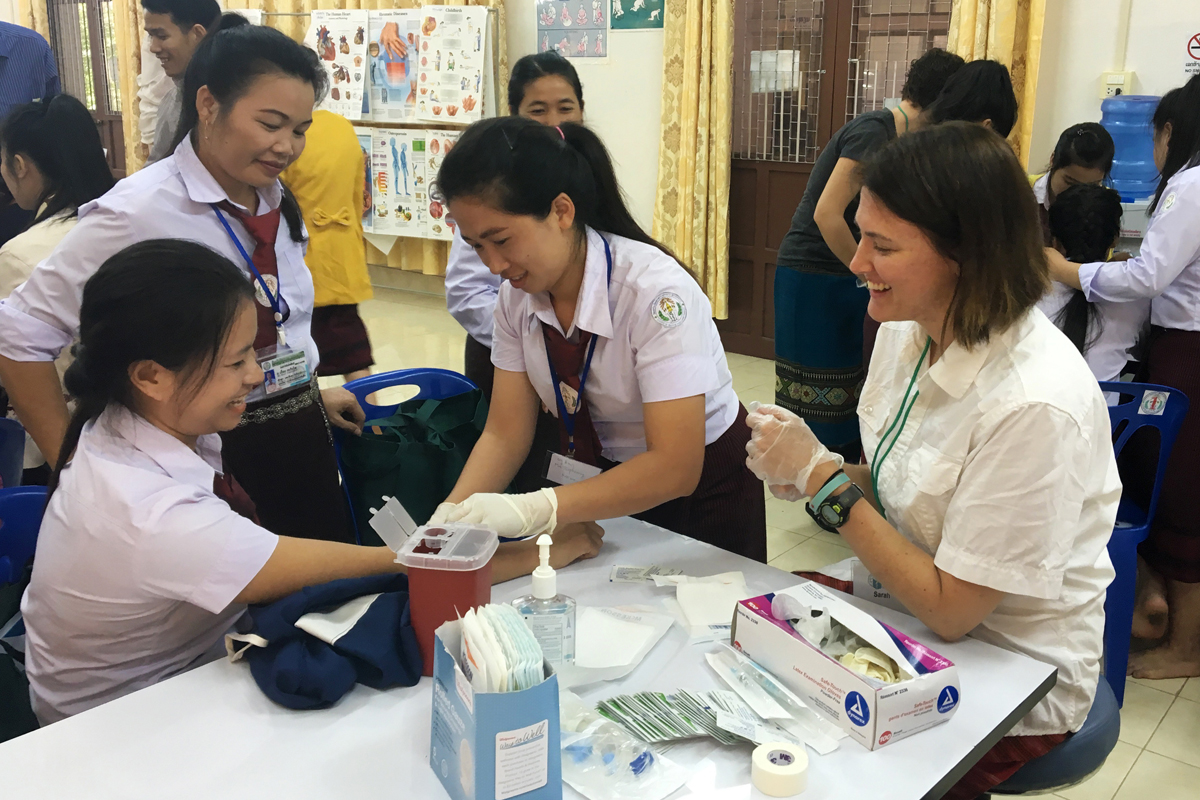 Sarah Kopke with College of Health Sciences PA Students in a skill-based clinical lab.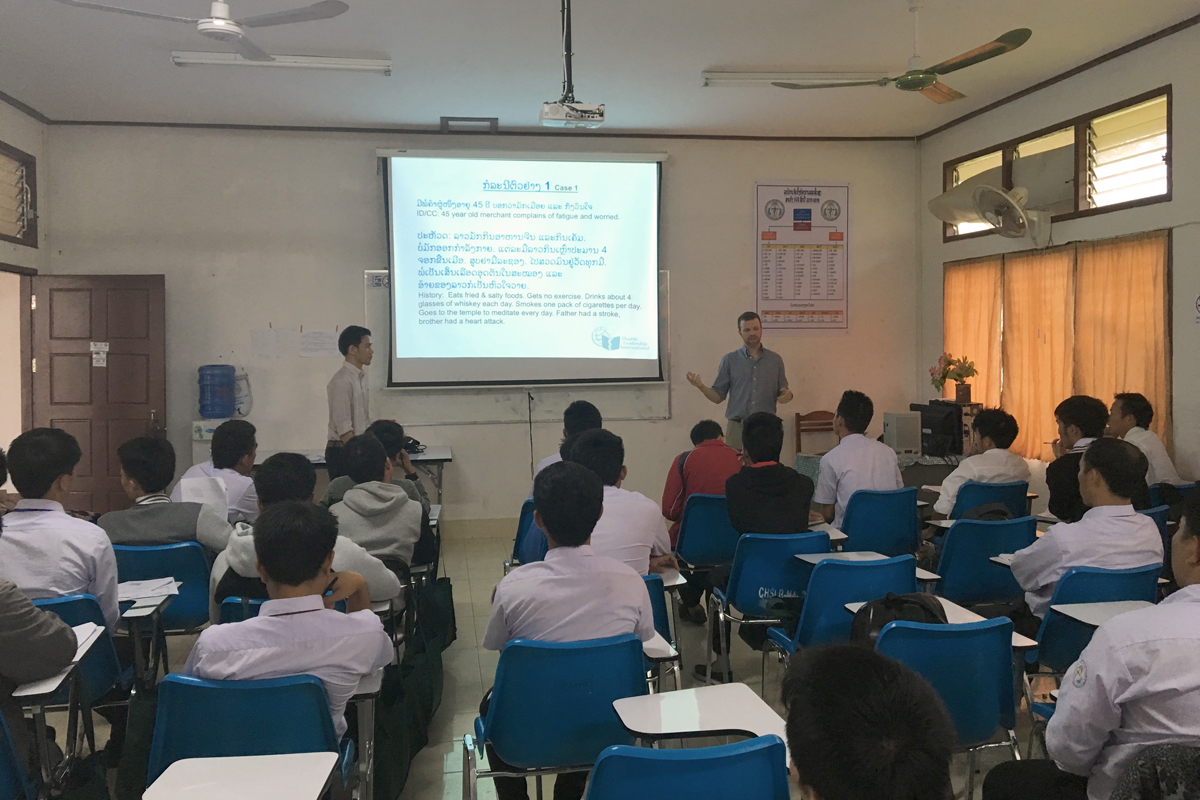 Justin Shobe, right, teaching a module on hypertension with Dr. Thatsaphone MD, a Lao resident from Vientiane, Laos.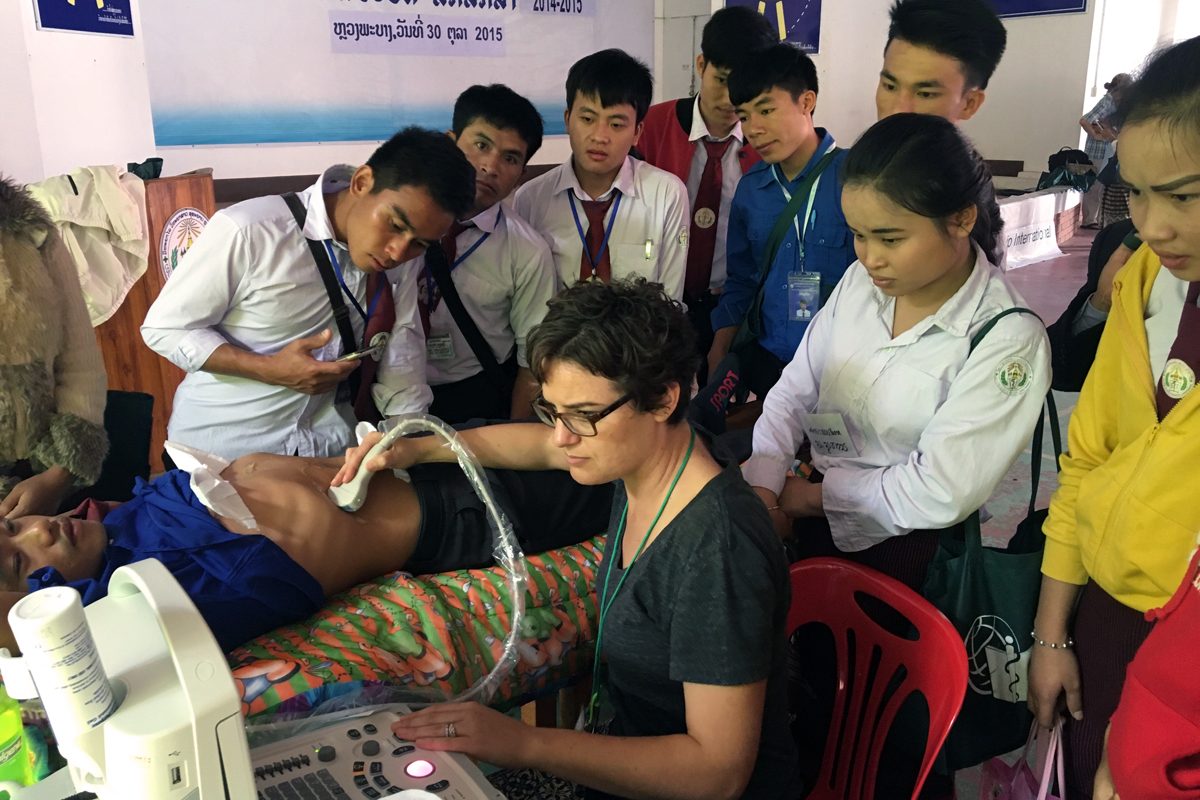 Ellie Andrews demonstrates ultrasound equipment for PA students at the College of Health Sciences in Luang Prabang.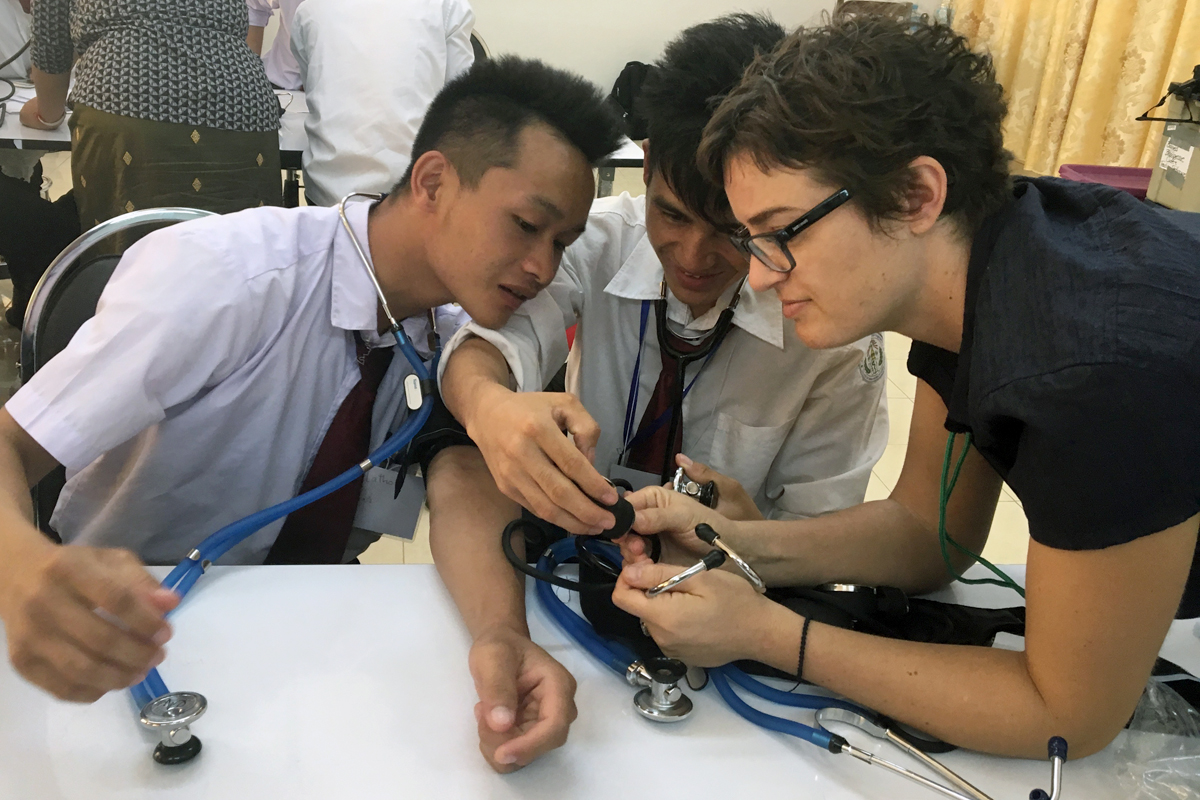 Ellie Andrews demonstrating correct use of the new stethoscopes given to each PA student at the College of Health Sciences by HLI.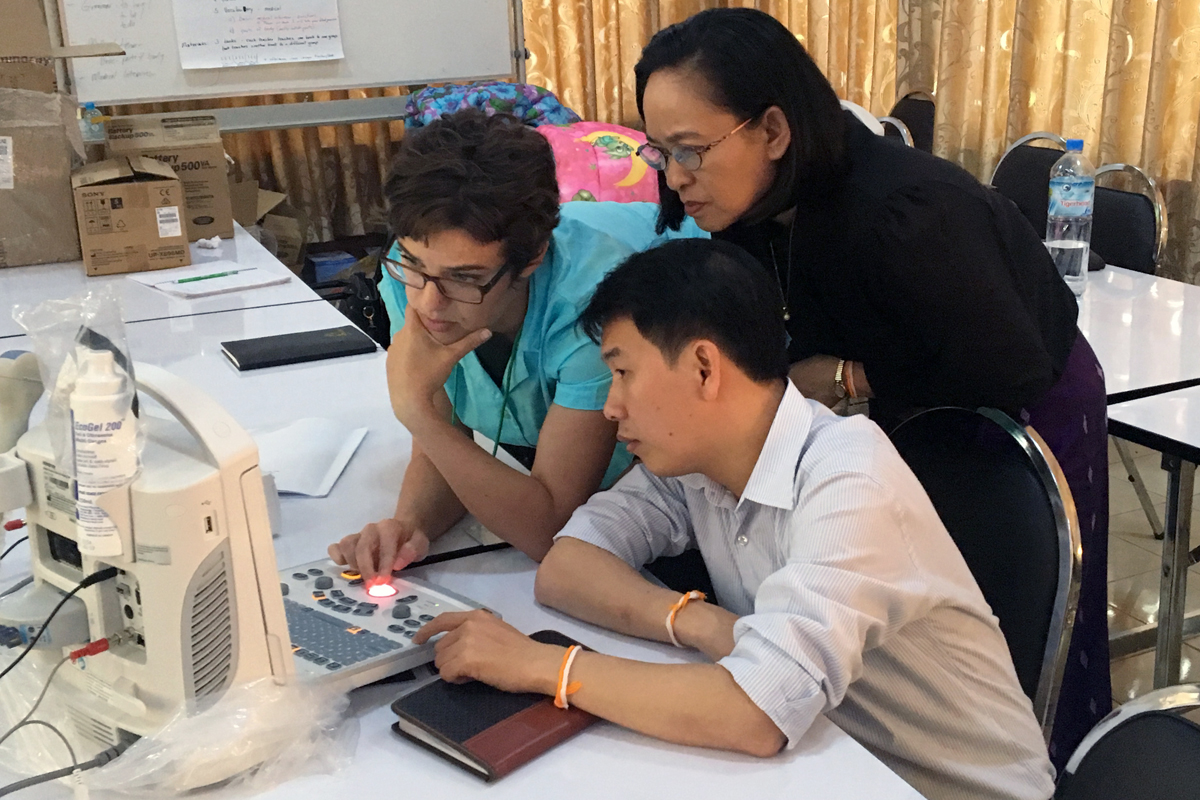 Ellie Andrews with the Lao leaders of the HLI Ultrasound Training Program— Ammaly Phongsavath, MD, Chief of Radiology Department, Selthathirath Hospital and
Sisouvanh Xayavong, MD, gynecologist.
The Vietnam War took an enormous toll on this Southeast Asian country. An estimated 2 million tons of bombs were dropped on Laos, making it one of the most heavily bombed nations in the world. The land remains so contaminated with cluster bombs that it has delayed the development of roads, schools and major industry. Moving forward requires clearing these legacy armaments, a significant task for a resource-constrained nation. Consequently, it's been difficult for Laos to move forward in areas such as technology and healthcare.
MEDEX Northwest decided to address part of this issue with the Pederson grant, as well as cooperation with Health Leadership International (HLI), a Seattle-based NGO that has worked closely with the Laotian Ministry of Health since 2008 — and whose president is Laotian-American MEDEX graduate Khampho Ohno, PA-C (Seattle Class 43).
"We have our direction from the ministry," says McIntyre, the founder and executive director of HIL. "In our memorandum of understanding, we've been asked to do skill-based work. The MEDEX PA students assisted in medical education and skill labs under the direction of Laos physicians and other HLI physicians."
As McIntyre indicates, MEDEX students were paired with a Laotian physician. They also helped teach a component of the primary-care curriculum for PA students in Laos. And each of them was required to do intensive research on their assigned health topic as part of their master's-degree capstone project. Students took care to develop approaches tailored for a low-resource environment, presenting the materials in ways that were sustainable and culturally appropriate.
Justin Shobe, a former critical-care paramedic in the Spokane class, researched and delivered hands-on modules on hypertension and diabetes, growing and significant health concerns in Laos and throughout Southeast Asia. Ellie Andrews, Seattle class, a diagnostic sonographer prior to entering the MEDEX program, helped teach an ultrasound training course, as well as women's health topics, including miscarriage mismanagement and contraceptives.
Spokane student Portia Kamps focused on the diagnosis and treatment of parasitic infections endemic to the region, and Sarah Kopke, also of Spokane, taught best practices concerning the prevention of diarrhea. In all, MEDEX's students helped teach 95 Laotian PA students, alongside local physicians and interpreters, at the College of Health Sciences in Luang Prabang.
For McIntyre, the value to the MEDEX students and to Laos is clear. "PA students go into a low-resource country and see firsthand the actual needs of providers. What is appropriate? And what can be low-cost?" she asks. "The takeaway is how important medical education is — basically, improving skill levels."
Ellie Andrews
MEDEX Seattle Class 48
With a background in ultrasound and a passion for women's health, Ellie Andrews saw that becoming a physician assistant could give her a more diverse role in global health. "When I applied to MEDEX it was because they had a Global Health Track for the Master's program," she says. "It was one of the appeals and I wrote about it in my very first essay that I submitted to CASPA."
Prior to the elective in Laos with Health Leadership International, Ellie had some exposure to international travel and healthcare. During the summer break of 2015 she and five of her fellow MEDEX Seattle classmates participated with another organization called Guatemala Village Health. "That was an actual healthcare delivery kind of program." Ellie pauses, and then clarifies. "It was more of a mobile health care program that I participated in as a student."
In the town of Luang Prabang, Ellie took on the role of educator. "I taught some women's health topics," she says. She did miscarriage management, or management of early pregnancy loss, and also taught about contraceptives to the midwifery students. Because her background is in ultrasound, Ellie worked with Dr. Cam McIntyre who directs the ultrasound training program. "It was a beginner's ultrasound training course. And so I worked for a week with them in teaching practical skills for ultrasound."
Of course there was language barrier, something not unfamiliar to Ellie and her previous work in healthcare. "I've used interpreters many times in my career. I'm from San Francisco and I have served a very diverse patient population." Now on the ground in Laos she was surprised to discover that the individual doing the interpreting were the leading Laotian faculty in their field.
"I'd think, 'This person could be teaching this class right now'. But it was my job was to assist in teaching the class," she tells us.
Teaching about contraceptives in a foreign culture can present all kinds of issues. "Depending on the students, it can be an embarrassing subject," she says. Apart from having someone teach students in their own language, Ellie believes there must be someone who understands the norms and traditions of the culture.
For example, IUD's are available in Laos, but are not a popular choice. "They're a modest culture and having a pelvic procedure is not desirable," she says. Consequently, Depo-Provera shots and birth control pills are very popular.
Then there are issues concerning compliance with oral contraceptives. A husband will leave the community for weeks at a time in pursuit of work. Women taking oral contraceptives might think this is a reason to stop. "And then the husband will come back, and the women will start with the contraceptives that day," Ellie says. "It takes a week in order to get the hormone levels to the point where they're effective for birth control. That would be a common mishap, I would assume."
"So we had to talk about that a bit," she says.
During her month in Laos, Ellie fell in love with the Luang Prabang community, so much so that when it came time to depart she felt like she was leaving home. "This is a place where I could easily see myself living," she says. "The people are so gracious, so patient. Even if there's a language barrier or a misunderstanding, they will do everything to work it out with you, you know? They really want to understand and have a friendship. They're just so kind and quite generous."
Back at MEDEX Ellie occupies the role of clinical year student. "Every day it's 'Oh my gosh, there's so much I don't know'," she says. "So to assume the position of authority on a topic, then travel to a remote place and teaching on that subject, there's definitely something gained and learned." She believes that there is learning in the process, because she had to research her subject to be able to verbalize it.
"In that way, I would say that being a student/co-faculty with HLI challenged us to grow and assume a leadership role. We assumed a level of knowledge and professionalism with regard to these things that you just don't get as a student in any other way. I thought it was a great experience to be a teacher. I learned a lot in the process about the material as well. And you don't even know how much you know until you try to talk about a topic."
Like her fellow MEDEX students who traveled to Laos as part of the HLI elective, Ellie graduates in August of this year. We wonder if this experience firmed her resolve towards a future in global health. "I don't really know how it's going to work out, but without a doubt, I will do global health as part of my work and life, because that is a big part of why I'm doing all of this."
Sarah Kopke
MEDEX Spokane Class 18
International travel is not unfamiliar to Sarah Kopke. After her college years ended she took local buses from Panama to the U.S.-Mexico border. "Not having a lot of money after college, you eat street food and travel cheap," she says. "You travel local with chickens stuffed all around your feet. Even as heinous as some of those bus rides were, there's no way I would want to take that element out because it's not just seeing a place, it's about experiencing a place."
It was these early travels that sparked Sarah's continued desire to see and experience the world. When the opportunity for an elective with Health Leadership International (HLI) arose, the mix of medicine and the opportunity to see a different part of the world reignited that desire.
Sarah had known that she'd work internationally at some point, but hadn't found that pathway until this trip with HLI. "Even though it was a very nontraditional rotation for MEDEX, it was a really fortuitous opportunity to include this in my PA education," she says. "I am proud of this and feel like my education is more complete having had this opportunity. An international opportunity was all that was missing from MEDEX's curriculum until this point, for me. And teaching is sustainable. It's not like you go in and work for two weeks and leave. You leave a little bit more behind if you can teach, or train somebody."
For seven years Sarah worked as a physical therapist assistant primarily in Western Washington. While volunteering with HLI, in Lao PDR, her teaching focused on the prevention and treatment of diarrhea from non-parasitic causes in the under-five population. "It was something completely different than what I had done in the past, and that's why I picked it. It is also a major cause of preventable childhood death worldwide." she says.
She taught best practices including hand washing with soap; early rehydration; recognizing early signs of dehydration and various causes of diarrhea; the importance of breastfeeding and nutrition; and decreasing the use of antibiotics as the immediate go-to method to resolve diarrhea.
"It was really about hand washing with soap," she says. "It's so basic here in the U.S. where there's soap and hand sanitizers around every corner. But over there, there isn't even soap in the bathroom at the College of Health Sciences."  Reba McIntyre clarifies that soap is expensive and sometimes difficult to provide in a low resource environment.
For Sarah the focus of her contribution through HLI was a simple concept. "That's why I wanted to teach diarrhea prevention and research it more because it's so simple but so prevalent," she says. "Second to pneumonia and respiratory problems, it's the most common cause of childhood death under the age of five, worldwide. And yet it's so preventable with a small amount of education."
Sarah references the efforts in this area of the Bangladesh Rural Advancement Committee, or BRAC. In 1972 the BRAC non-governmental organization launched an initiative to educate the local population of Bangladesh in an effort to decrease the mortality rate from diarrhea. Mothers were instructed how to prevent diarrhea through hand washing, washing foods and breast-feeding to six months of age. Over 15 years BRAC assessed the effectiveness of this public health effort, and found a significant decrease in diarrhea and mortality. Teenagers who were babies at the time of the initial educational efforts 15 years earlier were observed teaching the younger children to wash their hands and food.
"This is not a one day fix," emphasizes Sarah. "It's not that people around the world are not intelligent. It's really a lack of education and funding. There are cultural affects to be considered, and whether they'll even want your medicine or not."
When asked if she has plans to work in global health upon graduation from MEDEX, Sarah says, "Thoughts are forming, definitely. First of all, I have a strong desire to learn Spanish fluently. That I feel in my heart. So I want to follow that and blend it with clinical experience in Central America. I would like to continue to teach with HLI. So I'm not sure yet whether the future holds teaching or clinical work, or a combo of the two."
Looking back, Sarah viewed this most unusual elective in Laos PDR with Health Leadership International as an opportunity. "It was eye-opening and an honor to teach fellow students, and it was a really imperative part of my education. I hope this opportunity exists for future MEDEX students."
Justin Shobe
MEDEX Spokane Class 18
Prior to MEDEX and his path to becoming a physician assistant, Justin Shobe was a critical care paramedic and paramedic field supervisor. His work involved a lot of training. "I would train new people and test them in the field and in the classroom as well," he says. "That involved a lot of cardiac monitoring, training, IV pump skills, and basic patient management."
All this made Justin very comfortable in the teaching role, which was good preparation for the HLI elective working with the students at the College of Health Sciences in Laos.
Admittedly, Justin hadn't traveled internationally before. During his didactic year curriculum, Justin worked on an underserved project with his Spokane 18 classmates, the target population involving refugee immigrants. "I've always been pretty interested in learning about other populations, and that project really set that off. Everybody really got into it, and we all had to present on our population."
This earlier project inspired Justin to gain that broader vision. "My wife and I were already planning our own trip to go work, in some sort of medical capacity, in Central America," he says. Then this trip to Laos came up as a Global Health elective with MEDEX and HLI. Justin responded to HLI's mission and the sustainability of the project. "It's really about working with the local people, finding out what they need, and meeting them where they're at, educationally and culturally."
As part of the HLI team, Justin co-taught skills development in CPR, neonatal resuscitation, IV, and intraosseous access. He was also assigned the hypertension and diabetes module. "Those were two things that weren't necessarily overlapping with my paramedic role, but I've become more confident since coming to MEDEX."
Justin's wife, Julie, became part of the team that traveled from Seattle to Laos. "She helped teach the diabetes portion as well because she is a certified diabetes educator here in the states."
The prevalence of type 2 diabetes in the Southeast Asian region came as a surprise to Justin. "The problem is growing because there is increasing urbanization of the populations," he says. "There's more westernization of the diet, lower quality of foods, higher calories, and lower nutritional content. On top of all of this is the predisposition of the Asian populations to develop type 2 diabetes." All of these factors are contributing to a rapid increase in cases of diabetes.
"It's hard to educate people on a disease that doesn't cause any symptoms early on, same as hypertension. It's hard to get people over there to take medication. It's hard to even get people here in the states to take medication. The problems are not totally dissimilar."
Justin and Julie developed a nutritional education handout based on the "Choose My Plate" graphic for use by the Laos health science students with their patients out in the field. "Mostly it has to do with portion sizes but, even before that, you need to know what foods go into which food groups," Justin says. The class worked with the handout, and Justin had the students create plates with food models so they could use that same exact exercise with the patients in their practice. "That approach is where we need to start because it's free, and it doesn't involve a financial obligation or the huge culture shift of taking medication. It's really the best starting place, and can help minimize the effects of a lot of diseases at once, rather than just targeting one disease."
During his time teaching at College of Health Sciences, Justin made an effort to learn many small phrases and numbers in the Laotian language. Otherwise, his lectures were all delivered side-by-side with co-trainer, an internal medicine physician from the capital city of Vientiane. "Some of the hands-on stuff was a little bit more interactive, without necessitating an interpreter standing right there the whole time," says Justin. By using direct eye contact he found a closer relationship could develop between the Lao students and the MEDEX/HLI team.
Working with up to 90 students at a time, Justin and his MEDEX cohorts taught in a large classroom facility at the College of Health Sciences outside Luang Prabang. The classroom itself was open window, not air-conditioned, so in a tropical setting it got rather warm in the afternoon. "Often times we were sweating while they were putting on sweatshirts," he says. "For them it was a little chilly."
Justin found the students to be very disciplined. "It was my understanding that about two-thirds of them were fairly new students at the College, and one-third of them were providers from the District hospitals in the extended learning program," he says. These returning students had some hands-on skills from the field already.
A peak experience was graduation on the final day. "We had a ceremony for the students to get their certificates, and that was exciting to watch," Justin says. "They would come by and everybody wanted to take pictures with their cell phones—with their friends, with their groups, and with us teachers. That was really exciting and fun."
Later in the week Justin and Julie were walking about in Luang Prabang prior to flying home when they ran into several of the students. "We were so excited to see each other," he says. "It was like long lost friends." Just one week ago they were together every single day for the entirety of the course. "It was a really fun reunion, and of course they wanted to take pictures and hang out again. None of them could speak English so we just hung out and said the little bit that we could in each other's language, and then went our separate ways."
At the start, when Justin first heard of the elective for the Global Health Track with MEDEX and Health Leadership International, he suspected this was a natural fit for his physician assistant education. At the end of the experience, after he and his wife got to teach together on one of those days in Laos, they assessed the experience. "We kind of looked at each other," he says. "We both realized this is definitely something that we want to continue to do in the future."
Portia Kamps
MEDEX Spokane Class 18
For Portia Kamps the main draw to MEDEX and physician assistant training was her interest in global health. Growing up, she visited Mexico several times, and later traveled to Guatemala and India prior to entering MEDEX. These experiences gave her a sense of how things are in other parts of the world, especially in terms of living conditions and access to healthcare.
"It's very eye-opening to see what medicine is like in a low resource country," she says. This was especially true of her time in Lao PDR with Health Leadership International (HLI) where she served as a student faculty member. Her emphasis was on parasites within the region, specifically intestinal and worm parasites. "We focused primarily on what was endemic to that region of Lao, and some of the critical aspects of parasite infections that the students would find helpful in their practices in the future."
As with the three other MEDEX students, Portia's lectures were delivered with a U.S. or Lao physician to sex segregated groups. "One of the groups was all of the male students, and the other was all of the female students," she says. "The other group at the time of the lecture was doing their lab."
When Portia initially learned of the HLI elective rotation she thought, "This is something I want to be involved in." The idea of training others was exciting. "Here is a different aspect of global health. Not the clinical aspect, but the educational aspect and how that can impact the region. We were able to help with their education, and also see the training that they have, and the training that they are asking for."
During her visit to Lao, Portia and the other MEDEX students were able to tour some of the medical facilities in Luang Prabang and other districts.
"The resources there are very different than here," she says. "At the hospital we saw equipment that we had ten, twenty years ago in use every day, and how much they would utilize that equipment until it literally broke and couldn't be used."
In speaking about this with the Laotian faculty, Portia learned how much better equipped district hospitals are now than five or ten years ago. "The district clinics have really started to have an impact on their regions," she says.
Portia's background is in sports medicine, primarily in high schools. "I was an athletic trainer," she says. "I worked in small towns in Colorado, and then I moved up to Spokane and worked at North Central through Rockwood Clinic. I enjoyed the athletics, as well as the healthcare aspects and getting to follow the athletes and care for their injuries daily."
It was high school youth trips south of the border that initially fueled her international interests. "You get used to your normal, your routine, where you live and what you have access to," she says. "To see how it's so different in other places really piqued my interest and expanded my perspective of the world. I thought, wow, the world is a whole lot bigger than what I know."
As an adult Portia volunteered with a team that traveled into Guatemala. "We went up to remote mountain villages outside one of the towns," she says. She participated with the dental team that cleaned, extracted and repaired teeth. "I held a lot of flashlights. That was my first major exposure to medicine abroad."
Her trip to southern India was for a children's home, where she also served as part of a dental team. "We did dental hygiene work there, and some basic medical if the kids had something they needed," she says. There were two nurses on the team, and that sparked Portia's initial interest in advancing her medical career beyond sports medicine.
"That's one of the main reasons I became a physician assistant— to be more involved in global health," Portia says. What that looks like going forward she cannot say. Ultimately, it will include health education. "I know the educational component is a part of what we do in global health, regardless if you're working clinically or not. The opportunities are just so vast within the world. I don't have a specific country or region or people or disease type that I want to focus on."
As a westerner and an American, Portia appreciates that she has access to medical training. "I am privileged to have the capacity but also the opportunity to pursue and to learn medicine," she says. "That's something that can be so unique compared to most of the world."
Looking back, Portia views her experience with Health Leadership International as invaluable. "I really enjoyed interacting with the students and people there," she says. "I found everyone very helpful, very polite, engaging and just very interested in learning." Her ongoing education as a physician assistant with MEDEX becomes the foundation with which to contribute globally. "I can go and share what I have learned and help better the world."
A portion of this story appeared in the Spring 2016 edition of UW Medicine Alumni Magazine.