people
Román Ramos Baez
Graduate Student
rramosb at uw.edu
Román is a graduate student in the Biology program. He received his B.S. in genetics and plant biology from UC Berkeley where they worked in the PBS3 node of the salicylic acid innate immune response. His curiosity surrounding phytohormone-induced complex traits has led them to his current project, which centers on the evolution of auxin receptors. In his free time, he enjoys cooking for friends, watching gaming content on Youtube, and creating drag costumes and makeup looks.
Jonah Chu
Undergraduate Intern
jonahchu at uw.edu
Jonah is an undergraduate student at the University of Washington and a hopeful General Biology major. He joined the Nemhauser Lab in the summer of 2019 and is assisting in the research of gene expression during lateral root development. As a native of the Pacific Northwest, he is an avid fisher and outdoorsperson who also doesn't mind the occasional video game.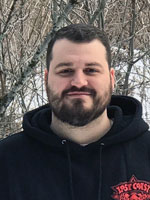 Tucker Ennenga
Undergraduate Intern
tennenga at uw.edu
Tucker is an undergraduate student in the Molecular, Cellular, and Development Biology program. In the Nemhauser Lab, he is currently helping with research on phenotypic responses to various mutations in auxin regulated transcription factors, in an attempt to better understand how they play a role in lateral root development. In his spare time, Tucker enjoys listening to music, trying new recipes, and simply learning everything he can.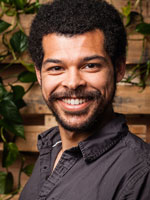 Dante Fisher
Postbac
dantejordanfisher at gmail.com
Dante is post-baccalaureate student at the University of Washington pursuing a degree in Neuroscience. He began working in the Nemhauser Lab in June 2019 and has been working with his mentor, Eric Yang, to test various promoters for Hormone Activated Cas9-based Repressors (HACRs) and to characterize differential lateral root expression in Arabidopsis. Dante is generally interested in the ways in which information is stored and manipulated in biological systems, and he enjoys contemplating how intelligence may manifest differentially across species. In his free time, Dante spends his time meditating, weight-lifting, and singing.
Leonel Flores
Undergraduate Intern
leonelf at uw.edu
Leo is an undergraduate Biology major. He is very passionate about research and hopes to use CRISPR based techniques to gene edit plants to increase their agricultural yield and/or to aid in climate change mitigation. Leo enjoys cooking, gardening, exercising, and playing the guitar in his free time.
Hardik Gala
Postdoctoral Fellow
hpgala at uw.edu
Hardik joined the lab in March 2017 and is interested in understanding signaling events that confer cellular competency during developmental processes. For his doctoral work, he studied RNApol2 pausing mechanisms that control cellular quiescent cells in mouse skeletal muscle system (with Prof. Jyotsna Dhawan at CSIR-Centre for Cellular and Molecular Biology in India). He then pursued a short poslioc with Prof. Imran Siddiqi (also at CCMB), analyzing expression and DNA binding studies of meiotic-specific genes to gain insight into meiotic transition. Other than enjoying science, he likes traveling, playing board games and leisure cooking.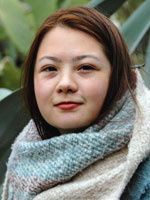 Sabrina Gilmour
Technician
sgilmour at uw.edu
Sabrina graduated from UW in the Spring of 2019. She received a B.S. in environmental science and resource management studying the effects of abiotic factors on plant pathology. Sabrina has been accepted to PhD programs for Fall 2020, but until then will be assisting on projects at the Nemhauser Lab as a technician to understand the evolution and pathways of auxin through transformations and synthetic biology. When she is not in the lab or the plant room, Sabrina likes to spend her time cooking, eating dessert, spending time with friends, singing, and oil painting.
Sarah Guiziou
Postdoctoral Fellow
guiziou.sarah at gmail.com
Sarah joined the lab in April 2019 after finishing a Ph.D. on the engineering of logic circuits in bacteria with Jérôme Bonnet in Montpellier, France. She is now interested in the development of multicellular organisms, using a synthetic biology approach to decode complex cellular circuits. In the lab, she is focusing on decoding lateral root development in A. thaliana. Outside of the lab, she enjoy running, hiking, and discovering the world.
Amy Lanctot
Graduate Student
alanctot at uw.edu
Amy is a graduate student in the Molecular and Cellular Biology Program. Before coming to UW, she graduated from Stanford with a B.S. in developmental and cellular biology. As an undergraduate, Amy worked on stomatal differentiation pathways. She continues to be fascinated by mechanisms of cell fate specification, and her project centers on the influence of auxin in shaping cell fate. Originally from the Bay Area, she enjoys exploring the beautiful trails and mountains around Seattle. In her free time, she enjoys reading, traveling with friends, and marathoning TV shows on Netflix.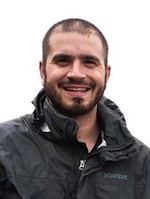 Alexander Leydon
Postdoctoral Fellow
aleydon at uw.edu
Alex joined the lab in February 2017 after finishing his Ph.D on the transcriptional network that controls pollen tube differentiation and sperm release with Mark Johnson at Brown University. Alex is interested in using synthetic biology to understand plant development, cellular differentiation and hormone signaling. In his free time, he enjoys running, hiking, and exploring the Northwest.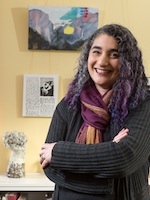 Jennifer Nemhauser
Professor
jn7 at uw.edu
Jennifer has been studying plant hormones, signaling networks and development for a long time. Before coming to Seattle in 2006, Jennifer did her doctoral work on auxin and flower development at Berkeley with Pat Zambryski, followed by Postdoctoral work on hormone interactions during seedling development at the Salk Institute with Joanne Chory. When not in the lab, Jennifer loves to see great art (music, dance, visual art), eat great food, drink lots of tea and forage in secondhand bookstores.
Eric Yang
Graduate Student
eriyang at uw.edu
Eric is a graduate student in the Molecular Engineering (MolE) program. He received his B.S. in Biochemistry and minors in Biology and Philosophy from Cal Poly, San Luis Obispo where he was part of a team that worked on E. coli contamination tracking through strain clustering. Before coming to Seattle, Eric also helped develop diagnostic test strips for a biotechnology company in Taiwan. Interested in synthetic biology, his current projects involve the engineering and rewiring of plant degradation machinery. In his free time, Eric enjoys learning to make noises on new instruments, hanging out with friends, and going to concerts.
Joey Zemke
Technician
jzemke at uw.edu
Joey graduated from the UW with a degree in Biology and will be continuing his work in the lab as a technician. In the past he has been involved in projects that explored resource allocation in Brassica rapa and helped elucidate mechanisms of auxin regulated gene expression in plants. He is extremely fascinated with the ideas and mechanisms that drive development in all organisms and will be pursuing graduate programs in the future. When he is not busy with science, he is probably cooking, reading a book, or exploring Seattle!