TLC-ART Program
December 21, 2020
TLC-ART Director Dr. Rodney JY Ho Named to National Academy of Inventors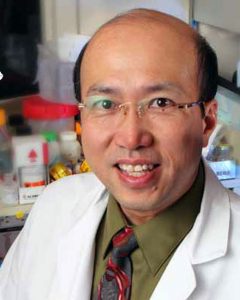 TLC-ART is honored to announce that Director and UWSOP Professor of Pharmaceutics Rodney JY Ho has been elected to the rank of NAI Fellow by the 2020 National Academy of Inventors Fellows Selection Committee and Board of Directors.
"Dr. Ho has demonstrated a highly prolific spirit of innovation in creating or facilitating outstanding inventions that have made a tangible impact on the quality of life, economic development, and the welfare of society," said NAI President Paul R. Sanberg. "Our sincere congratulations on this well-deserved recognition of his accomplishments, and it is an honor to welcome him as a Fellow. I look forward to working with Dr. Ho in support of NAI's mission to promote the importance of innovation and celebration of academic invention."
Dr. Ho will be officially welcomed as an NAI fellow at the organization's 10th Anniversary Annual Meeting event in Tampa, Florida, June 7-9, 2021.
"I am honored to be elected as a fellow of the National Academy of Innovators and cited for translating biomedical innovations into products making an impact on the quality of life," said Dr. Ho. "I am truly blessed to work with great people – colleagues, students, post-docs and staff members – who are committed daily to contributing creatively and collectively toward economic development and the welfare of society. I could not have done this without their commitment and support."
Dr. Ho is also the Executive Director of the Washington Entrepreneurial Research, Evaluation, & Commercialization Hub (WE-REACH), an NIH supported network of public-private partnerships accelerating the translation of biomedical discoveries into commercially viable products to improve patient care and enhance health. Learn more at https://www.washington.edu/we-reach/.