Winter 2017:
Movie:

 Hidden Figures

Discussion:

 CODE: Debugging the Gender Gap
Fall 2016:
Welcome event

: board games and beer at Cafe Mox
Summer 2016:
Spring 2016:
Spring discussion:

 Perception bias: male biology students consistently underestimate female peers, Dan Grunspan, UW Department of Anthropology.

Outreach event:

 Seattle Expanding Your Horizons
Winter 2016:
Workshop:

 General Exam Prep Q&A for current second-years

Pop-up journal club;

 Lander, E. The Heroes of CRISPR. Cell, 2016.
Fall 2015:
Welcome event:

 board games and beer at Cafe Mox
Pop-up journal clubs:

Nielsen, M. W. Make academic job advertisements fair to all. Nature, 2015.
Van der Lee and Ellemers. Gender contributes to personal research funding success in The Netherlands. PNAS, 2015.

Fall discussion:

 Bias in Peer Review, Carole Lee, UW Philosophy department
Lunch with Carole Lee
Summer 2015:
End-of-Year Wine and Cheese Social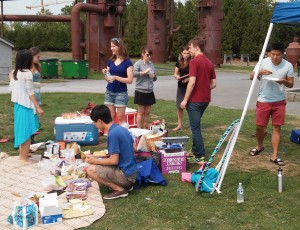 Spring 2015:
March journal club:

 Sheltzer, J.M. and Smith, J.C. 

Elite

male

faculty

in the life sciences employ fewer women. PNAS, 2014

Spring discussion:

Why have women entered some STEM fields more than others? – Dr. Sapna Cheryan, University of Washington, Department of Psychology

April journal club:

 Williams, W.M. and Ceci, S.J.  National hiring experiments reveal 2:1 faculty preference for women on STEM tenure track. PNAS, 2015
WiGS brunch at Portage Bay Cafe

Workshop:

Prize-winning Posters – Dr. Ivan Liachko, Dunham Lab, University of Washington
Winter 2014:
Workshop:

General Exam Q&A for second-year Genome Sciences graduate students
Happy New Year Happy Hour at Shultzy's in the University District

Winter industry spotlight:

Michael Senko, Thermo Fisher Scientific

January journal club:

 Leslie et al.  Expectations of brilliance underlie gender distributions across academic disciplines.  Science, January 21, 2015.

February journal club:

Ely, RJ. Rethink what you know about high-achieving women. Harvard Business Review, December 2014.
Fall 2014:
Welcome event:

bocce, beer, and brats at Rhein Haus

Annual seminar speaker:

Dr. Hopi Hoekstra, Harvard University

Fall industry spotlight:

Julie Granka, AncestryDNA
Summer 2014:
Summer discussion:

Dr. Ohad Manor, Inside the PI Predictor — Borenstein Lab, University of Washington
Annual BBQ in Ravenna Park
Spring 2014:
Seattle Expanding Your Horizons workshop

The Genetics of Taste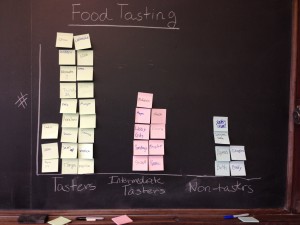 ———————————————————————————————————-
Previous seminar speakers:
Previous career panelists:
Dr. Michael Senko, 2015, Thermo Fisher Scientific
Dr. Julie Granka, 2014, AncestryDNA
Dr. Becket Feierbach, 2012, Genentech Inc. (now at Gilead Sciences)
Jennifer Ouellette, science writer
Dr. Cynthia Morton, AJHG editor
Previous discussion panelists: