The water in a city garden is typically broken into small, separate areas that are sometimes connected with ponds or flowing water. Pools are made to wander, disappear, then reappear at the next corner.
The sites generally considered to be the best in the garden are those at the edges of lakes with a view of mountains or hills beyond.
Semi-circular bridges, as seen below, are often chosen because they "complete themselves" as they are reflected in the water; they are also a symbolic reference to the moon. One expression equates watching the moon (as reflected in water) with "washing the soul."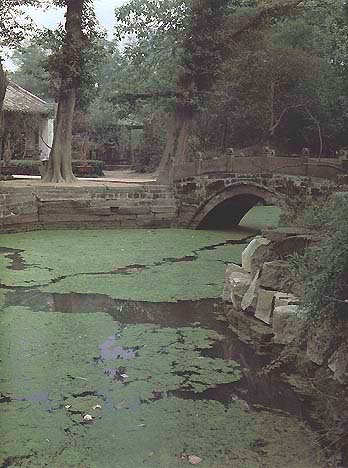 As you can see in the garden on the right, water quality not always clean and brilliant - often the ponds are rather murky and opaque.
Why would such "thick" water be attractive to the viewer?
Coolness is also implied by water, not only through its own properties, but also through sounds, like that of rain or breezes moving over rustling lotus leaves. Trickling water offers its own distinct qualities of movement and sound.