With the start of the 2021 academic year, the Computational Finance and Risk Management administration is celebrating ten years of its graduate programs. In summer 2011, Professor Emeritus R. Douglas Martin founded the campus and online master of science degrees. "We had a small cohort size that year, but our students, staff and faculty were so excited about what our young program could bring to the finance industry, in Seattle and beyond," remembers Program Manager Laurie Feldman.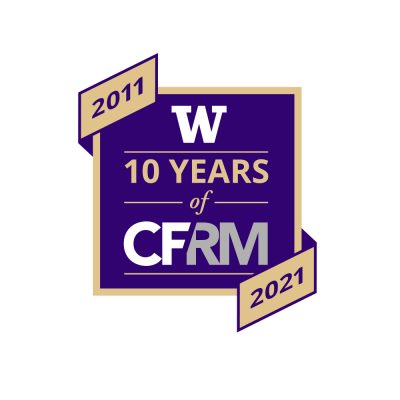 CFRM evolved from a graduate certificate program, to include a Master of Science degree, additional certificate options, and an undergraduate minor and major. "We've had so many bright and ambitious students in our programs who've positively impacted faculty and staff, and then gone on to do amazing work in their careers," remarks CFRM Director Tim Leung. "We're so proud of our alumni."
Over the 2021-2022 academic year, program staff are planning a series of events to commemorate the 10th anniversary of CFRM. University of Washington safety protocols will determine whether events will be held in person or virtually. Event details will be announced on the CFRM calendar.
Leung adds, "We've learned a lot over the past decade, and we are looking forward to where the next decade takes us."