CONTENTS


---
Home
Camper Bios & Comments
Staff Bios
Daily Summaries
Campers' Favorite Sites
Activities
Welcome


Seven years ago, sixteen campers gathered in cabin one at Camp Courage in Minnesota. Four girls and twelve boys ranging from age 13 to 18 listened as Sheryl Burgstahler explained what DO-IT was, and what campers would learn over the next eight days. Some students had used computers to explore the Internet before, and others had never used a computer at all.

Now, during the seventh session of Internet and College Preview camp, things are different, and still the same. Two separate groups now make up the program. Not only is there the introduction to the Internet and college preview course, but there is also a digital photography and video section. Eleven campers in the beginning course are learning all about computers and the Internet, as well as college and careers. Four campers in the advanced class are having fun making videos for us. We also have two student interns this year who are helping with lab activities and development of this Web site.

Thanks to this program, and the adaptive equipment it provides, participants now know how to send e-mail, explore the web, and plan a future that includes college and a career.

Special thanks goes to Cyril Rotter for helping make this program possible.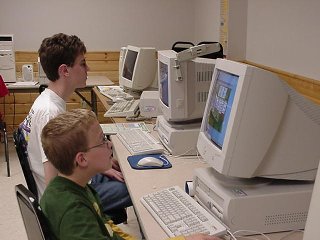 College Preview campers work hard on writing E-mail and checking out cool web sites.
Credits

Special thanks to Flint Million for doing the HTML coding for this website.