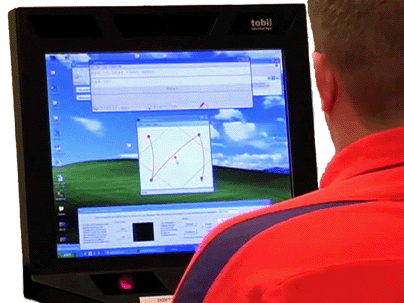 EyeWrite (updated February 2012)
EyeWrite is the first letter-like text entry method that uses eye gestures. EyeWrite takes far less screen real estate than most on-screen keyboards, and is more resilient to eye-tracker jitter due to having large corner targets.
Although EyeWrite is designed for use with an eye-tracker, it works simply by observing the cursor position, which other software can keep coupled to the gaze point. Therefore, you can simulate EyeWrite simply by moving the mouse cursor to wherever you are looking.
Video
Download
Key Publications: COGAIN'07, ETRA'08
Language: C#, DirectInput, Tobii SDK
Requirements: TET Server, Tobii 1750, .NET 2.0 Framework (or later).
Download version 3.5.2
Can be augmented with word-level stroking.
This page is at: http://depts.washington.edu/ewrite/eyewrite.html
Copyright © 2008-2012 Jacob O. Wobbrock