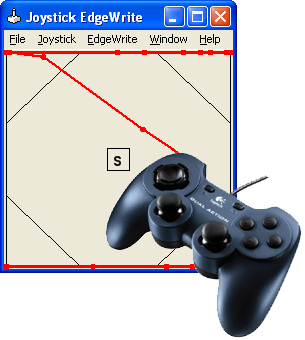 Joystick EdgeWrite (updated February 2012)
Joystick EdgeWrite is designed for use with any DirectX-compatible joystick. It is best used, however, with joytsicks that have square areas bounding their sticks. Examples of such joysticks are the Logitech® Cordless Rumblepad™ 2, the Logitech® Rumblepad™ 2 Vibration Feedback Gamepad, the Logitech® Dual Action™ Gamepad, the Saitek™ P880 Dual Analog Gamepad, and the Saitek™ P2500 Rumble Gamepad.
Download
Key Publications: CHI'04, GI'04
Language: C#, SlimDX
Requirements: PC joystick, .NET 2.0 Framework (or later), SlimDX .NET 2.0 End User Runtime.
Download version 3.5.2
Can be augmented with word-level stroking.
This page is at: http://depts.washington.edu/ewrite/joystick.html
Copyright © 2006-2012 Jacob O. Wobbrock