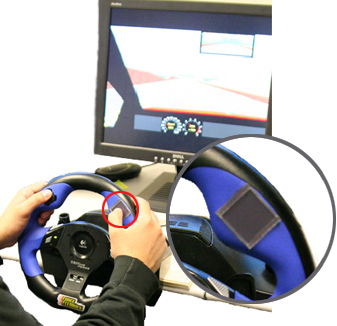 StampPad EdgeWrite
StampPad EdgeWrite is an exploration of text entry for in-car navigation systems. It is similar to Touchpad EdgeWrite, except with a much smaller sensing pad. The StampPad we used was made by Synaptics, and we embedded it in the surface of a Logitech Driving Force steering wheel. We tested our prototype against a variety of other thumb-based input techniques.
Video
Download
Key Publications: GI'07
Language: C#, Synaptics API
Requirements: Synaptics StampPad, Synaptics 7.12.7, .NET 2.0 Framework (or later).
Download version 3.0.3
Can be augmented with word-level stroking.
This page is at: http://depts.washington.edu/ewrite/stamppad.html
Copyright © 2008-2010 Jacob O. Wobbrock