NOFAS Washington State
FASt Friends: A FASD Family and Community Support Network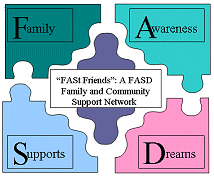 The mission of NOFAS Washington State is to provide support, education, advocacy, and training on Fetal Alcohol Spectrum Disorders through the positive cooperation and collaboration of families, caregivers, community provides, professionals, and individuals affected by prenatal alcohol exposure. Included in this program is FASt Friends: A FASD Family and Community Support Network. NOFAS Washington is the Washington State Affiliate of the National Organization on FAS (NOFAS).

Founded by Julie Gelo at the request of parents and caregivers who attended the 2003 Washington State FAS DPN Family Summer Camp held at Camp Volasuca in Sultan, Washington in August of 2003. The group has been meeting monthly since the camp. Currently the meetings are held on the 3rd Tuesday of every month at Little Red School House/Children's Village in Everett, Washington from 6:30 PM to 9:00 PM.
Every other month FASt Friends provides mini trainings to families as well as community providers on a variety of topics. The alternating months are spent sharing joys as well as tears, asking questions, and offering and receiving support from the attending members. Quarterly family activities are planned that involve the parents, the children with an FASD as well as siblings and twice a year they are striving for a parent retreat.