Professor Richard Earl Norris, April 13, 1926 - July 17, 2013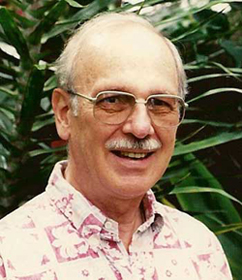 Richard Norris passed away peacefully at home on the morning of July 17, in the presence of his wife Fiona and daughter Laura. He was preceded in death by his younger son Jack.
Richard, youngest child of Ernest and Freda Norris, was raised at Haller Lake, near Seattle, where his love of nature was nurtured by his adventures in and around the lake and his introduction to horticulture by his father. Richard attended Roosevelt High and earned a Bachelor's degree in botany at the University of Washington.
But for the encouragement of Professor Weston Blaser, Richard might have pursued a career in horticulture; however, a summer course taught by Professor Blaser at Friday Harbor Labs in 1947 diverted his attention to the study of algae. Horticulture remained a lifelong hobby.
Richard received his Master's degree at the University of California, Davis, and his doctoral degree at the University of California, Berkeley, conducting research on a complex group of red algae. On graduation, Richard and his wife Louisa remained in Berkeley at the U.C. Radiation Lab, where they assisted the future Nobel Prize-winning scientist Melvin Calvin in his experiments on photosynthesis.
Their sons Rick and Jack were born in California, daughter Laura in Minneapolis, where Richard joined the faculty of University of Minnesota.
Travel was a feature of the early years of his career. His young family enjoyed his professional journeys to New Zealand and India.
In 1961, he joined the Smithsonian Institution and represented them on two International Indian Ocean Expeditions. While in Bombay after the second of the expeditions, he was offered a post in the Botany Department, University of Washington and the family moved to Seattle and Friday Harbor.
After the dissolution of his marriage, Richard took a sabbatical first to Scandinavia then to Johannesburg South Africa, where he met Fiona Getliffe, faculty member in the Botany Department of the University of Witwatersrand. In 1977, they were married and he brought his bride home to Friday Harbor.
Richard left the University of Washington in 1980 and returned to South Africa for 11 years during which he continued his algal research, while Fiona resumed her teaching career. Both had positions at the University of the Witwatersrand, Johannesburg, then University of Natal, Pietermaritzburg, and finally at Kirstenbosch, Cape Town, headquarters of the National Botanical Gardens.
In 1989, Richard received an invitation to join an old friend, Isabella Abbott, University of Hawaii, in research on local seaweeds. Fiona found employment as curator of the Herbarium at the Bishop Museum, Honolulu.
At the end of his contract, they moved to Fort Worth, Texas where Fiona was appointed curator of the Herbarium at The Botanical Research Institute of Texas.
Richard's horticultural hobby became a part-time job at the Fort Worth Botanic Garden, where he enjoyed their Japanese Garden — the best in the country, in his opinion. It was during that time he became a Master Gardener, but on retirement to Friday Harbor, he repeated the course more suited to local conditions, so Fiona joined him.
A hallmark of Richard's career is his fascination with all types of algae and collaboration with colleagues from all over the world. In 1984, he and U.K. colleague David Hibberd identified and established a new Division (Phylum) of organisms that Richard had collected and cultured from the Gulf of California. In recognition of his contribution to the field of phycology, colleagues have bestowed the honor of naming genera and species of algae for him.
Colleague Mike Wynne, University of Michigan, has written this about Richard's career: "His papers cover the 'water-front': systematics, morphology, ecology, ultrastructure, and culturing and life-history studies. In the current age of specialization, it is rare that a researcher carries on such a broad perspective on the algae, and Rich Norris is such a rare individual."
Details of his varied career are chronicled by Mike in the following article, page 14, "Phycological Trailblazer": http://www.psaalgae.org/docs/newsletters/vol48_no1_2012.pdf.
Richard Norris leaves behind a legacy of scholarship in his published papers and his contributions to UW Friday Harbor Labs, such as the Zoo/Bot course he and friend and colleague Eugene Kozloff introduced in 1973. He is missed by his graduate students and colleagues scattered all over the world who recall his mentorship, sense of humor, and his hats!
He also leaves a legacy in horticulture in the lovely gardens he created wherever he settled for more than a few weeks. He will be greatly missed by the gardening community in the islands for his guidance during Master Gardener training, and his painstaking care with plant identification.
He is mourned by his wife, Fiona, son Rick and partner Wendy Dernbach, his daughter-in-law Teri Wingate, his daughter Laura, son-in-law Ken Crawbuck, and his grandchildren, Michael Norris, Claire and Graham Crawbuck. He will be remembered fondly by his extensive South African family, Fiona's three sisters and their husbands, and their children, who loved their Uncle Richard.
A celebration of his life will be held in The Commons, Friday Harbor Labs, at 4 p.m. on Sunday, Aug. 11.
In lieu of flowers his family suggests donations in his memory be made to the Marine Science Fund or E.S Morse Institute, both at UW Friday Harbor Labs.
— Family of Richard Norris