Our research targets the development and physical characterization of new functional inorganic materials, with particular focus on magnetically doped semiconductor nanocrystals and thin films.
Synthesis: Transition-metal-doped inorganic semiconductors, often referred to collectively as diluted magnetic semiconductors (DMSs), are currently attracting widespread attention for their potential role in spin-based electronics ("spintronics") technologies. Although the compositions of DMSs are known to govern their magnetic properties, the study of DMSs by chemists has been limited due to inaccessibility of the high-vacuum deposition methods usually employed for their preparation. We are developing direct wet-chemical synthetic routes for preparation of freestanding nanocrystalline DMSs and DMS thin films.
Spectroscopy and Magnetism: We are using dopant-ion-specific analytical and electronic structural spectroscopic probes to explore the physical properties of DMS nanocrystals and thin films. Techniques include electronic absorption, magnetic circular dichroism (MCD), resonance Raman, X-ray absorption, photocurrent, and electron paramagnetic resonance (EPR) spectroscopies and magnetic susceptibility. Magneto-optical spectroscopies are used to measure excitonic Zeeman splittings of DMSs, from which information about carrier-dopant magnetic exchange can be determined. These spectroscopic studies are supplemented by theoretical ligand-field and other electronic structure analyses.
Functional Properties: We are taking a broad, multi-faceted approach to discovering methods for harnessing the physical properties of these DMSs, ranging from simple chemical perturbations to more sophisticated electro- or photochemical carrier generation, quenching, or dopant spin-state control. Each strategy plays an important role in the development of a comprehensive understanding of the magnetic and photophysical properties of this class of materials, and each also brings us closer to the application of these materials in spintronics or photonics devices.
Want to learn more? Check out the publications page.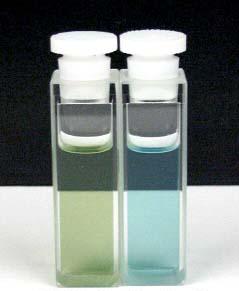 colloidal ZnO DMS quantum dots