Volume 5, Issue 6 | June 2018

Local Wonders: Nature in Watercolor and Ink
by Rosemary Washington

opens June 2 at the Miller Library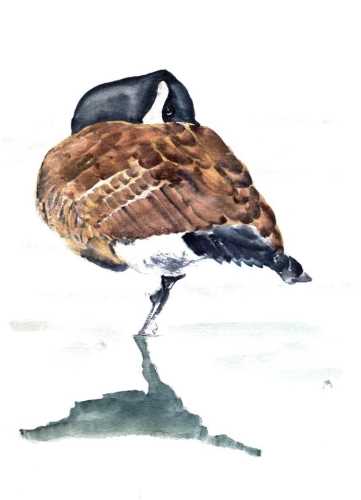 Rosemary Washington picked up a paintbrush and started painting when her daughter left home for college. Rosemary considers herself a true amateur, who paints for the love of it. She has lived in Seattle for over 35 years and calls the Pacific Northwest her home. In 2017 Rosemary was awarded a week-long art residency on Mallard Island through the Ernest C. Oberholtzer Foundation. She was the poster artist for the Miller Library's 2018 Garden Lovers' Book Sale. In addition to painting, Rosemary loves books and reading, taking photographs, and working at the Seattle Public Library. See more of her artwork, photographs, and writings on her
Chapter Two
blog.
Leaflet
readers are invited to meet the artist at an reception she is hosting here in the library on Thursday, June 7, from 5 to7 pm.
Ecological Literacy
reviewed by Dorothy Crandell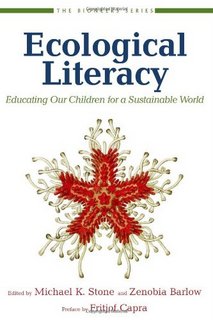 When is the right time to re-read a classic? When the message is compelling and more urgent than ever, as is the call for ecological literacy. Political and business leaders as well as students at all levels of the education system need to fully recognize that the earth is a complex system of interrelationships – geographic, economic, ecological, and sociopolitical. We are all members of this community of life, and need to do our part accordingly.
Ecological literacy: Educating Our Children for a Sustainable World
is edited by Michael J. Stone and Zenobia Barlow of the Center for Ecoliteracy, Berkeley, California. American educator David W. Orr and physicist Fritjof Capra coined the term ecological literacy in the 1990s to mean understanding the principles of organization of ecological communities and using those principles for strengthening human communities.
The book features contributions from a range of distinguished writers and educators, such as Wendell Berry, Malcolm Margolin, Alice Waters, as well as David Orr and Fritjof Capra, who share their knowledge and empathy for how the world works and makes life possible. At the basic level, it helps educators weave themes of ecology into their teaching from many perspectives. The book sections include Vision, Tradition/Place, Relationship, and Action.


Published by Sierra Club Books, this book calls upon us to refresh, strengthen, and expand our solution-oriented thinking for a sustainable world. The action of one individual can make a great difference in the well-being of the earth. It is time for each of us to renew our commitment.
Botanical Shakespeare: an illustrated compendium
by Gerit Quealy and Sumié Hasegawa-Collins
reviewed by Jessica Anderson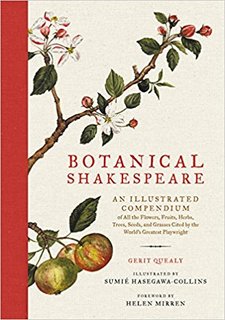 If you are attending outdoor Shakespeare plays this summer and enjoy plants,
this book
is for you! With the collaboration of the noted Japanese artist Sumi
é
Hasegawa-Collins, Gerit Quealy provides an alphabetical portrait gallery of plants –
The Botanicals.
You can discover Shakespeare's flowers, fruits, herbs, trees, seeds, and grasses. Quotations beside the drawings of the plants themselves allow us to experience their "faces" in fascinating and helpful ways. For example, cockle, a flowering weed found in wheat fields, is metaphorically used to describe corruption. It is mentioned by the frantic Ophelia in
Hamlet
and the raving Jailer's Daughter in
Two Noble Kinsmen
.
The foreword is by Helen Mirren, who has taken on many Shakespeare roles, including switching up the male character Prospero in The Tempest. Mirren notes her love of gardening began during her time with the Royal Shakespeare Company in Stratford.


This book is pure pleasure: you can thumb through and find a quotation about your favorite plant or learn something new in Botanicals Defined: Syllabic Sketches at the back of the book. I learned that beans seem to suffer from a low reputation in Shakespeare, and are often used as horse feed or food only fit for the poor. The glossary illuminates the history of Shakespeare's era with facts, plant lore, anecdotes, and clever illustrations. For example, the entry on the "Barnacles" mentioned in The Tempest tells of a fourteenth century traveler's tale, accepted by John Gerard, about geese that developed in barnacle-like pods on a tree. We now know that barnacle goslings are hatched by mother geese on islands in the Arctic, but Shakespeare's "Barnacles" would have alluded to a strange plant/shellfish/bird chimera. The most impressive part of this book is how frequently plants arise in William Shakespeare's work.


This labor of love was inspired in part by Gerard's
Herball
as well as
Shakespeare's Plants and Gardens: A Dictionary
by Nicki Faircloth and Vivian Thomas
.
On our wish list, this 2014 dictionary is not currently available in local libraries. The author also cites Henry Ellacombe's
The plant-lore and garden-craft of Shakespeare
, which has been made available electronically at Archive.org by University College London.
summer hours

The Miller Library will be closing at 3 pm June 21 and
22,
and closed Saturdays for the summer beginning June 23. We will be open 12-8 pm each Monday from June 18 through September 17. The library will be closed July 4 and Labor Day (September 3). We will stay open until 7 pm on June 7, June 13, and August 2. You'll find the full schedule and information for visitors on our
website
.
© 2018 University of Washington Botanic Gardens