VOLUME 5, ISSUE 2 | February 2018

Carbon
Storylines
by Rachel Lodge shown through February 27
In this exhibit, Rachel Lodge explores the carbon cycle through hand-drawn, science-based images and animation excerpts that portray the flow of carbon through natural systems as well as our own fossil fuel emissions. Using simple visualizations of phenomena that are mostly too small or too large for our ordinary human perception, she explores the movement of carbon through photosynthesis, carbon cycling in the ocean (e.g., through plankton, krill, whales), exchange of carbon and oxygen through trees, even human breath and our own bodies. By bringing some of these processes more fully into imagination the exhibit invites viewers to consider themselves as carbon stewards whose actions have planetary significance.

The exhibit will also present a series of carbon-based objects including forest tree ring samples from North Cascades National Park.

Rachel began exhibiting her work in 1990. Her earlier work includes figurative and landscape painting and small painted sculpture. She began working with animations of carbon and climate-related imagery in 2014; her first animated video was created for Seattle non-profit Climate Solutions. Her artwork has appeared in group exhibitions in California and Washington, including Yosemite National Park, the Sonoma Museum of Visual Art and the Bainbridge Island Museum of Art. Her animations have been shown at the Living Future Unconference and the Burke Museum. Her previous solo exhibit was at Edmonds Community College.

Sustainable Stormwater Management
by Thomas Liptan
reviewed by Brian Thompson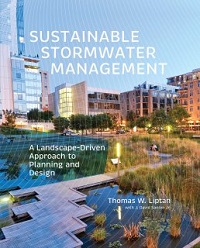 Thomas Liptan introduces his new book,
Sustainable Stormwater Management
, by recounting an
aha!
moment early in his career as a landscape architect. While working on a parking lot design, the project's engineer urged putting the water "in the landscape." That is what they did, effectively directing the runoff to shallow gardens for absorption and filtration.
As Liptan's career progressed, he discovered this was very unusual thinking for the time (1978). However, he continued to seek opportunities to further this design concept, his guiding principle being "we continually underestimate the capacity of our built environment to manage rain and runoff, just as we underutilize rainfall's benefit to soil and plants."


This book is an easy-to-read summation of the lessons the author has learned over his career, and is recommended for anyone considering stormwater management projects, large or small. He is both upbeat in encouraging innovation and pragmatic in the need to have results that are functional, economically sound, long-lasting, and look good.


Most engaging are the many case studies and the practicalities of choosing plants and structural materials. Liptan has worked in Portland for many years and uses this city for many of his examples. Given our similar climate, rainfall, and interest in sustainable development, this is an excellent book for projects in the Seattle area, too.
Miller Library thesis collection continues to grow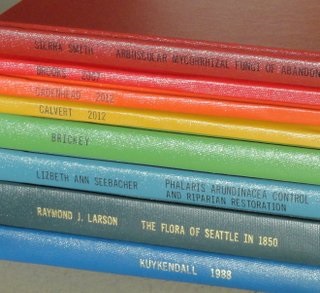 Do you know about the Miller Library's
thesis collection
? Check out this local resource, featuring the research and scholarly work of past graduates in the academic programs here from the 1980s until today.
If you're a student, please remember to send us an electronic copy and a printed copy when your thesis is complete We'll take care of the binding and add your thesis to our collection, making your research results available online and preserving your work for posterity!
The Miller Library is open for browsing and research 49 hours each week.
You'll find the full schedule and information for visitors on our
website
.
© 2017 University of Washington Botanic Gardens