VOLUME 5, ISSUE 6 | June 2018

Local Wonders: Nature in Watercolor and Ink
in the Miller Library June 2-29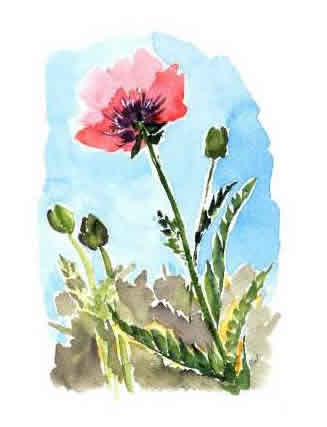 Rosemary Washington picked up a paintbrush and started painting when her daughter left home for college. Rosemary considers herself a true amateur, who paints for the love of it. She has lived in Seattle for over 35 years and calls the Pacific Northwest her home. In 2017 Rosemary was awarded a week-long art residency on Mallard Island through the Ernest C. Oberholtzer Foundation. She was the poster artist for the Miller Library's 2018 Garden Lovers' Book Sale. In addition to painting, Rosemary loves books and reading, taking photographs, and working at the Seattle Public Library. She posts her artwork, photographs, and writings on her blog,
Chapter Two
.
Readers of
Leaflet for Scholars
are invited to meet the artist at a reception she is holding June 7, from 5 to 7 pm, here in the library.
A New Garden Ethic
by Benjamin Vogt
reviewed by Dennis Saxman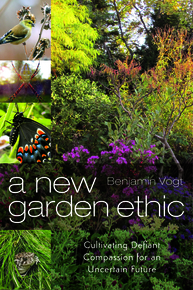 Editor's note: Dennis Saxman is a Seattle community gardener and frequent researcher at the Miller Library.
I recently read and returned a new book to the Elisabeth C. Miller Library:
A New Garden Ethic: Cultivating Defiant Compassion for an Uncertain Future
by Benjamin Vogt. As I told Laura Blumhagen, this is one of the most important books I have ever read. Bear in mind, I read about 100 nonfiction books a year and I'm not easily impressed. It reminds me of Aldo Leopold's Sand County Almanac, but I find it even better written. In just 163 pages, it contains a rich world that eloquently presents the complexity of our gardening landscapes and practices. Reading the book feels as if you are speaking with its author, and as if he were a lifelong friend. Part history, part memoir, part genealogy, this book conveys a deep sense of its author and of place. It is so absorbing that I bought a copy for my own collection, anticipating sharing and re-reading it.
The author begins with the exposition of a new garden ethic: moving beyond a preoccupation with beautiful trees and flowers to gardening as if other species and other ecosystems mattered. And, of course, they do, as we are coming to realize rather late in the age of global warming. Our gardens matter, and how we tend them matters. Vogt points out that the new garden ethic goes beyond just planting natives to include the preservation of spaces for birds and insects. His third chapter explains why we believe what we believe about gardening and landscape. The fourth chapter includes a brief but informative overview of historic landscape design and public gardens and parks, offering examples of places that he considers exemplars of a new garden ethic.


The book ends with the challenge and plea to learn new languages, for example, from insects and birds, and to change our gardening practices to move beyond beauty to the support of an entire world, inhabited by many other species. Don't miss the delight of reading this thought-provoking book!
Chinese medicinal plants, herbal drugs and substitutes: an identification guide
by Christine Leon and Lin Yu-Lin
reviewed by Brian Thompson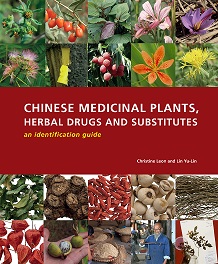 "Herbal drug ingredients (materia medica) are pivotal to the practice of herbal Traditional Chinese Medicine (TCM), an integral component of China's national healthcare system." After this introduction, the authors of
Chinese Medicinal Plants, Herbal Drugs and Substitutes: An Identification Guide
discuss the rising global demand for these medicinal plants and their drugs and the need for their proper identification and descriptions in English.
I first read this book with some skepticism. Is it just a well-produced guide to medicines based on folklore? Several facts changed my opinion.
All identified drugs are in the Pharmacopoeia of the People's Republic of China as compiled by that country's Ministry of Health. The authors are at two prestigious organizations that worked together for fifteen years on this project. Christine Leon is at the Royal Botanic Gardens, Kew and Lin Yu-Lin is at the Chinese Academy of Medical Sciences. This collaboration and the depth of scholarship convinced me of the academic merit of this work.
This is not a small field guide. Large in physical dimensions and over 800 pages, it is a major reference work describing both the living plants and the harvested and prepared parts used in medicine. The cross-referencing, especially between Chinese and Western traditions, is extensive. I recommend it to anyone working with or interested in traditional Chinese medicine.
summer hours

The Miller Library will be closing at 3 pm June 21 and
22,
and closed Saturdays for the summer beginning June 23. We will be open 12-8 pm each Monday from June 18 through September 17. The library will be closed July 4 and Labor Day (September 3). We will stay open until 7 pm on June 7, June 13, and August 2. You'll find the full schedule and information for visitors on our
website
.
© 2018 University of Washington Botanic Gardens