City, State, & Community: The Arboretum Agreement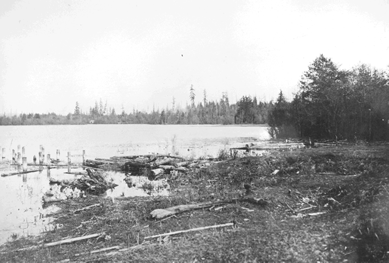 Lake Washington, Seattle Washington. Washington Park. Foster Island. View from E. Montlake Park, 1903
Photo courtesy of City of Seattle Municipal Archives 30538
On September 6, 1934, a group of Arboretum enthusiasts, including Dean Winkenwerder, Mr. and Mrs. Loren Grinstead, Herbert Ihrig, and others, met with the Board of Parks Commissioners to discuss the development of the University Arboretum. As a result, a committee was appointed to make concrete recommendations on the development and financing of the Arboretum. On December 6, 1934, the Board of Parks Commissioners and the University's Board of Regents signed an agreement to officially establish the Arboretum.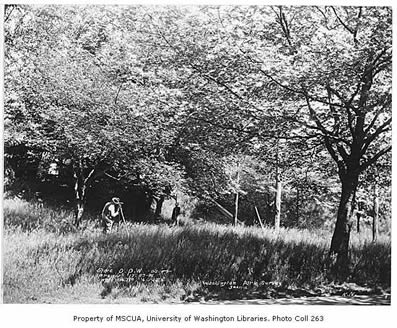 Surveyors in Washington Park, later known as the Washington Park Arboretum, 1935
Courtesy of University of Washington Special Collections, UW587
Under that agreement, the land in the Arboretum is owned by the City of Seattle. The City retains the right to use the area as a park and is responsible for streetlights, road maintenance, running water, and police protection. Further, the city provides groundskeeping services for the Arboretum. The agreement requires that the University's development of the arboretum promote visitation by the general public and use of the space as an arboretum and botanic garden for scientific study for the enjoyment and benefit of the citizens of the state.
Forty-four years after Edmond Meany envisioned a living museum of trees on the University campus, the agreement made the development of Washington Park as an arboretum possible. Tragically, Meany died on April 22, 1935, long before ground would be broken on that development.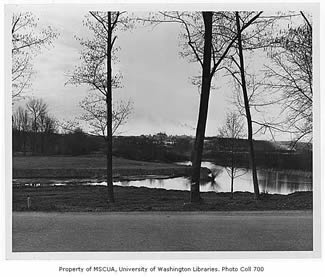 View of Campus from Arboretum, 1949
Courtesy of University of Washington Special Collections, UW19987z
As before, when Winkenwerder sought approval for an arboretum on the south end of the campus, funds to develop it were elusive. Though the University became a partner in the Arboretum in 1934, it did not allocate any funding to the Arboretum until 1943. Money was sought from the federal government to begin the project. In order to receive federal funds, the project was required to have a financial sponsor to provide seed money and a development plan. The Seattle Garden Club provided $3,000 to fund the development of a master plan for the Arboretum in 1934. In 1935, the Arboretum Foundation was established to provide the financial sponsorship required.
The Foundation continues as a fundraising, non-profit organization for the Arboretum to this day. When a leaf is attached to a tree it belongs to the University of Washington. As soon as it falls to the ground, it becomes the property of the City. Along with the Arboretum Foundation, these partners ensure that the leaf is nurtured throughout its lifecycle.