Horses, Cars, & Guns: Sport in the Arboretum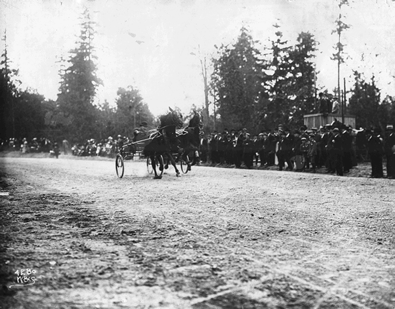 Azalea Way Speedway, 1908
Photo courtesy of City of Seattle Municipal Archives 30553
The development of a speedway for harness racing began almost immediately after Washington Park was acquired by the City. In 1906, the Park Commissioner's report noted that a "speedway is being constructed, extending from the junction of the two driveways east of the Washington Park Driveway to Union Bay, a distance of three-quarters of a mile, the fund for its construction being raised by private contributions, solicited by an organization of the horse owners of the city." The speedway was created on what is currently Azalea Way. In 1908, the contributions totaled over $9,000 and the horse owners formalized their association as The Speedway Organization.
By 1913, the popularity of harness racing had waned. A park report from that year cites the advent of the automobile as the reason for the decline in interest. However, horseback riding continued to be a popular activity on the Park's trails until the Arboretum was formally established in 1934.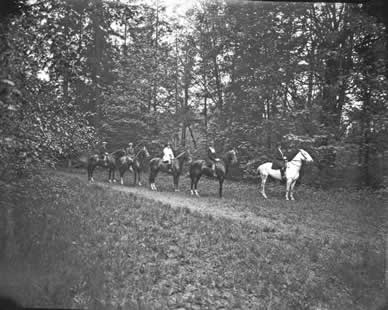 Washington Park, 1922
Photo courtesy of City of Seattle Municipal Archives 30555
Other outdoor enthusiasts turned their eyes toward the Washington Park Arboretum in the wake of the harness racing track. The Seattle Gun Club established a trap shooting range on Foster Island in 1920. The State intervened, however, and outlawed shooting firearms within a mile of Lake Washington.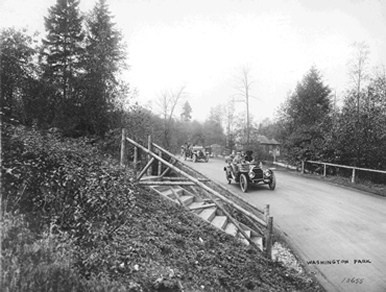 Azalea Way Speedway, 1908
Photo courtesy of City of Seattle Municipal Archives 30553
The Seattle Archery Club used the northern end of the park, between Washington Park Boulevard and the speedway, as an archery range. In 1934, the club wrote to the City's Board of Parks Commissioners to describe their current use of the area and to request permission for additional use: "By permission of the Park Board, we established in Washington Park an Archery Range. This has worked out as a most satisfactory location due to the fact that it is remote from any playfield and any possible interference with the public in general, but at the same time is so located that travelers on the boulevard can have an opportunity to watch this sport… . We are not asking for any expenditure by the Park Board at this time, but rather that you will set aside this location as an Archery Range, giving us permission to develop it with whatever means may be available. This will be done in cooperation with your engineers and to harmonize with the arboretum project." The Parks Board was not swayed by the appeal, and the archery range was never developed.