Prophet, Agitator, Statesman Edmond S. Meany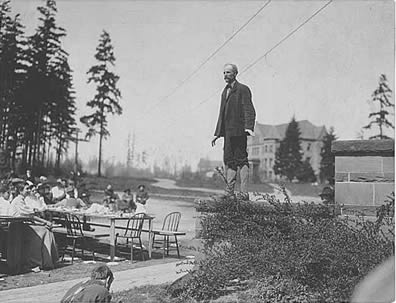 1907 Campus Day Showing Edmond Meany Addressing Students, 1907
Courtesy of University of Washington Special Collections, UW20414z
The Washington Park Arboretum would not exist without the tireless efforts of Edmond S. Meany.
Meany was born in East Saginaw, Michigan in 1862. He moved to Seattle at the age of fifteen with his family. Like Meany at the time of his arrival, Seattle was still young. The University of Washington, where he would attend college, was then called the Territorial University and was located in present-day downtown. He graduated valedictorian, with a bachelor's degree in science in 1885. He went on to earn his master's degree in science in 1889.
Meany was a staunch lover of the outdoors, and he envisioned an arboretum on the campus of the University. He was elected to the state legislature in 1891. In this capacity, he pushed for a new campus site on the north shore of Lake Union. A shrewd statesman, Meany understood that he would need the support of the timber industry in order to attain his vision of a new site for the University. He pointed out the benefit of having a living classroom for the study of both horticulture and economic forestry. Meany's dream of a new site for the University was not realized in his first term.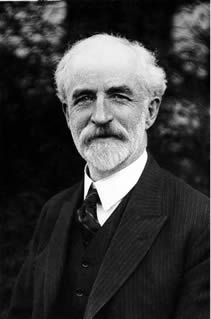 Edmond Meany
Courtesy of University of Washington Special Collections, UW3369
Herbert T. Condon, who served the University in various capacities, including as Dean of Students and Secretary of the Board of Regents, said of Meany: "Someone has said that every worthwhile innovation has required the abilities of a prophet, an agitator, and a statesman. Meany seemed to combine these three attributes..." Meany's pursuit of the new campus grounds was unshakable.
Meany was elected to a second term in 1893, and he attempted to convince the legislature to vote for the purchase of 583 acres of forest between Lake Union and Lake Washington. He saw this as the ideal location for both the University and an arboretum.
According to Dean Condon, Meany "thought he had convinced all of the legislators concerned excepting one man whose doubts he could not understand until this man sought an interview and inquired, 'Meany, I believe in education and want to help out with this bill but before I vote on it, I want to know one thing - what in hell is an arboretum?' He was satisfied with the explanation and voted 'aye.'"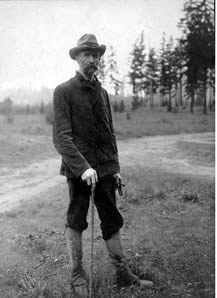 Edmond Meany, 1906
Courtesy of the University of Washington Special Collections, UW2116
When the University opened at the new location on September 4, 1895, the campus was designated as "Grounds and Arboretum." After his terms as a legislator, Meany became a history professor and lecturer in forestry at the University. He taught from 1897 to 1932 and was known by many as "The Father of the University." Meany worked with University gardeners and students to plant trees on the campus. He also established a seed exchange program with foreign botanic gardens including Kew Gardens in England. Irrigation on the campus had not been established. Meany and students would carry pails of water from as far as two blocks away to water seedlings in Meany's own garden, which would then be transplanted to the campus grounds.
Meany was a major proponent of bringing the Alaska-Yukon-Pacific Exposition to the University's campus in 1909. Ironically, this led to the clearing of many trees on the campus, some of which Meany himself had planted, for construction of buildings. One of the few trees to survive the campus clearing is the sequoia that stands today near Smith Hall.