False Starts: Early Development of an Arboretum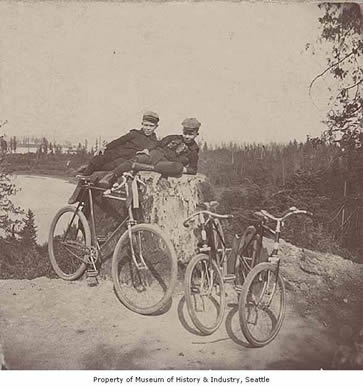 Boys with Bicycles above Portage Bay, 1895
Courtesy of Museum of History and Industry, SHS6349
In keeping with Edmond Meany's dream, an arboretum was an integral part of the new University campus when it opened between Lake Union and Lake Washington in the fall of 1895. In fact, on opening day, the University's campus was designated "Grounds and Arboretum."
The first curator of the University Museum (which became the Burke Museum) was Henry H. Hindshaw, a Chicago landscape architect. Hindshaw was given the additional title of "Curator of the Arboretum" and made his first report in that role on August 20, 1894, a full year before the new campus actually opened.
In 1898, the Seattle City Park Department gave the University fifty oak trees and fifty honey locust trees to commemorate Arbor Day. Colonel Alden J. Blethen, chairman of the committee on buildings and grounds for the University said, "At this rate of progress it will be but a few years before the University will have an arboretum as fine as any possessed by colleges and universities anywhere in the world. The educational value of such an arboretum is quite apparent to anyone who comprehends the progress being made in the science of botany and forestry."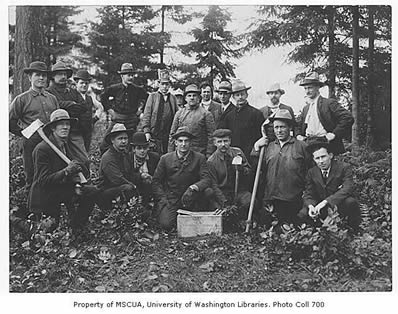 Campus Day showing students in wooded area, University of Washington, 1906
Courtesy of University of Washington Special Collections, UW20403z
Sadly, the early development of an arboretum was never fully realized. By 1906, the University shifted its focus to expanding its buildings on campus. During this time all reference to developing the campus grounds as an arboretum disappeared from catalogs and publications.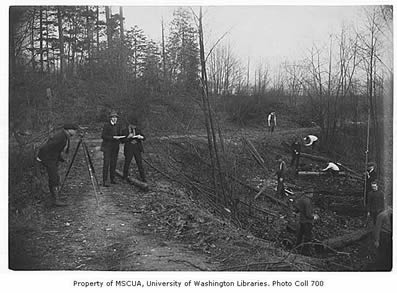 Forestry students working in the field, University of Washington, circa 1910
Courtesy of University of Washington Special Collections, UW6342
In 1909, clearing of the campus grounds began, to make room for the Olmsted Brothers plan for the Alaska-Yukon-Pacific Exposition. Space was needed to build paths, roads, and buildings for the exhibition. The unfortunate casualties of development were Meany's early plantings, which he and his students had so diligently hauled water to nurture. In lieu of the campus grounds, Dean Hugo Winkenwerder, with Meany's support, proposed developing the southern end of the campus as an arboretum. University President Franklin Kane originally approved the idea, but a lack of funds prevented development and the proposed location was never planted.