The Ditch and the Cut: History of Washington Park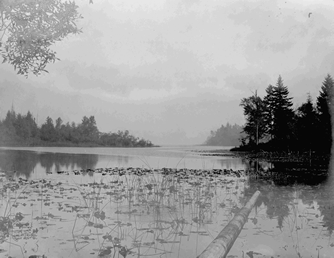 Foster Island, 1904
Courtesy of the City of Seattle Municipal Archives, 30539
Before assuming its new role as an Arboretum, Washington Park had a varied and interesting history. The northern portion of Washington Park was once a narrow isthmus that connected the Montlake area with present day University grounds. Native Americans and early settlers had to portage their canoes across this land when traveling between the two lakes.
Before contact, the Duwamish tribe used the area heavily. A village was located east of the mouth of Arboretum Creek, called "Slalal", the Duwamish word for "Fathom." Foster Island was reportedly a burial ground. The Duwamish burial methods called for placing the bodies of the dead in trees. Sometimes they were placed in a canoe in the tree. Because of these burial methods, bones of the dead were scattered extensively and evidence of the burial sites no longer exists.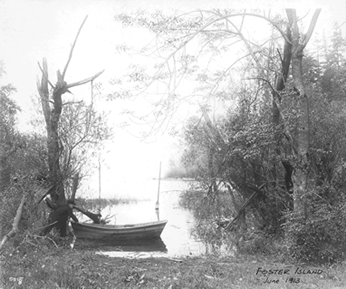 Foster Island, 1913
Courtesy of the City of Seattle Municipal Archives, 30551
Construction of "The Ditch" began in 1861 when Harvey Pike started hand excavation on land between Lake Washington and Lake Union's Portage Bay. Pike soon gave up the project and deemed the land to the Lake Washington Canal Company, which was run by Judge Thomas Burke, in 1871. Under Burke's direction, the Ditch was widened and deepened for use as a log sluice, though it was not sufficient to permit boat passage.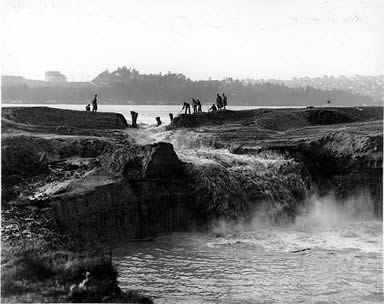 Letting Lake Union Into the Lake Washington Canal, December, 1913
Courtesy of the University of Washington Special Collections, UW2382
King County began construction on the Montlake canal, known as "the Montlake Cut," in 1910. A water gate was built to control the water level in Lake Washington. A dam was built on the western side, facing Lake Union, and excavation commenced. In 1917, the two bodies of water were joined. Water rushed out of Lake Washington into Lake Union, which lowered the level of Lake Washington by nine feet.
The lowering of the lake level increased the size of Washington Park. Foster Island also grew. Once a tiny island, it gained in area substantially from both a lower shoreline and the dumping of earth from the ship canal excavation.