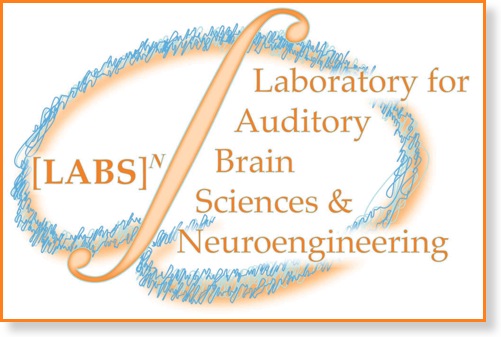 Principal Investigator: Adrian KC Lee, ScD
What's on your mind?
This is what we want to know while you are communicating and interacting with the world. We combine magneto- and electro-encephalography (M-EEG) along with magnetic resonance imaging (MRI) to map the spatio-temporal dynamics of the cortical network involved in

Attention: object selection and scene analysis (e.g., listening to your friend in a crowded restaurant);
Executive control: decision making and error monitoring (e.g., real-time control of a wheel-chair through a Brain-Computer Interface).
Searching for neural biomarkers
We seek to discover distinct brain signatures that can be used to classify different brain states (coined as "neural biomarkers"). Our goal is to combine this neuroscience knowledge with state-of-the-art engineering approaches to design next-generation Brain-Computer-Interface devices that enable users to dynamically tune their prosthetic devices using only their minds. Imagine!



If you're interested in participating in any of our projects as a subject, please see our informational flyer.
RECENT PUBLICATIONS
04/10/2013: Accepted: Wronkiewicz M, E Larson, AKC Lee (2013). "Towards a next-generation hearing aid through brain state classification and modeling," IEEE-EMBS, Osaka, July 3-7, 2013. (Symposium co-organizer, Neural Engineering in Speech & Hearing)
01/07/2013: New feature article appeared in Audiology Today: Lee, AKC, M Drews, RK Maddox, E Larson (2013). "Brain Imaging, Neural Engineering Research, and Next-Generation Hearing Aid Design," Audiology Today, 25(1): 40-47.
12/16/2012: Accepted: Lee, AKC, Rajaram S, Xia J, Bharadwaj H, Larson E, Hämäläinen M, Shinn-Cunningham BG. "Auditory selective attention reveals preparatory activity in different cortical regions for selection based on source location and source pitch." Frontiers in Neuroscience.
More publications here
RECENT TALKS
01/31/2012: Adrian KC Lee was invited to speak at the International Symposium on Cognitive Neuroscience Robotics, Seattle, USA, Jan 31-Feb1 2013
06/12/2012: [LABS]N just visited Microsft Research, Redmond with Adrian KC Lee giving an invited talk (MSR video). Looking forward to collaborating with MSR in future neuroscience projects.
06/01/2012: Adrian KC Lee will join other faculty members in running the Telluride Neuromorphic Cognition Engineering Workshop, with a special topic area of "Human Attention in the Machine" for 3 weeks. See you in CO from July 2!
More talks here
NEWS & EVENTS
05/21/2013: Michelle Drews, our student last summer from the UW Computational Neuroscience Training Program has been awarded the 2013 President's Medal, given to the graduating senior who has achieved the most distinguished academic record at the university. Congratulations, Michelle!
05/17/2013: Adrian KC Lee has been invited to give a talk at the NCRAR Monthly Seminar Series on May 17th in Portland, OR, entitled "Peripheral and Cognitive Factors to Consider in a Coctail Party."
05/16/2013: Congratulations to Christa Dodson on her excellent poster at yesterday's Colloquium.

PEOPLE
05/16/2013: We welcome our new research study assistant, Garrett Thomas, to our lab. 04/11/2013: We welcome our new research study assistant, Ya Gao, to our lab. 04/10/2013: We welcome Rona Ding (SPHSC Year 3), to our lab. More about people here