The 1997 backpacking trip was to the Mount Baker Wilderness Area and one of the most beautiful spots on the entire Nooksack Crest, the Yellow Aster Lakes.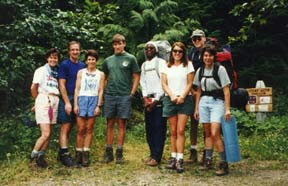 On Friday morning, August 15, we gathered at the Keep Kool Trailhead, which mocked us as we made our first mile along a grown-over logging road that gains 1,200 feet in elevation.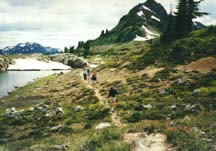 After the first mile, the climb relented up to 4,700 feet and eventually flattened out to a flowered meadow with stunning views and fresh creeks. One mile later, we settled into a camping spot surrounding by lakes and ponds too numerous to count.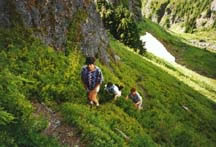 We spent the next two days enjoying warm weather, spectacular views, refreshingly cool nights, and moonlight hikes. Some of us even scrambled to the summit of Tomyhoi Peak at 7,451 feet!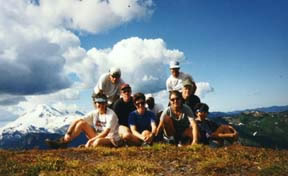 Despite the bugs being out in full force, especially according to Brandon, this was another successful lab trip for the McKnight Lab.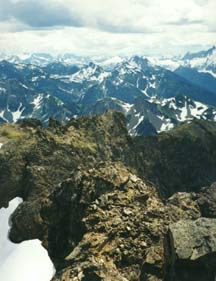 Read about our 1999 trip to Camp Muir and our 1998 Backpacking Adventure.