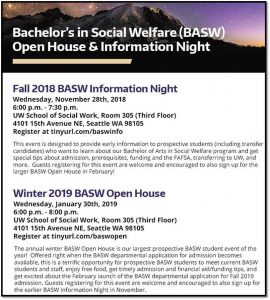 Social workers serve in mental health clinics, nonprofits, hospitals, schools, community agencies, etc. to help people and enhance the quality of life for all – especially those most vulnerable and oppressed.  They value a person-in-environment, systems theory approach and employ a uniquely holistic, strengths-based social work lens rooted in social justice activism.
Students are admitted to the Social Welfare major only once per year, to begin in September. Autumn 2019 departmental BASW admission applications will be available this February, with an April deadline; see this page for prerequisites and application info.
The UW School of Social Work (Seattle) welcomes prospective Bachelor of Arts in Social Welfare (BASW) students to join them for two upcoming events:
BASW Information Night: November 28th, 2018 | 6:00-7:30 p.m. | School of Social Work, Room 305
BASW Open House: January 30th, 2019 | 6:00-8:00 p.m. | School of Social Work, Room 305
Please see this page for event details, and to register. Guests will enjoy free food and get BASW application tips as well as info about funding and coursework, plus eligibility for a special 10-month Advanced Standing Master of Social Work degree.