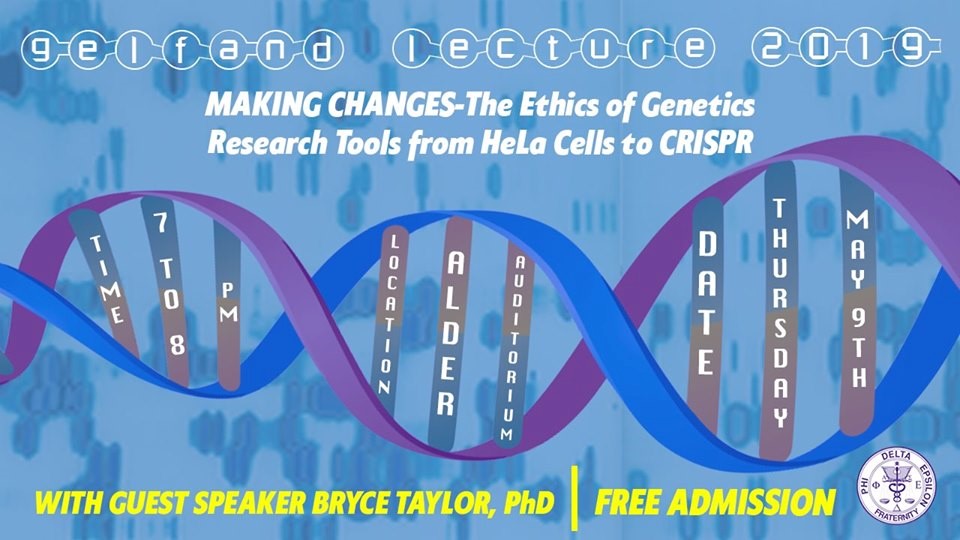 Phi Delta Epsilon International Medical Fraternity is proud to announce the topic of their third annual William Gelfand Lecture on Thursday, May 9th: "Making Changes – The Ethics of Genetics Research Tools from HeLa Cells to CRISPR."
Their speaker is Dr. Matthew Bryce Taylor, Ph. D., a senior fellow at the Dunham Lab at the University of Washington Department of Genome Sciences.

The event is completely FREE and is open to the UW community and general public. Doors open at 7:00 pm and light refreshments will be provided.
This is WA Alpha's third lecture as part of their annual William Gelfand Distinguished Lectureship series. This lectureship was created to honor a long time member of Phi Delta Epsilon International Medical Fraternity, and is designed to educate the community on new discoveries in the medical field.

Phi Delta Epsilon is the first and only co-ed medical fraternity at the University of Washington, Seattle and in the state of Washington. They have a life-long commitment to creating physicians of integrity, supporting a new generation of health care professionals, and addressing the complex agendas of today's men and women seeking careers in medicine.
Interested in joining Phi Delta Epsilon or want to learn more about our organization? Visit our website www.phideuw.com