Autumn 2013–
Winter 2014
From the Director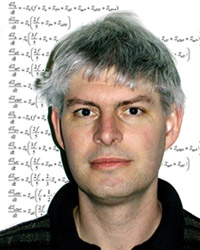 André Punt (Photo by M. Duke)
Welcome to 2014 everyone! It is cold and wet as I write this, but the warmth is not far away now that a good portion of the winter is behind us.
In this issue, we introduce our newest faculty member Gordon Holtgrieve, who transitioned from a UW postdoctoral appointment to an assistant professorship last September. Many of you know Gordon from when he was a graduate student studying with Daniel Schindler. Our article highlights Gordon's path from auto tech and roadie to SAFS professor.
SAFS faculty, students, postdoctoral fellows, and staff conduct cutting-edge research on critical issues such as ocean acidification, which is likely to have a profound impact on marine and freshwater ecosystems and those who depend on these systems. This area of research and policy will continue to grow as the public realizes how little is known about how ocean acidification will impact marine biota, and whether ecosystems will be able to adapt.
I am delighted to announce that the 2014 Bevan Series—April 24–25—will be a symposium dedicated to the Magnusson–Stevens Act and its upcoming reauthorization. The Act has been a shining example of effective management by including the public in fisheries decision-making and implementing plans for rebuilding overfished stocks. Many UW people, past and present, have helped craft the Act and implement its provisions. SAFS Professor and Director Emeritus David Armstrong and the symposium organizing committee—comprising UW faculty, industry, and environmental community members—have identified speakers who represent the past, present, and future of fisheries management. For more information, see the Bevan website.
Most of our MS and PhD graduates are employed by state, federal, and tribal agencies, where they conduct research and implement policy. A brave few join the academic community. This newsletter profiles two graduates who now hold faculty positions, Kristy Forsgren (PhD 2010) and Milo Akdison (PhD 1994).
On a somber note, SAFS Emeritus Professor, Robert "Bud" Burgner, passed away on 9 January 2014. Bud was one of the pioneers of salmon fishery research in Alaska and the long-time director of the UW's Fisheries Research Institute. Although Bud retired from the UW in 1984, he remained active and involved in the School, working with the Alaska Salmon Research Program and the High Seas Salmon Research Program until the very end. To learn more about Bud's remarkable life and career, please read his memoirs. We plan to have an in-depth article on Bud in our next issue of the newsletter.
We continue to receive your wonderful gifts. Support from alumni, friends, and colleagues is essential, and your generosity is breathtaking at times. Your help allows us to achieve our research and teaching missions. You will recall, Dr. Dayton Lee Alverson passed away in January 2013. I am pleased to announce that an endowment is being established in Lee's memory. We already have several substantial contributions to the endowment, which will support graduate students in SAFS and the School of Marine and Environment Affairs. Please see the UW Foundation webpage to contribute to this endowment.
As always, I hope you enjoy the remainder of winter, and spring and summer, and I look forward to seeing you at workshops, symposia, seminars, and social events over the next months.
Make a Gift