Autumn 2014–
Winter 2015
From the Director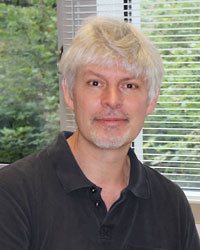 André Punt. Photo by Rachel Faircloth
Ups and Downs at SAFS
Dear alumni and many friends:
On the high front, our faculty and students continue to excel in many ways. For example, 25% of our undergraduate majors were on the Dean's list in fall 2014—as far as I know, the highest SAFS percentage ever. Professor Julian Olden recently followed faculty members Trevor Branch and Julia Parrish in being inducted into the exclusive Aldo Leopold Leadership Fellowship program; Professor Daniel Schindler joins his father as a recipient of the Frank Rigler Award, the highest honor bestowed by the Society of Canadian Limnologists. Finally, four faculty members—Ray Hilborn, Ted Pietsch, Tom Quinn, and most recently myself—are now in the Washington State Academy of Sciences.
Our signature seminar series, the Bevan Series on Sustainable Fisheries, is currently underway under Daniel Schindler's leadership. This year it is focusing on five topical areas, including management of marine mammals, recreational fisheries, and seafood certification. For those of you who missed any of the lectures, they can be downloaded via the website and watched at your leisure. Thanks to Tanya Bevan, the Alaska and Northwest Fisheries Science Centers, and Washington Sea Grant for their continued support of the series.
SAFS faculty, students, and staff remain at the forefront of research addressing issues critical to Washington State and the nation. In this issue, we highlight SAFS research on small pelagic fishes and their fisheries. These fisheries provide some of the largest catches in many regions of the world, yet the fishes themselves are a source of forage for many species that have high commercial and recreational value and are threatened or endangered. Our research is helping to understand the dynamics of these species and how they can be managed, given their many uses.
The strength of the SAFS program is, in part, due to the diversity of our community, evident in the international make-up of our students and alumni. We caught up with four alumni who came to SAFS from Argentina, Nigeria, and Iceland. Three of them have continued on to careers in academia and research, while the fourth has moved into the policy and management arena.
This newsletter includes memoria for two of our emeritus faculty, Al Erickson and George Pigott. They both served the School for decades, mentoring numerous students and advancing the state of science in their respective fields.
Sadly, as we were preparing this newsletter, one of the alumni featured in this issue passed away. José "Lobo" Orensanz was a brilliant scientist in many aspects of natural history, an insightful and passionate conservationist, a committed friend to fishing communities in support of their industries and livelihood, a mentor of generations of undergraduate and graduate students, and a kind and generous friend. Lobo's friends and colleagues have established a SAFS fund to reflect his legacy and commitment to learning. I am delighted that we have already received sufficient gifts to make the Lobo Orensanz Endowed Fund for Student Support a permanent fund and that we will be able to make the first award in Spring 2015. You may contribute to the fund online or by sending a check made out to the "University of Washington Foundation" with "Lobo Orensanz Fund" written on the memo line to:
UW School of Aquatic & Fishery Sciences
PO Box 355020
Seattle, WA  98195-5020
In other sad news, SAFS Research Associate Professor Emeritus Russell Herwig passed away suddenly on January 28, 2015. Russ obtained his PhD from the School in 1989 (John Liston, adviser) and became a faculty member in 1995. Russ was known across campus through his involvement in the Department of Microbiology and at Washington Sea Grant. The research conducted by Russ and his graduate students and collaborators was extensive, and we plan to have a full article on Russ in the next issue of the newsletter.
Finally, a huge "thank you" to all of those who contributed to the school in the last year. Your gifts give us the opportunity to continue to support undergraduate and graduate students, build the program, and explore new ideas. As always, I look forward to seeing you over the next few months.

Make a Gift