Alumni Feature
Bill Dewey
BS, UW Fisheries, 1981
Bill Dewey was born in Worcester, Massachusetts, and grew up mostly in the Berkshire Mountains in western Massachusetts—"Hills, by West Coast standards," he quipped. As a teenager, he cooked in seafood restaurants on Cape Cod and spent many hours on the beaches, gaining an appreciation for marine life and the inspiration to pursue a marine biology degree.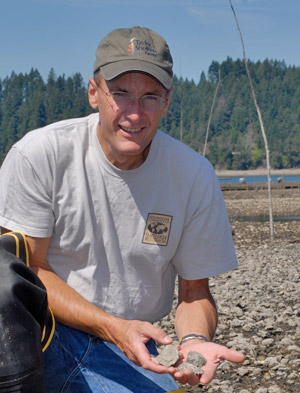 Bill Dewey shows off some Kumamoto oysters on the Taylor Shellfish Farms Chapman Cove farm in Oakland Bay, near Shelton. (Photo courtesy of B. Dewey)
After two years at the University of New Hampshire, Bill packed all his worldly belongings into his Volkswagen Bug and transferred to the UW, enrolling in the (then) College of Fisheries undergraduate program: "The hands-on aspect of a fisheries career was very appealing to me," he explained. Bill had various jobs throughout school, including several as a cook: one at the Smuggler Restaurant on Pier 70 and a summer job at Camp Lonely on the Beaufort Sea. He said, "The Alaska bucks were too good to pass up, so that grew into a year off from school to sock some money away." When Bill graduated, the job market was limited, and he spent several more years cooking on the North Slope.
When Bill was at Fisheries, students were required to focus on two areas of study: "I studied shellfish biology and fisheries management." At that time, undergraduate research (e.g., the Capstone project) wasn't required, but Bill gained valuable experiences at the Manchester Shellfish Hatchery and the Friday Harbor labs, and sampling with trawls on the School's vessel, the R/V Commando.
While taking Hal Beattie's class at UW's pilot shellfish hatchery at the Manchester EPA Lab, Bill became very interested in hatcheries. He said, "After graduating I toured most of the shellfish hatcheries in the country to learn more and considered starting my own in Maine." But then he decided, "It would be better to learn at someone else's expense!"
His Fisheries advisor and mentor, Professor Ken Chew, referred Bill to Dick Steele of Rock Point Oyster Company: "Dick had a business in Dabob Bay on the Hood Canal catching natural set oyster seed for his farm in Samish Bay and for sale to other companies. Natural sets are sporadic, so I was able to convince him to put in a remote setting operation, which I designed in between my 12-hour shifts at Camp Lonely."
Shortly thereafter, Bill was hired by the Rock Point Oyster Company, eventually becoming general manager. When the company was purchased by Taylor Shellfish Farms in 1991, he stayed on and, in 1993, he became the public affairs manager for Taylor, ensuring the farms had appropriate permits. Bill added, "They also had the foresight to have someone actively advocating for clean water and reasonable regulations." He has held the same position for the past 19 years and today has a team of employees, consultants, and lawyers helping with those tasks.
Despite the challenges and rewards of public policy work, Bill missed growing shellfish himself. He filled that void by buying some tidelands in the 1990s and growing shellfish on the side. He said, "That hobby has grown into nice little side business I do on weekends and when I'm on vacation from Taylor's." Bill described his "hobby," which yields 25–50 tons of Manila clams each year, as a family affair: "My wife and I got married on the farm 10 years ago and we look forward to working on it."
His side business has enabled Bill to experiment. For example, instead of farming gravel beaches that need to be hand harvested to sort the clams from the rocks, Bill designed his farm using predator nets over rows in sand. He mechanized the net installation and cleaning with a tractor and the harvest with a tulip bulb harvester that he modified: "Four of us are able to harvest 7–10,000 pounds of clams in 3.5 hours," he noted.
[Ed. note: Bill briefly pauses from writing on his boat to look up and see 70 herons foraging on his farm. Any wonder why he loves his work?]
Bill credits his effectiveness in the public policy arena to his Fisheries degree and his shellfish farming experience, giving him credibility in policy debates and enabling him to speak knowledgably about science and farming. His background also has helped him secure numerous board and committee positions, including the Puget Sound Partnership Ecosystem Coordination Board, the Pacific Shellfish Institute Board, NOAA's Marine Fish Advisory Committee, and the National Aquaculture Association Board. He added, "I'm currently awaiting clearance from the Secretary of the Navy to serve on the Ocean Research Advisory Panel.
Thirty years after meeting Dick Steele, Bill reflected on how Ken's referral led him to such a rewarding career: "I have looked forward to every day of work all of those years." [Ed. note: Bill wrote that remark while on his boat in the middle of Samish Bay on Father's Day, waiting for the tide to drop to work on his clam farm."]. He added, "Ken was my mentor at the UW, and he has remained a close friend and mentor throughout my career. His guidance and connections throughout the world continue to influence me."
On various occasions, Bill has been able to return the favors to Ken and the School: He recently pinch hit for Ken as a keynote speaker at a Manila clam conference in Yokahama, Japan. He also helped Ken in the legislature when funding for the new SAFS building was in jeopardy. He added, "For all Ken has done for me and the shellfish industry, he has an open account for shellfish at our stores. This means I get to see his smiling face on a regular basis!"
What advice would Bill impart to current and would-be students? He answered, "Follow your passion. Don't get locked into a path just because you thought it was the right one in high school. When something excites you, pursue it."