SPRING 2005 | Issue No. 3
Transfer Thursdays
Thinking about transferring to the UW? If you are, Transfer Thursday is your gateway to transfer information. At a Transfer Thursday session, you can speak to an admissions counselor who will tell you all about applying to the UW. You can also meet with an undergraduate academic advisor who will help you prepare for your intended UW major. Bring your questions and your unofficial transcript(s). It's one-stop shopping for the prospective transfer student.
Where:
University of Washington
171 Mary Gates Hall
When:
Every Thursday
1:00 to 4:00.
Admissions sessions
begins at 2:30!
For more information:
(206) 543-2550 or click here.
Credits
James Meadows
Editor
Jamie Yaptinchay
Technical Designer
Contributors to this Issue:
Judi Clark
Kathleen A. Elkins
Deanna Fryhle
Susan Inman
Sylvia Kurinsky
Mary F. Lampe
Tamara Leonard
Kate Long
James Meadows
Mariko Navin
Melissa Wenzel

The Transfer eNewsletter is a project of the UW Undergraduate Advising Gateway Center.
Undergraduate
Gateway Center
171 Mary Gates Hall
Weekdays 8 a.m. - 5 p.m.
Eight Great Majors at the UW
Welcome from the Editor
Choosing a UW major requires more than just knowing the admission requirements to enter a given department. To choose well, you need to know what is exciting about the major and what students in the major study. The current issue of the Transfer eNewsletter focuses on academic departments at the UW by profiling eight different undergraduate majors. Read more...
Rumor and Fact in UW Transfer Admissions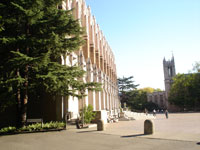 Talking about a ballpark, Yogi Berra once quipped, "Nobody goes there anymore; it's too crowded." Many rumors circulate about admission to the University of Washington. Here are the most common rumors, along with the useful facts. Read more...
The Med Tech Program
The Medical Technology Program (MTP) is an undergraduate degree program within the Department of Laboratory Medicine in the School of Medicine. The four-year course of study leads to a Bachelor of Science degree in Medical Technology, and is divided into two major parts, the pre-professional/prerequisite phase and the professional phase. Read more...
UW Art's Design Program
The UW School of Art Division of Design is in the process of redeveloping their programs. Students interested in applying Visual Communication Design and/or Industrial Design-two programs in the Division of Design-should be aware that a new curriculum and application process will be in place autumn 2005. Read more...
The Informatics Program
The Informatics program at the UW provides a unique curriculum emphasizes a human-centered approach the study of information and systems along with the development of technical skills and understandings. Come read about this new major and the opportunities available for transfer students. Read more...
Technical Communication
The Department of Technical Communication at the University of Washingn (UWTC) is a small department in the College of Engineering that focuses on the design of communication. While other UW engineering departments design airplanes (AA) or design electrical circuits (EE) or design computer chips (CSE), TC designs communication for users (for example, Web sites and software online help systems). TC is unique the College of Engineering because it addresses diverse communication issues, yet is able capitalize on all that the College of Engineering offers. Read more...
Material Science and Engineering
Materials science and engineering is an interdisciplinary field that addresses the structure, processing, and property relationships in materials for engineering applications. Basic principles of chemistry and physics are applied provide an understanding of the structure of materials and the manner in which the structure determines the properties. Read more...
Certificate in Intl. Business

"New technologies, the growth of emerging markets, and the trend ward international cooperation as well as competition have all intensified the demand for business leaders with global vision. Created in 1992, the Certificate of International Studies in Business Program (CISB) was designed give business students the skills and knowledge they need meet the challenges in today's global marketplace.Read more...


UW Exploration Seminars
Have you ever wanted travel outside the US and earn academic credit? Did you think a study abroad program would be o long or o expensive? Well, think again. Each year the UW offers a variety of international programs suit students' needs, interests, and bank accounts. One such program is the UW Exploration Seminars. Read more...
The UW English Major:
New and Improved
The Department of English is pleased announce the introduction of a new undergraduate major in Autumn 2005. The restructured English major reflects important changes in the discipline that have developed since the 1970s and offers a significantly more flexible learning experience.Read more...

Transfer Student Interview

Transfer student and Martin Scholar, Loyce Mbewa takes a few moments to share her personal experience of transferring to the UW. Click here to listen to the interview.
Subscribe Transfer eNewsletter!
Why subscribe? Subscriptions help us know who's reading the Transfer eNewsletter. Subscriptions also allow us send the eNewsletter people who want read it--including students. Please encourage students check us out!