Contingent Faculty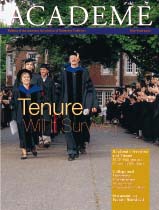 Higher education faces a crisis of casualization. At many institutions, particularly community colleges, temporary appointments outnumber permanent positions and tenure is disappearing. Now the assault on tenure and the turn towards part-time and contingent employment is reaching the research universities. Sadly, the University of Washington is leading this dangerous trend.
Currently, only 40% of UW faculty are tenured or in tenure-eligible positions. The majority hold WOT, research faculty, and lecturer positions. The growing number of lecturers, many of them part-time and lacking even the most modest protections, is particularly alarming. AAUP has noted recent incidents where lecturers have been dismissed without warning just as classes were about to begin. Equally alarming, there have been incidents where lecturers have been afraid to exercise academic judgment and free speech.
AAUP believes that excessive use of, and inadequate compensation and professional support for, part-time and non- tenure-track faculty exploits these colleagues and undermines academic freedom, academic quality, and professional standards.
Here are AAUP's reports and guidelines on Contingent Appointments and the Academic Profession
UW-AAUP has been monitoring the shift towards contingent and untenured faculty employment at the University of Washington and other Washington colleges and universities. See our State of the Faculty--2003 Report Card.
Below is a detailed report by Dan Jacoby on the use of part-time faculty in the community colleges and four-year institutions and of the efforts by the Washington Association of Part-time Faculty to improve conditions of employment.
Is Washington State an Unlikely Leader? Progress on Addressing Contingent Work Issues in Academia by Dan Jacoby