AAUP-UW OFFICERS AND EXECUTIVE BOARD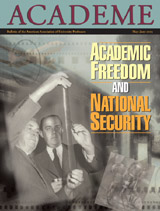 President – Robert Wood (Atmospheric Sciences)
robwood2@uw.edu
Vice President – Dan Jacoby (UW Bothell School of Interdisciplinary Arts and Sciences)
djacoby@uwb.edu

Secretary – Amy Hagiopian (Global Health)
hagopian@uw.edu

Treasurer -- Janelle Taylor (Anthropology)
jstaylor@u.washington.edu
Listserve Editor -- Lucy Jarosz (Geography) jarosz@u.washington.edu;
Executive Board :
Randy Beam, Communications
Steven Buck, Psychology
Chuck Bergquist, History
Purnima Dhavan, History
Raya Fidel, The Information School
Christoph Giebel, Jackson School of International Studies, and History
Jay Johnson, School of Environmental and Forest Sciences
Jane Koenig, School of Public Health
Jack Lee, Mathematics
Dan Luctel, School of Public Health
Ann Mescher, Mechanical Engineering
Diane Morrison, School of Social Work
Clarence Spigner, Department of Health Services
Duane Storti, Mechanical Engineering

All positions are held for two years. Elections are held during the summer. All members in good standing receive a ballot.