This photo is of a native Thuja Plicata (common name; Western Red Cedar) and shows the great J-arm branches that these trees feature. Although the Puget Mill Company logged most trees on the site by 1900, this particular Thuja was perhaps overlooked by the loggers and is therefore one of the oldest and largest specimens […] Read more->.
Posted on 27 July 2014 | 2:18 pm
UW Botanic Gardens Summer Camps are in full swing at the Arboretum as we begin Week 4: "Tadpoles & Whirligigs". Last week's "Don't Bug Out" camp was a big hit with our 6 – 12 year old audience, and to go along with the theme, we gave our 48 campers a survey about insects. Surprisingly, […] Read more->.
Posted on 22 July 2014 | 12:12 pm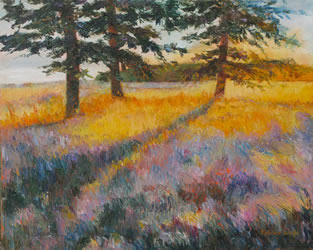 Seattle Parks and the Northwest Artist Kathleen Wolfe celebrates her love of nature with oil paintings on canvas featuring poppies, water lilies and landscape with majestic trees. Her paintings will be on display in the Miller Library from August 5th to September 16th. Meet the artist at a free reception at the Elisabeth C. Miller […] Read more->.
Posted on 22 July 2014 | 10:17 am
Selected cuttings from the Washington Park Arboretum (July 7 – 20, 2014) "Sporting Wood" 1)    White Ash    (Fraxinus americana) Tough, plentiful, and easily bent into curves, Ash is used in tennis racquets, billiard cues, skis, and baseball bats. White Ash is native to eastern and central North America. This cutting is from the […] Read more->.
Posted on 12 July 2014 | 11:49 am
Summer camps have exploded in growth this year and so has our staff to teach and lead campers through the wonders of the Washington Park Arboretum and Center for Urban Horticulture (CUH). Camps are based at the Arboretum, and during some weeks we'll take field trips to CUH and the Union Bay Natural Area. These […] Read more->.
Posted on 2 July 2014 | 8:35 am
This photograph taken in April 1976, shows Joseph A. Witt inspecting seed flats and cuttings in the "pit houses" of the University of Washington Greenhouses at Washington Park Arboretum. Read more->.
Posted on 1 July 2014 | 6:48 pm
A strange, but beautifully bizarre climbing hydrangea is beginning to bloom at the Center for Urban Horticulture. Read more->.
Posted on 1 July 2014 | 3:43 pm