Selected cuttings from the Washington Park Arboretum (August 11 – 24, 2014) 1)   Poliothyrsis sinensis A rare and very attractive small flowering tree of upright, open habit. Originally brought from China to the Arnold Arboretum by E.H. Wilson. Big 6-8" mildly fragrant, creamy flower clusters (corymbose panicles) make a significant contribution to the August-September garden.[…] Read more->.
Posted on 17 August 2014 | 7:12 pm
Does anyone this know where our arboretum's "lost" Enkianthus grove is located? By "lost", I mean extremely well-hidden under a dense canopy of western red cedars and other trees. Enkianthus specimens previously "lost" in the overgrowth. Enkianthus are shade-tolerant shrubs, but NOT "black-hole" shade tolerant. Like most living plants, they do need light to […] Read more->.
Posted on 8 August 2014 | 3:16 pm
The first buildings to be added to the grounds of the Washington Park Arboretum were begun in 1985, as defined in the Jones and Jones Master Plan Update for the Washington Park Arboretum. It took almost ten years for the building plans to be finalized and the funds to be raised. Read more->.
Posted on 4 August 2014 | 11:22 am
Selected cuttings from the Washington Park Arboretum (July 21 – August 8, 2014) 1)   Houpu Magnolia    (Magnolia officinalis var. biloba) Unique bi-lobed leaf 8-12″ in length 4-8″ seed pods on display in late summer Located in grid 27-1W in the Rhododendron hybrid bed 2)   Sargent Magnolia    (Magnolia sargentiana var. robusta) Bears large […] Read more->.
Posted on 4 August 2014 | 1:15 am
This photo is of a native Thuja Plicata (common name; Western Red Cedar) and shows the great J-arm branches that these trees feature. Although the Puget Mill Company logged most trees on the site by 1900, this particular Thuja was perhaps overlooked by the loggers and is therefore one of the oldest and largest specimens […] Read more->.
Posted on 27 July 2014 | 2:18 pm
UW Botanic Gardens Summer Camps are in full swing at the Arboretum as we begin Week 4: "Tadpoles & Whirligigs". Last week's "Don't Bug Out" camp was a big hit with our 6 – 12 year old audience, and to go along with the theme, we gave our 48 campers a survey about insects. Surprisingly, […] Read more->.
Posted on 22 July 2014 | 12:12 pm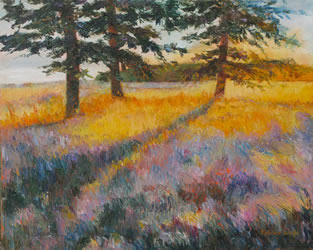 Seattle Parks and the Northwest Artist Kathleen Wolfe celebrates her love of nature with oil paintings on canvas featuring poppies, water lilies and landscape with majestic trees. Her paintings will be on display in the Miller Library from August 5th to September 16th. Meet the artist at a free reception at the Elisabeth C. Miller […] Read more->.
Posted on 22 July 2014 | 10:17 am