Fiddleheads Forest School: Nature Preschool
Interested in helping other children experience the wonder of the natural world? The Fiddleheads Forest School Fund was developed for the primary purpose of providing scholarships to families based on financial need. We know how impactful and profound the experience of learning in a unique forest classroom is for young children, but we also know that the expense of tuition can be prohibitive for some families. If you would like to show your support for Fiddleheads this year, we have no greater wish than to provide an opportunity for a young child who might not otherwise be able to attend and ask that you please consider making a tax-deductible donation to our fund. Fiddleheads is a tuition and donation funded, self-sustaining program of the University of Washington.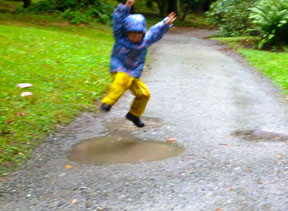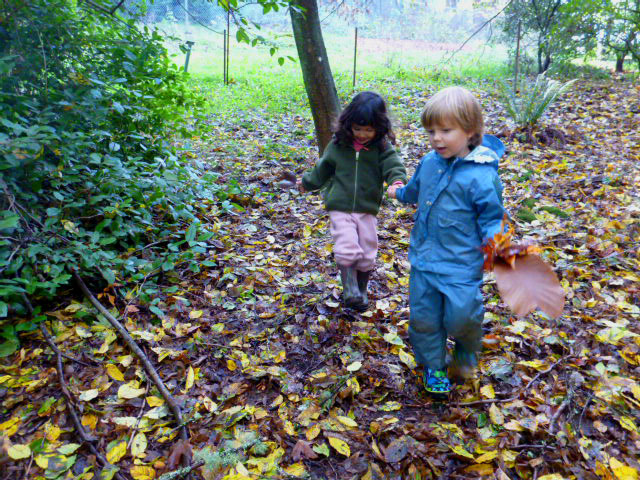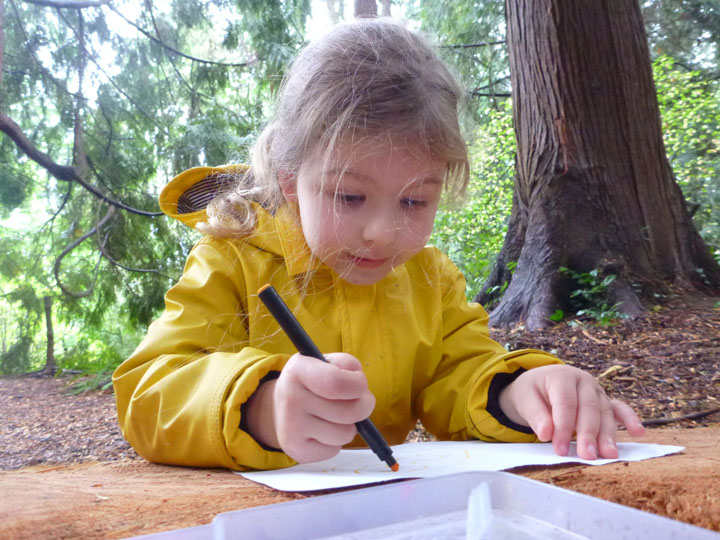 Our remaining prospective family tours are full. We recommend submitting an application (free, takes less than 5 minutes) and if you receive a spot for the 2016-17 school year you will have the opportunity to attend a tour in early March.

Fiddleheads Forest School
Take a moment to envision a three year old. This person is probably full of energy and exuding curiosity. Their hands are on everything, tuning into the world with their senses. Their excitement, energy and curiosity are contagious. This small human is developing on a massive scale. They are creating neural connections faster than at any other point in their development. They are learning about the world, and their curiosity knows no bounds. They are also learning about themselves and how to interact with other humans.
Now envision a preschool with those energetic, curious three year olds at the UWBG Washington Park Arboretum. Those small, curious hands look for bugs in the leaf litter of our forested areas. Their eyes and ears are fine-tuned by looking and listening for birds in our wetlands, their noses by smelling flowers in our Winter Garden, their taste buds by tasting ripe huckleberries in the Woodland Garden and their imaginations by laying in the grass along Azalea Way looking for cloud shapes.
Download our 2015-2016 Parent Handbook

Read our stories on the UW Botanic Gardens Blog Follow us on Facebook Donate to our School Fund

Fiddleheads' Reflections
Philosophy
The Fiddleheads Forest School believes in supporting the growth of the whole child through attention to their social and emotional development, self-regulation and physical development.
When children leave the Fiddleheads Forest School to enter their next phase they can...
Participate as a member of an interdependent community
Care for themselves and those around them
Realize and express their own needs in a clear way
Cooperate with other children to accomplish group goals
Understand the expectations of others in a given setting
Express many human emotions in language and art
Be inquisitive and make connections
Initiate new ideas and invent solutions to problems
Stick at difficult tasks or come back to them later in order to succeed.
Run, catch, throw, kick and tumble
Laugh and play with a sense of joy.
Paint, draw, sculpt, and construct objects of beauty
Care for common spaces and materials to maintain cleanliness and order.
Act in stewardship for the environment and one's own health and well being.


Application Process & Enrollment for 2016-2017 School Year
The application period has closed for the 2016-17 school year.
Families will be notified by February 26 of their enrollment or waitlist status. If you are interested in being added to our waitlist you can sign up
here
.
Please note:
- Your child must be 3 and no older than 5 by August 31, 2016 (i.e. if your child turns 6 during the 2016-17 school year he or she is not eligible to enroll)
- Your child must be potty trained (no pull-up diapers) by the start of preschool
- Your child must be prepared to (and want to!) be outside rain or shine
- This is a 10-month preschool program
- If you are applying for twins or siblings you have two options 1) submit one application that includes both children. If your application is selected in the lottery both children will get spots. 2) Submit two separate applications that will not be linked. If one gets selected in the lottery than only one child will get a spot.
- Our current wait list only extends through June 2016 so if you are interested in the next school year you need to submit a new application.
Cost -- Limited financial assistance will be available for the 2016-17 school year. Applications for financial aid will be available after the lottery takes place.


Tuesday/Thursday Class:
Tuition is $3,200 for the 10-month program ($320/month).
Monday/Wednesday/Friday Class:
Tuition is $4,680 for the 10-month program ($468/month).
5-Day Class:
Tuition is $7,600 for the 10-month program ($760/month).





Enrollment:
Applications must be submitted by February 19th in order to be considered for the 2016-2017 school year. We will notify families by February 26th of their enrollment or wait list status.
Lottery Process:
The selection process to fill open spots in the forest school is a lottery. We filter for age and gender as we strive to create a balance in our classes. Beyond those two constraints, the selection is random.
Interest List:

If you are interested in receiving updates about future opportunities and enrollment beyond the current school year you can sign up for our interest list
here
.
Program - 2016-2017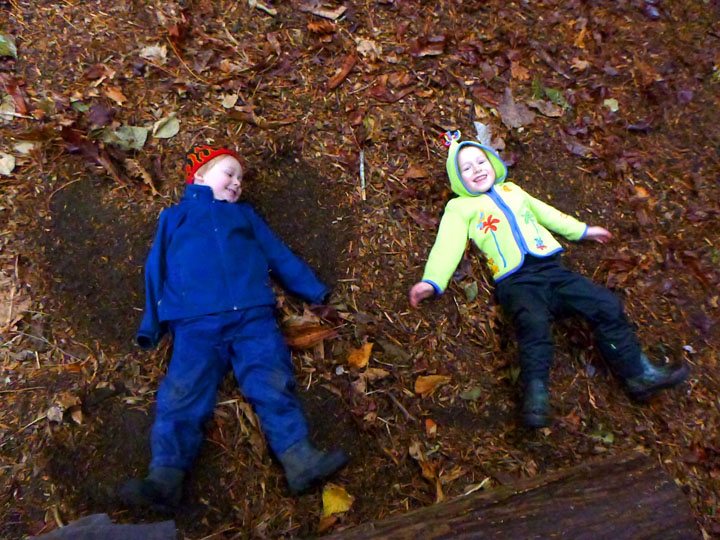 Timing: 9am-1pm
Class options: M/W/F or Tu/Th or M-F
Class size: maximum 14
Student to Teacher ratio: 1:7 (14 kids, 2 lead teachers + 1 or 2 UW student interns)
Classrooms: Trillium (2 and 3-day options) and Magnolia (2, 3 and 5-day options)

This is an entirely outdoor, nature-based program where the premise for our day-to-day activities is play and exploration. As children engage with the world around them and inquire about it we will supplement with curriculum to further engage their curiosity.
We will...
Promote social skills and positive self-image through group play and cooperative learning
Develop activities that encourage cognitive growth, problem-solving skills and development of physical motor skills
Encourage problem-solving and reflection by asking open-ended questions and provide information in response to children's ideas, insights, and concerns
Provide a supportive, safe learning environment to encourage discovery, questioning and experimentation
Cultivate emotional literacy and empathy to develop self-esteem
Nurture self-expression, creativity and reflection
Encourage family involvement to help students appreciate the wisdom of their first teachers — their families
Celebrate diversity of all living things and the individuality of children and families
Instill respect and appreciation for the natural world


2015-2016 Schedule
September 16th: First Day of School
October 19th: School CLOSED, In-service
November 11th: School CLOSED, Veterans Day
November 23-24th: School CLOSED, Home Visits
November 25th-27th: School CLOSED, Thanksgiving Break
December 21nd- January 1nd: School CLOSED, Winter Break
January 18th: School CLOSED, Martin Luther King Jr. Day
February 15th-19th: School CLOSED, Mid-Winter Break
March 18th: School CLOSED, In-service
April 11th-15th: School CLOSED, Spring Break
May 30th: School CLOSED, Memorial Day
June 17th: Last Day of School
The UW Connection & Internships & Volunteering

This program is part of the University of Washington and will involve UW students as well as students from other area schools. We are developing a Pipeline Project to connect students studying in fields related to Early Childhood Education with the Fiddleheads Forest School. They are future educators, psychologists, social workers, nurses, etc. and we believe they will benefit from the opportunity to work in a nature-based early childhood program. Conversely, we will benefit from the new and innovative ideas they will bring to our program.

In addition to students we welcome community volunteers who are excited about connecting with and supporting early learners in an entirely outdoor school!

Interested in doing an internship, service learning project or volunteering with us? Contact us at ffschool@uw.edu. We are looking for volunteers and interns for the 2015-2016 school year
Contact Information
Kit Harrington, Director
ffschool@uw.edu; (206) 616-5261

Sarah Heller, Director
ffschool@uw.edu; (206) 616-5261

Stacey Alfonso, Lead Teacher
ffschool@uw.edu; (206) 221-6427

Joanna Wright, Lead Teacher
ffschool@uw.edu; (206) 221-6427
---
Last modified:
Monday, 22-Feb-2016 15:14:45 PST