2016 Summer Camp for 1st-6th Graders
You can register 2 ways:
Online: Choose this option if you are NOT a UW Employee or Arboretum Foundation Member
Phone: Choose this option if you ARE a UW Employee or Arboretum Foundation Member and eligible for the 15% discount. The number is 206-685-8033.
After registering, you will receive a confirmation email in 1-2 business days. Please contact us if you do not receive this email, as your registration may not have been received.
Step outside this summer.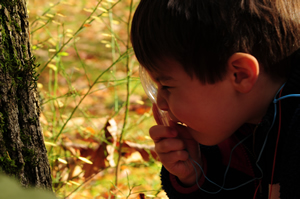 Summer camp at the Washington Park Arboretum is bounding into its sixth year with more weeks offered and new programs. Come join us for a week (or more!) of fun and educational adventures in our 230 acre outdoor classroom located in the heart of Seattle. Our day-camp curriculums are designed in support of our mission: to promote environmental conservation through education and recreation. To achieve this we focus on hands-on exploration, play and experiential learning. Depending on the weekly theme, campers may become ethnobotanists, artists, urban farmers or field biologists all while learning about the importance of teamwork and sustainability.
WHO: Children entering 1st – 6th grade (ages 6 – 12)
Max. 48 campers per week
WHAT: Environmental Education Summer Day Camp
WHEN: June 27 – September 2; Mon – Fri; 9am – 3pm
WHERE: Washington Park Arboretum; pick-up & drop-off at the Education Greenhouse
HOW MUCH: $260 per week (Except Week 2 - July 5-8, 2, $208, no camp July 4)
15% discount available to current UW employees and Arboretum Foundation members by phone. To receive the discount you must register by phone. Online registrations are not eligible for the discount and we cannot provide retroactive discounts for online registrations. Please have your AF member number ready.
*Extended Camp*:
Early Drop-off: 8:45am; Cost: none, no registration necessary
After Camp: 3pm - 5pm; Cost: $80/week (Except Week 2, July 5-8, $64)
Financial Assistance: Limited financial assistance is available on a first come, first serve basis to those who qualify. For more information, or to apply, please call the registrar at 206-685-8033.

Each camper will be part of a small field group based on age for their week at camp. Each group will be led by an experienced environmental educator and a Jr. Summer Camp Guide creating a counselor to camper ratio of 1:6. Our education team members are all well-trained and experienced environmental educators chosen for their expertise and commitment to improving the world by facilitating meaningful learning experiences in nature. In addition to their dedication, our Summer Garden Guides are CPR and first aid certified.
For more information, e-mail uwbgeduc@uw.edu or call (206) 685-8033
Register online for Summer Camp Sessions
2016 Dates
Weekly Theme
(1st-3rd grades)
Weekly Theme
(4th-6th grades)
June 27-July 1
1 spot left -Woodland Wonders
Sold Out - Northwest Naturalists
July 5-8
Sold Out - Don't Bug Out
Sold Out - Art in the Park
July 11-15
Sold Out - Arboretum Detectives
Sold Out- Arboretum Explorers
July 18-22
Sold Out - Tadpoles and Whirligigs
2 spots left - Wetland Wildlife Rangers
July 25-29
Sold Out - Birds and Binos
Sold Out-Avian Adventures
August 1-5
Sold Out-Woodland Wonders
Sold Out- Northwest Naturalists
August 8-12
2 spots left (call to register) -Don't Bug Out
Sold Out - Art in the Park
August 15-19
Sold out-Arboretum Detectives
1 spot left (Call to register)- Arboretum Explorers
August 22-26
Sold Out-Tadpoles and Whirligigs
Sold Out-Wetland Wildlife Rangers
August 29-September 2
Sold Out-Birds and Binos
Avian Adventures
Register online for Summer Camp Sessions
CAMP THEME DESCRIPTIONS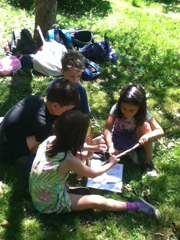 Woodland Wonders (1st-3rd)
Through inspirational stories, game playing, crafts and hands-on activities, our woodland campers will expand their nature awareness. Going on berry hunts, finding out what plants can heal us, learning our native trees, acting out and telling native plant stories, and fort building will grab at our natural curiosity, hone our natural intelligence, and help us feel at home in the woods.
Northwest Naturalists (4th-6th)
"Living off the land" is a phrase that describes how people have survived throughout much of human history. Even today, we still depend on what the Earth provides but it can be hard to see that connection with modern inventions like grocery stores and restaurants. During this week of camp, we will learn how to use our environment to obtain the things we need. From edible and medicinal plants, to basket weaving and fire-making, campers will come to view the forest through new eyes.
Don't Bug Out (1st-3rd)
Turn over logs, flip over rocks, dig in the mulch, investigate the compost pile, run through the meadow with nets and dip nets into the ponds – this is a short list of some of the ways we'll look for the diversity of insects and bugs living at the arboretum. We will build our very own insects, explore bug habitats and learn about the wealth of ways insects and bugs are beneficial to our lives.
Art in the Park (4th-6th)
Tap into our right brains during this week of camp and use your creative spirit to experience nature through various artistic mediums. What do giant sequoias look like in clay or Rhododendrons in watercolors? How can we make our vegetable garden a source of both nourishment and creative inspiration? How can we use a vegetable-palette to create edible masterpieces? Our wetlands, forests, meadows, ponds and trails abound with natural beauty. Campers will play, discover and inquire at the intersection of creativity and nature, the culmination of which will be an art show to share with their families.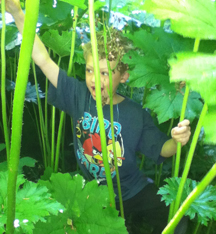 Arboretum Detectives (1st-3rd)
Nature is full of mystery just waiting to be explored. Join us for this fun and exciting week of camp and bring along all of your powers of observation: your eyes to see with, your ears to hear with, your nose to smell with, your hands to touch with, and your mouth to taste with. If you like exploring the back yard, poking at animal scat or peering through binoculars and magnifiers, you will love this week. Each day will be dedicated to learning about and looking for a different taxa group: bugs, birds, mammals, mushrooms, reptiles and amphibians. This week is like one big scavenger hunt!
Arboretum Explorers (4th-6th)
Discoveries are made by those who seek them out. New species of plants and animals are still being discovered today, even in the Washington Park Arboretum. During this week –long scavenger hunt, you will learn skills and techniques used by explorers and scientists as we comb our 230 acre outdoor classroom for any and all signs of life. Campers will have the opportunity to learn from and talk to scientists who will share his or her profession with us through workshops and activities. Daily scavenger hunts will provide ample opportunities for campers to adventure through all the nooks and crannies of the Arboretum as well as gain a sense of place in a fun, hands-on way.
Tadpoles & Whirligigs (1st-3rd)
Seattle dries out in the summer time, but all plants and animals (including us) need water to survive – some more than others. During this week of camp we'll explore our ponds, streams and wetlands in search of animals that make their homes here: tadpoles & whirligigs for sure, fish, waterfowl, beavers, birds of prey, turtles and more!
Wetland Wildlife Rangers (4th-6th)
The living things in a wetland can be microscopic or over 3 feet tall with a giant frog piercing beak! Using tools to see above and below the water, you will get a chance to find, identify and study macro-invertebrates (arthropods big enough to see with the naked eye), birds like king-fishers and great blue herons, and big ole bullfrogs. While doing all of this, through games, activities and discovery, you will get to know how the wetland itself helps keep the wildlife, and us, living healthy.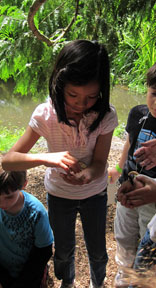 Birds and Binos (1st-3rd)
Birds have so much to say – you just have to know how to listen and watch. We'll translate bird calls through games and role playing. Different parts of the bird have a lot to say too; beaks, eyes, feathers and feet can tell us what kinds of food a particular bird eats and how they get it. You will use binoculars to find, study, and identify our resident and migratory birds while hiking through the woodlands and wetlands of our amazing Arboretum.
Avian Adventures(4th-6th)
This week isn't just all about birds, it's about what the birds can teach us about our surroundings. Why do birds migrate? How do birds fit into a food chain or a food web? Why do birds act the way they do? You will discover the answers to these questions and more when you go hiking throughout the Arboretum using binoculars and your keen senses. Hone your Eagle eyes to spy the sparrow. Learn why the Junco chips or how the Great Blue Heron hunts or why raptors have tools other birds don't.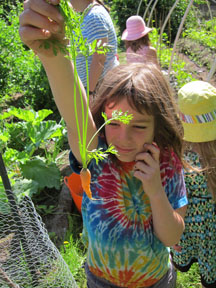 Summer Camp Policies
Cancellation Policy:
For cancellation at least thirty days prior to camp, a full refund minus a non-refundable deposit of $40 per cancelled camp program will be provided. For cancellation between 14 and 29 days prior to camp, a 50% refund of all fees will be provided. For cancellation less than two weeks prior to camp, or non-completion of camp, no refund will be provided.
Late Pick-Up Policy:
If you are more than 10 minutes late to pick up your child at the end of camp (after 3pm) then we will enroll your child in aftercare until you arrive. The cost for one day of aftercare is $16 and you can pay by cash, check or credit card upon pick up.
After Care Late Fees:
If you are late to pick up your child from aftercare we will charge you $1 for every minute after 5pm. Starting at 5:15pm the rate increases to $3/minute. You can pay by cash, check or credit card upon pick up.
Downloadable PDF forms for PreK and Grade School Camps
Completed forms can be returned to us a number of ways. Please return them no later than 2 weeks before your first week of camp.
• By Mail - UW, Box 358010, ATTN. UWBG Education, Seattle WA 98195-8010
• By Fax - fax to 206-685-2692
• Drop Off – deliver to the to the front desk at the Graham Visitors Center. Please mark the envelope with ATTN: UWBG Education
• By Email – send to uwbgeduc@uw.edu.
Explorer Packs
Explorer packs are also available in summer for self-directed learning perfect for small groups.
Last modified:
Friday, 05-Aug-2016 11:05:33 PDT