Kyra Kaiser always dreaded public speaking growing up. So you might not expect that she would end up as one of UW Botanic Gardens' most enthusiastic tour guides at the Washington Park Arboretum, leading groups of visitors into the secret places of that 230 acre forested gem inside the City of Seattle. Kaiser, a second […] Read more->.
Posted on 23 September 2016 | 10:15 am
Tessarae Mercer is an Intern at the UW Farm this summer. The work fulfills part of her capstone (graduation requirement) for the Program on the Environment. She grew up in Vancouver, Washington before coming to Seattle to study at the University of Washington in fall of 2013. In her (limited) free time, she enjoys being […] Read more->.
Posted on 16 September 2016 | 11:09 am
A tribute to our late Director, Dr. Sarah Reichard. May she forever garden in peace amongst a grove of Stewartia, her favorite tree. [Editor's Note: If you have time to experience their true beauty, it is highly recommended you visit our Stewartia Collection. The smart phone version of our interactive map can be used to […] Read more->.
Posted on 11 September 2016 | 6:53 pm
  "I was amazed to learn that the Ginkgo biloba tree, which is thousands of years old but extinct in the wild, was saved by Buddhist monks who planted this tree in their monasteries so the species would live on!" "We thought we would only hear the Latin names of a multitude of obscure […] Read more->.
Posted on 9 September 2016 | 9:23 am
Happy shopper at the FallAbundance sale in the Arboretum. Savvy gardeners know fall is the best time to plant because the soil is warm and months of rainfall ensure deep root growth. At the Washington Park Arboretum on Saturday, September 10th from 10am to 2pm the Arboretum Foundation hosts the FallAbundance plant sale in the […] Read more->.
Posted on 8 September 2016 | 7:14 pm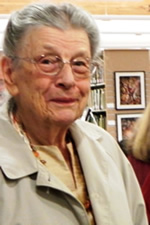 Jean Witt, long time friend of the UW Botanic Gardens, passed away last week at age 95. She was the widow of Joe Witt, the former Arboretum Curator and Professor of Urban Horticulture and for whom the Joseph A. Witt Winter Garden is named. Together, they were well known for their joint leadership in field […] Read more->.
Posted on 2 September 2016 | 4:42 pm
The deep pink flowers of Rosa corymbulosa (Chinese species rose) are followed by elongated coral-red fruit in late summer. Read more->.
Posted on 24 August 2016 | 10:33 am