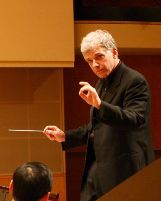 Timothy Salzman is in his twenty-eighth year at the University of Washington where he serves as Professor of Music/Director of Concert Bands, is conductor of the University Wind Ensemble and teaches students enrolled in the graduate instrumental conducting program. Former students from the University of Washington occupy positions at numerous institutions of higher education and public schools throughout the United States. Prior to his appointment at the UW he served for four years as Director of Bands at Montana State University where he founded the MSU Wind Ensemble. From 1978 to 1983 he was band director in the Herscher, Illinois, public school system where the band program received several regional and national awards in solo/ensemble, concert and marching band competition. Professor Salzman holds degrees from Wheaton (IL) College (Bachelor of Music Education), and Northern Illinois University (Master of Music in low brass performance), and studied privately with Arnold Jacobs, former tubist of the Chicago Symphony Orchestra. He has numerous publications for bands with the C. L. Barnhouse, Arranger's Publications, Columbia Pictures, Hal Leonard Publishing and Nihon Pals publishing companies, and has served on the staff of new music reviews for The Instrumentalist magazine. Professor Salzman has been a conductor, adjudicator or arranger for bands throughout the United States and in Canada, England, South Korea, Indonesia, Thailand, Russia, Singapore, the Philippines, China, and Japan, a country he has visited twenty-one times. Recently he has frequently travelled to Beijing where he served as visiting professor at the Beijing Conservatory, conducted the People's Liberation Army Band in concert (2009/10), and has given master classes for numerous wind bands including a concert appearance at the National Center for the Performing Arts in Tianenmen Square with the Beijing Wind Orchestra, the first professional wind ensemble in Beijing. He also adjudicated the Singapore Youth Festival National Concert Band Championships twice in the past three years. Professor Salzman is compiling editor and co-author (with several current and former UW graduate students) of A Composer's Insight: Thoughts, Analysis and Commentary on Contemporary Masterpieces for Wind Band, a five-volume series of books on contemporary wind band composers published by Meredith Music Publications, a subsidiary of the Hal Leonard Corporation. He is an elected member of the American Bandmasters Association and is a past president of the Northwest Division of the College Band Directors National Association.

---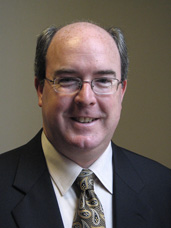 Dr. Steven Morrison
is Professor and Chair of Music Education at the University of Washington. An instrumental music specialist, Professor Morrison teaches courses in music education, music psychology, and research methodology and conducts the UW Symphonic Band. He has taught at the elementary, junior high and senior high levels in Wisconsin, Michigan, and Louisiana and has conducted and arranged for bands, orchestras, and chamber groups throughout the United States.
Dr. Morrison is co-director of the Laboratory for Music Cognition, Culture and Learning investigating neurological responses to music listening, perceptual and performance aspects of pitch-matching and intonation, and use of expressive gesture and modeling in ensemble teaching. His research also includes music preference and the variability of musical responses across diverse cultural contexts.
Prior to joining the UW faculty, Morrison served as Lecturer of Fine Arts at the Hong Kong Institute of Education. He has spoken and presented research throughout the United States, as well as in Australia, China, Germany, Greece, Hong Kong, Hungary, Japan, Jordan, Korea, Italy, the Netherlands, Thailand, and the United Kingdom. During 2009 he served as a Visiting Fellow at the Centre for Research in the Arts, Social Sciences and Humanities and as a Visiting Scholar in the Center for Music and Science at the University of Cambridge.
Morrison's articles have appeared in
Music Educators Journal, Journal of Research in Music Education, Bulletin for the Council of Research in Music Education, Music Perception, Update: Applications of Research in Music Education, Missouri Journal of Research in Music Education, Southwestern Musician, Recorder: Ontario Music Educators Association Journal, College Music Society Newsletter,
and
Southern Folklore
. Along with colleague Steven M. Demorest, his research into music and brain function has appeared in
Neuroimage, Social Cognitive and Affective Neuroscience, Progress in Brain Research
and
The Annals of the New York Academy of Sciences
.
He is also a contributing author to
The Science and Psychology of Music Performance
, published by Oxford University Press, the forthcoming
Oxford Handbook of Music Education
, and the text
Musician and Teacher: An Orientation to Music Education
, authored by UW colleague Patricia Shehan Campbell and published by W.W. Norton.
Morrison is the Editor of the
Journal of Research in Music Education
for which he also served on the editorial board. He is also on the editorial boards of
Reviews of Research in Human Learning and Musi
c and the
Asia-Pacific Journal for Arts Education
. Morrison has served on the executive board of the Society for Research in Music Education and is currently a member of the advisory board for the Asia-Pacific Symposium on Music Education Research. He is past University Curriculum Chair for the Washington Music Educators Association and an honorary member of the Gamma chapter of Kappa Kappa Psi.
He holds a B.M. from Northwestern University, an M.M. from the University of Wisconsin, and a Ph.D. from Louisiana State University.
Click here to visit Professor Morrison's webpage.
---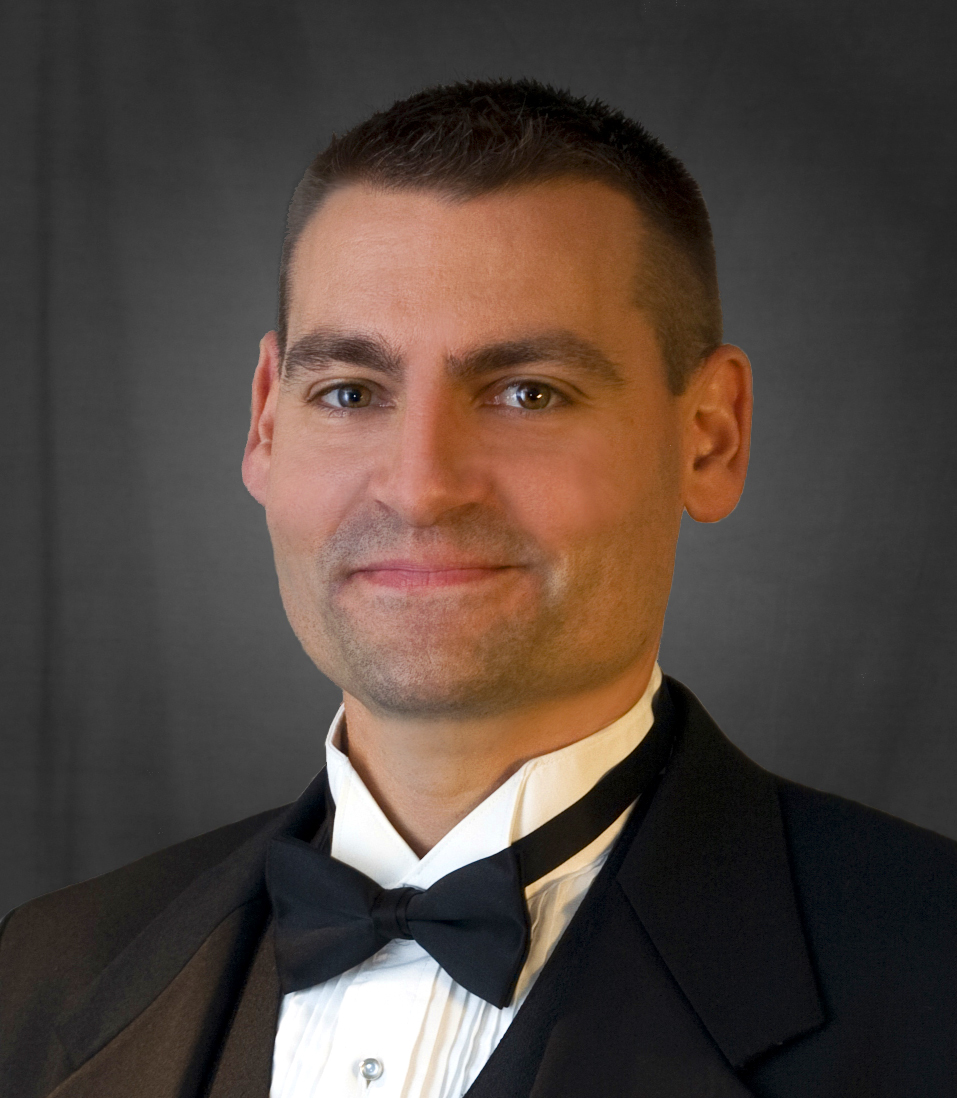 Lewis Norfleet is currently pursuing a Doctor of Musical Arts degree in instrumental conducting at the University of Washington, studying with Timothy Salzman. He has recently been appointed Director of Bands at Central Washington University, beginning in the fall of 2015.

Prior to coming to UW, Mr. Norfleet taught at the secondary and collegiate levels for 17 years. Recently, he served as Director of Bands at Union High School (WA), a position he held since the school opened in 2007. During his tenure, Union HS ensembles performed at the 2010 Midwest Clinic, 2012 Music for All/Bands of America National Concert Band Festival, 2013 NAfME Northwest Conference, and the 2010 and 2012 Washington Music Educators Association State Conferences. From 2007 to 2013 he also served as co-conductor of the Southwest Washington Wind Symphony performing numerous concerts each year, including an appearance at the Western International Band Clinic in 2009. Prior to teaching at Union, his high school programs in Oregon and Washington were recognized as Oregon State Concert Band Champions (2005), three-time Northwest Marching Band Circuit Champions (2003, 2005, 2006), and were twice named a Grammy Signature School (2004, 2005). Before teaching in the public schools, Mr. Norfleet was the Director of Athletic Bands and Assistant Director of Bands at Oregon State University (1996-2002). While at OSU the bands performed at the Fiesta Bowl, Oahu Bowl, and the National Concert Hall in Taiwan. He is an alumnus of the University of Oregon where he graduated with honors was was named the Outstanding Graduate Student in Music Education in 1997.

Mr. Norfleet is also active as a composer and arranger having produced over 250 works for concert band, marching band, jazz band, symphony orchestra, percussion ensemble and various chamber ensembles. While most of his works have been privately commissioned, some have been published by Tapspace Publications, Matrix Publishing, Jalen Publishing, Marching Monk, Center X Productions, and Marching Show Concepts. He currently serves as a composer and/or arranger for ensembles across the United States and is in demand as an adjudicator and clinician for concert and marching festivals throughout the country.

Lewis, his wife, Noreen, and their children reside in Bellevue, WA.

---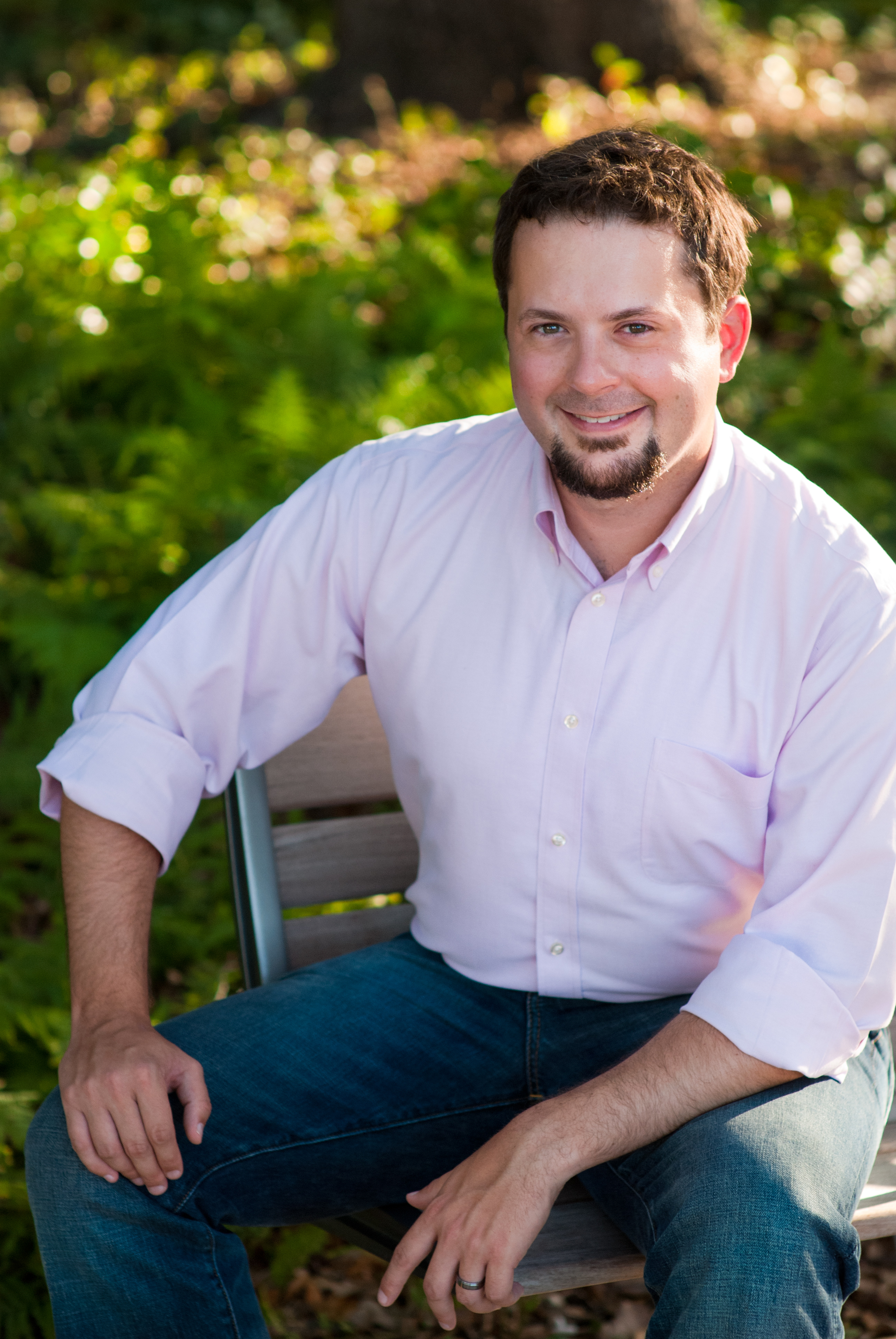 Cory Meals is pursuing his Ph.D. in Music Education at the University of Washington and serves as a Graduate Assistant Director for the Husky Marching Band, and Assistant Director of the UW Symphonic Band. Previously, he served as Director of Bands for Waller High School (2006-2010), northwest of Houston, TX. During his tenure there ensembles received numerous 'Superior' ratings and UIL "Sweepstakes" awards, and advanced each year eligible to the prestigious UIL 4A Texas State Marching Contest (2007, 2009). He has also held instructional positions in Klein ISD (TX), and Keller ISD (TX), and holds a Bachelor's Degree in Instrumental Music Education from VanderCook College of Music (IL) where he studied under Dr. Charles Menghini. Most recently he was Graduate Teaching Assistant for the University of Houston Band program, earning a Master of Music degree in Instrumental Wind Conducting with Prof. David Bertman and Mr. Eddie Green. He is an active member of CBDNA, Texas Music Educators Association, Texas Bandmasters Association, Phi Mu Alpha Sinfonia, Kappa Kappa Psi and maintains an active schedule as a visual designer, program consultant, and ensemble clinician.



---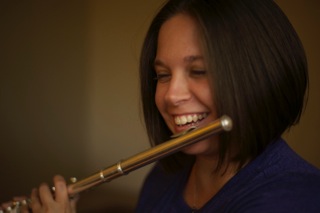 Anita Kumar is pursuing her Ph. D. in music education at the University of Washington, and is excited to join the staff conducting the Campus Band. Previously she served as band director at Landmark and Melvin E Sine Elementary schools in the Glendale Elementary School District in Glendale, Arizona. She also served as the district's lead band teacher, chairing the district Honor Band program and leading the district-wide band professional learning community.
Anita earned her Master of Music in Music Education from Arizona State University and her Bachelor of Music in Music Education from Miami University in Oxford, Ohio, where she studied conducting with Gary Speck. She has also worked with Dr. Mallory Thompson and Dr. Allan McMurray at the Northwestern Wind Conducting Symposium, and with Dr. Lawrence Golan as a fellow at the ProMusica Arizona Orchestral Conducting Masterclass.
Anita is also the Enrollment Coordinator at Music Center of the Northwest, a community music school in the Greenwood neighborhood of Seattle.

---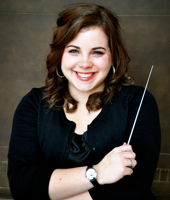 Erin Howard is currently pursuing her MA in music education with emphasis on conducting at the University of Washington. Erin is looking forward to co-conducting the Concert Band while at UW. Previously she earned a Bachelor of Science degree in music education from the University of Missouri in Columbia, Missouri and has studied conducting through various symposiums and masterclasses with Prof. Edward Dolbashian, Dr. Scott Lubaroff, Dr. Mallory Thompson, and Prof. Steve Davis.
Before moving to Seattle to begin the MA program, Ms. Howard taught middle school and high school band in the Belton School District in Belton, Missouri. Prior to that, she taught fifth through eighth grade band at the St. Angela Merici Catholic School in Florissant, Missouri. Throughout her teaching career Erin has remained an active musician, playing with the Compton Heights Concert Band, St. Louis Wind Symphony, Letter Carrier's Big Band, and the Northwinds Symphonic Band.

Erin is a member of the Laboratory for Music Cognition, Culture, and Learning at UW. Her research interests include collective efficacy in secondary instrumental ensembles, the impact of classroom climate and conductor behavior on ensemble outcomes, and the effects of audiation and vocalization on the development of beginning instrumental music students.

Erin is also a member of the National Association for Music Education, International Trumpet Guild, International Women's Brass Conference, Missouri Bandmaster's Association, and Sigma Alpha Iota International Music Fraternity.
---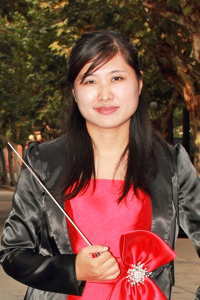 Hua Ma begins an appointment as Associate Professor of Music and Center of Music and Arts Vice Chair at Shanghai Maritime University, where she conducts the Wind Ensemble, the Chamber Symphony and the Chinese Orchestra and directs the undergraduate program in music education. As wind ensemble conductor for ten years at SMU, Hua led students in different departments who are non-music majors and developed the Center of Music and Arts into a major music education institute.
Hua earned master of music degree in conducting from Shanghai Conservatory of Music, and the bachelor of music degree cum laude in piano and instrumental music education from School of Music, Confucius University, China. Prior to graduate study, she taught piano performance for two years at Linyi University, where she conducted two concert bands.
In 2004, Hua participated as a co-creator and music conductor in the "600th Anniversary of Zheng He's Voyages to the Western Seas" sponsored by China Ministry of Transport. She received the Distinguished Young Band Director Award from National Association for Artistic Education. From 2005–2013, Hua led her bands compete in the annual Shanghai Spring Int'l Music Festival and won numerous Gold and Silver Awards. She currently serves as an advisor of the Shanghai Chapter of the National Association for Artistic Education.
Hua contributed three chapters to Music Appreciation in College available from Shanghai Music Publishing House. Her original works and arrangements for music education, cross-cultural music studies, band, and operas are published by several distinguished Chinese publishers. Since 2011, She has appeared as a guest conductor and arts consultant in China MSA (Shanghai), and art director of China Maritime Museum.