Overview
Conversion of grasslands and meadows to woodlands and forests is occurring globally, with profound consequences for biological diversity and other ecosystem services. In the Pacific Northwest—as in much of western North America—mountain meadows are increasingly threatened by the encroachment of conifers as a result of fire suppression, release from grazing pressure, and changes in climate.
In the western Cascade Range, mountain meadows are key habitat elements in a landscape dominated by coniferous forests. They comprise <5% of the landscape, but serve critical ecological and societal functions: creating natural fire breaks, supporting distinctive communities of plants, providing habitat and food resources for pollinators and other wildlife, and offering unique recreational opportunities. Since the 1940s, the extent of meadow loss may be as high 50% in some areas.
Our program of research, education, and outreach is devoted to the ecology, dynamics, and restoration of western Cascade meadows. Our work is centered at Bunchgrass Ridge, a 100-ha mosaic of dry montane meadows and encroaching forests in the Willamette National Forest, Oregon. Observational and experimental studies at Bunchgrass Ridge address a variety of questions including:
Our studies bring together university scientists and federal resource specialists, building on a long history of collaboration between the HJ Andrews Experimental Forest LTER and the Willamette National Forest. Key participants include the USFS McKenzie River Ranger District, University of Washington, Oregon State University, University of Victoria, and the USFS PNW Research Station.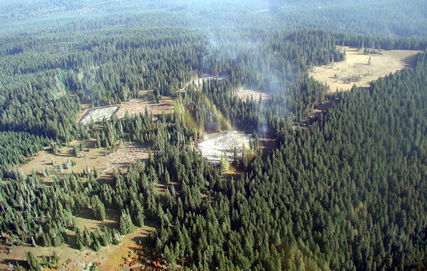 Willamette
National Forest

H. J. Andrews
Experimental Forest

Joint Fire
Science Program