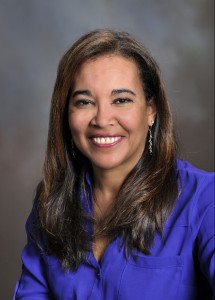 Bevlee Watford has been at Virginia Tech since 1992. Her work has focused on the inclusion and success of underrepresented students pursuing engineering undergraduate degrees and the larger engineering student population at Virginia Tech. As part of this mission, Dr. Watford founded and currently runs the Center for the Enhancement of Engineering Diversity. She has also served as the Program Director for the Broadening Participation in Engineering program at the National Science Foundation.
This profile was authored by Timothy H. Hellickson, Tufts University, based on an interview with Dr. Watford in 2014.
Dr. Bevlee A. Watford
Professor of Engineering Education
Associate Dean for Academic Affairs
Director, Center for the Enhancement of Engineering Diversity (CEED)
Virginia Polytechnic Institute and State University
Program Director
National Science Foundation
Ph.D., Industrial Engineering and Operations Research, Virginia Tech, 1985
M.S., Industrial Engineering and Operations Research, Virginia Tech, 1983
B.S., Mining Engineering, Virginia Tech, 1981
Background
Initially, I acquired all of my degrees from Virginia Tech, and I didn't think that I would return there. After graduating with my Ph.D., I went to Clemson University as a tenure-track junior faculty member. While I was working at Clemson conducting research and teaching, I kept having the feeling that my "true" passion was actually assisting students acquiring engineering degrees. My door was always open to students, and I was always interested in advising them.  I began working with Sue Lasser, the director of the Program for Engineering Enrichment and Retention (PEER) and a friend and colleague in my college. We both worked to assist our minority and underrepresented students to be successful academically.
As I was preparing to submit my tenure package and become "a standard faculty member," I began to reflect on what really brought me alive. I found myself uninterested in the traditional, discipline-based research in which I was currently involved. So, I started to look for other opportunities. Browsing through PRISM magazine [published by the American Society for Engineering Education], I learned that there were jobs in higher education that were focused on assisting students. When I found that Virginia Tech was looking for a founding Director for Minority Engineering Programs, I knew I had to apply. Twenty-two years later, I am the founding director of the Center for the Enhancement of Engineering Diversity, and the programs that we have created at the Center are currently assisting all of our students.
Diversity and inclusion programs
My experience in acquiring advanced degrees from well-respected schools was filled with many challenges.  I was an African American, female engineering student in the 1970s.  As you can imagine, I faced many obstacles and barriers in pursuit of my degrees, and these barriers motivated me to assist others. If I could improve the experience of students that came through our doors from the experience I had, I was doing something right.
So what did I do to make these improvements? As the director of this new center, I started collecting data. I really approached the problem from a research perspective. I started to ask questions like, "Why isn't this working, and what are we doing currently? How do we change it to make it work? What are our goals and outcomes?" Luckily, I had tremendous support from my dean at Virginia Tech to do this research. As a faculty member and administrator, I published papers. I wrote up all the work that I was doing so that the engineering education communities could use my research findings and start creating their own venues where people could meet and interact to address issues of inclusion.
As the Director of Minority Engineering Programs, I have overcome many obstacles, including almost having the center dismantled by the Supreme Court ruling, Grutter v. Michigan. Grutter v. Michigan basically ruled that specific programs focused on assisting only minority students were unfair and unconstitutional. Overnight, we needed to change our identity and encompass everyone, and our name evolved to become the Center for the Enhancement of Engineering Diversity (CEED). This increased our capacity, and we moved from supporting 350 to 400 students to offering our services to the entire freshman class of over 1,300 students.
One of our most successful programs has been Hypatia, which came directly from my experience of being at Virginia Tech and being one of the only African American female students studying engineering. I wanted to create an environment where female students could have people to work with and share their engineering experience together. Hypatia is a living-learning community for female engineering students founded in 2001. Today, Hypatia is a self-selected community of over 300 women who live and work together in engineering. In the first year, our graduation rate of female engineering students increased by 20%. Soon after, we created Galileo, a men's living-learning environment modeled after Hypatia.
We are partnering with the College of Science and we have taken over the entire residence hall with our communities, Hypatia and Galileo, and the College of Science communties (Da Vinci and Curie). Named inVenTs, our community includes a 900 square foot maker space where students can use any of the equipment, which ranges literally from screw drivers and screws to 3-D printers and laser cutters, soldering equipment, and microscopes. The students can go in and work on projects and work on things for class or outside of class. That is something that is exciting that will be impactful for our students.
Professional communities
Being the founding director of CEED, I quickly started to connect with people in different communities. The National Association of Multicultural Engineering Program Administrators (NAMEPA) assisted me in developing a strategic plan and guided me in developing our center. The importance of professional communities and their roles in creating environments for like-minded individuals to collaborate and learn from one another is paramount to my success and the success of our field. Without these communities, I would never have learned of the position that I am still in today, nor would I have had the opportunities to work and collaborate with others to improve our programs and assist our students. Professional communities like Women in Engineering ProActive Network (WEPAN) were places for me to grow and learn. I place a lot value on the influence of the professional community that I am a part of, and that helps make our center successful.
By participating in these communities, I am able to network and discuss areas of research as well as challenges with people from all around the country. I have no problem sharing my thoughts, ideas, and lessons learned, but I am also more than willing to borrow others' ideas and integrate them into our programs. There is nothing wrong with taking a good idea and running with it.
Advice to the graduate professional
Throughout the process of graduate study, we have all had tremendous obstacles. The thing to keep in mind is that if you love it, you will be successful. This path that I have taken has not been trivial, but it has been rewarding for me. Do what you love to do, because when you love it, it is not work. It is something that you will eat, breathe, and sleep. This is really the most important thing to your success. I don't think that it is any different in engineering education. You should have a passion for an area that is of interest to you and experience that in a community of people. Engineering education has many passionate people, and we should strive to cultivate this in our students.
For graduate students that are entering the field of engineering education, it is important to remember that it is a developing field. We have gotten to the table of "engineering," and now we are trying to make sure that we have a place at that table, and I see this as a good thing. The people that I have seen that have graduated from Virginia Tech have gotten jobs, and people from Purdue and other Ph.D. programs have gotten jobs in engineering education. I think that the future of engineering education looks very good right now.
Reflecting on this pioneer's story…
Dr. Watford observes that engineering education researchers have "gotten to the table of engineering," and are now working on getting "a place at the table."  What does it mean to get a place at the table?  Why is that important?  How can we tell when we have achieved that?  How can we help others join us at the table?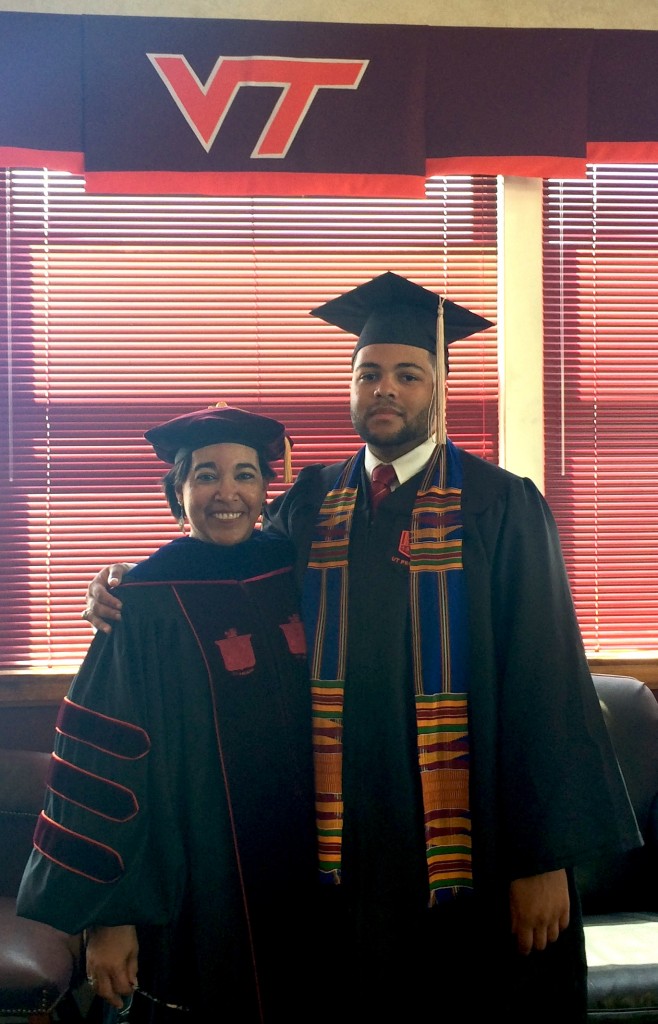 Dr. Watford with her son at his graduation
Photos provided by Dr. Watford.